Writer Of The Month: Mary Walsh
Introduced by H.B O'Neill
It is my great pleasure, nay privilege, nay honour to introduce this month's literary genius and genuinely nice person, Mary Walsh. Here's a bit about her: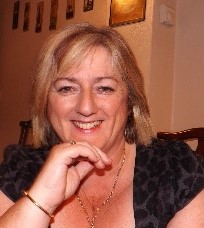 Mary is a poet who has had her poetry published in books, such as The Great British Write Off, and a Gardening Anthology for Forward Press, and on the Rest Less website.  She also had a poem published in the Royal Society of Literature newspaper. She has contributed to Pen to Print and performed her poem The Fishing Apprentices Lament at the unveiling of a Stained Glass Tryptich to commemorate the fishing and industrial heritage of Barking at the Ice House Quarter in Barking. She runs the poetry Stanza 'Barking Foxes' which is affiliated to the Poetry Society.
There's more, but first  let's enjoy some of her talent. Below are a couple of her poems I really like.
Knitting Sheep
(From a free-writing exercise.)
Conical shells and a fading footprint wedge light
On the brink of understanding
time thins, like bladderwrack and kelp.
Fledgling seagulls on the tide mourning and keening "mama, mama".
While the sun burns the sand with a brand
The danger sign warns against spinning rope into gold
Or putting mother of pearl in a mermaid's purse.
Crabs are dredged from the undercliff and sledged up the wall in nets
while the druid fisherfolk pull them through the fog
and end up stranded on the strand like the dog Crusoe
(c) Mary Walsh, 2022
We Don't Learn From History
We don't learn from history
We are doing it wrong
Idolising heroes who rule by the gun
While a nurse or a doctor get up every day
To make people's lives better
In so many ways
We don't learn from history
We are doing it wrong
There are children still starving
towns wrecked, flattened and torn
As refugees run
From the bomb and the war
We don't learn from history
We are doing it wrong
Centuries of bloodshed still hanging on
No care for the elders
No care for the young
Just profit and bloodshed as morals run.
(c) Mary Walsh, 2022
*****
See, I told you she had talent!  Born in Hammersmith and raised in Dagenham Mary now lives in Hornchurch in Essex with her husband Denis, daughter Rosie, Dog Billy, cat Theo, and her canary Mr Pickles. She has two more children and five grandchildren, all living nearby.
Mary has always been an avid reader and won her first poetry prize in junior school at the age of nine. She has a keen interest in writing and while at school, was always being told off for staring out of the window instead of concentrating on her lessons. Far from being a disadvantage, these were the times her mind roamed free and her imagination was able to develop fully.
Mary is not only a skilled purveyor of poetry but also produces fine prose and is a finalist in the Book Challenge competition for Pen to Print with her first crime novel set in Spain.
She tells me her inspiration comes from many different sources, the poetry of Spike Milligan and Pablo Neruda and lately that of Lemn Sissay and Brian Bilston. She loves humour in poetry but has also written about grief and the loss of her mother when she was 14. She regularly attends free writing sessions with Claire Steele and has taken part in Pen to Print's 'Love Letters To The World' project in response to the pandemic.
Mary has a strong connection to her Irish heritage and has written many pieces about growing up Irish in Dagenham and about the village her father came from in Waterford. She has also written a long poem about her father's time in the Palestine Police Force, 1946-48.
Here are some more examples of her creative words and sage observations.
Morning Haiku   – After Matsuo Basho
Clouds threatening rain
Hang in sky of grey with hints
Of sun breaking through
(c) Mary Walsh, 2021
Fish And Chips
Fish and chips
Fish and chips
So handy if you wish
Unless you want
Doner kebab
Or a big and fatty shish
There's mushy peas
And garlic sauce
And gosh, gosh, gosh and golly
Don't forget the pickled onion
And a giant wally
(c) Mary Walsh, 2022
(For those from outside Dagenham, a wally is a giant pickled gherkin)
The Smell Of Forgotten Things
(From a free-writing exercise.)
The smell of forgotten things, in the month of May, assaults my senses. Lilac blossom wreathed and placed around the Virgin Mary's statue.  Fragrant afternoons with freshly laundered linen, folded and placed in the blue press which, each time the doors opened, allowed a bulging colourful scent into the room, filling the air with a kind of peace and homeliness that lets you know that all is well. But then life was full of chilled perfumes on the cold spring evening where I met you on the tulip path. I felt the volume increase as my heart raced to leave January behind with winter. We tiptoed into spring, and I acknowledged our progress with a small smile.
I loved the way your Breton striped world clashed with the bulbous nature of the tulip path. Colours melted into one and other, my trembling heart creating an openness for love. But then the memory of stripes jarred me back to a phone call I shouldn't have picked up. Suddenly, you took what you could from nature. Spring ended for me then and I was plunged back into winter for a while until green shoots appeared and the scent of forgotten things.
(c) Mary Walsh, 2022
*****
At this point, I'd like to add that the 'wally' is not the only reason to visit Dagenham. (Though it is a good one.) Anyway, back to our writer of the month. Mary likes to read adventure novels like the Sharpe series by Bernard Cornwell, the Cetin Ikmen mysteries by Barbara Nadel and also Daniel Deronda by Mary Ann Evans, under the pen name of  George Eliot. As a child, she grew up with C.S Lewis, Enid Blyton, and E. Nesbit, among others.
Currently, Mary is planning her second Detective Armando Ramirez mystery and is attending the advanced Creative Writing Course run by Ian Ayris and The Advanced Poetry Course led by Anna Robinson, both organised by Pen to Print.
She explains that the process of writing poetry usually starts with one line and she finds it useful to keep a small notebook or use her phone to record these lines; building on it when she gets home. Inspiration can be anything from travelling on the underground, a great place for people-watching, to family life and holidays abroad. After writing the poem, Mary tends to put it away for a week or two and then take a fresh look, editing it by changing the order of lines, changing the rhymes or simply coming at the subject from a different direction. For creative writing, she finds the READ ALOUD programme on Word very useful. Here are some of Mary's poems, along with a couple of extracts from her Advanced Creative Writing workshop.
Poet Lost
My heart flows like a river
I recall the sweet scent of lovage
in the mimosa cocktail
The loneliness when you left.
Green and gold water flowing outward
Carrying my memories with its ebb
The drought created a red scorched earth in my soul
Like all good people you are gone too soon
Beyond the oxbow bend
Out of reach.
Only your spirit remains
Lighting the darkness
(c) Mary Walsh, 2021
Underground Shoes
Black shoes
Balancing, swaying
Train rumbles
Creaks to its destination
People crowded
Thrust together
Close, closer
Cardigan over arms
Jacket slung round shoulders
Back pack, handbag, briefcase
Interminable drone
Announcing stations
Lone voice pleading for room
"Move down a bit more please"
Just one more person
Squeezes on
More black shoes.
(c) Mary Walsh, 2018
The Bird Of Love
(Written for 'Love Letters To The World' Project.)
The bird of love knows you are not ready. It perches near the place where the wind drifts and watches. It does not wait for hearts and flowers, or a starry night full of jasmine scents, or a beach with gently lapping waves and a full moon to strike. The bird of love knows that you are not ready.
The bird of love is patient, it waits for that glance, that smile, that look, the meeting of souls and then it strikes to the heart of us, the unready ones.  It makes the world shift on its axis, a tremor in the universe, embroidering a thread that goes from soul to soul and joins us together.
The bird of love knows you are not ready. It knows that it can strike at the oddest moments, it can smoulder softly or burn with a passionate flame. It can be quiet or burst in like the crash of cymbals.
The bird of love knows you are not ready but still it strikes.
(c) Mary Walsh, 2021
*****
And here's one Mary has written about growing up Irish in Dagenham:
An Irish Childhood In Dagenham Part IV – School And Church
On St Patrick's day at school,
Where nearly everyone's dad or mum or both were Irish,
We had no lessons, games were played as
our bunch of shamrock sent from Ireland
revived in water and pinned to our uniform, wilted.
'til it looked like the Holy Trinity of spinach
having waited too long for Popeye.
We celebrated no other Saints days.
St Patrick dealt in snakes and shamrock.
St George didn't get a look in despite
slaying the Dragon!
There were the snippets of Irish Language
phrases from Dad "Dhun an doras" Shut the door. "
"Slan" "Goodbye "Conasta tu? How are you?"
People were jaded, or eejits
Said "It's grand" (great). or "If god spares us"
Congregating at Mass, saying the Rosary,
or a novena or the stations of the cross
and carrying lilac wreathed Mary in the May procession,
Lent.
40 days abstinence from sweets. 39 with a day off for St Patrick
Saints' days and Holy days of Obligation. Ash on Wednesday.
and Fish on Friday
Offering it up when you had a cold or a pain or a bruise
Saying grace at the table
crosses in the apple pie crust and the soda bread
blessing ourselves as we drove past a cemetery
praying for the dead and the sick and the living
and Holy Communion, Confession and Confirmation.
Each feast celebrated with God in mind
a Saint for all occasions. The more horrible the death the saintlier.
and going home for the holidays
We are from Dagenham, Ireland
(c) Mary Walsh, 2019
*****
Finally, I had to squeeze this one in. I'm sure I'm not the only one who can relate to such memories.
Things My Mother Taught Me
How to lay the table for dinner
Which knife and fork to use at a banquet
How to keep my elbows off the table
How not to speak with my mouth full
How to put a cross in the top crust of an apple pie so it would be blessed in the oven
How to make gravy using burnt sugar for browning
How to make a Cut And Come Again Cake, that would last all week in a tin
How to say, "Thought not fort", like Dagenites
How to spell Yacht and Orchestra
How to strengthen my little finger for typing on the enormous Royal typewriter
How to wash my neck and not leave a tide mark!
How to know the sections of an orchestra
When to applaud at a concert and when not to
How to sing a party piece
How to sweep the stairs
How to be a young lady
How to address the aunts and uncles
How to say Please and Thank You
How to not fight with my sisters
How to skip
How to behave at Mass
How to say the Rosary
How to bless myself when passing a graveyard
Things My Mother Didn't Teach Me
How to grieve at her passing
(c) Mary Walsh, 2022
*****
It's been a great joy to help put this together. And, as I may have mentioned, Mary is a wonderful person as well as a fantastic writer. Talent and niceness–it's a great combination.
 Connect with Mary on Twitter: @MaryWal11526731 and Instagram: @marelwa60
*****
Issue 12 of Write On! Magazine is out now. See it here.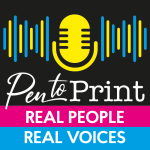 Each edition of our Write On! Audio podcast features an exclusive interview. Find us on all major podcast platforms, including Apple and Google Podcasts and Spotify. Type Pen to Print into your browser and look for our logo or find us on Anchor FM.
*****
If you or someone you know has been affected by issues covered in our pages, please see the relevant link below for ​information, advice and support​: https://pentoprint.org/about/advice-support/
While at school, Mary was always being told off for staring out of the window instead of concentrating on her lessons. Far from being a disadvantage, these were the times her mind roamed free and her imagination was able to develop fully.