As A… Writer: Claire Steele
This week, Write On's Eithne Cullen chats to writer and creative writing facilitator, Claire Steele. Eithne says, "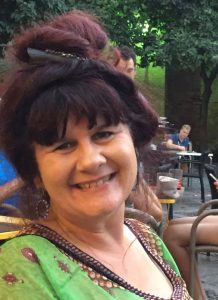 This summer I've been taking part in the 'Love Letters To The World' creative writing sessions which have taken place online and have been supported by Pen to Print. This has meant I've been fortunate to 'meet' Claire, one of the leaders of the workshops."
EC: Tell us a little about your background.
CS: I have worked as a writer and creative writing facilitator and tutor for over 20 years and am committed to enabling people to find the unique power of their voices. I run creative writing retreats, creative flow workshops and 'Constellations', a bespoke ten-month course designed to facilitate the development of a substantial piece of work. I have been involved in a number of community writing projects that have worked to bring people's ideas into the physical public spaces. As well as 'Love Letters To The World'* (see below),  fragments of poetry, insights and ideas gathered from my public workshops are now carved into the pavements of my home-town. I have published six collections of short stories, a novella and a literary analysis of Wuthering Heights.
My ethos is strength through creativity; a commitment to the deep and sustainable transformations that can be brought about through creative connections, prompting me to keep exploring new ways to share the wealth of stories and insights that form who we are as individuals and as a society.
EC: How would you describe your writing to someone new to it?
CS: I like to think of my work as textured, poetic, but with a strong sense of storyline and narrative arc. It's very often led by character. I'm interested in identity and redemption – forgiveness, perhaps. Or how people sustain love. The first novel I wrote was based loosely on my personal experience and is called How To Love A Murderer. It tells the story of a circus family whose beloved son is convicted of a series of murders. What happens to the family's idea of itself under those circumstances? Following her brother's conviction, the main character of the novel, Electra, goes out to retrace his steps and try and discover what has really happened. The novel explores how the past might serve to help us understand the present. My second novel tells the story of an elderly couple, trapped beneath a collapsed building. They can talk and hold hands but cannot move or save themselves. When the wife tells her husband that their marriage of 50 years has been built on the lie she told him when they first met, he has to learn how to forgive her and fall in love with her again before one of them dies.
A lot of my work is influenced by myth and fairy tale. I am interested in the ways contemporary characters encounter the pressures of history or the deep, underpinning stories of our time.
EC: Can you tell us a bit about your latest project?
CS:  I have been working on a number of things during lockdown. I'm writing a novel which is loosely a contemporary rewrite of Robinson Crusoe,  featuring the Captain as Crusoe. People who follow me on Instagram or Facebook already know about the Captain, as he often appears in my posts. Various people had asked whether I was writing a novel about him and, when the world went into lockdown, it looked as though this was a good time to pick up the story of someone who is shipwrecked into a world he cannot comprehend and in which isolation threatens to madden him. There are lots of things about this that interest me: the conflict between spiritual and material values, the need for companionship, the impact of solitude upon the mind. I am enjoying allowing the Captain to lead me into unknown territories at the moment. There are things happening here that I could not have predicted or imagined when I started writing this.
I have also, along with Carole Pluckrose, launched and run the 'Love Letters To The World' project, for which I run weekly workshops and post a daily writing prompt. This was another project generated as a creative response to lockdown. The concept was to enable the voices of people trapped in isolation to be heard and shared, creating some sort of connection between the interior world and the outer world. As we have felt the impact of social distancing, so we have reached out to each other and the wider public through creativity. This has reinforced a sense of identity and community. Hand-written love poems generated from workshops and the responses to the writing prompts have then been distributed into the outside world, spreading the love, finding their way into the hearts of random strangers. They have adorned trees and railings, benches and fences across Britain and as far away as the USA and Canada.
We have been very grateful for the support of Pen to Print, LBBD and ACE for enabling this project, which has so powerfully affirmed a sense of community cohesion during this challenging time.
EC: What inspired you to write in the first place and what inspires you now?
CS: I have always been a writer, right from being a little girl. It's how I understand the world, and how I inhabit it. Writing alerts me to what I need to pay attention to; it's the best way I know of being truthful. It's how I notice things, and how I discover things. During lockdown, I have been particularly glad of my writing practice because it is the thing that enables me to rise above my boundaries and be free. Writing takes you into the limitless and remarkable realm of the imagination. As a shielded patient, I have been restricted to two rooms since March. So, the ability to take myself somewhere else, with all the textures, weathers, complexities, obstacles and characters of a real-world through my writing, has been invaluable. Writing is also what connects us to people. Even when they are with strangers, these are very deep connections. We don't know who will meet us in the writing – who will be our readers – but we do know that the way they love us will be as true as any love we encounter in real life, and we know that because of the way we ourselves feel about books. So, I suppose the simple answer is that love inspires me to write: wanting to be loved, and wanting to express love.
EC: The current issue of Write On! explores the theme of 'A Kaleidoscope Of Colours'. The idea is that life at the moment is like looking through a kaleidoscope; ever-changing, ever-swirling patterns we must interpret and adapt to. Can you tell us a bit about how you been adapting to the shifting landscape of this fairly challenging present?
CS: One of the most profound adaptations I have had to make is to take my work online. For years, people have said to me I should put up online tutorials, or run webinars, and I have always resisted. I have always felt the way I work to be very social, intimate, alive to people's moods and sensitivities, all of which would not translate well to online tutorials. But with lockdown, all my work became prohibited. People simply could not meet together to write, so I was forced to take it online. And it has been a revelation. I could not have imagined the exciting creative opportunities that taking my work online has had. I've been able to reach writers who would otherwise have never come into the same space to write; people from different continents and time zones. I have connected with more people than I could ever have predicted, met new talents, and been inspired and moved by all the different kinds of writing we have produced together. I have even run a virtual retreat online for two days, taking people to Istanbul via zoom. At the end of it, people cried and didn't want to come home! The power of the imagination is so real and immersive when we enter the space and create something together.
In terms of my own writing, there have definitely been ways in which it has been coloured by the current situation, but these are subtle and equivocal. Writing is a powerful way of navigating the uncertain territories in which we find ourselves, I think the creative work that comes out of this period, across the world, will be seen as a distinct period, much like WW1 literature is. The times we are living through are challenging our ideas about what it means to be human, how we connect to each other, how we belong to each other. That is what literature, at its best, always attends to.
EC: What one piece of advice would you give an aspiring writer?
CS: First and foremost, love what you do. Imagine what it would be like if you loved your writing as much as you loved a new romance. Treat your writing as though it were a love, something you cannot wait to spend time with. You would steal ten minutes here or there from whatever else the world demanded of you just to have a quick call with a new lover. You would overlook the difficulties and only see the charms of being together. You would want to spend long hours in the night just sharing time, ideas, thoughts, intimacies. You would take time off work to be together, go away together.
Secondly, don't let perfectionism stand in the way of writing. Don't be afraid of getting it wrong, of making a mess. Sometimes you have to write something over and over to find the right way, but you can't find it by not writing. Don't be put off by the fact that it can feel hard. The thing you will write is the thing only you can write. There isn't one other person in the world who can write it the way you will. There is something great inside you that wants to be written and only you can bring it out.
Find a community of writers who will believe in you as a writer, and believe in the value of doing the work. This might be only one or two other people but their support will be invaluable. You need to be able to work in trust and strength, and sometimes, it's only someone else's belief that keeps you writing.
Make a practice. Be disciplined. The work won't write itself. You need to show up for the work every day. The daily practice will bring its own rewards – don't wait to be inspired.
Ahh well, old habits die hard: I see I was asked for just one piece of advice and I gave several. Of the above, maybe the first two are the most important.
EC: Can you tell us anything about future projects?
CS: I have a number of ideas I am cuddling along. I will very likely bring out another collection of short stories with my writers, maybe a lockdown collection, maybe a gothic collection. I'm also interested to see how the 'Love Letters' project develops. There has been so much writing generated, I'm sure there is a great deal more that can come out of that.
One of the things Carole and I have discussed is working together on a writing project as dual authors. I'm  also working on innovative ways to bring the work to different audiences. The 'Love Letters' project is one example and another is 'Story Tins', in which excerpts from the novel, or poems, or self-contained stories are gathered in tins and sold as art pieces.
I will also run more of the virtual retreats as it was enormous fun,  providing a deep soul-space for people to step into and feel restored; something that is difficult to achieve during lockdown, but which came out of this experiment like a true gift.
EC: Lastly, if you could choose one fictional animal/creature to be a pet or companion, who would it be and why?
CS: I would choose Ted Hughes' crow: I love crows, and also, I love Ted Hughes' poetry. Crow seems to me to be his masterpiece, full of imaginative freedom and creative energy. As a creature, Crow is anarchic, unruly, undecidable. The work itself is full of grief, and I think that is another reason why I would choose the crow, because it is a way of working out terrifying emotions through myth, through language, through something that isn't human and won't be.
You can connect with Claire on Facebook: www.facebook.com/magicalwritingjourneys Instagram: @magicaljourneysclaire
There's also a Facebook page for 'Love Letters To The World': https://www.facebook.com/Love-Letters-to-the-World-Creative-Writing-107258757649305
Magical Journeys, Claire's collections of short stories, are available on Amazon here: Promise, Beauty, Morocco and Wild.
Don't forget you can check out Issue 5 of Write On! magazine online by clicking here.
Make a practice. Be disciplined. The work won't write itself. You need to show up for the work every day. The daily practice will bring its own rewards – don't wait to be inspired.