As A… Writer: Helen Young
In this week's 'As a…' interview, Dan Cross spoke with Helen Young about her writing and the inspiration behind her stories.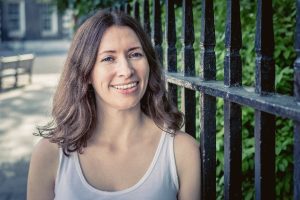 Helen lives in London and is a former Waterstones bookseller and writer/editor for Harper's Bazaar and Good Housekeeping. Helen attended the Faber Academy and published her debut novel, The May Queen, in 2016, at which time Stylist Magazine called her 'one to watch.' Helen's latest novel, Breakfast In Bogotá, was published by Unbound in August 2019. Although a historical fiction set in 1940s Colombia, Helen calls upon her own experiences of the city in this tale of passion, politics and war.
WO: How would you describe your writing to someone new to it?
HY: I love writing the types of books I like to read myself. Those which immerse me in a particular period and setting. I like to feel the world of the book is handled with the lightest of touches. I have a bit of an aversion to historical fiction which feels like you're on a history rollercoaster, where things are placed in site for the reader just to say, 'this is Victorian' or 'this person exists during the 1940s' yet their placement has nothing to do with the plot itself. I think good writing should show you those things without telling you.
WO: Can you tell us a bit about Breakfast In Bogota and what inspired you to write it?
HY: I was inspired after a walk around the district of La Merced in Bogotá. It's made up of mock-Tudor houses which wouldn't have looked out of place in the UK. I found it so bizarre that this very European-style of building could sit buffeted against the Andes. From there, I had my lead character, Luke, who's an architect, sent to Colombia to build.
Luke is running from his past, but when he settles into life in Bogotá and starts friendships and relationships, he quickly realises that it's impossible to run forever. The past always finds a way into the present. The book culminates in the real life 'Bogotazo' (the night when Bogotá went crazy), where the leader of the liberal party, Jorge Eliécer Gaitán, was assassinated on the streets of the capital (this took place in April 1948). The people, in their grief, tore the city to shreds and in the book, Luke finds himself at the centre of a city in ruins.
WO: You have published two novels now, Breakfast In Bogota and The May Queen, as well as contributed to The Word For Freedom, a short story collection celebrating women's suffrage. What would you say are the main differences between short story writing and creating a novel?
HY: I find short stories slippery customers, but that's because I haven't invested enough time in them. I have a friend who is a master short story writer and he has written hundreds of stories. I've written a handful. At the moment, I'm much more interested in honing my long-form (novel writing) skills. The main difference between the short story and the novel is that there are less places to hide in a short story. With a novel, you can stretch and tease out detail, but in a short story, the editing stakes are much higher. You've more to lose if you cut the wrong thing.
WO: Speaking of The Word For Freedom, how did this collaboration come about and what were your objectives in writing your short story?
HY: Friends of mine, Amanda Saint (Amanda runs Retreat West, who published the anthology) and fellow writer/anthology editor, Rose McGinty, invited me to submit a story. The anthology was published in support of women's suffrage. For me, that meant going back to my childhood. My story – To The Sea – is based on a traumatic camping trip I took as a young girl with my own family. I think the building blocks of suffrage are formed young. They certainly were in my case.
WO: And how has your writing evolved over time? What are the stand-out lessons you've learned?
HY: You're only as good as the next thing you write. Never get complacent about the skills you've developed or what you've learned because, like anything, if you don't use it, you may lose it. That sounds clichéd, but it's true for me. The biggest lesson of all is to edit, edit and edit again. When you think something is fantastic, it's usually the opposite. Allow space in time between each edit; you do need to come up for air so that you don't lose perspective on your aim within any given scene.
WO: In the last issue of Write On! we explored the theme of Building Communities: Worlds And Words. Can you tell us a bit about how you use words to build the worlds and the communities with which you want your readers to engage?
HY: I've always been quite a visual person; I'll remember a face but not a name. When it comes to world building, it's the same. I see setting as akin to stage sets. I think about what needs to be in my scene in order for it work effectively. I like to keep detail sparse but relevant to the action. I try not to include anything which hasn't earned its place in the drama. When you read a book, you're always looking for clues as to how to knit one scene to the next, as that's how you progress: taking the memory of what came before with you. You look for these clues in what the writer has given you. If you give your reader too many things – too much clutter – I believe you'll lose the precision with which your reader can navigate their way through the drama. And from there you'll have an issue with pace and tension. Scene setting is very important but must not be trusted by itself; you're not writing a travel guide, after all.
WO: What one piece of advice would you give an aspiring writer?
HY: Do a course if you can. I never took myself seriously as a writer until I'd done the Faber Academy six-month novel writing course. If a course isn't for you, read a good book. Richard Skinner's Writing A Novel is based on the course I've mentioned and is a solid place to start. Once you start writing, join a writing group so you can share and critique each other's work. Don't ask family, they'll only tell you what you want to hear. What you really want to hear are bad things, where you're going wrong; otherwise, how do you ever expect to improve?
WO: Lastly, can you tell us about anything you are working on at the moment? Do you have any projects or new ideas you want to explore?
HY: I'm working on a story of loss that's a sort of tragi-comedy, which is pretty true to life. The balance is proving easier to strike than I'd thought. I'm hoping to have that finished by Autumn 2020. I've got a second project on the go,  a supernatural thriller, which also centres around loss. Yes, it's a theme. It's all quite jolly to write, really!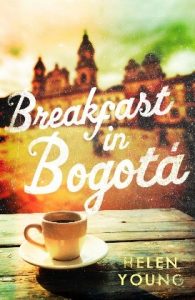 You can read more about Helen and her books on her website: www,helenireneyoung.com and follow her progress on Twitter: @helenireneyoung
Also, you can follow Unbound, publisher of Breakfast In Bogotá: @Unbound_Digital and: @unbounders
Breakfast In Bogotá is out now and available to purchase.
Look out for more Write On! interviews every Sunday.
Dan is the online Showcase editor at Write On! If you have a short story, poem or novel extract you would like to share with the world, then he wants to hear from you! Send your creative writing to pentoprint@lbbd.gov.uk.  Alternatively, connect with Dan via Twitter (@dancrossauthor) or his website.
If you give your reader too many things – too much clutter – I believe you'll lose the precision with which your reader can navigate their way through the drama. And from there you'll have an issue with pace and tension.