Saturday Spotlight: Latest Book Releases w/c 25th April
by Claire Buss, Deputy Editor, Write On! 
At Write On! and Pen to Print we want to help connect authors and readers, so we've created a spotlight page every Saturday, showcasing some of the exciting new reads available. The list has been curated by Lisa Rouiller and myself, based on books that you send us, so if you're an author and you'd like your book in the spotlight, reach out to Lisa at pentoprint@lbbd.gov.uk. Whether you're an indie author, with a small press or mainstream publisher, we'd love to hear from you and shine a light on your new novel.
Write On! offers other opportunities for writers as well. If you'd like us to feature an extract from your book or a short story, please send the extract, book cover and blurb to pentoprint@lbbd.gov.uk with the subject Write On! Showcase (ensuring you have your publisher's permission, of course).
Pen to Print are also looking for short videos from people reading a passage from their favourite book or authors reading extracts from their own books. These videos will be featured on the Pen to Print YouTube channel and across our social media. Please send in your videos or links to pentoprint@lbbd.gov.uk with the subject Video Stories.
Liam is swamped beneath the politics of managing an elite task force. Now, given more downtime than he can handle, the ex-special ops sniper flounders to find purpose outside the strict rigours of his working day.
Selena has been Liam's best friend for nearly fifteen years. Elegant and intelligent, and a partner in her own law firm, she's helped Liam through difficult cases, as well as the aftermath of PTSD. Watching Liam drown in day-to-day life, Selena ups the stakes with a little flirting to restore life to the man she adores.
When a series of vandalisms target Selena, Liam is determined to keep the captivating solicitor safe, so long as she lets him. Intent on playing her game by his own rules, Liam risks an uncertain future for the woman he's always loved.
This Friends-to-Lovers novelette can be read as a stand-alone story or as part of the Blue Blooded Brother Series. HFN ending.
Liam and Selena's story will continue in RECKONING.
Available to buy here
Connect with Sofia Aves
A tale of two very different sisters whose 1890s voyage from London into remote outback Australia becomes a journey of self-discovery, set against a landscape of wild beauty and savage dispossession.
London in 1891: Harriet Cameron is a talented young artist whose mother died when she was barely five. She and her beloved sister Sarah were brought up by their father, radical thinker James Cameron. After adventurer Henry Vincent arrives on the scene, the sisters' lives are changed forever.
Sarah, the beauty of the family, marries Henry and embarks on a voyage to Australia. Harriet, intensely missing Sarah, must decide whether to help her father with his life's work or to devote herself to painting. When James Cameron dies unexpectedly, Harriet is overwhelmed by grief. Seeking distraction, she follows Sarah to Australia, and afterwards into the outback, where she is alienated by the casual violence and great injustices of outback life.
Her rejuvenation begins with a friendship with an Aboriginal stockman and her growing love for the landscape. But this fragile happiness is soon threatened by murders at a nearby cattle station and a menacing station hand seeking revenge.
Available to buy here
Connect with Alison Booth
This is the story of a girl growing up in a time where it was believed children should be seen and not heard. Always raging against authority, she spends most of her life looking for love and  a fairytale ending, with a somewhat skewed perception of what that should be. She is taken on a roller-coaster ride of darkness, joy, grief and spirituality and discovers that love is not always found in the obvious places.
Available to buy here
Connect with Louise Crandall
Four misfit friends and 50,000 bees: together they must change the world.
Aided by three gifted friends and her beloved bees, Mielitta, Queen of the Warrior Bees, must break down the barriers between the Forest and the Citadel to build a better world. But in the Citadel, she is still seen as a freak and a traitor. The council mages plot to break the blood oath binding them to their treaty with Mielitta and seek to destroy her. While she assumes her new responsibilities in the Forest, her hopes rest on one man, inside the Citadel.
Trapped in a society he loathes and fears, Mage Smith Kermon's mission becomes a test of survival. Can he remain loyal to Mielitta in the double life he leads as her spy in the Citadel? He is quickly embroiled in deceit and subterfuge, forcing him into actions that make him doubt himself and everything he values.
Block Nature out and she'll force a way in.
Available to buy here
Connect with Jean Gill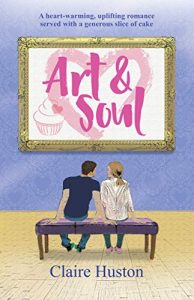 A heart-warming, uplifting romance served with a generous slice of cake. Perfect for fans of Jill Mansell, Katie Fforde and Cathy Kelly.
There's no problem Becky Watson can't fix. Except her own love life…
Struggling single mother Becky Watson longs to revive her career as a life-fixer, working miracles to solve her clients' problems, no matter how big or small. Since the birth of her two-year-old son, she has been stuck preventing wedding fiascos for the richest and rudest residents of the Comptons, a charming, leafy area of southern England known for its artistic heritage.
So when semi-reclusive local artist Charlie Handren reluctantly hires Becky to fix his six-year creative slump, she's delighted to set him up with a comeback exhibition and Rachel Stone, the woman of his dreams.
Though they get off to a rocky start, Becky and Charlie soon become close. But as the beautiful Rachel becomes Charlie's muse, Becky is forced to wonder: will giving Charlie everything he wants mean giving up her own happy-ever-after?
Available to buy here
Connect with Claire Huston
They created her to kill gods – then they left her with the elves.
Deemed unfit by the very wizards who made her, Zelia's powers slumber, until she is given an ultimatum. Prove herself. Or perish.
Forced to spill the blood of innocents, Zelia faces the darkest of fates. But when the lives of those she cares about hang in the balance, she must confront her makers, or risk losing the one glimmer of hope that has kept her going.
Can she create a new future? Or will she forever remain Cast In Fire?
Available to buy here
Connect with Zora Marie
Broken, battered, and lost in a sea of uncertainty.
Zelia survived. They had won, but she didn't feel as though she had won. The tortured souls of her past, of those lost, haunt her more now than ever as the threat of the elder wizards grows ever nearer.
A dragon rules under the dwarves' mountain, but all is not as it seems. The dragon bears a warning, a gift, and a plea that leaves her more questions than answers. When the elder wizards of The Guild show their hand, a race to protect the gates of hell begins. But when Zelia's soulmate throws herself into danger, will Zelia be able to save her without bringing ruin to all those around her?
Available to buy here
Connect with Zora Marie
A year has passed since Rob Simpson-Stone received a photo of his nieces enjoying a night out, unaware their photographer was one Anders Folden: a psychopathic hitman Rob helped to put away while working undercover for the Met Police Special Investigations Unit.
Only Gray Fisher – Rob's former boss, now his business partner –is taking Rob seriously. The powers-that-be insist Rob and Gray are being paranoid: there's no proof the photo came from Folden, who's stayed off the authorities' radar long enough to have assumed a new identity and fled overseas. It takes a significant threat to Rob's son's life for anyone to question that assertion, but police protection is worth nothing when the target has friends in high places to bend and break the law to his will.
Folden won't stop until he's completed his mission: to fulfil a contract or end a personal vendetta. Rob and Gray are no longer sure which. What they do know is that they need to find him before he finds them; with or without help from the authorities.
Available to buy here
Connect with Debbie McGowan
After breaking up with her childhood sweetheart, clueless dater Rosie has found herself in a boyfriend-drought. So when she finally swipes right on a guy who seems interested, she can't wait to meet up in person.
Until she's left standing alone. In a bar. Stood up.
Enter Noah. Confident, funny, and a serial first dater. Offering to give Rosie a crash course in seduction, this could be just what she needs. Until her matchmaker turns out to be the best date she's ever had – and Rosie wonders if she wants the fake dates to be the real ones after all …
A hilarious, heartwarming romantic comedy about what happens when the wrong guy turns up at the right time. Perfect for fans of Sophie Kinsella and Mhairi McFarlane.
Available to buy here
Connect with Zara Stoneley
Bogotá, 1947. British architect Luke Vosey has left his past behind to undertake a commission for Anglo-Colombian Oil in South America. For Luke, this new venture seems to offer the chance to start again. But, grieving and ashamed of his role in the war, he cannot run from the past or from his nightmares.
Luke finds distraction with the whores of Las Cruces and in the friendship of a young newspaper journalist and finally with Felisa, a young draughtswoman with a passion for politics. Through her, Luke comes to understand the true broken mood of the people of Colombia, with the country teetering on the brink of civil war. Then a bloody assassination on the streets of the capital sees everything he's worked for destroyed.
As the mob tears the city to shreds, and Luke's past is unveiled, can he survive to save others?
Available to buy here
Connect with Helen Young
Remember, if you're an author and you'd like to see your book in our Saturday Spotlight, email pentoprint@lbbd.gov.uk and send us the details of your new novel. 
Further Links

For details of Penguin RandomHouse new releases, visit their website here.
For details of Hachette new releases, visit their website here.
For details of HarperCollins new releases, visit their website here.
For details of PanMacmillan new releases, visit their website here.
For details of Simon & Schuster new releases, visit their website here.
Disclaimer: Amazon links are given for ease but please remember there are a number of other online retailers operating, including hive (which helps to support independent book shops), Kobo, Apple Books, Google Play and Nook as well as online stores for bookstores like Waterstones, Barnes & Noble and WHSmiths. Given the current situation though, please check first.
And finally…
Just a note to let you know that World Book Night was a highlight for Pen to Print this week, alongside the Bard's birthday, of course. This wonderful evening is an annual event, designed to unite all writers and genres under one roof. We loved seeing popular, traditionally-published authors storytelling and supporting libraries alongside independent authors, as well as being part of it all! Although, thanks to COVID-19, our original plans for the evening turned out rather differently…
We had intended to host our first evening 'Indie Author Book Fair' locally, i.e. in LBBD. Though, due to the virus, we weren't able to do this. Instead, we  decided to put Social Media to good use and share our Book Challenge Competition finalists this way instead; reaching out to a wider audience, albeit digitally.
On Twitter, we used #ReadingHour, with quick links to purchase our recommended reads. On Facebook, we were able to add more details, posting the blurb and image for each book as well. The books we posted received a great response across both platforms, with each one being shared and liked.
The genres Pen to Print authors write across are diverse. For example, we have published children's fiction, including a story about a little boy and his spider friend; and we have also published a heartfelt romance between two young people from different backgrounds.
That's what's so great about World Book Night as a whole: all genres, including  sci-fi, historical fiction, crime and thrillers are represented. Truly, there has never been a greater time to get involved with this fabulous event!
We want to help connect authors and readers, so we've decided to create a spotlight page every Saturday, showcasing some of the exciting new reads available.