This week, Write On's Lynda Shepherd chats with the artist Zulf.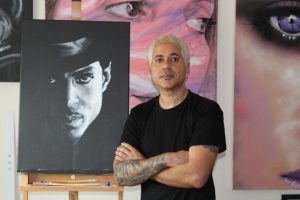 Zulf is an artist from west London who specialises in portraits using pencils, acrylic and spray paint. After being featured on a few large platforms, his work went viral earlier this year. Zulf has become known for his black and white silhouette/negative space portraits. He recently turned fifty and is now pursuing his craft full-time.
LS: What field of art do you specialise in?
Z: Portraiture.
LS: Can you tell us a bit about what you are working on at the moment?
Z: At this current time I am working my way through commissions. In between commissions, I create originals. I've just completed four little A5 pieces which come framed.
LS: What inspired you to become an artist, and what inspires you now?
Z: I don't know if anything actually inspired me to create art. As a kid, I would just draw, simply because I liked creating. I can now say it's people that inspire me, especially women. I love drawing/painting women's faces, with a lot of light and negative space.
LS: The current issue of Write On! explores the theme of 'A Kaleidoscope Of Colours'. The idea is that life at the moment is like looking through a kaleidoscope; ever-changing, ever-swirling patterns we must interpret and adapt to. Can you tell us a bit about how you've been adapting to the shifting landscape of this fairly challenging present?
Z: I do what I call 'riding the wave'! As someone who suffers with anxiety, panic attacks, etc, I do my utmost not to anticipate what's going to happen. I just keep creating, which keeps me calm. When something arises, I then look at how to deal with it; hence 'riding the wave'. With the COVID pandemic at present,  my family and I have to shield, but, despite this, I manage to get through each day, simply because I don't think about it.
LS: What one piece of advice would you give an aspiring artist?
Z: Always be in competition with yourself. Don't worry about what other artists are doing; just be the best you can be for you.
LS: What are the biggest issues (if any) you have to navigate as an artist?
Z: I can't say I have any issues! Well, I don't think I have. It all comes down to how you put yourself out there and what you want to accomplish as an artist.
LS: Can you tell us anything about future projects?
Z: Since being made redundant from my job recently, my project right now is to become a full-time artist. I'm always thinking of new ideas. I can tell you I will soon be starting a series called Head In The Clouds. My mission will be to get them exhibited.
LS: Lastly, if you could choose one fictional animal/creature to be a pet or companion, who would it be and why?
Z: Ah, it would have to be Donkey from Shrek, because I know there would never be a silent dull moment!
You can connect with Zulf and see more of his work via Instagram @iamzulf
Don't forget you can check out Issue 5 of Write On! magazine online by clicking here.
Always be in competition with yourself. Don't worry about what other artists are doing; just be the best you can be for you.