This week, Write On! chats with crime author Alex Kane.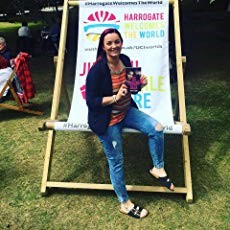 Alex is from a small village just outside Glasgow. She grew up around books, her mother always reading the latest crime thriller. She began writing in 2010 and was published by Hera Books in 2019 with an extensive and interesting journey to publication in between.
Alex is a psychological thriller writer and a huge fan of the genre; her favourite authors being Lisa Hall, BA Paris and Sarah Stovell. If she's not writing, she can be found playing with her cat, reading, or drinking tea and/or gin (sometimes all of the above)!
She is currently working on future books and can also be found procrastinating on Facebook, Twitter and Instagram.
WO: How would you describe your writing/work to a new reader?
AK: I write psychological thrillers. I like to create as much tension as possible with characters who stand out, so that the reader can imagine them as if they were real.
WO: Can you tell us a bit about your latest book, She Who Lies?
AK: She Who Lies is about a very wealthy and successful family who have built up their business from nothing. But self-made millionaires aren't perfect; even they have secrets to hide. The family are in the spotlight all the time: on social media, in magazines, all over the internet. But someone knows their secret and will do whatever they can to expose it. This person wants to see the demise of the family – and for good reason.
WO: What inspired you to write in the first place, and what inspires you now?
AK: I've always loved books. When I was little, I was fascinated that someone could write an entire book. The idea that someone would sit down to write a story that would be made into a physical book that could be bought from shops really intrigued me. I always wanted to write a book of my own. When I was little, I was inspired just by being around books. I had a library in my bedroom (a small bookshelf but to a twelve-year-old, it was a library) and loved reading. I liked the Goosebumps books, Point Horror and The Babysitters Club. When I reached sixteen, I started on Martina Cole, Mandasue Heller and James Herbert. Those were the writers who made me really think I could write a book if I gave it my best shot.
WO: The current issue of Write On! explores the theme of Head In The Clouds: exploring inspiration and creativity along with the need to stay grounded. Can you tell us a bit about how you manage to combine the two in your writing?
AK: I started writing ten years ago and have to admit my head was in the clouds back then. I was very naive about the industry and how it all worked. I began researching authors I liked and found that some of them were on Facebook. I loved the idea I could connect with them. I soon became addicted to writing and, once I heard some of the writers I love tell their publication stories, I quickly realised I wasn't going to be able to give up the day job any time soon. I worked hard, wrote whenever I could, read books by my favourite authors and discovered new authors too. Their books inspired me and allowed me to learn about the art of writing: creating a story, a backdrop and characters that will lead the narrative. I also became a people-watcher. I wanted my characters to be authentic, not two-dimensional.  Over the years, I have learned that observing issues going on in the real world combined with reading fiction is a good way for me to create my story.
WO: What one piece of advice would you give an aspiring writer?
AK: Write. If you want to do it, then do it. No one can write your book but you. And read as often as you can.
WO: Question from Twitter user: @iainmillar18. How will you deal with Spring and Summer 2020 in your fiction? Tempted to just skip it?
AK: I am currently writing my fourth book and have decided not to include the current pandemic. It's in our faces so much already I'd rather step into a world of fiction and away from what is going on in the real world. Isn't that what submerging yourself in a book is all about?
WO: Can you tell us anything about future projects?
AK: Because of the pandemic, I have been able to write the majority of my latest book in a short space of time. I can't say too much about it yet, but keep an eye on my social media pages for updates.
WO: Lastly, if you could choose one fictional animal/creature to be a pet or companion, who would it be and why?
AK: That would have to be Drogon (Danny's dragon from Game Of Thrones). He was so loyal and, in a way, quite cute. You wouldn't have to worry about getting stuck in traffic again with Drogon as your personal pilot, would you?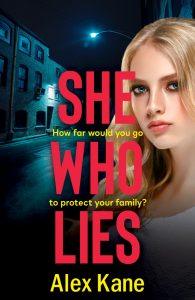 You can connect with Alex on Facebook, Twitter and Instagram.  She Who Lies is available to buy from Amazon.
Don't forget you can check out Issue 4 of Write On! magazine online by clicking here.
I like to create as much tension as possible with characters who stand out, so that the reader can imagine them as if they were real.