Saturday Spotlight: Latest Book Releases w/c 13th June
by Claire Buss, Deputy Editor, Write On! 
At Write On! and Pen to Print we want to help connect authors and readers, so we've created a Spotlight page every Saturday, showcasing some of the exciting new reads available. The list has been curated by Lisa Rouiller and myself, based on books that you send us, so if you're an author and you'd like your book in the spotlight, reach out to Lisa at pentoprint@lbbd.gov.uk. Whether you're an indie author, with a small press or mainstream publisher, we'd love to hear from you and shine a light on your new novel.
Write On! offers other opportunities for writers as well. If you'd like us to feature an extract from your book or a short story, please send the extract, book cover and blurb to pentoprint@lbbd.gov.uk with the subject Write On! Showcase (ensuring you have your publisher's permission, of course).
Pen to Print are also looking for short videos from people reading a passage from their favourite book, or authors reading extracts from their own books. These videos will be featured on the Pen to Print YouTube channel and across our social media. Please send in your videos or links to pentoprint@lbbd.gov.uk with the subject 'Video Stories'.
When pressure from his materialistic children turns Claude into a thief, it is down to his youngest daughter to set things right. Angelique agrees to take her father's place as prisoner to what she is told is a hideous beast.
Angelique soon discovers that the so-called beast is nothing more than Rosalie, a princess cursed to remain trapped in a castle, unless the curse can be broken; something she assures her is impossible.
Angelique does not believe in the impossible, and sets about trying to find a way to save her new friend, who she is rapidly growing to love.
Eye Of The Beholder is the first in a series of queer fairy tale retellings in C H Clepitt's Magic Mirror Collection.
Available to buy here
Connect with C.H. Clepitt
The Handmaid's Tale meets Wilder Girls in this genre-defying novel about a girl who escapes a terrifying cult, only to discover that the world 'Outside' has succumbed to a viral apocalypse.
Agnes loves her home of Red Creek: its quiet, sunny mornings, its dusty roads, and its God. There, she cares tirelessly for her younger siblings and follows the town's strict laws. What she doesn't know is that Red Creek is a cult, controlled by a madman who calls himself a prophet.
Then Agnes meets Danny, an Outsider boy, and begins to question what is and isn't a sin. Her younger brother, Ezekiel, will die without the insulin she barters for once a month, even though medicine is considered outlawed. Is she a sinner for saving him? Is her sister, Beth, a sinner for dreaming of the world beyond Red Creek?
As the Prophet grows more dangerous, Agnes realises she must escape with Ezekiel and leave everyone else, including Beth, behind. But it isn't safe Outside, either: A viral pandemic is burning through the population at a terrifying rate. As Agnes ventures forth, a mysterious connection grows between her and the Virus. But in a world where faith, miracles and cruelty have long been indistinguishable, will Agnes be able to choose between saving her family and saving the world?
‍Available to buy here
Connect with Kelly McWilliams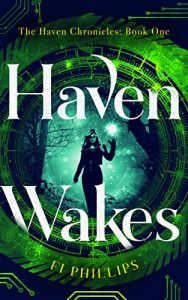 What if you discovered there was another, magical world alongside ours but just out of reach? What would you do if a being there wanted you dead, but you didn't know why? And how would you save their world – and ours – if all was threatened by evil?
When Steve Haven's uncle dies, Steve finds himself the guardian of a strange artefact known only as the Reactor. But there are people out there who want the Reactor; dangerous and powerful people, who will stop at nothing to get it.
Steve is sucked into a race against time to save two worlds from an evil he could never have imagined and, in doing so, is forced to rely on people who, just a few days before, would never have believed existed.
Haven Wakes is an exciting and enthralling journey through new worlds, both futuristic and magical.
If you enjoy fantastic settings, magical powers and futuristic devices, you'll love Haven Wakes.
Available to buy here
Connect with Fi Phillips
Suppose, one morning, you find yourself dead? You can see yourself clearly in the mirror, and feel the same as you did the day before. But today is the day of your funeral. What do you do?
This is Henry's dilemma. He decides he can't possibly be dead, so sets out to prove he is alive. Then, he discovers that Rita, a product demonstrator at the supermarket, can see him.
Even with the help of Rita, proving you're not dead is harder than Henry imagines, but when he discovers he has been murdered, the question is why and by whom?
Available to buy here
Connect to Lynda Renham
In this entertaining story of female friendship and empowerment, practical Shelby Stewart and ambitious Astrid Ericcson just want to start their careers in Boston's PR world and maybe find a nice guy to hang out with.
Long-buried memories of a childhood incident keep interrupting Shelby's plans, affecting her health one way after another. When will she actually date someone her friends think is good enough for her?
Astrid thinks she wrote the book on How To Get Ahead By Flirting but is forced to revisit her career advancement strategy when her boss Brad takes the innuendos to a whole new level; threatening her job and her safety.
In this thought-provoking, entertaining story, the women reach new highs and lows in life, work and romance, while struggling to make sense of the relationships that haunt them.
Available to buy here
Connect with S.M. Stevens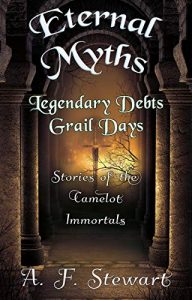 Want to know a secret? Camelot existed, but it never died.
Nimue, Merlin's ex-everything, is merely an immortal witch trying to get by in this modern world. Too bad the past won't stay where it belongs: buried.
For the first time, you can read both of the Camelot Immortals short stories Legendary Debts and Grail Days in one book.
Legendary Debts: Merlin's back and up to his old tricks. But Nimue is in his way and after revenge. It's a witch vs. wizard showdown for the fate of a new Camelot.
Grail Days: The Grail has vanished and Nimue is pulled into a magical free-for-all to reclaim the powerful relic. Will she find it in time?
Magic is forever… and invariably brings trouble. And no matter what she does, trouble always finds Nimue.
If you like strong snarky heroines, magic and crazy adventures,  you'll love these tales of Nimue and her friends.
Available to buy here
Connect with A.F. Stewart
The author of Dancing On The Edge Of The Roof, now a Netflix film starring Alfre Woodard, returns with a riveting, emotionally rich novel that explores the complex relationship between mothers and daughters in a fresh, vibrant way. A stunning page-turner for fans of Terry McMillan, Tayari Jones, and Kimberla Lawson Roby.
Elise Armstrong, Carmen Bradshaw and DeeDee Davis meet in a yoga class. Though vastly different, these women discover they all have one thing in common: their mothers have recently passed away. Becoming fast friends, the trio make a pact to help each other sort through the belongings their mothers left behind. But when they find old letters and diaries, Elise, Carmen and DeeDee are astonished to learn that each of their mothers hid secrets: secrets that will transform their own lives.
Meeting each month over margaritas, the trio share laughter, advice and support. As they help each other overcome challenges and celebrate successes, Elise, Carmen and DeeDee gain not only a better understanding of the women their mothers were, but of themselves. They also come to realise they have what their mothers needed most, but did not have during difficult times: other women they could trust.
Filled with poignant life lessons, The Secret Women pays tribute to the power of friendship and family and the bonds that tie us together. Beautiful, full of spirit and heart, it is a thoughtful and ultimately uplifting story of unconditional love.
Available to buy here
Connect with Sheila Williams
Remember, if you're an author and you'd like to see your book in our Saturday Spotlight, email: pentoprint@lbbd.gov.uk and send us the details of your new novel. 
Further Links

For details of Penguin RandomHouse new releases, visit their website here.
For details of Hachette new releases, visit their website here.
For details of HarperCollins new releases, visit their website here.
For details of PanMacmillan new releases, visit their website here.
For details of Simon & Schuster new releases, visit their website here.
Disclaimer: Amazon links are given for ease but please remember there are a number of other online retailers operating, including hive (which helps to support independent book shops), Kobo, Apple Books, Google Play and Nook as well as online stores for bookstores like Waterstones, Barnes & Noble and WHSmiths. Given the current situation, though, please check first.