Friday Feature: The Threads That Bind Us
by Eithne Cullen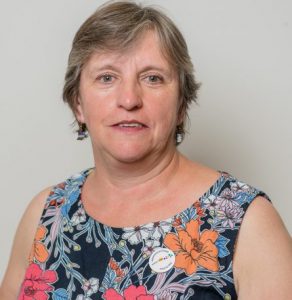 I live in a quiet road where people are friendly and say hello to each other when we pass in the street. We chat with some about the weather or how the children are. Many of the neighbours were well established when we moved in over twenty years ago, many of us have seen the children grow and leave home, new families have moved in and new families start to grow.
A couple of years ago, a few neighbours started a WhatsApp group and it grew to a couple of dozen users. We mainly messaged about parking, when the green bins go out or to warn one another about an attempted theft or burglary.
Since the lockdown, we've also messaged about the NHS, encouraging each other to clap on a Thursday. Some people have told us where to go for toilet paper or given details of companies willing to deliver fresh food to our doors. We began to grow and say how we should all meet up after it's all over, even suggesting a street party! And why not?
Then, about three weeks ago a new tide of messages came flooding in. A few of my neighbours posted messages about sewing scrubs for health workers. A few more said, "What's that all about?" And then more chimed in asking, "How can I get involved?".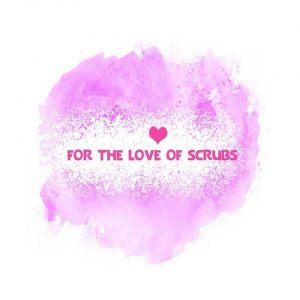 A new group popped up, For the Love of Scrubs, and the messages come pinging in by the dozen.
So what's all the excitement? We're all doing something to help health workers and using lockdown time to make a difference. I have since found out our group was started by three women:  Razwana, Amna and Ayesha. Gem joined and brought her expertise in communication, setting up a Facebook page to ensure orders were coming in. Hafiza brought her stitching and organisational skills, which meant the group could be more adventurous in taking on scrubs and gowns.
Gemma told me:" It's been a real pleasure working with all the team in helping raise funds for sourcing, making and distributing much needed PPE around the clock. Not just for Redbridge but for other boroughs as well. Everything from scrubs, scrubs bags, gowns, ear savers and more for hospitals, GP surgeries, care homes and more. It's really nice to give something back to society at this time of need."
Skilled needlewomen are making sets of scrubs and uniforms to take to GP practices, hospitals and care homes. We hear about the shortage of protective clothing; our local groups are receiving many requests. There's also a demand for laundry bags. Let me explain this one: when the health worker takes off her/his gown, scrubs or uniform, he/she can put the dirty garment into a drawstring bag and pop it straight into the washing machine without handling it, so avoiding the risk of spreading the virus. There are requests for these in the hundreds.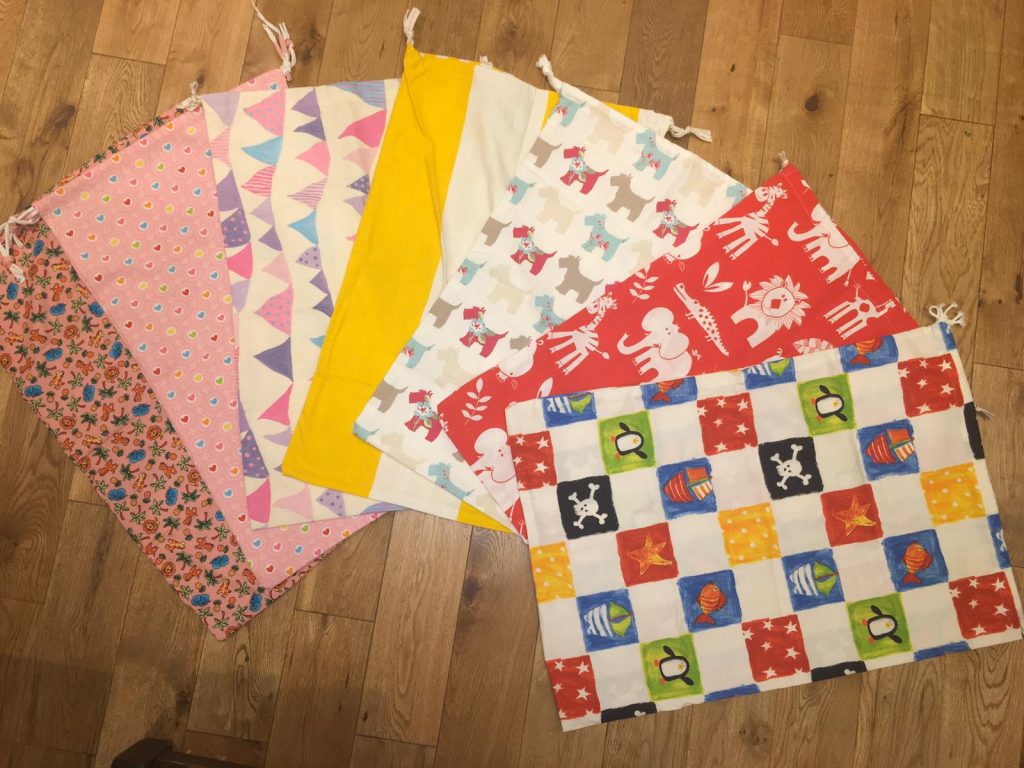 At this point, I decided to get the sewing machine down and join the army of helpers. For me, the biggest worry was knowing how to re-skill, as I'd not done any sewing for years.  It's taken a while, but I'm getting back into the stride of sewing and finishing. The thread snapped often, so I knew the tension wasn't 100% right and re-threading the machine several times a session reminds me that my eyesight isn't what it was! Still, I persevere. I've handed over seventeen so far and have cut out another nine to be getting on with. My fellow laundry bag makers seem to be much more productive than me. I was reassured by these words from one of the group, Rachel, "I am glad I learnt to sew all those years ago at school to be able to do something as useful as this in lockdown".
It's a huge operation and I see lots of names flashing on the screen. I'm getting to know who you need to ask for fabric, buttons, cords for the drawstrings, even thread of differing colours and strengths. Saikah is one of a number of area co-ordinators, very involved with organising the supplies. She described how she became involved:
"I was asked to join the group with a view to expanding it. As I began to get in touch with people, I realised how the power of a group can change lives. I also experienced the true warmth and generosity of the British people, like never before. As we have progressed, I have found myself truly humbled but everyone's efforts".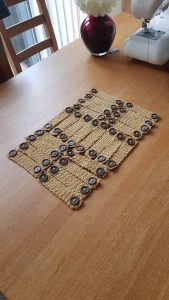 There's been a call out for people to crochet little ear protectors for workers wearing masks, and someone's miraculously supplied cotton-based crochet yarn for these.
I see messages about sewing machines: how to fix a broken one, what to do it you keep breaking needles, has anyone got an M cam (sorry I don't even know what that is!)? I've seen offers of lending spare sewing machines and advice on what to do if yours isn't working properly.
People send pictures of attractive (sorry mine are functional) piles of drawstring bags, spools of thread and different types of cord; they're very encouraging!
I now see messages about contacting your area co-ordinator so I know this is something really growing and gathering strength. One of the founders, Amna, said, "The compassionate actions of our volunteers has made this community a great place to strive and thrive in these trying times. It is an absolute pleasure to be a part of it and work with these amazing women".
Because I am able to see the names of the group members I know we're a mixed bunch: Lisa, Fatima, Connie, Sue, Razwana, Saikah, Rachel and Wendy. I'm also guessing there are generations involved, as I've heard references to mothers and mothers-in-law participating too.
I am proud to be part of this groundswell of activity.
One morning at 6.54am, a message came in from Nikki, who introduced herself as a member of the ambulance service and was sending thanks in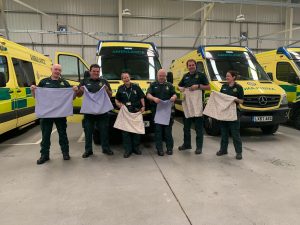 appreciation for the group's efforts. I don't think anyone was waiting to be thanked but, it was a nice start to the morning for me and for all my 'friends' out there.
The last word goes to Razwana:
"It's lovely to be able to help the NHS and frontline but, at the same time, this group has given so many a sense of purpose and pride that they are able to do their bit and give something back to society, in particular those who are shielding from the epidemic."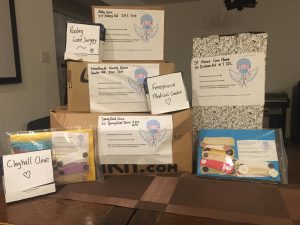 Razwana also messaged me a moment ago to say we've collected 615 ear protectors and 400 scrubs bags today – which meant we could fulfil nine requests. Amazing work for a group of women who have never met!
Find out more about our group at:: Redbridge and Chigwell Covid-19 'For The Love Of Scrubs' or other 'For The Love Of Scrubs pages.
So far 1000 bags, 1000 earsavers and 100 scrubs have been produced. If you have been incentivised by Eithne's feature and want to donate much needed funds directly, you can do so at Just Giving.
Eithne is a Pen to Print alumni and author of Ogress of Reading and Never Not In My Thoughts. She is also page editor for Write On! Extra Thoughtful Tuesday You can contact her on Twitter: @eithne_cullen.
Skilled needlewomen are making sets of scrubs and uniforms to take to GP practices, hospitals and care homes. We hear about the shortage of protective clothing; our local groups are receiving many requests. There's also a demand for laundry bags.