Saturday Spotlight: Latest Book Releases w/c 23rd May
by Claire Buss, Deputy Editor, Write On! 
At Write On! and Pen to Print we want to help connect authors and readers, so we've created a Spotlight page every Saturday, showcasing some of the exciting new reads available. The list has been curated by Lisa Rouiller and myself, based on books that you send us, so if you're an author and you'd like your book in the spotlight, reach out to Lisa at pentoprint@lbbd.gov.uk. Whether you're an indie author, with a small press or mainstream publisher, we'd love to hear from you and shine a light on your new novel.
Write On! offers other opportunities for writers as well. If you'd like us to feature an extract from your book or a short story, please send the extract, book cover and blurb to pentoprint@lbbd.gov.uk with the subject Write On! Showcase (ensuring you have your publisher's permission, of course).
Pen to Print are also looking for short videos from people reading a passage from their favourite book, or authors reading extracts from their own books. These videos will be featured on the Pen to Print YouTube channel and across our social media. Please send in your videos or links to pentoprint@lbbd.gov.uk with the subject 'Video Stories'.
With over 1,000 pages of dragons, magical devices, phoenixes, dastardly villains, mythology and more, this box set includes all five books and short stories of the award-winning series by author Angelique S. Anderson.
Wylie Petford is bound to a dragon bloodline and fated by her supernatural destiny to not only save the world but also to discover herself.
Available to buy here
Connect with Angelique Anderson
Maligned and misunderstood, demons are seen as the enemy of humanity, even when other magic users are accepted and used. But how has it come to such a pass that demons are killed on sight. What is the truth behind the war engineered to put humans and demons on opposites sides of a great divide, when once they had worked together?
The answers can be found by following one particular demon's spawn.
‍Available to buy here
Connect with Stephanie Barr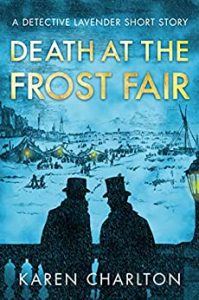 Chilled to the bone.
February 1814: London is gripped in the thrall of the worst winter in living memory. When the River Thames freezes over, thousands of people descend onto the ice to enjoy the Frost Fair; an exciting, frozen extravaganza.
But Detective Stephen Lavender and his loyal constable, Ned Woods, are distracted from this carnival of colour and noise by the perplexing case of a missing man. Their investigation takes on a sinister and more dangerous twist when a body is found on the rapidly-thawing ice beneath the arches of Blackfriars Bridge.
Set against the thrilling backdrop of London's last Frost Fair – which also happens to be one of history's darkest moments – this bone-chilling short story is a superb introduction to the Detective Lavender Mysteries and a bonus read for the half a million readers who already enjoy this series.
Available to buy here
Connect with Karen Charlton
A young man is dead, and the look of terror etched on his face is the stuff of nightmares. A thirteen-year-old boy stands accused, but is he a dark sorcerer, or an innocent whose unusual gift is being exploited by another? Defence advocate Killandrio Bludd thinks he knows the answer, but as the trial nears its shocking conclusion, he's in a race against time to find the only witness who knows the full truth and can tell the whole story: the last witness.
Available to buy here
Connect to Richard Dalglish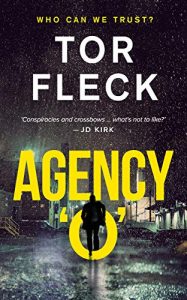 Assassinations across European capitals. Threats against G20 leaders, and a movie script about to blow the lid off the whole damn thing…
In Glasgow, Scotland, penniless slackers Richard and Paul have no idea that the screenplay they're writing – about a shadowy organisation arranging suicides and assassinations for their own power-crazed ends – is being carried out for real.
Hunted down as whistle-blowers, and with no one left to trust, the two hapless friends battle dark forces beyond their control as they try to stop the ultimate political assassination.
Agency 'O' is perfect for fans of The Bourne Series or Killing Eve, and for those who enjoy conspiracy and crime thrillers with a twist of dark Scottish humour.
Available to buy here
Connect with Tor Fleck
Imogen and her family are in hiding on Earth. It is only a matter of time before they are hunted down by the dark forces of the corrupt Holan regime.
Imogen has stolen Kekara's sacred stone, but can she uncover the shocking secret it hides? Or learn the truth behind the powerful Tractus technology, capable of jumping a person through space and time? The future of both her own people and the human race is at stake.
With Araz and Naomi held prisoner on Holis, Imogen must uncover the terrible secrets alone and decide if her destiny lies on Earth or Holis.
Available to buy here
Connect with B Fleetwood
Animals have been fused with technology in this exciting debut novel from Richard Mayers, described as "Animal Farm meets The Matrix".
At the newly-built Greenacres Military Base, Professor Windar's amazing team of cyborgs are unveiled. Their purpose: to support the UK's fight against global terrorism. But when his deadliest prototype malfunctions, the inhabitants of Greenacres find themselves entangled in a fight for survival like no other.
Claws clasp, feathers fry, and microchips meddle as a new breed of hero is born. Can the future of humanity and animal-kind be saved by Spikez?
Like the paperback version, Spikez has loads of free enhanced content that can be accessed online, including: diary entries, videos, back-story files, games and .mp3 music tracks. You can access it for free at: https://www.animalcyborgs.com/spikez-online-content.
Available to buy here
Connect with Richard Mayers
Brothers Ugur and Lokman Bulut are locked in a bitter inheritance battle and need a sample of their mother's DNA to contest her will. But when her body is exhumed, her corpse is found to be missing and a fresh body, with its heart removed, has been put in her grave. Assigned to the case, Inspector Mehmet Süleyman quickly realises that the heart has been illegally harvested, and his team has a murder inquiry on its hands.
Meanwhile, retired inspector Çetin Ikmen is tracking down a missing person: Sevval Kalkan, a once-famous actress, who has joined an underground movement called the Moral Maze, whose mission is to help the destitute living on Istanbul's streets. The unidentified body in the grave cannot be Sevval's, but her shocking reappearance leads Ikmen to fear that she, too, is a victim of organ harvesting.
Joining forces, Süleyman and Ikmen confront Istanbul's darkest underbelly to expose the horrifying truth of a city in crisis.
Available to buy here
Connect with Barbara Nadel
Epic action, adventure and romance, plus two exclusive epilogues.
Many years ago, Unique Miranda was sold a dream of immortality, but instead, received an incurable disease. Forced to cryogenically freeze herself until a cure was found, she wakes in a distant future, in a far galaxy, and finds that she's stranded on a remote moon. She is deep in debt and indentured to an enormous corporation until she repays it.
Living in a consumerist dystopia, built on wage slavery and debt, Unique decides to fight the system. With the help of a betrayed heiress, a fighter pilot, an emancipated soulbot, a shrewd business woman, a pirate and a crime boss, Unique risks her newly-recovered life in order to make the world a better place.
Fast-paced, funny and impossible to put down!
Available to buy here
Connect with H.W. Taylor
'WARNING! THE FOLLOWING DOCUMENT CONTAINS: Aliens, zombies, pandemics [REDACTED], mutants, technological failures, natural disasters [REDACTED], viruses, wastelands and [REDACTED]; stories set a thousand years from now and stories set tomorrow; stories told from every corner of the globe and [REDACTED], stories of survival, of hope, of ingenuity, of reinvention, stories representing underserved voices, soaked in truth, emotion, transparency and [REDACTED].'
Mirror Box Films brings you our very first anthology of fiction, poetry and comics, all inspired by the post-apocalyptic world of our debut feature film, This World Alone. These 30 stories represent unique voices from across the world (four continents represented) who are brave enough to look into our potential future so they might change the way we all look at the present.
Featuring the works of Martin Allen, Allison Bannister, Nathan Cabaniss, Robert Carnes, Andres Catter, Brad Cole, Angie Farella & Alli Thiss, Justin Fredericksen, Austin Allen Hamblin, Adriana & Jamie Howard, CK Kimball, Udhaya Kulandaivelu, Brent Lambert-Zaffino, Stephen Landry, James Louise, Bill Masuku, Colby McHugh, Brent Michal, Alex Oakley, Gustoph Oatlan, Joe Palana, Hudson Phillips, D. C. Polk, Colby Pryor, Bijoy Raveendran, Jonny Sims, Kate Sobelle, Avery Ward, and Adam Yeater.
Available to buy here
Connect with Mirror Box Films
Remember, if you're an author and you'd like to see your book in our Saturday Spotlight, email: pentoprint@lbbd.gov.uk and send us the details of your new novel. 
Further Links

For details of Penguin RandomHouse new releases, visit their website here.
For details of Hachette new releases, visit their website here.
For details of HarperCollins new releases, visit their website here.
For details of PanMacmillan new releases, visit their website here.
For details of Simon & Schuster new releases, visit their website here.
Disclaimer: Amazon links are given for ease but please remember there are a number of other online retailers operating, including hive (which helps to support independent book shops), Kobo, Apple Books, Google Play and Nook as well as online stores for bookstores like Waterstones, Barnes & Noble and WHSmiths. Given the current situation, though, please check first.
We want to help connect authors and readers, so we've decided to create a spotlight page every Saturday, showcasing some of the exciting new reads available.