Time To Connect with Luan Goldie
Pen to Print alumni, YA author and teacher Rebecca Seaton interviews Luan Goldie, Costa Award-winning short story writer and author of HarperCollins' summer bestseller, Nightingale Point.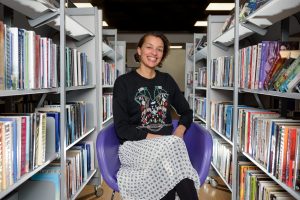 Two primary school teachers meet on a windy evening in east London… it could be the start of a great thriller. Or maybe the opening of Luan Goldie's novel, her first. The former business journalist reflects the area she now calls home. But before we can delve into this and other communities Goldie is connected to, as well as her writing, we have to get her into Dagenham Library, out of the rain! 
We start by talking about our motivations, where we draw our ideas from and what inspires our writing. I ask Luan why she began writing. 
"It's hard to say why or when, it's just always felt natural to tell stories. I wanted to study journalism but when I was actually a business journalist, I found I didn't really enjoy it as the actual writing was such a small part of it. I found myself wanting to write more creatively." 
I could identify with Luan's life-long desire to write stories, having told my headteacher at seven years old that I wanted to be an 'arther' when I grew up. What we also agree on is the importance of the motivation to continue writing when work, family and life in general get in the way. We both have one published novel under our belts and both understand the disappointments of false starts. 
"It's hard sometimes – but I love it so much. At one point, my novel, Nightingale Point, was close to sold. I had lunch with different publishers, it was a very exciting time. I had in my mind how everything was supposed to play out, i.e. 'I'm going to write a novel, I'm going to find an agent, it will sell.' Well, I'd got an agent, so had assumed the rest would run smoothly. But it didn't; despite there even being talk of a bidding war at one point. Then the Grenfell Tower fire happened. Suddenly my book (set in a tower block where disaster strikes) was not suitable for publishing. No-one would look at it." 
There must have been a real temptation to give up. I point out, musing on my own near misses. 
"There really was, but I believed in the story, I'd come so far. I changed tack and decided to write something different instead. So, I wrote the short story Two Steak Bakes and Two Chelsea Buns which won the Costa Short Story Award in 2018. People were interested in my writing again. An editor I had spoken to a long time ago had been busy building a romantic list for a publishing house, so even though she liked Nightingale Point, it wasn't a good fit. However, she'd since moved on and her new company was a better fit. When she asked, 'Whatever happened to that novel about the tower block?' my agent was ready!" 
Timing is such an important factor. I ask her to imagine if she'd stopped. 
"I easily could have. It was a really stressful period. You have to remember things move very slowly in publishing, there's a lot that happens before you finally get that call." 
One thing myself and Luan differ on is the link between writing and teaching. To me, my teaching influences my writing and vice versa. This might be because I work with older children and write YA novels. Luan, however, is passionate about children being able to see themselves reflected in books and writes accordingly. As a writer of dual heritage, she is, of course, perfectly placed to show the pupils in her school community that all kinds of people can be both the characters in the books and the people writing them. Her school is an all-through school. So, although she teaches Year 1, Luan also supports the careers fair for the older children in order to give real insight into the life of an author. 
This leads us nicely onto the different influences in Luan's own life. Given her dual heritage, early start in Glasgow and relocation to east London, I ask Luan what she considers her world and how do words connect her with her communities? 
"When I first started, I was very aware of the limited pool of writers around. Even on writing courses, it was evident as I was often the only person of colour in the room. I'm passionate about diversity and this can mean many things. Nightingale Point isn't just about race, many people have picked up on the class element and I have had some interesting conversations about my role as a working-class writer. Some people tried to say I couldn't use certain names in a novel set on a council estate. Why not? I thought. There are so many books set in manor houses but how many people do you know who live in one? The council estate is not a strange setting. I wanted the setting to be one people could identify with." 
We agree that some people definitely see more value in certain communities. I ask Luan if she could describe her different communities in three words. 
"Glasgow: warm and harsh! It sounds like a contrast, but it's true, from my closest family to the person on the street! 
East London: grimy, inspiring, home. I cried leaving Greenwich to live in East Ham as a child, but it's definitely home now." 
I ask Luan how she uses words to create worlds which represent people convincingly and we chatted for a bit about dialogue – something I often find difficult myself. Luan disagrees. 
"I love dialogue – if I could write a whole novel in dialogue, I'd be happy. I always write the dialogue first, then add the plot. Other writers often say they find it tricky, but my problem is usually the editor asking me to add in more plot! It's just that I can hear the characters' voices really clearly and I have to get that down straight away." 
I want to find out more about how Luan connects the voices of the characters she hears so clearly to the audience she wants to connect with. Where does the imaginary community meet the real one? She tells me that although she knows social media is an important part of this 'real time' engagement, she's still learning… 
"When you get a publisher, they encourage you to use it but you have to be sensible about finding what works for you. I find Twitter quite negative so I spend more time on Instagram, but I still set myself sensible boundaries, like not including pictures of my daughter. But somebody else will quite happily share everything. You have to find your own way." 
In terms of making her own way towards her audience, I am curious to find out whether the Costa competition gave Luan a greater chance to connect with people. 
"It helped to an extent, yes. The publishing industry liked it and there are stickers about the Costa award on my novel. It's not the be all and end all though. I'm still trying to work out what people want. I'm really happy to be getting the paperback of Nightingale Point into supermarkets because that will reach more people like me. There isn't a Waterstones on my road but there is a supermarket!" 
I'm already impressed with Luan's influences for Nightingale Point and ask what's next for this local author. I love the sound of this. 
"My second book is set between Harrow and Kenya. It was a challenge to write about somewhere so different. They are such interesting places! I went to the Westminster campus of my university and used my memories and experiences to create a dirty student house share! The road trip to Kenya is also a chance for my main character to rediscover their past." 
Sadly, all good things must come to an end. As well as having a lot of fun with an author, I feel like I've learnt so much. I'm very glad we both braved the elements and I'm certainly going to be keeping an eye out for Luan's writing from now on. I do have one last question though about how important her local community is to her. Presumably very, as otherwise why make time for me today, after a long day's teaching?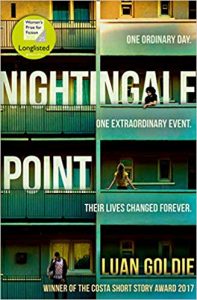 "I work in Barking and Dagenham. Working in a school, nothing sucks you into a community more! I feel a part of the community so I need to get out there. It's not about me, but about getting our stories out there and making the real east London visible." 
She's absolutely right. Whatever your community, there's a place for you as a writer. Even if you don't live in a manor house! 
Homecoming will be published by HarperCollins this summer. The opening extract is in the paperback of Nightingale Point. 
Connect with Luan Goldie on Twitter @LuanGoldie and with Rebecca Seaton at @Bectacular40 or on her website. 
Header image (c) Jimmy Lee Photography
There are so many books set in manor houses but how many people do you know who live in one? The council estate is not a strange setting. I wanted the setting to be one people could identify with.