Monday Memoirs: We Need You
Introduction by Holly King
It's week two of Write On! Extra and seven seasons of Netflix shows since we went into isolation. While I'm breaking up my days by testing out video chat apps with friends and sitting by my patio doors to see if the neighbour's cat will waltz on by, I think we're all slowly getting into the tentative groove of this new situation. 
Our first week of Write On! Extra was a great success, with fabulous submissions for each day from a variety of writers. You'll be in for more treats this week as writers from all places and walks of life have submitted to us. This week's Monday Memoirs is a great example of an established author taking time out to provide us with some guidance on how to kickstart your own memoir writing, along with a new writer who was inspired by this week's theme of  'We Need You'. 
As well as all that, the artist Wallis Eates offers her first comic strip down memory lane that draws on our theme of coming together in difficult times. 
Firstly, historical author Jean Fullerton provides inspiration on how to put those stories down onto paper, and gives us an example of her own, to show just how vivid they can be. 
Oh no! I'm stuck at home for weeks. No work! No shopping! No seeing friends!
What am I going to do?  
by Jean Fullerton
In the current climate, where we are urged to stay at home to safeguard the vulnerable, many of us have time on our hands like never before, so can I suggest one very productive and long-lasting way we could use it?   
Now, don't we all wish we'd asked our grannies more? Well, perhaps it's time to make sure the next generation don't have to wish that in the future.  
As a historical author writing stories set in the mid-20th century, I rely heavily on first-hand accounts and diaries to get the details, mood and language of the period I'm writing about right.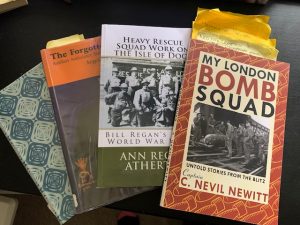 In A Ration Book Dream, I based Mattie Brogan's experiences as an ARP warden on Barbara Nixon's WW2 diary, Raiders Overhead. I'm eternally grateful to Ann Regan-Atherton who published her father, Bill Regan's war-time diary as a member of a Heavy Rescue squad in Canning Town and Angela Raby who was an ambulance driver in Hampstead during the Blitz for her diary, The Forgotten Service. Both helped me create the authentic details in Jo Brogan and Tommy Sweetes' Blitz experience in A Ration Book Christmas. I used the much-read and much-loved Nella Last's wartime diary to help me portray Ida's day to day struggles with rationing and shortages in A Ration Childhood, and for Francesca's work in the Overseas Department of the BBC in A Ration Book Wedding I used Human Voices which, although a work of fiction, was based on Penelope Fitzgerald's time at the BBC during WW2. Currently, my main research book is My London Bomb Squad by Nevil Newitt published posthumously by his nephew.  
Now why am I telling you all this apart from it being a massive plug for my Ration Book series? Because I would urge you to use this enforced time at home to write down yours and your family's stories. If you're anything like me, the memories and anecdotes my parents and grandparents handed down to me stretch way back to the start of the last century and we have to pass them on.  
Now you may feel you have just had an ordinary life but you might have been raised straddling two cultures, or have even come from another part of the world to make Great Britain home for you and your family. However and wherever you started out in life, you have lived through and experienced extraordinary times. Why not do the historians and historical novelists in the 22nd century, and more importantly future generations of your family, a favour and write it all down?  
Still not convinced? Then let me give you an illustration of how something very ordinary, my memories of Saturday morning shopping with my mum back when the Beatles were still together and Michael Jackson was still in nappies, can be added to the social narrative of times past.  
Saturday
M
orning 
S
hopping 
1960s style
Born a decade after WW2 ended, I'm a baby boomer and as such I was part of the last generation who remember the close-knit East Enders families that lived cheek by jowl in the cobbled streets clustered around the London Docks.  
At that time, life had a rhythm of work and play that had gone on for generations. Men worked and women looked after the home. Men's social life was in pubs and women's on their doorsteps and in bingo halls. Men put the housekeeping money on the table each week and expected a dinner placed in front of them each night when they got home.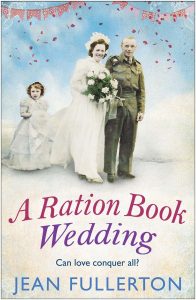 In the darkest days of the Blitz, love is more important than ever. A Ration Book Wedding out 7th May in supermarkets, bookshops, Kindle and audio. Pre-order on Amazon.
Connect with Jean via her website – http://jeanfullerton.com/  on Facebook and Twitter
Jean's insight and guidance will help even the most inexperienced of us to sit down and produce a detailed, personal story. And, once you've written something, I have the perfect place for you to submit it – our Monday Memoirs page! 
Next, we move further on in the past (a weird thing to write, I know!) to the 1970's. Does anyone remember the blackouts? Amanda King tells us of what it was like in those times as a child, and how she's keeping her community ties alive today. 
This submission really connects the concerns, panic and uncertainties of the 70's with what we are experiencing now, building on our theme of We Need You to show how her family adapted back then to keep together, and how her family, friends and local community are adapting now to stay connected in a time when we are forced to stay apart for everyone's safety. While both her experiences in the 70's and now are scary, Amanda threads heart-warming experiences throughout, to remind us that we have endured before and we will endure again.
The Blackouts That Echo Today by Amanda King
I grew up in the 1970s, a decade of strikes, three-day weeks, blackouts and piles of rotting rubbish on the streets. There was so much more, of course, the long hot summer of '76 which seemingly went on forever, decimalisation, Space Hoppers, microwave ovens and digital watches. It saw a multitude of music genres asserting themselves on the ever-changing pop scene, the death of Elvis, the break-up of the Beatles and the birth of Punk Rock. 
Connect with Amanda on Twitter @holdankat and Instagram @mandy_j_king 
**NEW** Artist Wallis Eates will be sharing a weekly comic-strip with us. This week: Scratching together a commuNITy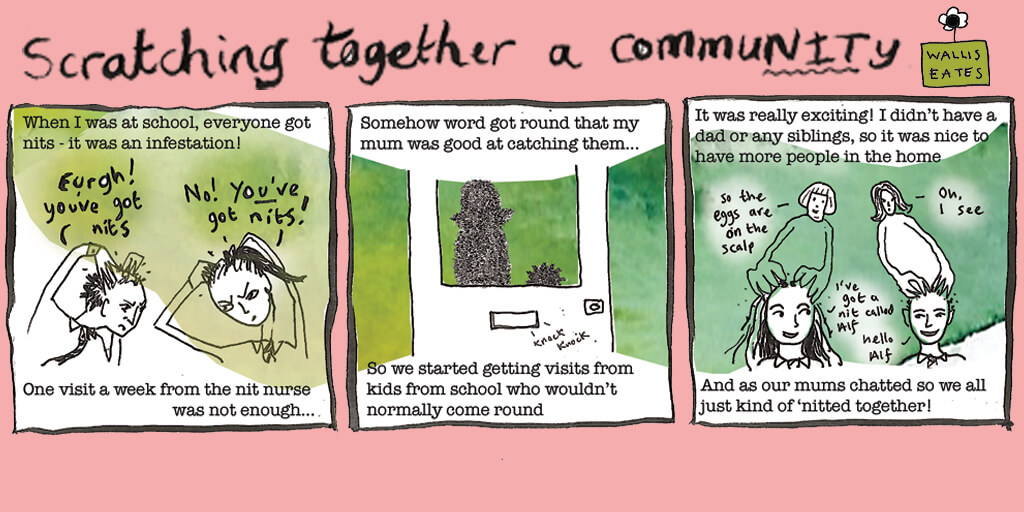 Visit Wallis's online shop – www.etsy.com/uk/shop/WallisEates 
She is also involved with several initiatives:
Like an Orange – a graphic novel about brain injury and creativity funded by the Arts Council National Lottery Fund due to be published by Unbound Books. For more info and to pre-order please visit: www.unbound.com/books/like-an-orange
Wings – a visual storybook from prison. Coming soon. Please get in touch for more information. In the meantime, you can visit here: https://www.kickstarter.com/projects/littlemule/wings-a-make100-visual-storybook-from-prison
Wallis is also the London co-ordinator  of Laydeez Do Comics  – https://laydeezdocomics.wordpress.com/  Connect with them on Twitter @laydeezdocomics
I would urge you to use this enforced time at home to write down yours and your family's stories. If you're anything like me the memories and anecdotes my parents and grandparents handed down to me stretch way back to the start of the last century and we have to pass them on.