Merry Christmas From Write On!
Wherever we find ourselves geographically, or in our writing journey, this lovely piece of Art by Tak Erzinger,  At Home In The Universe, makes me reflect on how to create a sense of belonging during the uncertain times we find ourselves in. We writers are luckier than most: flinging our words out into space and seeing them come to rest as points of creation; our own guiding stars charting where we belong. Whether published or not, our work is there, defining us as we refine it.
So, over the next few days, and  looking forward to 2022, let's keep creating, with the Write On! platforms (print, digital and audio)  giving as many writers and creatives a way of being seen and heard – from east London to the world.
Wishing you a wonderfully creative Christmas and New Year!
Madeleine
Editor
And now a very special Christmas message from the whole team at Write On!
We've had some wonderful submissions this year and we're jingling into Christmas with a festive poem from Ange Wilson, followed by Tak Erzinger's beautiful image.
A Christmas Visitor
It's Christmas eve, I lie nervous but excited,
afar bright lights from windows are sighted
like shimmering stars in the deep dark night,
while joyful carols rise in rhythmical flight.
Suddenly, I spy a sleigh pulled by reindeers,
I rub my eyes and am filled with great cheer
in a blink, it's Dasher, Dancer, Prancer and Vixen
followed by Comet, Cupid, Donder and Blitzen!
My heart all a-flutter, I hear the jingle of bells,
I start to perspire, my anticipation swells.
Then, there's a thud above on the roof
it's the spirited dance of each reindeer's hoof,
I hold my breath, my eyes tightly shut
the floorboards creak and in someone struts,
I see twinkling eyes and a smile so merry
his cheeks ruby red and his nose like a cherry
and then he was gone as fast as he came,
not enough time for my thanks to proclaim
but I heard him say,  as he flew out of sight,
Happy Christmas to all, and a peaceful good night!
(c) Ange Wilson, 2021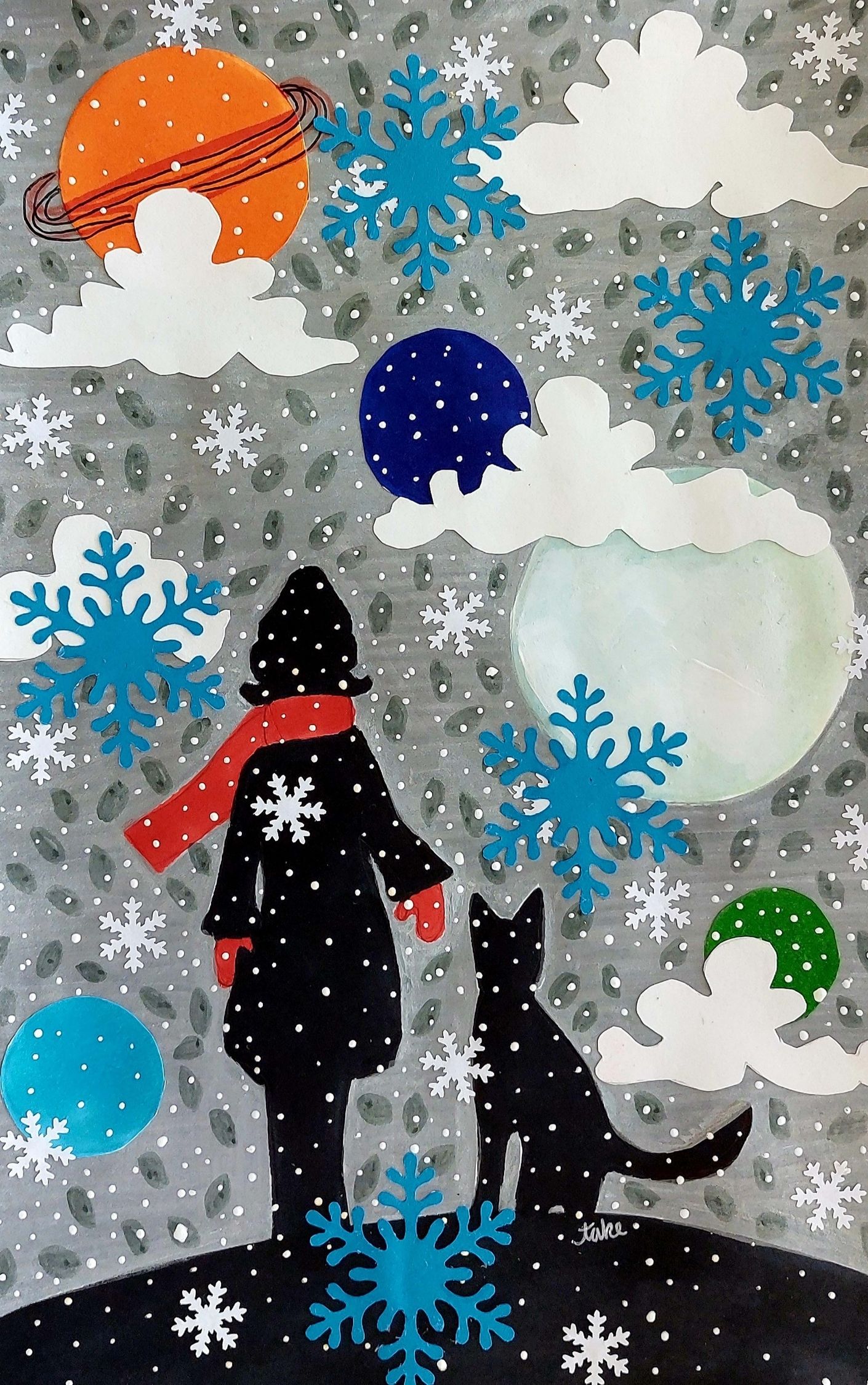 Merry Christmas from everyone at Write On!