Saturday Spotlight: New Book Releases December
By Claire Buss, Deputy Editor, Write On! 
At Write On! and Pen to Print, we want to help connect authors and readers, playwrights and audiences, so we've created a Spotlight page every Saturday, showcasing some of the exciting new reads and plays available. The curated list is based on books and plays that you send us, so if you're an author or a playwright and you'd like your book or play in the spotlight, reach out to us at pentoprint@lbbd.gov.uk. Whether you're an indie author, with a small press or mainstream publisher, established or brand new playwright, we'd love to hear from you and shine a light on your new work.
Write On! offers other opportunities for writers as well. If you'd like us to feature an extract from your book or a short story, please send the extract, book cover and blurb to pentoprint@lbbd.gov.uk with the subject: Write On! Showcase (ensuring you have your publisher's permission, of course).
Pen to Print are also looking for short videos from people reading a passage from their favourite book, or authors reading extracts from their own books. These videos will be featured on the Pen to Print YouTube channel and across our social media. Please send in your videos or links to pentoprint@lbbd.gov.uk with the subject: Video Stories.
*****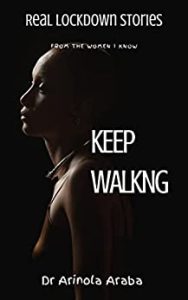 The Covid 19 Lockdown was a time of mixed emotions, feelings, pain, growth and diversity for some of us. We started a book club to form a supportive forum, where we women could talk about anything!
One day, I was taking my daily walk and hosting a Zoom conference. The ladies on the call  had become accustomed to my Zoom-on-the-walk routine. One of the women, Iesha, said to me one day: "Keep Walking!" Those words stirred something in me and I thought it a good idea to write a book with that title. The women were very excited about the initiative, so we started writing for you. We share personal accounts of our feelings, pain, triumphs and growth processes. This is an encouragement for you to thrive!
We share personal accounts of our feelings, pain, triumphs and growth processes. This is an encouragement to you to thrive!
Available to buy here
Connect with Arinola Araba
Tracy Hines is in a rut, unsure where her future lies but determined to escape a dead-end job in the nether regions of a supermarket.
Then a burst of honesty lands her an unusual apprenticeship and sets her on a new and unexpected course. It's one that begins to change her life and holds out a variety of possibilities for the future.
Meantime, a thief has his eyes on what he believes is a particularly good opportunity, albeit one that exposes him to greater risk than usual. When his carefully-laid plans do not play out as he'd hoped, a chain of events is set in motion that profoundly affects him and others. Tracy is affected more than most and finds herself surprised, threatened and faced with a puzzle that could change her life still further.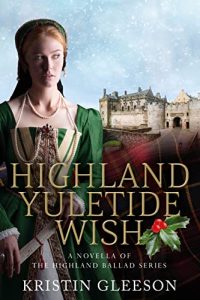 Snow is in the air at Glen Strae and Yuletide is approaching: a time of celebrations.
But Abby has her own private sorrow and any hope of overcoming it before the holiday season is dashed when Iain tells her he must leave to collect his brother from St Andrews.
Abby knows it's a lie, because to leave Glen Strae puts Iain at risk for his name and his life. He still insists he must go and it makes her fear his real reason for leaving: that his love for her is fading. Her doubts and suspicions take her to Stirling Castle, where she finds her parents in danger once more and realises she must not only rescue them, but also her heart.
Available to buy here
Connect with Kristin Gleeson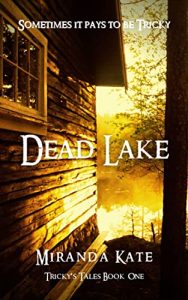 Sometimes it pays to be tricky.
Damn and blast! That rancid piece of excrement, Carter, has had her ransacked out of Clancy!
Tricky returns to her cottage to find it turned upside down. An action meaning she has three days to leave the district, or face punishment. Randolf Carter, head of the district, is spreading lies and suspicion about her kind, making life difficult. But it wasn't just an ordinary ransacking – they were searching for something.
Using her gifts, Tricky traces the energy left by the men and spies another creature's energy among it: a jackdaw. Swift and wily, it's pinched her precious gemstone, a piece of black obsidian. But at whose bidding? Communicating with birds is a rare ability and she knows all who possess it.
Tricky wants her stone back, but coming up against people like Carter won't be easy, especially when he has one of her kind in his employ. But she'll handle it;oh yes, she will. She'll just have to be careful and a little bit tricky. Good thing she is, then, isn't it?
Adept at working with energy and time as well as communicating with trees, Tricky is lured into something bigger than ownership of a gemstone, and finds out that sometimes it pays to be a little bit tricky.
Available to buy here
Connect with Miranda Kate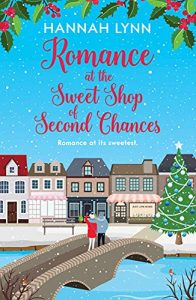 While Holly Berry may have finally purchased Just One More and landed a date with one of Bourton-on-the-Water's most eligible bachelors, it's far from plain sailing.
A face from the past threatens to torpedo Holly's fledgling relationship before it even gets going.
Will everything go according to plan? Or is Holly's dream life at risk of turning sour?
Available to buy here
Connect with Hannah Lynn
Travel to a vast world of airborne ships and floating islands.
The crew of The Raging Storm, led by 16-year-old Captain Cordelia, protects the floating Caelum Islands from strange creatures and criminals.
When Cordelia is poisoned, she must find the cure before time runs out. Her only hope is to join an alliance with a mysterious doctor – one who has carried a grudge against her father for years.
Not only will Cordelia have to race against time, but she will have to face the demons that keep invading her mind.
Available to buy here
Connect with Lauren Massuda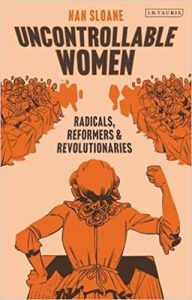 Uncontrollable Women is a history of radical, reformist and revolutionary women between the outbreak of the French Revolution in 1789 and the passing of the Great Reform Act in 1832.
Very few of them are well-known today; some were unknown even in their own day. All of them contributed something to the world we now inhabit. At a time when women were supposed to leave politics to men they spoke, wrote, marched, organised, asked questions, challenged power structures, sometimes went to prison and even died. History has not usually been kind to them, and they have frequently been pushed into asides or footnotes, dismissed as secondary, or spoken over, for, or through by men and sometimes other women. In this book, they take centre stage in both their own stories and those of others, and in doing so bring different voices to the more familiar accounts of the period. These women and many others played a part in developing political ideas and freedoms as we know them today, and some fought battles which still remain to be won or raised questions that are still unresolved.
These are their stories.

Available to buy here
Connect with Nan Sloane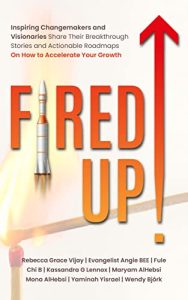 Are you ready to get inspired? Are you ready to get FIRED UP?
Are you ready to get inspired? Are you ready to get FIRED UP?
These ten visionaries survived grief, overcame obstacles, and built roadmaps along the way. They have each done something extraordinary. These changemakers are on a mission with a single goal.
Change the world, one woman at a time!
As they created their businesses, something remarkable happened. Each one developed a burning desire to help other women experience the power, confidence, and satisfaction that comes with success.
It's easier when one is shown the way.
They changed their mess into a message.
Fired Up! is a transformational anthology written by global women changemakers who share their inspiring stories of changing their mess into message/test into a testimony/been-throughs to breakthroughs. Experts in the areas of finance and money management, health, mindset, and online business/ministry/organisation share their personal breakthrough stories.
Available to buy here
Connect with Rebecca Vijay
Remember, if you're an author and you'd like to see your book in our Saturday Spotlight, email: pentoprint@lbbd.gov.uk and send us the details of your new novel.

Further Links
For details of Penguin RandomHouse new releases, visit their website here.
For details of Hachette new releases, visit their website here.
For details of HarperCollins new releases, visit their website here.
For details of PanMacmillan new releases, visit their website here.
For details of Simon & Schuster new releases, visit their website here.
Disclaimer: Amazon links are given for ease but please remember there are a number of other online retailers operating, including hive (which helps to support independent book shops), Kobo, Apple Books, Google Play and Nook as well as online stores for bookstores such as Waterstones, Barnes & Noble and WHSmiths. 
We want to help connect authors and readers, so our Saturday Spotlight page showcases some of the exciting new reads available each month.