Monday Memoirs: Writing With Pride – Celebrating LGBTQ+ Voices
Introduced by Holly King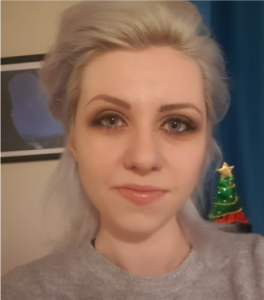 Monday is my favourite day this week, because I get to start off our theme: 'Writing With Pride – Celebrating LGBTQ+ Voices,' and I'm starting us off strong.Pride month has just finished, and when I think of pride I think of colour, artistry, creativity, love and pure expression of who you are. I am not a member of the LGBTQ+ community, but I love and support them, their struggles and their fight.
Regardless of your gender, sex or orientation, the LGBTQ+ movements inspire us all to be our authentic selves, to teach those who don't understand, support those who feel alone in their struggle and that the best way to live is in one full of colour.
So, I'm very excited to share a variety of moving, creative submissions from this community, beginning with a documentary by James Tucker and Michael Urwin.
James and Michael are partners who have been together for 15 years. In 2010, they produced their first film, Mosaic,a 45-minute documentary where four older gay and lesbian couples in long-term relationships spoke candidly about their lives, experiences, marriages and first kisses. It had numerous independent public screenings, including the GFEST Film Festival and Brighton Cine-City Film Festival.
In 2013, they produced a round-table discussion web-series called 'The Symposium' where LBGT Brightonians debated topics and issues relevant to their community.
'Inspiring Minds' is their latest work and their first feature-length project. They describe it as a "lyrical and poetic portrait of nine British LGBT people who inspire with who they are and what they represent." This is an important documentary, and important to showcase here as the first feature on the first day of our 'Writing With Pride' week.
Connect with James via Twitter: @jt_camera
Watch more of his videos on YouTube: https://www.youtube.com/user/TheSymposiumUK
Next, Trudy Howson takes us on a journey through her creative passport. From the 70s and 80s to today, through political movements, theatre, TV and cabaret, in clubs and marches, her inauguration as the first LGBT Poet Laureate and beyond:
LGBT Poet Laureate: A Labour Of Love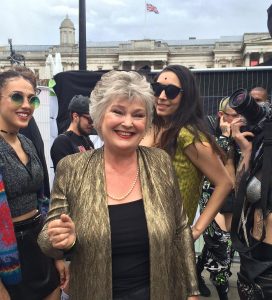 It's an honour and a responsibility to be the first LGBT Poet Laureate. I don't think anyone realised, when I accepted the post in 2016, just how ground-breaking the job was going to be: so many firsts for our community. It's a challenge, and all-consuming, but I feel fortunate to be employed in a job I love.
How I Got here
In the early 70s, I moved to London from my home in a working-class mill town in Lancashire. Homophobia and Racism were part of the fabric of that place. My childhood experiences instilled in me the importance of not only love, but also equality and justice.
I knew that, in London, I would meet other gay and like-minded people. I was also pretty confident it was the place to meet bona-fide, 'out' lesbians (yahoo!) and be able to grow into the kind of woman I wanted to be.
I immersed myself in art and politics. I studied acting, singing and dance and subsequently worked as a professional actor and singer in mainstream theatre and television, including stints on Coronation Street (ITV), World's End (BBC) and a year in the first tour of Jesus Christ Superstar.
I was also able to plunge into grass-root politics and became active in frontline campaigns for 'The Women's Liberation Front', 'Women In Entertainment', 'Campaign For Homosexual Equality' and 'Rock Against Racism'.
I performed in queer cabaret and theatre, touring the UK and Europe with 'Gay Sweatshop', 'The Harmonettes' and 'Sisterhood Of Spit'. London was still swinging, and I danced the night away at The Gateways Club, Sombreros and Heaven; debated at Sappho and G.L.F., marched in the first London Prides, and had my consciousness well and truly raised.
Although I've worked in some fantastic productions, both commercial and alternative, I think it was my experience of performing in so many badly written ones that encouraged me to start writing my own material. I became fascinated with exploring landscapes (external and internal). Poetry which illuminates and celebrates our community is, as well as being interesting and amusing, the perfect vehicle for social and political change. Poetry has the ability to resonate in our heart and mind simultaneously.
When HIV hit London in the 80s and decimated the gay community, things became serious. We were blamed and vilified, but we successfully fought back, forming support groups and, later, by taking direct action, halting Clause 28 (a law passed in 1988 by a Conservative government, stopping councils and schools 'promoting the teaching of the acceptability of homosexuality as a pretended family relationship').
After the death of my partner in 1998, I decided to try a complete lifestyle change, travelling and performing poetry at festivals in India and South-east Asia. On returning home in 2012, I was commissioned to write a poem for the London Olympics, which the BBC screened in the run-up to the Games. Unsurprisingly, this dramatically raised my profile as a poet.
I realised that here was an opportunity to enhance the profile of the LGBTQ+ community through poetry, and started organising poetry events in London, showcasing our talents and exploring the gay experience.
By 2013, I was running the first monthly LGBTQ+ open-mic poetry night in the West End. I was also writing the theme poems for the National Hate Crime Awareness Week and London Pride.
Since my appointment of LGBT Poet Laureate, I've been able to maximise the potential of the post. Although I write and perform poetry for free, to support grass-root organisations, most of my work is paid, with much of it being commissioned or for site/event-specific work. A lot of my work is commissioned by national organisations and charities, to assist their support for our community and campaigns for equality and justice. I also write poems for mayors and councils to highlight the needs of local LGBTQ+ communities, and I run poetry workshops in schools that challenge prejudice and stereotyping.
I've worked for Stonewall, GALOP, The Peter Tatchell Foundation, the NHS, Schools Out, ELOP, Hate Crime UK, Amnesty International, and the Metropolitan Police. I've performed my poetry at the British Library and Tate Modern, and in schools, museums, town halls, art galleries and LGBTQ+ events and venues throughout the UK.
I've written the theme poem for London Pride and many UK Prides, and my poem about Chechnya's abuse of members of our community was cited in a recent parliamentary debate. I was also invited to perform my work for the Crown Prince of Gujarat to celebrate homosexuality becoming legal in India.
I've performed my work at festivals, conferences and commemorations, in pubs and clubs, on boats, buses and trains. My aims? To celebrate our community, to improve the quality of our lives, and to engender tolerance and understanding in society at large.
Trudy has shared two poems with us, which, as she says, "describe my job and our community in all its fabulousness!"
BEING L.G.B.T. POET LAUREATE
Poetry is my lover,
Politics is my wife.
Pleasing them is the driving force,
That governs my job and my life.
Though not an easy option,
It's a privilege and a thrill.
Pushing Art to its limit,
To help change a Law, or a Bill.
Poetry has a resonance,
It reaches out to us all.
Challenges, inspires and amuses,
It holds us in its thrall.
Art can make a difference,
In the way we think and act.
Express the things we need to say,
Make Equality and Justice fact.
WE ARE
We are the Voice of Love
That dares to speak its name.
We will not, can not be silenced.
We are a wave of Love
That ripples around the world.
We're every creed, colour & religion.
We are a Beacon of Love
Dazzling in our style and diversity.
We're trendsetters, go-getters, creatives.
We are a Spectrum of Love
Shape-shifters, gender-benders, fluid.
We're dreamers, magicians, groundbreakers.
We are a Celebration of Love
People who hang on to hope.
We're L.G.B.T.Q. The real deal
Connect with Trudy at her website lgbtpoetlaureate.org.uk and on Twitter @lgbtpoetlaureat. You can also email her on lgbtpoetlaureate@gmail.com
Next is a collage from Danne Jobin. Titled Red Moon Rising: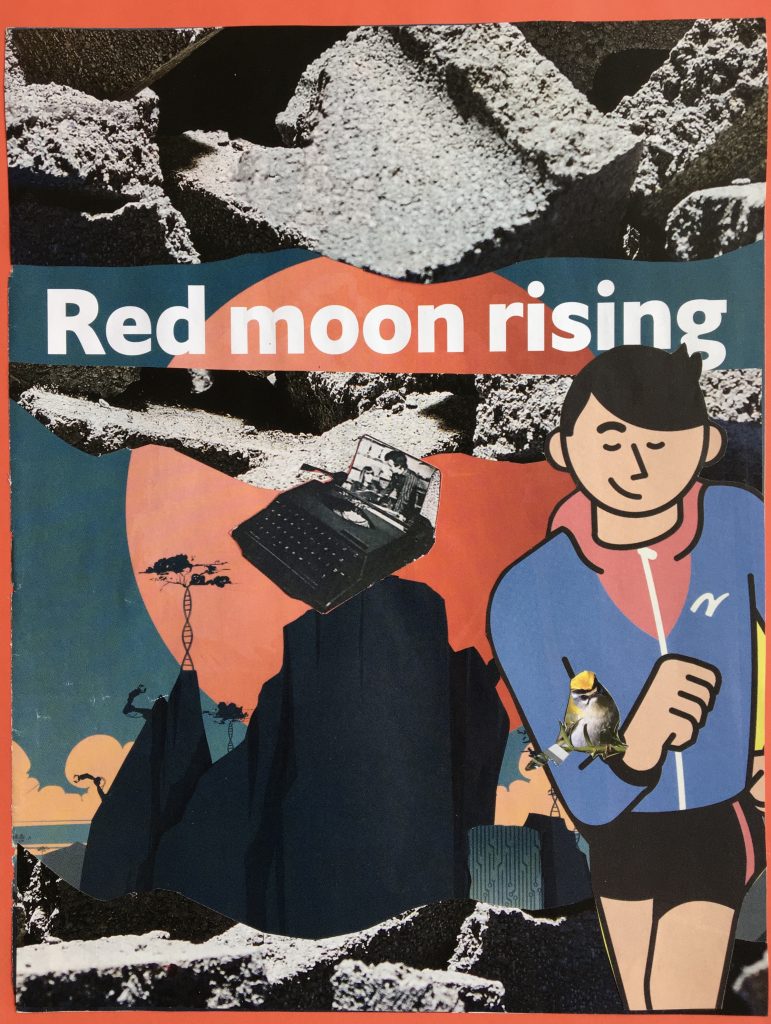 Danne: Red Moon Rising represents some of the joys and challenges of navigating life as a genderqueer person: the necessity of creating one's own space, finding a sense of movement, the importance of writing and the possibility of alternative futures.
Danne is a multi-talented artist, who also uses poetry to explore "queerness and natural magic through the personal lyric".
You can find more of Danne's work on their website: dannejobin.com/
Connect with Danne on Twitter: @DrDanne and Instagram: @dannesnotebooks
For our final feature today, we have poet Alice Denny showcasing Clara Bow.
Hi, I'm Alice Denny, a sometime poet, ex-psychiatric nurse therapist and parent of two now grown children. Clara Bow describes so much of how I feel about myself, life, the joy I feel in being a woman and the too-often ignored potential of so many women – although I had little idea of that at the time of writing it.
"Transitioning" rather later in life than most, I've had to renegotiate a lot of my relationships, which at times has been an extremely painful experience, and not just for me. Like many others, I have also had to face the rejections, loneliness and abuses that are a sadly predictable part of the deal when you are seen as 'Other', but I am sustained by the knowledge that I am a woman, a gay woman and am totally comfortable and at home with who I am.
This poem is a call to all women to believe in themselves and their desires, representing my own delight in womanhood, my faith in womankind and unabashed pride in finally being where I belong:
CLARA BOW
I am going to shine like Clara Bow,
I'm going to Shine like Jean Harlow
I'm going to shine like Marilyn Monroe.
No longer scared, my head hung low,
I'll toss my hair like Brigitte Bardot,
Wink at people I don't know
They'll think "She shines like Clara Bow"
Don't need to ask what life is for,
when I can shine like Dorothy Lamour
I'm not in films or on the telly,
but I'll still shine like Grace Kelly.
I want my light to blaze and burn
while I can shine like Audrey Hepburn
And heads will turn wherever I go
to see me shine like Clara Bow
I don't have wealth, I don't need fame
and I won't heed the ageist game
Years won't make me hide in shame,
I'll shine on brightly all the same.
We're now enlightened women so
Let's vow to shine like Clara Bow.
Love eludes me, life is tough,
but I'm a woman and that's enough
No-one knows the things I've done,
that I'm as good as anyone,
I'm a star, so are you all,
every woman should walk tall
So sway those hips, pout those lips
and take a tip from Lauren Bacall
Put them together, wish then blow.
And shine shine shine like Clara Bow.
I will sway my hips, I will paint my lips,
I'm a woman to my fingertips
It took long years for me to find
a life, a body to match my mind
So I should treasure this too short time
I have to share with womankind
And I want everyone to know
I'm going to shine, I'm going to shine
I am going to shine like Clara Bow
Yes, it took long years for me to find
this life, this body to match this mind
And I swear to treasure whatever time
I'm spared to share with womankind
So before I have to go,
to leave this woman's world behind
I want the whole world to know
I'm going to shine, I'm going to shine
I'm going to shine shine shine
And  BLIND.
You can also view Alice reciting this poem in another video made by James Tucker and Peruvian Tree Productions:
I agree with Alice in saying this poem is a call to all women, and much of it resonated with me as I read it. Pain, suffering and rejection are constantly in our lives, and I've always had a special admiration for those who are able to produce something so beautiful, strong and open; to choose that positive, upwards-looking point of view.
Connect with Alice on Twitter @cantbbad 
I don't normally write sign-offs but I'm a little sad that I can't fit any more on this page. There's simply not enough room to showcase what I'd like to! Finding these wonderful creators, connecting with them and receiving their content has made my week, and I hope today's page enlightens, emboldens and encourages you in your own journey.
When I think of pride I think of colour, artistry, creativity, love and pure expression of who you are.