Thoughtful Tuesdays: Pride
By Eithne Cullen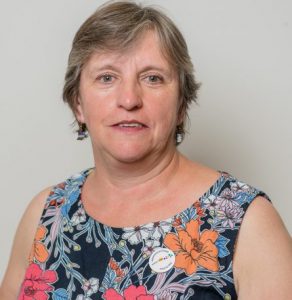 Pride month has become part of our calendar. Every year, during the month of June –  chosen because that is when the Stonewall Riots took place in 1969 – the LGBTQ+ community celebrates Pride in a number of different ways.
Various events are held across the world recognising the influence LGBTQ+ people have had throughout history. As well as being a month-long celebration packed with events, Pride is an opportunity to peacefully protest and raise political awareness of current issues facing the LGBTQ+ community.
Pride month usually involves parades, street parties, community events, poetry readings and educational activities. The coronavirus has limited the opportunity for gatherings, so many events have moved online.
Here at Write On! we're sharing some LGBTQ+ voices and I'm going to start my page by going back in history.
Historical Voices
Sappho was a lyric poet recognised for her beautiful, intense writing in Ancient Greece. Only one complete poem has survived the years, alongside fragments and extracts which later writers used, quoting her work. Sappho's only surviving complete poem is this beautiful hymn beseeching Aphrodite (the Greek goddess of beauty and love) to help her win a reluctant lady.
Aphrodite
O immortal Aphrodite of the many-coloured throne,
child of Zeus, weaver of wiles, I beseech you,
do not overwhelm me in my heart
with anguish and pain, O Mistress,
But come hither, if ever at another time
hearing my cries from afar
you heeded them, and leaving the home of your father
came, yoking your golden
Chariot: beautiful, swift sparrows
drew you above the black earth
whirling their wings thick and fast,
from heaven's ether through mid-air.
Suddenly they had arrived; but you, O Blessed Lady,
with a smile upon your immortal face,
asked what I had suffered this time and
why I was calling this time
And what was I most wanting to happen for me
in my frenzied heart: "Whom again shall I persuade
to come back into friendship with you? Who,
O Sappho, does you injustice?
"For if indeed she flees, soon will she pursue,
and though she receives not your gifts, she will give them,
and if she loves not now, soon she will love,
even against her will."
Come to me now also, release me from
harsh cares; accomplish as many things as my heart desires
to accomplish; and you yourself
be my fellow soldier.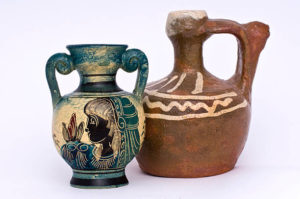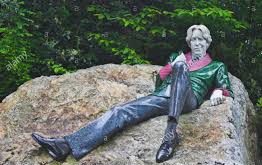 Oscar Wilde was an Irish poet and playwright. He wrote in different forms and became one of the most popular playwrights of his time. He is remembered for his witticisms as well as his novel The Picture Of Dorian Gray. He became famous for the scandal around his criminal conviction for gross indecency, for which he served a term in Reading Gaol. While there, he witnessed an execution and wrote about it after his release. Here's an extract:
The Ballad Of Reading Gaol
In Reading gaol by Reading town
There is a pit of shame,
And in it lies a wretched man
Eaten by teeth of flame,
In burning winding-sheet he lies,
And his grave has got no name.
And there, till Christ call forth the dead,
In silence let him lie:
No need to waste the foolish tear,
Or heave the windy sigh:
The man had killed the thing he loved,
And so he had to die.
And all men kill the thing they love,
By all let this be heard,
Some do it with a bitter look,
Some with a flattering word,
The coward does it with a kiss,
The brave man with a sword!
*****
The last piece is another extract:
The Artist (The Lives and Loves of Apollo Antonius Vidali by Aryl Shanti)
One night, as I was throwing together a scene of dark, wild-looking centaurs, dancing with their naked nymph counterparts, Sebastian came into my art room and peeked over my shoulder.
"You sexual deviant," he whispered with a grin.
"You know I am," I replied without stopping to look at him.
Sebastian flopped down on the peach-colored couch behind me and bit into an apple. I could hear his crunching as I brushed browns and violets into the fur and hair of my painted beasts.
"You're too good, you know," he added.
I slightly laughed and said, "What do you mean?"
"With everything… painting, sculpting, music. Really, Paul, is there anything you can't do?"
"Cook. I can't cook a meal for the life of me."
Sebastian snickered, then said, "I bet you could do that as well, if you tried. You're some sort of God on earth, my friend."
I turned around and gave him a sarcastic, doubtful smile. He had one of his legs lifted up while his off-white blouse hung loosely to the side, revealing his shoulder, which gave a small glimpse of his nearly hairless chest. I looked at him, finally realizing how utterly beautiful my close friend truly was. I had noticed before, but the painter in me was now fully awake and wanted nothing more than to paint this stunning man in front of me.
"Sebastian, stay there. Don't move."
He smiled and asked, "Why?"
"Because… I need to capture you!"
I quickly set aside my centaur painting and grabbed a new canvass. I turned it to face my subject on the couch and began to frantically sketch. His features, nearly feminine with his sparkling eyes and soft lips, yet masculine in his jaw and cheekbones, pulled at my creative desire.
He noticed my hunger and smiled. "You've never wanted to paint me before. Why now?"
I slowly shook my head in silence as I continued to outline his relaxed, lean body. I found myself getting aroused as I traced his curves, and it unnerved me. Never had I felt such intense feelings for another man. There was that one time at Armand's party, but… it wasn't like this.
"I don't know why," I finally replied, doing my best to ignore the throbbing of my body. "I just… see you clearly now."
"Really?" he said with a twinkle in his green eyes. "What do you see?"
I smiled, finishing up the details of the half-bitten apple in his right hand. "You are a man of extraordinary beauty and talent, my friend. You have a gentle, but inquisitive soul… and you are dripping with pure sensuality."
"Ha!" Sebastian laughed. "Paul… you flatterer."
"I'm being serious," I said with a smile.
Sebastian's doubting smirk slowly turned into a serious expression. "Paul…"
"Yes?"
"Thank you."
"For what?"
"For seeing me. No one else does."
Lyra Shanti, also known as Aryl Shanti, is a transmasculine novelist, editor, poet, playwright and songwriter who lives in Florida with partner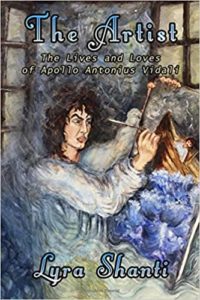 and spouse, Timothyne, and their two insane cats.
Author of the award-winning science fantasy series, Shiva XIV, Lyra is a dreamer of worlds far away. Most recently, Lyra released book 1 (Promise Of The Opal) of Gemstones, a fantasy-romance duology. To find out more, go to website: lyrashanti.com or: www.amazon.com/Lyra-Shanti/e/B004RZZEXW/
We're looking forward to the online version of our latest magazine coming out on July 17, so do look out for the digital version and the pages we will be publishing. More updates to follow!
Keep sending entries for Pen to Print competitions and Write On! Showcase to pentoprint@lbbd.gov.uk
Pride is an opportunity to peacefully protest and raise political awareness of current issues facing the LGBTQ+ community.