Monday Moments: Elevating Voices
Introduced By Amber Hall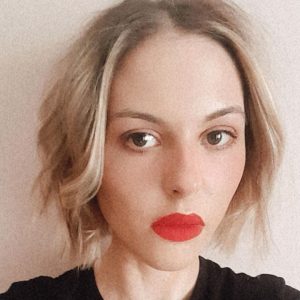 This month marks the start of our new theme, which is 'Hearing Voices: Inner Voices, Outer Voices, Connected Voices.' I've been thinking about how writing allows us to hear such a diverse range of voices, and connect with different stories and perspectives from all over the world. Writing is a statement: a way to make your voice heard. Even if you don't share your writing with anyone, simply putting pen to paper – staking your claim on a blank page – is a powerful way to process your experiences.
Storytelling plays an important role in elevating marginalised voices, too, and it has the capacity to empower and connect some of the most vulnerable people in society. Mental Health Awareness week takes place from 15-21 May here in the UK, and it's worth remembering just how cathartic writing can be during this time. I think our words and mental wellbeing are inextricably linked. The things we say to ourselves and to each other, silently or out loud, have real consequences for our mental health. Those voices can affect how we view ourselves and understand our place in the world, so it's important that we use them wisely.
The pieces I've chosen for my page this month highlight just how powerful writing can be to connect, empower and give voice to disenfranchised people.
First, we have two poems by Clare Brown, who works for the mental health charity Shout. It provides free and confidential text messaging support services for anyone who is struggling to cope, and is accessible 24/7. It's so important to feel seen and heard when you're in the midst of a crisis, so it's a fantastic initiative. You can find out more by visiting the website: www.giveusashout.org.
Clare was kind enough to share two pieces, both of which touch on the silencing nature of mental health issues. The first, The Voices Are In Control, really speaks to the sense of shame and loneliness people can feel when they're struggling. We can all be self-critical to some degree, but this piece is a reminder that there are times when our inner voices can become truly debilitating.
The Voices Are In Control
You would not give your name
You felt such intense dreadful shame
You could not talk to any of your family
Hear how dreadful that can be.
The voices told you what to do
It was them, I know it wasn't you
You had no control, they were too loud
My voice was just another one in that noisy crowd.
I could not help, it's not what I'm meant to do
I hope you know that I listened and understood you
If I could have given you a hug I would have done so gladly
Texting does not have space for hugs sadly.
© Clare Brown, 2023
In this next poem, we are asked to look beyond the surface, behind the masks we wear. The phrase, "I'm fine" can be a knee-jerk reaction, but it doesn't serve us in the end. I loved the sensitivity of this piece, and the gentle way * the speaker interrogates this all-too familiar response.
Ask Again
Wonder what's going on in that head?
All I can see is a smile instead.
The words "I'm fine" don't quite match
The look in the eyes that suggest there's a catch.
Wonder if everything is really okay?
"I'm fine" are words we often say.
Perhaps it's time to ask again
It can do no harm, it won't be in vain.
A message will say you're not alone
Someone is here at the end of a phone.
If no one is there or there's no reply
A reminder to text Shout on 85258 is well worth a try.
© Clare Brown, 2023
*****
Next, we have a poem by Tavinder Kaur New, who writes about the experience of womanhood. I love the strength of voice that comes through this piece, which criticises gendered stereotypes and questions the ways women are valued in society.
Am I Simply Not Enough?
I am strong, sensitive, and successful. I can be anything,
So why pigeonhole me into marriage, motherhood and not being on my own,
Am I simply not enough as a woman?
I am powerful, proud, and peaceful. I can be anything,
So why pigeonhole me into cooking and cleaning, as could be a scientist or a Prime Minister
And judge me for not wanting a relationship
Am I simply not enough as a woman?
I am multitasking, beautiful and courageous. I can be anything,
So why pigeonhole me with being selfish if I want a career, or make money and not have a family,
Am I simply not enough as a woman?
Let me fly into the sky as you allow your sons to and let me be anything,
Don't pigeonhole me by giving me pink clothes or barbie dolls, and keeping me caged in.
Let me see the world and create my identity.
Remember I am simply enough as a woman; that is my power and the unique strength. I am sufficient as I am. I am a woman.
© Tavinder Kaur New, 2023
You can follow Tavinder on Twitter: @NewTavinder and Instagram: @tavinderknew.
*****
Finally, I'd like to share a deeply personal piece I wrote for a course I did last year. We were asked to place a character with a specific (and different or unique) viewpoint into a familiar environment, to highlight how narrative voice allows us to explore different perspectives. I wrote about my experience of food shopping, having suffered with an eating disorder for 20 years. For a long time, I rarely spoke about my illness – much less write about it – but I have started to be a lot more open over the past couple of years. In fact, I plan to write about it at length. Doing this has allowed me to take ownership of my recovery, which has been a long time coming. By drawing on my experience and putting this into my work, I have found my voice.
Food Shopping
I can never understand why people are so indifferent in these places; why they shop with such apparent disregard, their eyes vacant. The strip lighting is harsh. It casts unflattering shadows that rest in the hollows of my eyes, and I worry about what I look like. My hands are clammy. There's too much to take in.
The doctors think I left the ward too soon. I gained some weight, but my head hasn't caught up yet, they said. I didn't turn up to my appointment today. I didn't want to be weighed again. I didn't want them to give me that look – well intentioned though it may be – while they stuck a needle in me for the third time this week. They've taken so much blood that I'm starting to bruise at the elbows, the purplish tinge stark against the whiteness of my skin.
The supermarket is quiet, as I hoped it would be. It's easier to come here at peculiar hours, when everyone else is working, I suppose. I haven't had a job in so long that I forget it's what people do during the day. I go to the chilled food aisle to look at the ready meals. I've learned that they can, on occasion, be OK. Cooking is beyond me. The steady, mechanical hum of the refrigerator seems too loud, and I wonder how old it is. Perhaps it's faulty. Perhaps all the food is off.
A woman stands next to me, clutching the hand of a small child. A little girl. A mother and daughter, I presume. I haven't seen my mother since I left the hospital. I can't stand to see her any more; she looks so haunted. Every time we meet, her eyes fall on my collarbones and she lets out a quiet sigh, and then raises her eyebrows slightly, as though she's angry. She's not angry, she promises me, she's just worried. The mother picks up two lasagnes and casually tosses them in her basket, barely reading the label. Now that's madness.
I've spent a long time staring into the fridge. I take out different meals and hold them in my hands, feeling the weight of each one. I examine the calories, making all the necessary calculations. Four separate staff members have asked whether they can help, pleasantly enough, although I felt them watching me suspiciously from afar. No thank you, I tell them. I'm just looking. Too much has happened; it's taken too long. I panic and put the meal back in the fridge, grateful to feel the cool air on my flushed cheeks.
Crumpets. Crumpets are safe. But the bread aisle is particularly challenging, since it's where they keep all the things that are strictly off-limits. I see a man hovering around the cakes and pastries; his little pink tongue pops out for a moment and rests at the corner of his mouth. His delight is palpable. He's already got a trolley full of food: a tin of biscuits, some cheese, two three-litre cartons of whole milk (whole milk), and a family-sized bag of rice. He's got pasta, too, and five jars of a stir-in sauce. I haven't eaten pasta for well over a decade. I shouldn't judge him, although I do, a little. He's so cavalier about it, all this stockpiling. It takes me aback. And I can't, for the life of me, comprehend the joy in his face as he eyes up a large chocolate gateau and adds it to his bounty.
© Amber Hall, 2022
*****
You can connect with me on Twitter: @amber_marie_123 and Instagram: @amber.marie.123
Don't forget to submit your work to us via pentoprint@lbbd.gov.uk. You can read our latest issue  (16) of Write On! Magazine here.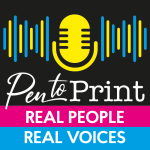 You can hear great new ideas, creative work and writing tips on Write On! Audio. Find us on all major podcast platforms, including Apple and Google Podcasts and Spotify. Type Pen to Print into your browser and look for our logo or find us on Anchor FM.
*****
If you or someone you know has been affected by issues covered in our pages, please see the relevant link below for ​information, advice and support​:
Change can be good or bad, or good and bad, but it's never fruitless; it always teaches us something new.