Monday Moments: If Music Be The Food Of Love
Introduced by Holly King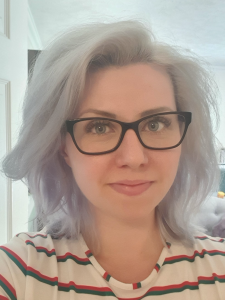 Music is a feast I enjoy every bite of. It elicits innate emotions, wordless reactions that spark the moment I hear the first few bars, swell as the introduction gives way and is heightened with poignant lyrics.
Music can be found in the everyday, from onomatopoeia and alliteration to short, sharp tongue twisters to get your mouth around; with poets being the true masters (every word must matter). I turn people's names into something akin to the beginning of a nursery rhyme; elongating vowels and holding onto the last letter until I'm ready to let go, half-singing them. I wake up at four am, already halfway through a playlist in my mind. When I'm happy, I listen to ridiculously upbeat songs I quickly skip over unless in the mood, and when I'm sad I exorcise it with melancholy melodies. Singing with the artist (although thankfully they can't hear me, only my neighbours are forced to endure that) creates a bond, a shared experience – we are communicating on the same wavelength, even if one is pre-recorded.
While we were in lockdown, my friends suggested an online music quiz. I had taken part in online quizzes with them for a few weeks, so I was surprised by how much shared happiness and what a strong connection I felt with them all while we furiously typed the name of the song and artist on a shared Google Doc, reminiscing over WhatsApp. I had been isolated without physically seeing another human for close to two months, and yet I felt the whole of my living room come alive in that evening. I was so enthralled that when lockdown eased, I got my family together to play one night. It was both a private memory made and one we shared together.
When you think about it, music is integral to our lives. It's played in gyms to pump us up, in restaurants to create an atmosphere ranging from romantic to 'authentic', in toddler groups to help keep children engaged while they learn, in church to communicate with your God as one congregation. At weddings to celebrate, at funerals to pay tribute and during parties to bring everyone together and dance (from your 80-year-old Grandad to your five-year-old niece, and if you're lucky, your surly teenage sibling).
So music is a feast leading to euphoria for me. It throws up images of family, parties, expression, life, energy, connection; driving down a clear highway straight into the sunlight. This week, I'm particularly excited about the features I've gathered.
*****
First, we have the talented, poetic story of Joe's relationship with music and the amazing project he created during lockdown. His way with words is melodic, and draws you in immediately:
Around a year ago, Wikipedia's 'Did You Know' section alerted me to the existence of a semi-forgotten figure from history. His name was Horst Rosenthal, a French-Polish Jew detained at Gurs internment camp during the Nazi occupation. His face is lost to history (though we know he had brown hair and a normal nose according to official records). Thankfully, a part of him lives on through the comic books he made while detained at Gurs, the most famous being Mickey Mouse At Gurs Internment Camp (Mickey Au Camp De Gurs).
In this short book, Mickey is arrested for his uncertain parentage and sent to Gurs. Here, he is appalled at his living conditions and food rations (which he views through a giant magnifying glass). In the end, Mickey realises he is just a drawing, erases himself with a pencil rubber and redraws himself in New York (the land of "liberté, égalité, fraternité"). Horst was murdered in Auschwitz on September 11th 1944. On the cover of Mickey Au Camp De Gurs, he proudly wrote Publié Sans Autorisation De Walt Disney (Published Without Permission From Walt Disney).
In hindsight, the message couldn't be clearer: the physical and intellectual property of the fortunate is valued higher than the lives of those deemed undesirable. It's astonishing how true this complaint still is. Spotify is a legal company which exploits thousands upon thousands of artists who are struggling to make ends meet. The destruction of Notre Dame (a building) drew in millions of pounds worth of donations in a matter of days; yet many millions of human beings still live and die in poverty.
Horst Rosenthal broke copyright law in order to assert his own dignity, humour, anger, empathy and self-worth, all while trapped in one of the worst places imaginable. Is this not 'fair' use? Copyright law allegedly exists to guarantee artists a decent wage for their work, but that's not what it's doing. For instance, the flute melody from Men At Work's Down Under slightly resembles the Australian children's song, Kookaburra – enough for the owners of the copyright to sue the band (the owners, NOT the writer, who had long since died). The stress of the gruelling years-long lawsuit is said to have contributed to the relapse and death of the flute player Greg Ham.
The string part from The Verve's Bitter Sweet Symphony is sampled from an orchestral version of The Rolling Stones' The Last Time. This resulted in a lawsuit, after which every penny earned by Bitter Sweet Symphony went straight to Allen Klein, a one-time manager of The Rolling Stones, who had no involvement in the creation of any of the relevant songs. If we were to start talking about hip-hop artists, this paragraph will be several books long. Copyright law is a shambles, and has been used to silence and suppress artists for many decades, all the while consistently failing the very people it was chartered to protect.
I've always made mixtapes because I love music and I love giving people music. Algorithms and marketing teams recommend music based on data and demographics; a person recommends music to a friend because they are human beings. For 14 months, I created a series of seven mixtape/rural-DJ-set projects themed around the forests I walk in, anonymously hiding copies for fellow walkers to find. This ended up igniting a deeply held friendship with someone who happened upon one of the discs hidden among the trees. However, I've never been prouder of anything I've made than this, The Quarantine Trilogy. Peak lockdown was one of the worst times of my life. The man who I believed to be the love of my life shot me down, I was made redundant from my job, and my obsessive-compulsive disorder was making my life a living hell. I felt a need to empty my head, and did so by making this three-disc music/sound collage, depicting my emotional whiplashes and states of chronic over-and-under-stimulation.
The project was inspired by Glenn Gould – a fellow obsessive-compulsive music devotee and one of the greatest pianists to ever play. He gave up performing at the height of his fame, aged just 31, due to the intense stress of performing in front of audiences. Gould went on to make The Solitude Trilogy, a trio of radio documentaries about his native Canada, which, despite consisting nothing but overlapping interviews and field recordings, he described as 'autobiographical'. He himself was using the words and ideas of others to express himself. While my own Quarantine Trilogy doesn't bear much stylistic resemblance to Gould's work, I like to think it is made with similar ideals: honesty, passion, compassion, self-respect, the celebration of our ability to feel, and to empathise. I'm not saying I succeeded, I'm just saying I was trying. My eternal gratitude to Horst Rosenthal and Glenn Gould for showing me that art gives a voice to the appreciator as well as the creator, and to everyone who listens. This is yours and mine. Thank you. 143.
(c) Joe DL, 2020
Hear his project: https://lostandsafe.com/quarantinetrilogy/
*****
Now we have a feature that demonstrates the effect music has in our lives, and how technology and innovative thinking can give you the freedom to express that love:
I've always loved singing, I'm actually quite good at it, yet I lack the confidence to sing in front of anyone. I don't just mean on a stage – though even the thought of that has caused me to break into panic-induced sweats – I mean ANYONE. If I'm aware someone could overhear me, my throat closes up, and I wouldn't dare sing in earshot of family, friends, or even a stranger I would never ever see again. I can't even will myself to sing along to music playing. Concerts are different, nobody can hear you amongst the thousands of other people doing the same. Of course, I was mortified to hear my own singing voice picked up on one of my recorded videos when showing family concert clips once. I 'blamed' it on a mystery girl who had been near me. I sing a lot when home alone. No chance of being overheard by anyone who'd mention it that way.
One day, while playing a game, an ad popped up on my phone for an app called Smule. Smule is an online karaoke app, or: The social singing app that lets you enjoy millions of karaoke songs. It was founded in 2008 with the tagline: Connecting The World Through Music.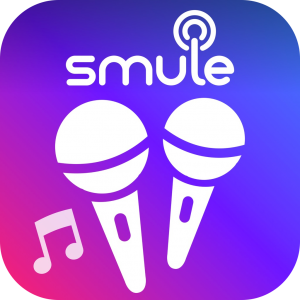 As with most things, you join and create an account with a username that allows people like me to be anonymous. You can put in as much, or as little information as you like and you don't have to put a picture of yourself, or enable the video option when recording. You don't need any fancy equipment, just a smartphone that can run the app and some headphones. And your voice, of course. You have the option to record solos, duets and group songs, and decide whether you want them public or not as well.
I started using Smule for free initially, which allowed me to join open invites other users had recorded but had a limit on how many recordings you could do yourself. There's also a limited amount of 'effects' you can use for free in the studio when you're reviewing your recordings, before saving and publishing them. At first, I was wary of singing with other people – just to point out, none of them are 'live', and you join an already recorded part of the duet – and panicked when I started getting comments, especially as they were so positive. I don't know how to deal with compliments!
After two years of using it and making friends from around the world – who still only know me as jedi_uk – I'm now a subscriber and jump onto the app as soon as I'm alone. The fun thing about Smule is that anyone can join; I've 'sung with' Jason Manford several times. Smule also has a Sing With The Artist feature, where professional artists such as Lewis Capaldi, Ed Sheeran and Paloma Faith record open invite duets for their own songs and you can join them and pretend you're duetting with them. Capaldi, in particular, has fun with it. I recommend checking out his 'duet' with Jason Manford.
What I love about Smule is it allows me to sing without panic taking over. I can be anonymous and I can even pretend, just for a bit, that I'm actually confident enough to be a West End singer. Smule remains the only place my singing voice can be found. Well, except for the crowd singing along to Bohemian Rhapsody in the film of the same name, but it's nice and hidden away amongst many others, so that's a relief!
Credit: jedi_uk
Check it out for yourself via https://www.smule.com/
*****
First Line Generator Competition is Now Open. The best two 'first lines' submitted will win a copy of The Organised Writer, by Antony Johnstone.
Issue 5 of Write On! magazine is available to read online, just click here!
Music can be found in the everyday, from onomatopoeia and alliteration to short, sharp tongue twisters to get your mouth around; with poets being the true masters (every word must matter).