Monday Moments: New Beginnings
Introduced By Amber Hall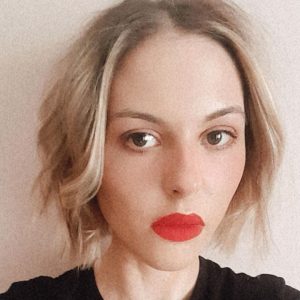 The clocks moved forward an hour on March 26th, marking the start of British Summer Time here in the UK. For me, the year never feels as though it's getting under way until springtime. It's a season of new beginnings when plans and resolutions made at the tail end of the previous year start to take shape (or not, as the case may be!).
I've been thinking about how this relates to our theme 'Contradictions: everything has two sides.' We can feel ambivalent about fresh starts because there's so much uncertainty attached to them. For all its shortcomings, winter is a time to hunker down. Once the holidays are out of the way, there's no expectation to do anything if you don't feel like it, and there's comfort in that. But once flu season has passed and the frost has thawed outside, you don't have an excuse not to show up and be your best self.
As March rolls into April, I become more acutely aware of how the year is shaping up: of the things I haven't done and the things I'm yet to do. It's difficult dealing with all those unknowns, although it can be exciting, too. Change can be good or bad, or good and bad, but it's never fruitless; it always teaches us something new. The pieces I've chosen this month, explore the ways in which we attach meaning to seasonal shifts – often, to reflect on the direction our own lives are taking.
I'd like to start with a poem by regular Write On! contributor Palak Tewary. There's a kind of simmering in the air at this time of year, I think, as we start to look ahead. Palak has captured this mood beautifully and, with it, a sense of hope for what's to come.
Primavera
Here I am, at the cusp of spring
Feeling the touch of hope in the air
Despite the winter chill, the sun is king
Here I am, at the cusp of spring
The birds, once again, begin to sing
The flowers bloom with a flair
Here I am, at the cusp of spring
Feeling the touch of hope in the air
© Palak Tewary, 2023
You can connect with Palak via her website, palaktewary.com, or on Twitter and Instagram: @palaktewary
*****
Next, we have another poem, this time written by Jack Tattersall. I love the vivid imagery that's evoked in just four lines, which Jack has brought to life further with some original artwork. I pictured snow melting in great dollops from a hedgerow when I read this: a fitting image for the season.
Winter
Snow sits on the juniper bush.
Snow on the juniper
Snow juniper
Snow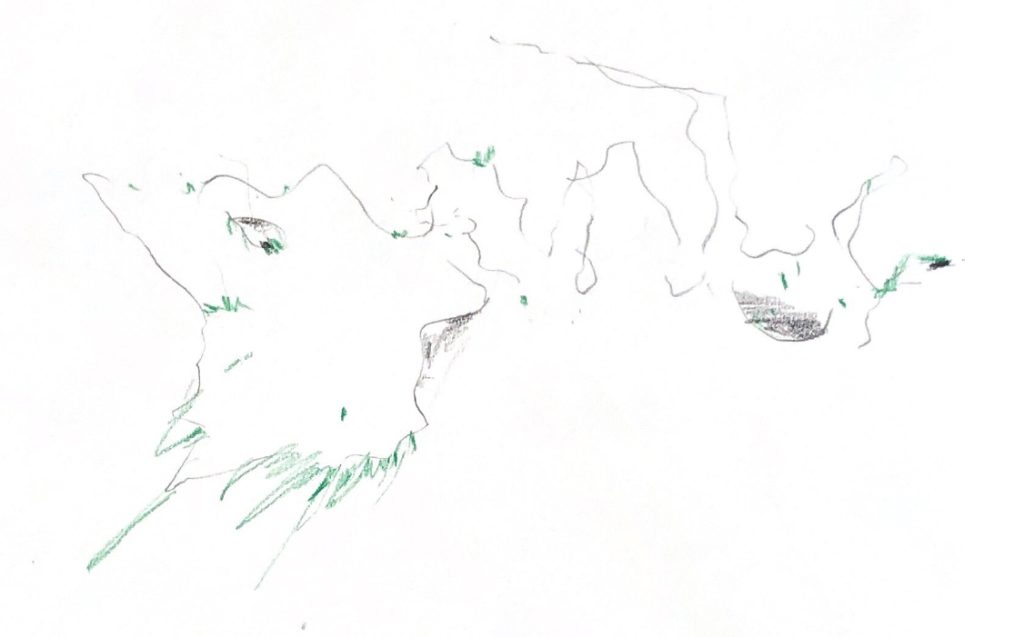 © Jack Tattersall, 2023
 *****
Now, we have a prose piece by Glen Donaldson. This is such an inventive and unique story, but what struck me most was the ending. A sense of relief permeates the final paragraph, as the winter frost (and a collective turmoil) finally comes to an end.
The Beauty Of Snow White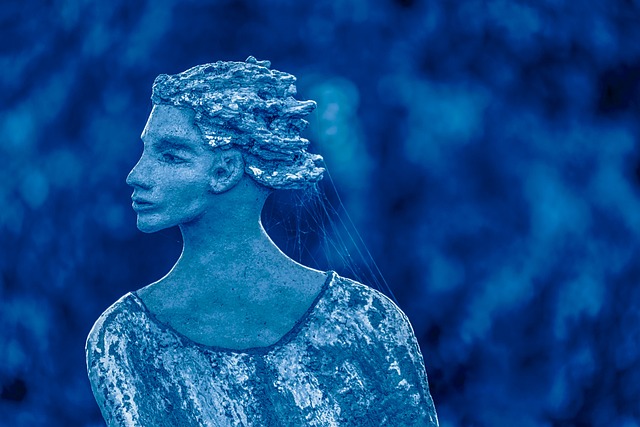 Waiting gives people time to think over the ordinary. Detectives had been doing a lot of that. Residents in and around the Lake District had been waiting seven long years to find out the identity of the killer amongst them.
Police had sought the assistance of crime experts of every description – from psychological criminal profilers to forensic psychiatrists, AI-based mind-mapping, and even, most importantly, a departmental shoe print morphologist.
After the fourth body had been discovered, sections of the tabloid press had begun referring to the unknown perpetrator as 'Bigfoot' – based on what police had described as overly large footprints found at each of the body dump sites. Now, amidst weather frigid enough to harden saltwater ponds, a new idea had begun to take hold amongst those heading the investigation team.
Undercover officers had worked during the night to build a snowman – or more precisely, snow woman– adjacent to the site where the last victim had been found, three weeks previously. Moulded and shaped to bear a resemblance to 22-year-old waitress, Milligan White.
She'd been the most recent innocent prey of Bigfoot. The snow sculpture was also 'dressed' in painted-on undergarments meant to reproduce the state the body had been found in on the snow-covered footpath outside a local residence.  Inside the right coal-stone eye of the snow woman, detectives had placed an infrared camera.  Behind the mouth was secreted a recording microphone.
For three days nothing happened.  Then, shortly after 11:30 pm on the fourth night, the surveillance team observed something unusual. A white mist may have gathered around the snow figure this night, but the camera was still able to distinguish a tall, bearded man wearing black gloves and dressed in a navy-blue anorak, first walking past, then stopping and doubling back before coming to stand dead centre in front of the 'eyes' of the snow woman.
After an overly deliberate glance in either direction left and right, the male figure exhaled air in a visible ghostly puff and, fixing with an unnaturally serious gaze on, unbeknownst to him, what was really a video recording device, uttered forth in a deep, raspy voice words the detectives would long remember – "Didn't I kill you?"
After examining the face seen in the security footage and matching a number of other pieces of evidence, police took only another 72 hours to make the arrest of a 36-year-old male employee of a local shoe store. 'Bigfoot' turned out not to have had such disproportionately large feet after all, but rather, simply access to an infinite variety of shoes and shoe sizes.
When spring finally came that year, it brought with it a sense of renewal few had ever experienced. The permanent chill, and with, it the desolation and despair that had seeped into every living moment of the city these past seven years had finally lifted. And it was all thanks in part to the undercover operative police would long remember as 'Snow White'.
© Glen Donaldson, 2023
Visit Glen's website scenicwritersshack.com or connect with him on Twitter: @gdona29
*****
I'd like to finish this month's page with a prose piece written by Sanreet. Here, the reflective tone of the writing really stood out for me. There's a sense of unfurling, as though the narrator is coming out of hibernation. I also like that this piece interrogates the idea of choice and life's direction, revealing some confusion about which 'road' to take. Ultimately, though, we're reminded it's the journey – not the destination – that teaches us the most.
​​Journey Or Destination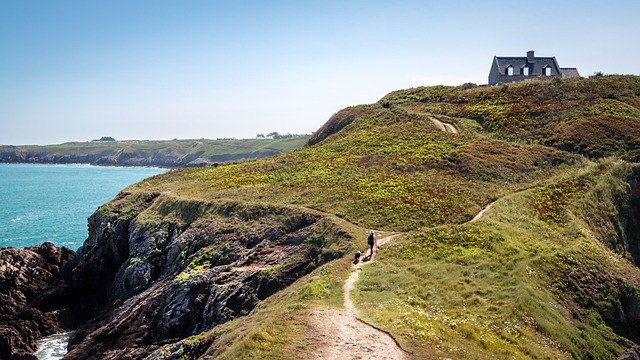 The sun had risen, far far away. I heard the waves gently roaring, up and down, up and down. I lay there, eyes tightly shut but with ears open and wide. A branch creaked as a small bird landed on it, chirping happily, first softly and then brightly.
The light filtered down through the cracks in my windows as I felt a warm glow gently touch my body. I felt the warm rays touch my cool skin, gently wrapping themselves around me, engulfing me in a fine hug. The light had reached my eyes. I gave a soft grunt and turned my head snugly into my pillow, shying my eyes from the bright bold sun. It looked as though the time had come for me to awaken from my slumber.
I pulled my knees to my chest, opening my eyes, letting the light in, filling me inside out with a glow that spread through my veins, lighting up every nerve in my body; sparking my desire to step out and enjoy the wide expanse of the deep blue sea in front of my door. To bathe in its cool breeze and fill my lungs with fresh salty air wafting up the huge cliff, where my house stood tall and proud.
I flung my legs out, feeling the cool marble under my feet. There was a spring and a bounce in my step as my soul, body and mind prepared to welcome another day.
Opening the blue wooden doors, I invited the sun, the breeze and the salty air of the deep blue sea inside my house. I ventured out, eyes gazing towards the sea, which seemed never-ending, spreading wide into the expanse. It looked as though she was teasing the sun, spreading her hands out, gently touching his chest, then drawing them back in and waiting – daring – him to come closer to her again.
As I stood there, feeling the gentle breeze, I felt a shiver run down my spine. It brought my attention to the rocky lanes that wound their way down to the deep blue sea. I was tempted to throw my hand out, gulp a large breath of fresh air and run all the way down to the ice-cold water. To take a dip, let the water gently fill my ears. Let my head fall back and feel the cold water slowly closing in over my eyes, my lips and finally my nose.
Just as I was about to take a step forward, my foot stopped mid-air, as I took in two, not one, rocky lanes. Two roads that went far, far down into the ocean, but met the sea at two different points. Confusion filled my mind as I wondered which road to take. The destination was the sea: the dark, deep blue sea. Beautiful in its own right and enticing in every way, be it from point one or point two. But which one should I take? Where did I want to go?
The destination is the sea; the dark, deep blue sea. Beautiful in its own right – enticing in every way, be it in point one or point two. But which one should I take? Where did I want to go?
Isn't life often this way? The destination we visualise in our mind's eye looks so enticing, so breathtakingly beautiful. But every time we stand at a crossroad, we wonder where this path will take us. We try to evaluate with data, with complex mathematical processes resulting in the best possible path, but do we realise that where it leads us could be just as beautiful, irrespective of whether we take the left or the right? Whether it's point one or point two, it's still the sea. Yes, there may be some differences, but isn't the destination the same? One Happy Life.
Do we realise it's the journey that matters? That the people we travel with on this journey, matter more than the destination itself?
​​© Sanreet, 2023
*****
You can connect with me on Twitter: @amber_marie_123 and Instagram: @amber.marie.123
Don't forget to submit your work to us via pentoprint@lbbd.gov.uk. You can read our latest issue  (15) of Write On! Magazine here.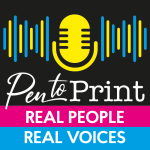 You can hear great new ideas, creative work and writing tips on Write On! Audio. Find us on all major podcast platforms, including Apple and Google Podcasts and Spotify. Type Pen to Print into your browser and look for our logo or find us on Anchor FM.
*****
If you or someone you know has been affected by issues covered in our pages, please see the relevant link below for ​information, advice and support​:
Change can be good or bad, or good and bad, but it's never fruitless; it always teaches us something new.