Monday Moments: Looking Back At A Summer Of Play
Introduced By Holly King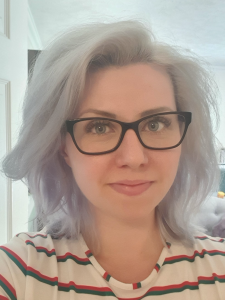 September is a dreary month. It signals the end of holidays, sunshine, lie-ins and late nights; of days out and not worrying about the time, of seeing friends and family, beach trips, sun cream and the relaxing of rules. September is when the play ends and work starts up again. It's when the days get shorter and the jumpers start coming out and businesses start selling Christmas items which, even for me, is far too early. Somehow, each year, the whole month of August passes us by, much quicker than any other month.
At Write On! we also took August as the chance to have a hiatus. As we're now back in full force, and before it becomes hidden under all the piles of work and responsibility (and clothes that I haven't put away yet), I want to take this opportunity to reflect back on August.
This year, more than any other, we have deserved a Summer Of Play, which is what Play England (amongst other organisations), chose as their theme for this year's Play Day. Summer Of Play was a pledge that organisations across the UK committed to, so that children could enjoy 'Fun, Friends And Freedom' in August 2021. You can check out what types of play they ended up having here.
If you've ever read a previous Monday Moments page, though, you'll know I don't think play is limited to children. Play is a vital thing for all of us; to relax, to engage with each other and to promote creativity. How many of us writers and artists extol the benefits of just messing around with prompts – or paint or play the piano – not thinking about what we're doing, just creating?
I've always seen the value in playing. Sometimes we get so caught up in being an 'adult' and forget how amazing it is to be a child, tasting a bacon sandwich for the first time or seeing a tree and being in awe, instead of thinking: it's just a tree. Children are infinitely closer to nirvana than we are because, everything is new and doesn't need to be categorised so scientifically. They can be a princess warrior riding a dragon to her mermaid castle under the sea where her robot friend from planet Zork is waiting to teleport her to a secret garden where the Elf King has a mission for them. That is of course until she gets called for dinner. Elf-giant international relationships will have to wait – it's make-your-own pizza night!
Eventually, we all have to return to Earth but, whenever I identify a chance to break away from reading a specification, or washing up, or listening to the latest media scare, I take that opportunity to play. This August, I've managed to play lots of board games: with friends, online, as well as at my local board game café. I've sung my heart out to some classics at Massaoke in Summer By The River and, even bought a steel tongue drum to play with  – if only because it says it doesn't require any musical or technical knowledge to use. How have you included play in your summer?
I've gathered together some playful features for this month's Monday Moments, looking back on a Write On! Summer Of Play.
*****
The first is from our Write On! Editor, Madeleine:
I grew up in Germany, but my summer holidays were always spent with our Nana; initially in London, but then, from age six onwards, in Margate on the Kent coast. Summers meant sea, sand and big holes that went far down into the beach, the depth depending on my father coming to help or not. Other than digging for Australia, I loved building sandcastles. When the perfect specimen had been completed, I'd pretend to climb the summit and put a little paper flag at the top – enjoying the fruits of my labour with ice cream, while I sent marbles skittering down the paths I'd pre-smoothed with my fingers.
Much later, this memory of play would come in handy. We got scammed a couple of years ago. I was in shock the first few days after it happened and kept going back to what I could have done; my mind replaying the scene over and over. I sought advice from a local vicar and long-time friend. She told me to remember back to those sandcastles I'd built as a child and the marbles going round and round the castle, running from the summit to the little trough at the bottom. She said not to let the marble go past the first circle from the summit, telling me this was an analogy for my thoughts.
"Keep them at the top. Don't let what has happened go any further into your subconscious. If it stays near the top it can't hurt you and you'll be able to resolve it more easily. It will all come out OK at the end." It did, some 18 months later.
This was an incredibly useful mental exercise I still draw on today. In fact, I thought about it when Erin my daughter called me up from her perch on a daunting-looking rock on Northern Ireland's Antrim coast this summer. In order to reach her, I needed to go sliding and dipping my way through a narrow seaweed-covered passageway. Though, I was quite fearful, it came to me that, that same mental strength I'd used to keep the marble at the top of my metaphorical sandcastle a couple of years ago, would help me climb a different kind of summit.
As you can see, I made it. As I stood on the basalt outcrop, looking past Cushendun's storm caves to the most beautiful seascape, I couldn't help but think that play can teach us an awful lot about life.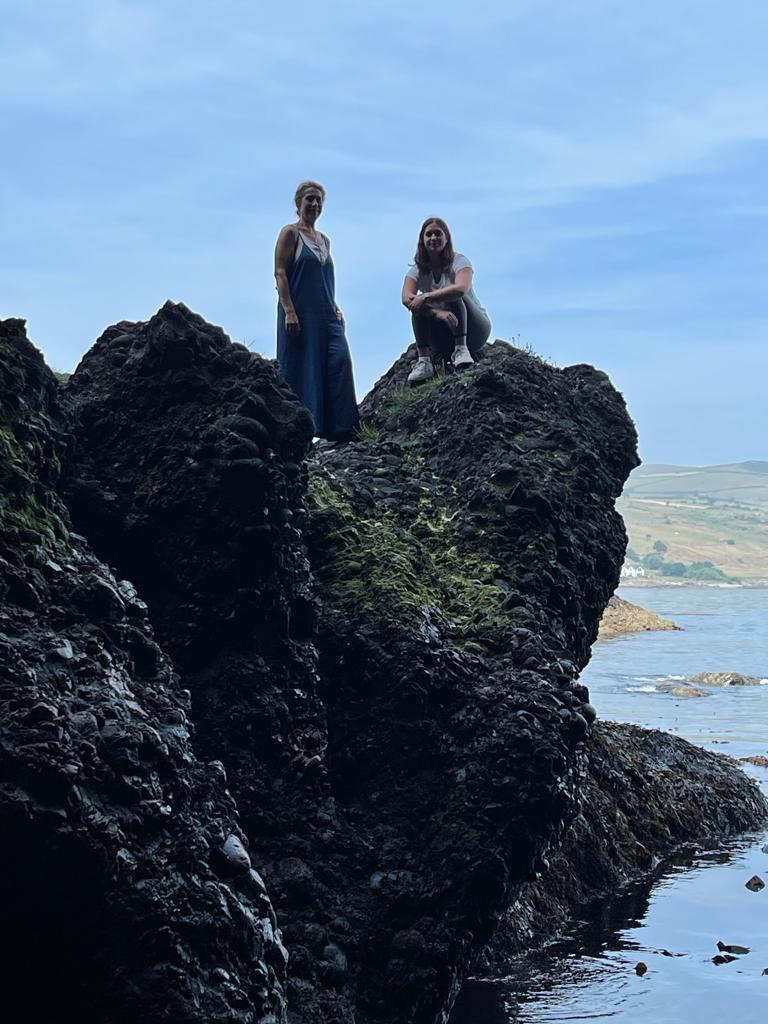 © Madeleine White, 2021
Connect with Madeleine: Instagram + Twitter @madeleinefwhite
*****
Next, Diya reflects on how she played as a younger child:
The games that I played were mostly city-life adaptations of the traditional games our parents had played. One such game was seven stones, locally called 'lagori'. Traditionally, this game was played with marbles or stones, but we used tile pieces to make towers that were smashed down with a sponge ball.
Often during the summer months, children from my neighbourhood would get together to organise picnics in our colony park. Everyone brought one dish from home. We all squatted on mats and shared our lunches.
Childhood summers to me meant playtime, summer camps and eating dozens of mangoes!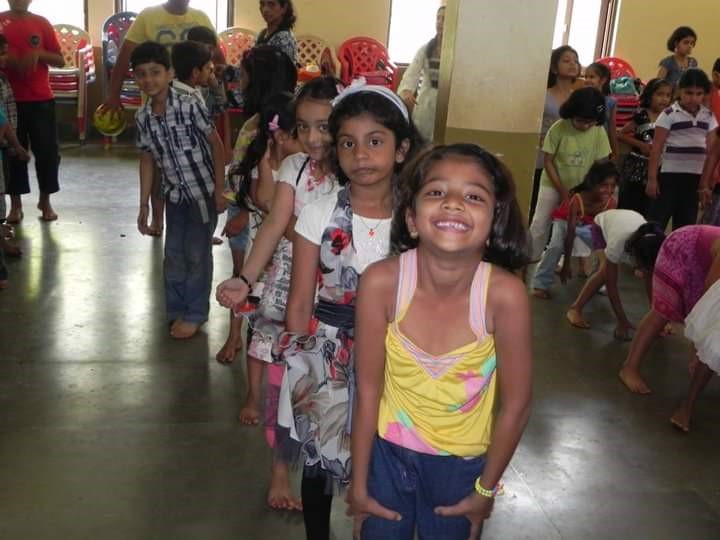 Summer Carnivals organised in my neighbourhood were a great bustle of food stalls, competitions and dance nights.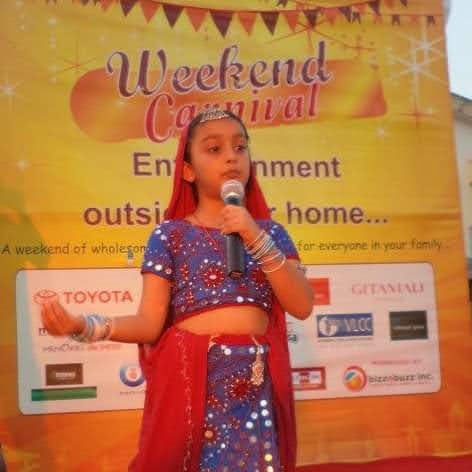 In the summers while I was still at primary school, our parents would plan picnics and ice-cream parties for us. These much-awaited treats with school friends were filled with laughter, as well as extra scoops of ice cream!
© Diya Paresh Padiyar, 2021 
Connect with Diya on Instagram: @teenagerwritings
*****
Next, Danny Fenn playfully talks about summer from an adult's point of view:
Though it may be summer
Yet it is piddling down with rain
I am alive and kicking
So I ain't gonna complain
The graveyard it is full
Of those who'd love to get a drenching
Sit and sup a cool one
And give their throat a quenching
We moan when it is cold
Whinge when it is hot
And forget to grasp the pleasure
Of this life that we have got
Go stamp in a puddle
Just like you used to do
You'll find that passing strangers
Will shake their heads at you
But you are breathing life's air
Your heart still drums a beat
So smile in the summer rain
As you saunter down the street
© Danny Fenn, the boleyn poet 2021
*****
Now, our Deputy Editor, Claire Buss, captures the essentials of her summer:
Smiles – beach day – ice cream – visiting friends & family – cake for lunch – too many chips – sunburn – birthdays – sandcastles – summer reads – extra maths – awards – DIY – Lego – sunshine – rain – new shoes – rollercoasters – late nights – train rides – surprise party – water slides – date night – popcorn – Frappuccinos – early mornings – haircuts – back to school!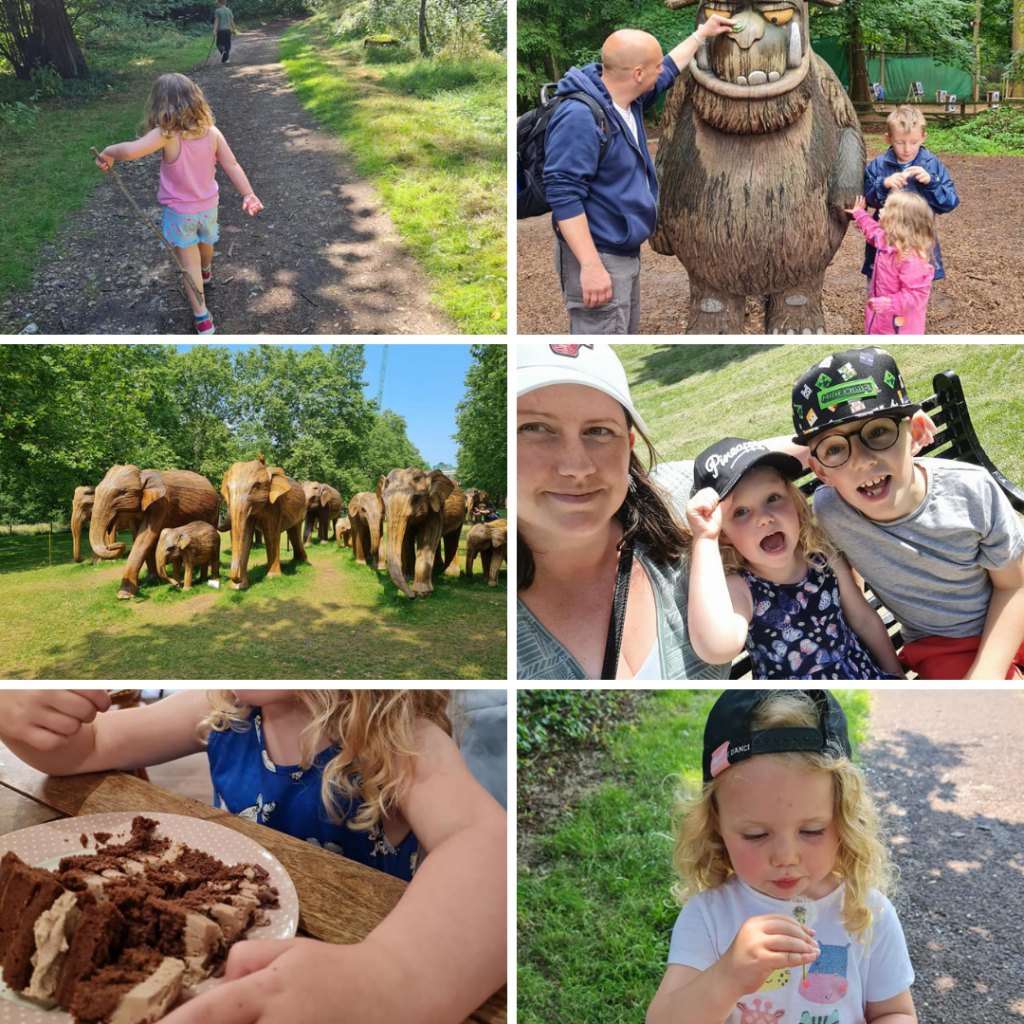 © Claire Buss, 2021
Connect with Claire at clairebuss.co.uk/ and on Twitter: @Grasshopper2407
*****
Lastly, Michelle Sutton shows us how some household items and creativity can lead to a whole lot of play:
For as long as I can remember, my family has always utilised things to hand and around us when it comes to 'play'. By that, I mean finding alternatives to buying something specific or expensive and making up games. My parents even used to create treasure hunts for me and my brother, involving us deciphering hand-written clues to find the 'treasure'.
The idea has certainly passed down and I've even used it when I started participating in sport. For example, for years I couldn't afford (and still can't) proper gym equipment. So, instead of weights, I use bottles of water or cans of beans. Surprisingly, books make good weight substitutes too – especially when you build up to hardbacks ;).
But, when it comes to fun (because I know exercise isn't everyone's idea of fun), one thing we've always created is an assault course. So, when my seven and two-year-old nieces came over during the summer, we got creative.
First things first, we had to check what could be used. The garden toys were easy starting points: skittles, hoopla and a soft catch ball. Next, some of my old football training gear: training cones and a football. Then, there was the garden furniture: a couple of chairs and the long chest that housed the aforementioned toys. As the assault course started taking shape in my brain, we started grabbing other random items to make it real: blankets, the boxes for the skittles and hoopla sets, sticks from earlier pruning, a bucket and a hula hoop that was meant for an art project that never happened.
Now, it was time to set it up. Garden chairs made great tunnels, one blanket was designated a roly-poly zone, while the other had several random items (stones, flowers, feathers etc.) thrown on it for competitors to pick up on their way around. The boxes for the toys, along with three boxes rescued from recycling, were now hurdles; the storage chest something to crawl over (or run across while suspended in the air by your aunt if you're two) and training cones something to weave through. And, in between, various activities needed to be completed: ring the hoopla, score a goal, jump through a hoop, throw three plastic eggs into a bucket and knock the skittles over to finish. All without losing whatever you grabbed from the blanket!
From the laughter and how tired we were afterwards, it proved a success. But I've definitely set myself up for creating more assault courses in the future, so I'll be looking around to see what I can use next time.
© Michelle Sutton, 2021
Connect with Michelle on Twitter: @MSuttonArt and on her blog: lmtowton.wordpress.com
*****
We've tired ourselves out now with all that play, so we're off to have a bit of rest before returning to that never-ending list of responsibilities. Don't forget to read the latest issues of Write On! magazine here, and submit your writing and art to us at pentoprint@lbbd.gov.uk.
Play is a vital thing for all of us; to relax, to engage with each other and to promote creativity. How many of us writers and artists extol the benefits of just messing around with prompts – or paint or play the piano – not thinking about what we're doing, just creating?