Pen to Print's Black History Month Book Recommendations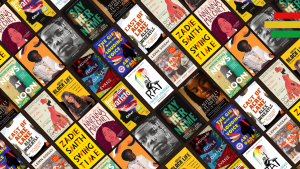 Held every October, Black History Month is a time to honour those who have made a difference in our world and to commemorate the rich history of African & Caribbean people.
This month, we highlighted the work of Black British authors who have made waves in the literary sphere. Here is our full reading list, featuring a few extras:
Questher is the remarkable true story chronicling one woman's journey from a carefree child in Barbados who was forced to leave school at the age of eight.
It follows her life through motherhood and wifehood to giving her heart to God and experiencing miracles and deliverance she could never have imagined. Today this innocent little girl is the mother of seven, grandmother of nine and great grandmother of two. Questher, who for years described herself as 'the girl with her feet in bags,' has set aside any fear of vulnerability and shared her story to showcase the amazing transformation that can take place in your life when The Lord is on your side.

A must-read for the Windrush generation.
Full of wit, humour and tenderness, The Private Joys of Nnenna Maloney is a powerful meditation on youth, race, sexuality and belonging.
As Nnenna Maloney approaches adulthood, she longs to connect to her Igbo-Nigerian culture. Her close and tender relationship with her mother, Joanie, becomes strained as Nnenna begins to ask probing questions about her father, whom Joanie refuses to discuss. Nnenna is asking big questions about how to 'be' when she doesn't know the whole of who she is.
Meanwhile, Joanie wonders how to love when she has never truly been loved. Their lives are filled with a cast of characters asking similar questions about identity and belonging while grappling with the often hilarious encounters of everyday Manchester.
Attachments are broken at birth. Shards slide apart. K: a child put into foster care, a boy brought back to the city, a man who must fight to make sense of his past. Is there hope to be found in a broken mind? Can the pieces of a life come together to reveal an image that's steady?
Episodic, fragmented, full of poetry's coiled power, That Reminds Me is the story of one young man remembering. It's an entreaty to a lost culture, and a fight for love, for family, and for the respite of fixed identity.
And in its searing and delicate questionings—of belonging, addiction, sexuality, violence, mental health, and religion—That Reminds Me firmly places Derek Owusu amongst the brightest British writers of today.
All you have are your words.
Meet Adunni, a teenage girl born into a rural Nigerian village. Aged fourteen, she is a commodity, a wife, a servant. She is also smart, funny, curious, with a spirit and joy infectious to those around her.
And despite her situation going from bad to worse, she has a plan to escape: she will find her 'louding voice' and get her education, so that she can speak up for herself – and all the girls who came before her.
As she turns enemies into friends and superiors into aides, Adunni will take you with her on a heart-breaking but inspiring journey from a small village to he wealthy enclaves of Lagos, and show you that no matter the situation, there is always some joy to be found.
East of Acre Lane is the fast-paced and razor sharp story of a young man trying to do the right thing from celebrated author Alex Wheatle, one of the figures who inspired Steve McQueen's Small Axe.
It is 1981, and Brixton is on the verge of exploding. Biscuit lives with his mother, brother and sister, trapped hustling on the frontline for the South London badman Nunchucks. As the patience of the community breaks and the riots erupt, Biscuit must make a choice that could change his life Aelia.
'His prose is as sharp as a barber's cutthroat and the hard-edged dialogue perfectly captures that London vibe. Thrilling, very funny, and most of all a page turner' – Courttia Newland.
South London, 2008. Two couples find themselves at a moment of reckoning, on the brink of acceptance or revolution.
Melissa has a new baby and doesn't want to let it change her but, in the crooked walls of a narrow Victorian terrace, she begins to disappear. Michael, growing daily more accustomed to his commute, still loves Melissa but can't quite get close enough to her to stay faithful.
Meanwhile, out in the suburbs, Stephanie is happy with Damian and their three children, but the death of Damian's father has thrown him into crisis – or is it something, or someone, else?
Are they all just in the wrong place? Are any of them prepared to take the leap?
At the age of seventeen, after a childhood in a fostered family followed by six years in care homes, Norman Greenwood was given his birth certificate. He learned that his real name was not Norman. It was Lemn Sissay. He was British and Ethiopian. And he learned that his mother had been pleading for his safe return to her since his birth.
This is Lemn's story; a story of neglect and determination, misfortune and hope, cruelty and triumph. Sissay reflects on a childhood in care, self-expression and Britishness, and in doing so explores the institutional care system, race, family and the meaning of home.
Written with all the lyricism and power you would expect from one of the nation's best-loved poets, this moving, frank and timely memoir is the result of a life spent asking questions, and a celebration of the redemptive power of creativity.
On an unremarkable Saturday in 1982, two girls meet. Two brown girls who both dream of being dancers – but only one, Tracey, has talent; a talent so undeniable she is taught to rely on it as a promise, as a way out. The other is taught she has ideas: about rhythm and time, about black bodies and black music, what constitutes a tribe, or makes a person truly free. She is taught her future is her own to decide.
Theirs a close but complicated childhood friendship that halts abruptly in their early twenties as their two paths diverge and their lives dance out of each other's view, but never out of their shadow.
Dazzlingly energetic and deeply human, Swing Time is a story about friendship and music and stubborn roots, about how we are shaped by these things and how we can survive them.
We are coming apart. We're a rope, breaking, a single strand at a time.
America is a place of chaos, where violence rules and only the rich and powerful are safe. Lauren Olamina, a young woman with the extraordinary power to feel the pain of others as her own, records everything she sees of this broken world in her journal.
Then, one terrible night, everything alters beyond recognition, and Lauren must make her voice heard for the sake of those she loves.
Soon, her vision becomes reality and her dreams of a better way to live gain the power to change humanity forever.
All that you touch, You Change. All that you Change, Changes you.
In an age where disease is on the rise and the reality of viral pandemics in our lifetime exists, Healthy Black Life: A Cultural Guide to Better Health addresses health and wellness within the black community.
In the height of the COVID-19 pandemic, UK national press reported that the health of Black and Asian people in Britain were severely impacted. Although there are various social, economic, and occupational reasons for this, lifestyle and diet are a major contributor. Author Paula Watson-Gardner shares life experiences and attempts to address current health concerns and identify how black culture including history, lifestyle and traditions may contribute to our poor health.
Through the eyes of our culture, this book offers simple steps on how to improve your health and live life to the full.
When his mum is sent back to prison, Al knows exactly who's to blame. Mr Brayker, who lives downstairs, has been making trouble for Al's mum ever since they moved in, and Al's determined to get his revenge. Ignoring advice from his gran and sister, Plum, Al takes things into his own hands with a plan that involves the only two creatures he can rely on: his pet rats, Venom and Vulture.
But things don't turn out exactly as he'd imagined. Written by award-winning author, Patrice Lawrence, this is a moving story of community, loneliness, and how you never quite know what's going on in someone else's life.
Teeming with life and crackling with energy – a love song to modern Britain and black womanhood.
Girl, Woman, Other follows the lives and struggles of twelve very different characters. Mostly women, black and British, they tell the stories of their families, friends and lovers, across the country and through the years.
Joyfully polyphonic and vibrantly contemporary, this is a gloriously new kind of history, a novel of our times: celebratory, ever-dynamic and utterly irresistible.
It's twenty years since Eva, a biracial woman, was adopted as an eight-year-old, and Cherry and Carlton 'Sugar' McNeil have always been the only parents she's wanted or needed. But when she's dealt the double blow of Cherry's death and her own suspension from work, Eva decides it's time to discover who she was before she was theirs.
Against Sugar's advice, Eva joins a DNA database, desperate for a match that will unlock her identity. And when a positive hit comes, she's excited to learn there are relations out there who might hold the key. But the closer Eva gets to uncovering her past, the more it appears someone is trying to stop her finally finding the truth…
As she continues to dig, Eva is drawn into a dark and merciless underside to society, where black women disappear without a word. Names erased from history, no search parties, no desperate pleas for their return. Once, someone tried to save Eva from all this. Someone wanted a better life for her. But now that she's torn down the facade of her life, has she come too far to be spared again?
"I do not know how many people plan to divorce after getting married, well I didn't. That's why the reality of an impending divorce and a feeling of failing had me in its grip for years during a physically and emotionally abusive marriage. Even more, it was a foreign concept to me to seek a way out of it, because as a Christian, divorce did not seem to be a "right alternative or choice." In this book, I invite you to explore with me my struggles, mental health, confusion and ultimately, my journey into clarity and freedom, choice and mental well-being, not just for me, but for my children as well."
Who will be the next president of the Society of Journalists in Lagos? Who is qualified to lead the esteemed body of journalists and help uphold professional ethics in the state? Will honesty and integrity be able to beat charisma and misinformation?
When a sick man flies in from a neighbouring country, he becomes Nigeria's first ebola case-patient zero. As the cases rise and journalists across the country vie for the lead in reporting the news on the imminent pandemic, Ifiok and his colleagues must immediately tackle the spread of the virus by raising awareness, sharing information, and supporting the outreach efforts of health workers. Unfortunately, they also have to battle against hysteria, misinformation, corruption and denial. Ifiok's love life could be a much needed escape from the stresses of work, if not for his meddling mother and the outdated traditions of society.
Will Ifiok succeed in his quest to become the next president of the Society of Journalists, win the battle against misinformation and find love along the way?