Tava O'Halloran: Queen Of Clubs And Accidental Entrepreneur
Queen of clubs and accidental entrepreneur Tava O'Halloran talks to Write On!'s Lisa Roullier, as part of Digital ReadFest.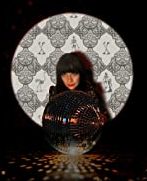 Tava O'Halloran is the author of autobiographical novel Queen Of Clubs. The book spans 13 years of Tava's secretive and dark clubland world as she goes from carefree 24-hour party girl to accidental nightclub entrepreneur. Tava (pronounced Tayva) describes herself as a committed risk-taker and a dyslexic storyteller with a wildly creative side. Officially, she's a 'Creative Director',' Ideation Expert' and 'Evolver' but what exactly does that mean?
"I create experiential events, immersive festivals and curate art activations."
And with clients such as Adobe, Netflix and Coca-Cola, it's a sure thing you've experienced one of Tava's creations.
So how did Queen Of Clubs evolve and Tava come to be a writer?
We can thank Tava's mum. She always told her daughter  she needed to write these wild nightclub stories down because people are fascinated by the secrets of nightclubs and celebrities. At the time, Tava couldn't see the difference – this was her regular life, after all, but once she took a step back, she realised how abstract much of it was.
"Like an absurd daydream that happened to another person."
Born and raised in Australia, Tava hated school and, like many creatives, fled into books, despite battling her dyslexia. Being so creative as a child, she hoped it would lead to creativity in her adult life. Her book tells the 'wildly unpredictable, white-knuckled true story of a carefree 24-hour party girl turned accidental entrepreneur who created a mini-empire of nightclubs'. Something that took a fair amount of grit and determination, as well as bags of energy and creativity.
Lisa's questions about Tava's writing experience so far prompts unexpected insights into her journey out of addiction. The most obvious reason she began to write was because she just wanted to tell her story, but it was also part of her recovery process from addiction, a topic Tava is open and honest about. Drinking and drugs were a lifestyle choice and it took Tava ten years to give up completely. She says addiction is complicated, there are so many different layers to tackle and Tava didn't replace them with something else. She just focused on removing the problem dependencies from her life; changing how she socialised and who with, removing the stresses and celebrations that led her to drinking and taking drugs.
"Addiction sneaks up on you."
Running a club hasn't always been a euphoric experience. Tava explains that when you manage an old building, yes, you have wonderful architecture and a certain ambience, but you also have to deal with problems such as when the heritage venue marble decides to crumble, or the Victorian plumbing packs up, or when the electric shorts out and sets the fire alarms off. Then, of course, there are the fights, the drugs, the accidents, thefts from punters, issues with the local council and police – all adding up to years of stress.
Following on from the problems of running a club, we dive into an obvious question: Why is receiving good and positive comments for a club a bad thing? Surely this was great? But Tava explained how you become a victim of your own success. At first, the club is unknown, and then word gets out it's a fabulous place to be, so reviewers come along and they agree, sharing their reviews. More people want to come, and soon you're operating at the maximum limit for the venue, but still more people are trying to get in. This leads to disgruntled customers and bad reviews. It's a fine balance.
An interesting add-on to Queen Of Clubs is that the book comes with a soundtrack which you can listen to at Tava's website: tavaohalloran.com. The music is mixed by Tava's DJ husband, Rich. Naturally, Lisa asks Tava how they met.
"We always seemed to be in the same place at the same time."
Tava being a club owner and Rich being a DJ, they were working and socialising at the same venues, as well as mixing on the same circuits with lots of friends and acquaintances in common. Tava's book reminds us not to take things for granted; instead, we should grab on to the good things with both hands.
Nightlife in Australia is a far cry from Tava's club days, as there just isn't any. It's now extremely difficult to get late licences, which has killed the night economy. Governmental regulations around COVID-19 have also had a knock-on-effect. Tava believes the Club entertainment industry will struggle, as people are looking for entertainment-led activity, rather than activity centred on drinking and drug use. People are much more clean living now. The focus is connecting with friends. Clubs need to be more aware that younger people want non-alcoholic options and vegan and veggie food, with more people avoiding drinking and taking drugs.
Lisa asks Tava if there is anything she misses?
"The intense vibration of the pumping music. You can't top the feeling of the sound waves passing through your body."
With her club days behind her, Tava is now focussing on her work as a Creative Director. Based in Australia, she is taking creativity classes and currently working on a second book, a follow-on to Queen Of Clubs. Despite moving away from club life, amusing and unusual events still occur for Tava, such as when she was returning to Australia and was stopped at Customs for potential drug smuggling. It turns out drug-runners use hardback books to hide their product, but the 18 hardback books Tava had, were all about entertainment and being the 'hostess with the mostest'.
Throughout everything, Tava's daughter and her parents, especially her mum, have been very supportive and a huge positive influence on her life. They made her realise that living wasn't just about clubs. Lisa wonders whether Tava would try her hand at fiction next and she admits she has ideas for children's books on tricky topics that parents often have difficulty explaining.
"It's a difficult world… I'm shocked at what children are exposed to."
Tava leaves us with a great line from the dedication in her book: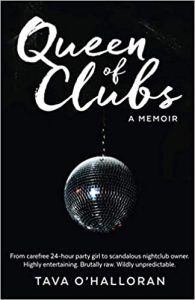 "Creativity shouldn't be stopped dead on the gatekeeper's doorstep; turned away, discarded. Creativity, original thinking and ideas are what create real newness."
Connect with Tava at her website: tavaohalloran.com
Queen Of Clubs is available from Amazon.
Don't forget you can check out Issue 5 of Write On! magazine online by clicking here.
ReadFest is going Digital this year. Check out our 2020 programme and book your FREE tickets online: https://pentoprint.org/readfest/
Creativity shouldn't be stopped dead on the gatekeeper's doorstep; turned away, discarded. Creativity, original thinking and ideas are what create real newness.