Saturday Spotlight: Latest Book Releases w/c 15 August
by Claire Buss, Deputy Editor, Write On! 
At Write On! and Pen to Print we want to help connect authors and readers, so we've created a Spotlight page every Saturday, showcasing some of the exciting new reads available. The list has been curated by Lisa Rouiller and myself, based on books that you send us, so if you're an author and you'd like your book in the spotlight, reach out to Lisa at pentoprint@lbbd.gov.uk. Whether you're an indie author, with a small press or mainstream publisher, we'd love to hear from you and shine a light on your new novel.
Write On! offers other opportunities for writers as well. If you'd like us to feature an extract from your book or a short story, please send the extract, book cover and blurb to pentoprint@lbbd.gov.uk with the subject Write On! Showcase (ensuring you have your publisher's permission, of course).
Pen to Print are also looking for short videos from people reading a passage from their favourite book, or authors reading extracts from their own books. These videos will be featured on the Pen to Print YouTube channel and across our social media. Please send in your videos or links to pentoprint@lbbd.gov.uk with the subject 'Video Stories'.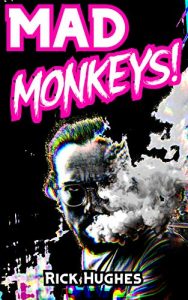 Joe is just your average guy… And he's losing his f*cking mind.
It was meant to be the greatest stag weekend ever. But then everything went wrong. Now all Joe's friends are dead and it's up to him to come to terms with what happened. The booze, the drugs, the violence… Was there any method in the madness? And what about the big albino sasquatch that follows him wherever he goes. It can't be real. Can it?
Fear And Loathing In Las Vegas meets The Inbetweeners.  MAD MONKEYS! is a farcical, drug-fuelled adventure into the psyche of the modern man.
Available to buy here
Connect with Rick Hughes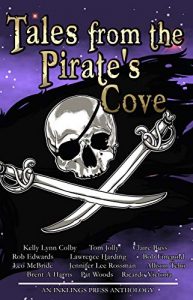 Set sail for adventure!
Join us in the company of pirates in this treasure trove of stories from a crew of talented authors.
Expect the unexpected: with tales stretching from the high seas to high orbit, from swashbucklers to space corsairs. Navigate these pages to find monsters, time travellers, buccaneers, ghosts and more.
Twelve stories. Twelve authors. Twelve worlds to explore. Come, me hearties, there are new horizons to discover.
Available to buy here
Connect with Inklings Press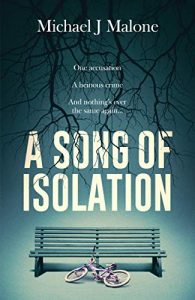 In this breathtakingly brutal and intensely topical psychological thriller, a man is accused of child sexual abuse, and his life and that of his actress girlfriend is thrown into turmoil.
Film star Amelie Hart is the darling of the silver screen, appearing on the front pages of every newspaper. But at the peak of her fame she throws it all away for a regular guy with an ordinary job. The gossip columns are aghast: what happened to the woman who turned heads wherever she went?
Any hopes the furore will die down are crushed when Amelie's boyfriend Dave is arrested on charges of child sexual abuse. Dave strongly asserts his innocence, and when Amelie refuses to denounce him, the press witch hunt quickly turns into physical violence, and she has to flee the country.
While Dave is locked up with the most depraved men in the country and Amelie is hiding on the continent, Damaris, the victim at the centre of the story, is isolated – a child trying to make sense of an adult world.
Breathtakingly brutal, dark and immensely moving, A Song Of Isolation looks beneath the magpie glimmer of celebrity to uncover a sinister world dominated by greed and lies, and the unfathomable destruction of innocent lives – in an instant.
Available to buy here
Connect with Michael J. Malone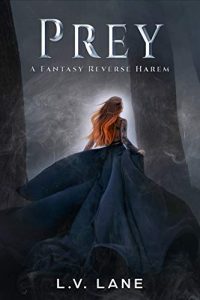 I am prey.
This is not pity talking, this is an acknowledgement of a fact.
I am small and weak; I am an Omega. I am a prize that men war over.
For a year I have hidden in the distant corner of the Empire.
But I am running out of food, and I am running out of options.
That I must leave soon is not a decision for today, though, but a decision for tomorrow.
Only tomorrow's choices never come.
For tonight brings strangers who remind me that I am prey.
Available to buy here
Connect with LV Lane
Be seduced by the sweet aroma of The Marinara Theory.
Meet Ashley Whitaker, a 26-year-old advertising associate, who considers herself a modern-day Mary Tyler Moore. Filled with moxie and a contradicting wealth of insecurities, Ashley uses all her coping mechanisms to deal with the minefield of dating.
After being dumped via text message, Ashley decides to focus her energies on her aspiring advertising career, becoming a Taekwondo badass, and funding a trip to Europe with a part-time waitressing job.
It's only when she discovers the magic of the Marinara Theory that her life takes a surprisingly positive turn upwards. Suddenly, it seems as though the heavens have opened up and populated the universe with available bachelors seeking her affection. Even her ex (AKA Mr Text Dumper) is susceptible to the Marinara Theory's magic and wants Ashley back.
The Marinara Theory also lands Ashley the role of manager of a lucrative new advertising account. But can she rise to the challenge? It doesn't help that tongues are wagging at work about a juicy rumour. There's also office politics and her own self-doubt she must overcome in order to lead her creative team and please the client.
Will the power of the Marinara Theory dissipate like Cinderella's glass slipper at midnight? Or will Ashley recognise the secret to sustainability? The answer can be found in the pages of The Marinara Theory, which humorously chronicles Ashley Whitaker as she searches to find self-empowerment and, with any luck, her Prince Charming.
Available to buy here
Connect with Kristin O'Ferrall
What would have happened if President Lincoln hadn't been shot in Ford Theatre, managing to survive in a parallel universe?
Set in an alternative universe, The Black States Of America – Real Black Power, follows an alternate timeline where President Lincoln lived. Thanks to a talented scientist and a former slave's hot air balloon ride through a black hole in the sky, they made contact with President Lincoln. This alternated the universe and prevented him from being assassinated.
For almost a century and a half, the universe in which President Lincoln had died had no knowledge of the other's existence. It wasn't until the year 2000 when King Jasani, the King of Sea Islands, decided to invite the other universe to share in the technological advances his world had discovered. What should have been a humanitarian mission to share technology, soon took a disastrous turn when the United States chose to take the technology for themselves, obliterating the peaceful people from the Sea Islands.
In the subsequent slaughter and chaos of the unprovoked attack, King Jasani, Queen Ayanna and some of their entourage fled, leaving their son Lincoln behind, believing him to be dead and lost to them forever.
Twenty-five years passed, and Lincoln chose to take a simple DNA test. Having no memory of his parents, he'd always been curious about who he was and where he came from. The results of that DNA test would alter his course and change his life as he knew it forever. Unbeknown to Lincoln, he was setting off a chain reaction which would have a ripple effect throughout both worlds.
Author d. E. Rogers presents an alternative universe based on President Lincoln surviving and the difference this could have made throughout the world. If you have been searching for a science-fiction book that will have you reading late into the night, then The Black States Of America – Real Black Power could be just what you've been looking for!
Available to buy here
Connect with d.E. Rogers
Remember, if you're an author and you'd like to see your book in our Saturday Spotlight, email: pentoprint@lbbd.gov.uk and send us the details of your new novel. 
Further Links

For details of Penguin RandomHouse new releases, visit their website here.
For details of Hachette new releases, visit their website here.
For details of HarperCollins new releases, visit their website here.
For details of PanMacmillan new releases, visit their website here.
For details of Simon & Schuster new releases, visit their website here.
Disclaimer: Amazon links are given for ease but please remember there are a number of other online retailers operating, including hive (which helps to support independent book shops), Kobo, Apple Books, Google Play and Nook as well as online stores for bookstores like Waterstones, Barnes & Noble and WHSmiths. Given the current situation, though, please check first.
We want to help connect authors and readers, so we've decided to create a spotlight page every Saturday, showcasing some of the exciting new reads available.