Saturday Spotlight: Latest Book Releases w/c 20th June
by Claire Buss, Deputy Editor, Write On! 
At Write On! and Pen to Print we want to help connect authors and readers, so we've created a Spotlight page every Saturday, showcasing some of the exciting new reads available. The list has been curated by Lisa Rouiller and myself, based on books that you send us, so if you're an author and you'd like your book in the spotlight, reach out to Lisa at pentoprint@lbbd.gov.uk. Whether you're an indie author, with a small press or mainstream publisher, we'd love to hear from you and shine a light on your new novel.
Write On! offers other opportunities for writers as well. If you'd like us to feature an extract from your book or a short story, please send the extract, book cover and blurb to pentoprint@lbbd.gov.uk with the subject Write On! Showcase (ensuring you have your publisher's permission, of course).
Pen to Print are also looking for short videos from people reading a passage from their favourite book, or authors reading extracts from their own books. These videos will be featured on the Pen to Print YouTube channel and across our social media. Please send in your videos or links to pentoprint@lbbd.gov.uk with the subject 'Video Stories'.
As the youngest member of an elite task force team and built as big as they come, Danny is often underestimated. It's an image he encourages, despite sporting a genius-level IQ.
Currently screwing his boss' ex and having a big problem with authority, Danny is sent for professional development coaching. He hates the idea; he's got determination in spades to do what it takes in his job and personal life, and thrashes against it until he meets Laura, the sexy motivator who shows him he is worth more than he believes. When the team begins working Operation Predator, Danny's moment of peace shatters.
Available to buy here
Connect with Sofia Aves
Have you ever felt life has got it in for you? Jinnie Cooper certainly does.
Unlucky in love, broke and exiled to a sleepy Scottish village, she really needs to shake things up.
When she gains possession of a battered old lamp, Jinnie's world changes in ways she could never have imagined. With her affections divided between two men, can her unlikely housemate help, or hinder, the path to happiness?
Packed with mystical mayhem and a liberal sprinkling of magic, it's a laugh-out-loud rollercoaster ride with a cast of characters you'll take to your heart.
Perfect for fans of Debbie Viggiano, Carole Matthews and Jill Mansell.
Available to buy here
Connect with Audrey Davis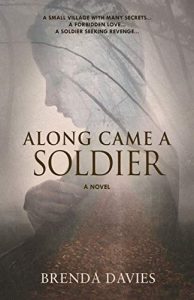 When murder stalks St. Merryn, no secrets are safe…
A forbidden romance… Set in 1820 Cornwall, Charity Perrow lives a sheltered life in the village of St. Merryn. When she meets and falls for Jethro Ennor, they soon learn their families are bitter enemies, and Charity finds herself torn between remaining loyal to her family and giving into her growing desire for a man they hate. It is a village with hidden secrets.
A battle-scarred redcoat is lurking In Greenoak Woods. Struggling to keep his grip on sanity, he's come home to settle the score with those responsible for the heavy burden he's been carrying all these years.
When a villager is murdered, the suspicion falls on Jethro. Now Charity must risk everything, including being disowned by her family, to prove his innocence and save him from the gallows.
But as Charity hunts for the truth, she begins to uncover secrets over a decade old; secrets that will change everything.
Available to buy here
Connect with Brenda Davies
A freak accident. An impossible choice. But what was the first lie?
When Paul Reeve comes home to find his wife in the bathroom, bloodied and shaking, his survival instinct kicks in.
Alice never meant to kill the intruder. She was at home, alone and terrified. She doesn't deserve to be blamed for it. Covering up the murder is their only option.
But the crime eats away at the couple and soon they can't trust anyone. Even one another.
Available to buy here
Connect to A.J. Park
A dry, fresh take on the midlife crisis. Our everyday fears and frustrations are whipped away and blended with deliciously dark humour. Fans of Eleanor Oliphant, Why Mummy Drinks and Fleabag will be delighted.

When a friend has the audacity to suggest that forty-five-year-old landscape gardener Eliza Hamilton is hurtling toward menopause, she is naturally appalled. Menopause is something that happens to other women, older women.
As Eliza tries to negotiate this new and confusing landscape, she also embarks on the biggest challenge of her career so far. But she soon discovers that juggling erratic mood swings with motherhood, demanding family members and domestic drudgery is far from the harmonious scenario she'd envisaged.
If Eliza wants to embrace midlife without the crisis, she must first make some grown-up choices and face some uncomfortable truths.
Available to buy here
Connect with Betsy Price
Packed with awesome activities, this journal has everything a Book Dragon needs!
Tackle the fun reading challenges
Set up a book club with your friends and family
Host award ceremonies and parties
Make up games and quizzes based on your favourite books
Plus space for book reviews, reading lists and so much more.
Available to buy here
Connect with Lexi Rees
Remember, if you're an author and you'd like to see your book in our Saturday Spotlight, email: pentoprint@lbbd.gov.uk and send us the details of your new novel. 
Further Links

For details of Penguin RandomHouse new releases, visit their website here.
For details of Hachette new releases, visit their website here.
For details of HarperCollins new releases, visit their website here.
For details of PanMacmillan new releases, visit their website here.
For details of Simon & Schuster new releases, visit their website here.
Disclaimer: Amazon links are given for ease but please remember there are a number of other online retailers operating, including hive (which helps to support independent book shops), Kobo, Apple Books, Google Play and Nook as well as online stores for bookstores like Waterstones, Barnes & Noble and WHSmiths. Given the current situation, though, please check first.