Saturday Spotlight: New Book Releases July 2023
By Claire Buss, Deputy Editor, Write On! 
At Write On! and Pen to Print, we want to help connect authors and readers, playwrights and audiences, so we've created a Spotlight page on the last Saturday of the month, showcasing some of the exciting new reads and plays available. The curated list is based on books and plays that you send us, so if you're an author or a playwright and you'd like your book or play in the spotlight, reach out to us at pentoprint@lbbd.gov.uk. Whether you're an indie author, with a small press or mainstream publisher, established or brand new playwright, we'd love to hear from you and shine a light on your new work.
Write On! offers other opportunities for writers as well. If you'd like us to feature an extract from your book or a short story, please send the extract, book cover and blurb to pentoprint@lbbd.gov.uk with the subject: Write On! Showcase (ensuring you have your publisher's permission, of course).
Pen to Print are also looking for short videos from people reading a passage from their favourite book, or authors reading extracts from their own books. These videos will be featured on the Pen to Print YouTube channel and across our social media. Please send in your videos or links to pentoprint@lbbd.gov.uk with the subject: Video Stories.
*****
The Space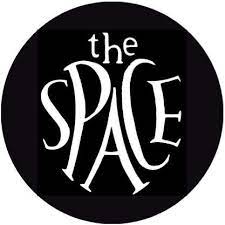 The Space is a theatre on the Isle of Dogs, managed by St Paul's Arts Trust (registered charity no 801587). Our aims as an organisation are to increase access to the arts and provide support for new artists.
We provide opportunities for local residents to engage with the arts and a range of platforms for performance and artist development. Our activities include hosting live performances (throughout the year at the Space and during the summer at the Roof Garden), delivering workshops and performance opportunities through our participatory theatre project and bringing people together for arts festivals and special events. Our patrons are Sir Ian McKellen and Marie McLaughlin.Click to find out what's on

*****

The women of the WISE Enquiries Agency should be enjoying the early summer with their loved ones, but find themselves facing a truly baffling case: a mysterious figure has been spotted in Anwen-by-Wye, heralding tragedy.
Nerves in the village are frayed, and the skills of all four of our private investigators are needed to work out what's going on – aided by Althea, dowager duchess of Chellingworth, of course.
When death strikes far too close to home for our beloved enquiry agents the stakes are raised in what has become a fatal game of cat and mouse…revealing dark secrets hidden by a person everybody thought they knew.
Meanwhile, Mavis finds an investigation into a suspicious nurse to be something of a threat to her own health and wellbeing, and the duke and duchess are busy organising projects designed to help revitalise the Chellingworth Estate, though their proposals aren't viewed favourably by all. Also – snatching time as a couple when they can – Annie and Tudor are considering their future, as are Christine and Alexander…though in different ways, and with some surprising outcomes.
The eighth book in this series presents the WISE women with challenges of both a professional and personal nature they've never faced before; join them to find out how they fare.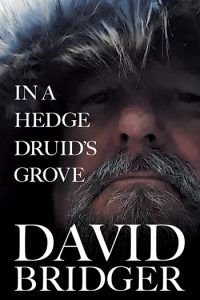 A year in the life of an old salt who sailed the world and came home to a different place, my memories and me exploring nature and history together in the wooded valley where I have settled as a solitary-practising hedge druid.
I wrote this book for myself, and for readers who, like me, are:
– seekers of spiritual communion with nature, who might follow a religion, or more than one religion, or no religion at all
– survivors of childhood sexual abuse
– people who live with chronic illness and pain and/or
– those interested in prehistory, archaeology, oral traditions, documented social history, genealogy, and ancestors of blood, of place, and of tradition
While writing this memoir in the form of a personal nature journal over 12 months, I remembered myself as a boy who loved the wild land I lived upon, who, through tragedy and trauma, lost that part of myself. Settling as an old man, somewhere with a remarkably similar landscape history to that of my birthplace, I've found the boy again. And a lifetime later, he is helping me to become whole.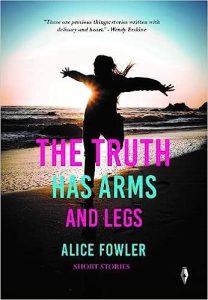 Delve into a world of change and reinvention. Where relationships are as delicate as turtle eggs, and just as easily smashed.
This poignant short story collection explores the pivotal moments that transform our lives. Jenny, whose life is defined by small disasters, discovers a bigger, more generous version of herself. A traveller girl might just win her race and alter her life's course. A widow, cut off in a riverside backwater, opens her heart to a stranger.
In this captivating collection by award-winning writer Alice Fowler, readers will be moved by the raw vulnerability of human connection, and the resilience that allows us to grow and thrive in the face of hardship. In change, Fowler's characters find the ability to be truly free.
Available to buy here
Connect with Alice Fowler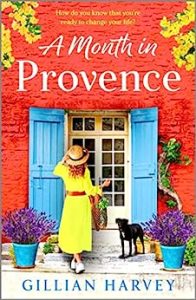 Interior designer Nicky always used to know how to make the best of things.
Ever since she lost her husband, though, things haven't been easy. She's had to raise her two daughters alone and she's so proud to see them all grown up, knowing that's down to her. But she can't help but feel like she doesn't know what to do with her life now…
Then her best friend begs her to help out. Jenny is a TV exec and her new renovation show is in peril. Only Nicky can help.
The catch: Nicky needs to fly to Provence, tomorrow, to renovate a tumbledown B&B. Jenny doesn't mention that the grumpy B&B owner Robert seems to need a makeover too. Or that the budget is next to nothing.
Will Nicky be able to turn the B&B's fortunes around, save her best friend's job, and maybe even find some happiness for herself, under the blazing French sun?
Available to buy here
Connect with Gillian Harvey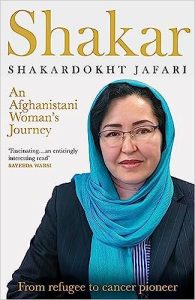 Born in rural Afghanistan, Shakardokht Jafari became a refugee aged just six, after a harrowing half-year trek to Iran.
There, at 12, she discovered she had been promised in marriage at birth to an older cousin. Resisting no fewer than three arranged marriages, she fought to choose her own husband, education and career, defying convention to study radiation technologies at Tehran University.
Returning to Afghanistan after the fall of the Taliban, she was asked to re-establish a cancer facility in Kabul, which meant studying first for higher qualifications in the UK. With Islamist insurgency on the rise again, her lawyer husband fled to join her, driving a minicab to make ends meet.
The inventor of a method for improving outcomes of radiotherapy on cancer patients, Shakar has become one of Britain's leading medical entrepreneurs. Ironically, at the same time, she has faced one of her biggest battles – saving her own health.
This remarkable woman, winner of a string of awards for business innovation, is also a leading campaigner for girls' education in Afghanistan. She tells her extraordinary story with disarming candour.
Available to buy here
Connect with Shakardokht Jafari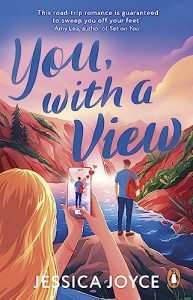 Two weeks on the road… stuck in a car with your high-school enemy.
Noelle Shepard is grieving the loss of her beloved grandmother when she discovers decades-old photos and letters that hint to a forbidden love in her gram's past. Needing to know the full story, she creates a TikTok video appealing for information – and it goes viral.
Through her video, she manages to track down her grandmother's secret love, Paul, who offers to take her on the honeymoon road-trip he and Gram planned but never got to go on.
Noelle jumps at the chance to make this one last connection with her grandmother. There's just one problem – Paul's grandson is Noelle's frustratingly handsome high-school rival Theo.
And Theo has to come, too.
It's only two weeks. Surely Noelle can survive that long? But with one car between them – and often only one bed – it doesn't take long for things to heat up…
Available to buy here
Connect with Jessica Joyce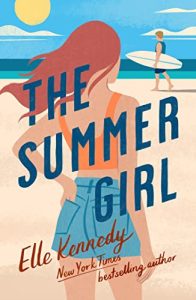 College student Cassie Soul hasn't spent an entire summer in Avalon Bay in years, not since her parents divorced and her mother spitefully whisked her away to Boston.
Now that her grandmother is selling the boardwalk hotel that's been in their family for five decades, Cassie returns to the quaint beach town, excited to spend time with family, ring in her 21st birthday . . . and maybe find herself a summer fling. She's ready for breathless, heart-pounding passion and on her first night in town, she finds the perfect candidate: Tate Bartlett, Avalon Bay's fun-loving golden boy.
Tate, sailing instructor and lovable player, is no stranger to flings. In fact, he's always down for a good time. But maybe not this time? The moment he meets Cassie, he knows she's not the girl you play games with, and the last thing he wants to do is risk breaking her heart. So, despite his attraction to her, he turns her down. But that awkward hiccup doesn't stop a friendship from developing between the two. Tate even helps Cassie find that fling she's so set on finding. Only it isn't long before he's wondering if he made a huge mistake. Cassie is gorgeous, hilarious, and, frankly, the coolest person he's ever met. He can't deny it any more: he wants that fling now. Big-time. And maybe even something more.
As Cassie and Tate walk the line between friends and lovers, they're about to discover that their situation is the least complicated part of this equation. Because Avalon Bay is full of secrets-and their relationship might not survive when one secret in particular comes to light.
Available to buy here
Connect with Elle Kennedy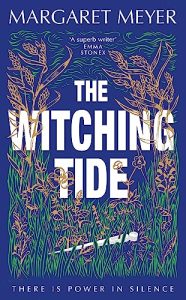 There is power in silence.
East Anglia, 1645. Martha Hallybread, a midwife, healer and servant, has lived for more than four decades in her beloved coastal village of Cleftwater. Everyone knows Martha, but no one has ever heard her speak.
One Autumn morning, the peaceful atmosphere of Cleftwater is shattered by a sinister arrival and Martha becomes a silent witness to a witch-hunt. As a trusted member of the community, she is enlisted to search the bodies of the accused women. But while Martha wants to help her friends, she also harbours a dark secret that could cost her her own freedom. In desperation, she revives a wax witching doll she inherited from her mother, in the hope that it will bring protection. But the doll's true powers are unknowable, the tide is turning, and time is running out . . .
Available to buy here
Connect with Margaret Meyer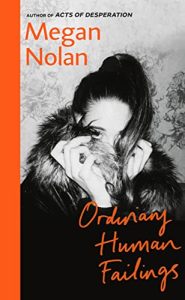 A dead child on a London estate and the finger of suspicion pointing at one reclusive Irish family: the Greens. . .
It's 1990 in London and Tom Hargreaves has it all: a burgeoning career as a reporter, fierce ambition and a brisk disregard for the 'peasants' – ordinary people, his readers, easy tabloid fodder. His star looks set to rise when he stumbles across a scoop: a dead child on a London estate, grieving parents loved across the neighbourhood, and the finger of suspicion pointing at one reclusive family of Irish immigrants and 'bad apples': the Greens.
At their heart sits Carmel: beautiful, other-worldly, broken, and once destined for a future beyond her circumstances until life – and love – got in her way. Crushed by failure and surrounded by disappointment, there's nowhere for her to go and no chance of escape. Now, with the police closing in on a suspect and the tabloids hunting their monster, she must confront the secrets and silences that have trapped her family for so many generations.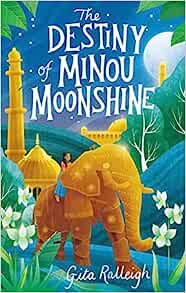 A land that loses its stories loses its way.
The beautiful queendom of Moonlally has fallen under a tyrant's rule. Their queen is dead, worship of their goddess, the Dark Lady, is forbidden, and the precious black diamond that protects the city – a rare fragment of fallen star ­- has gone missing.
When fierce orphan girl Minou Moonshine's life is unexpectedly shattered, she joins the ragtag band of rebels, the Green Orchids, who are plotting to overthrow the General.
Armed with a secret and a map, Minou sets off with her friends and a mechanical elephant, through the lush jungles of Indica, in search of the Dark Lady, a diamond and her destiny.
Available to buy here
Connect with Gita Ralleigh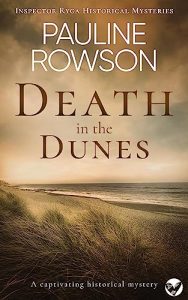 Meet Inspector Alun Ryga of Scotland Yard's Murder Squad. Having survived WW2 in a prisoner of war camp, he's vowed to get justice for those who need it.
1951, Dungeness, Kent.
It's a bitterly cold day in March when Inspector Alun Ryga alights from the train in Greatstone-on-Sea. Despite its name, the town was far from great — no matter what any holiday poster advertised.
But Ryga's not here for a holiday. He's here because Barbara Fennel, a former pilot, has been found dead in the dunes by a local fisherman. The marks around her neck suggest she was strangled.
When the fisherman goes missing, he becomes the prime suspect. But nobody knows anything about him, let alone where to find him.
Meanwhile, Ryga traces Barbara's last steps back to the shabby house she rented. He finds a subminiature camera stuffed in her nightdress case — the kind usually used by spies.
Suddenly, Ryga is embroiled in a case filled with secrets and lies. A case where no one is who they say they are, and things aren't always what they seem . . .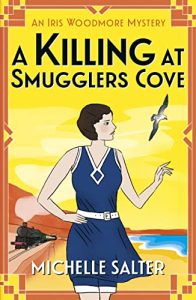 Wartime secrets, smugglers' caves, skeletal remains. And the holiday's only just begun…
July 1923 – Iris Woodmore travels to Devon with her friends Percy Baverstock and Millicent Nightingale for her father's wedding to Katherine Keats.
But when Millicent uncovers skeletal remains hidden on the private beach of Katherine's former home, Iris begins to suspect her future stepmother is not what she seems.
The police reveal the dead man is a smuggler who went missing in 1918, and when a new murder occurs, they realise a killer is in their midst. The link between both murders is Katherine. Could Iris's own father be in danger?
Available to buy here
Connect with Michelle Salter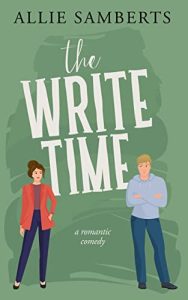 You can't love someone else until you learn to love yourself.
If anyone had asked her nine years ago, Jenny Green would have said she was ready to settle down into domestic bliss. She had a boyfriend, a job teaching English at the local high school, and everything was falling into place.
Except the guy was wrong, the job was hard, and everything was actually falling apart.
Enter Ben Allouer: the strong, sexy wrestling coach who probably would have asked Jenny on a date the moment he met her, if it weren't for that other guy.
But even when Jenny is single, a series of stumbles keep her and Ben apart, and when Jenny begins to fill the gaps with drunken escapades and one night stands, Ben is forced to watch from the sidelines.
Now, nine years later, everyone around her seems to have their lives in order, but Jenny is left feeling more alone than ever before. Luckily, Ben is more than willing to step in to help her find her balance.
It'd be easy to fall for him if it weren't for Jenny's past continuing to haunt her, convincing her she's not good enough for the kind of love Ben wants to give.
Ben wants to wrestle Jenny away from her own self-doubt, but is she strong enough to let love win?
Jacob Meaney makes so little money as a translator that his girlfriend has given up on him.
Then Eloise, an Australian digital marketer, appears out of the blue, offering him unheard of sums for a couple of weeks' work.
A private plane and helicopter take him to a showcase villa in Carinthia and all the luxury he could ever want. Here he meets the owner of the house Bondarenko. Unwillingly Jacob has become part of an organised crime conspiracy, held captive there by armed guards.
His task is to interpret between Hindi, Russian and English during Zoom calls with Nazim, an Indian criminal whose gang have taken over the manufacture and distribution network of the wonder fertility drug that Bondarenko has been selling on the internet. It becomes clear to Jacob that his employer is in far deeper and more dangerously than he realises. The gang's plan is to take over the entire operation by any means.
The villa has become a lethal gilded prison to Jacob and Vlada, the maid who's a trafficked worker. When Nazim finally strikes which side will Jacob take to survive?
Available to buy here
Connect with GW Shaw
Remember, if you're an author and you'd like to see your book in our Saturday Spotlight, email: pentoprint@lbbd.gov.uk and send us the details of your new novel.

For details of Penguin RandomHouse new releases, visit their website here.
For details of Hachette new releases, visit their website here.
For details of HarperCollins new releases, visit their website here.
For details of PanMacmillan new releases, visit their website here.
For details of Simon & Schuster new releases, visit their website here.
Disclaimer: Amazon links are given for ease but please remember there are a number of other online retailers operating, including hive (which helps to support independent book shops), Kobo, Apple Books, Google Play and Nook as well as online stores for bookstores such as Waterstones, Barnes & Noble and WHSmiths. 
Issue 17 of Write On! is out now and you can read it online here. Find it in libraries and other outlets. You can find previous editions of our magazines here.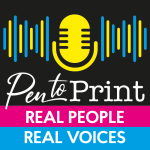 You can hear great new ideas, creative work and writing tips on Write On! Audio. Find us on all major podcast platforms, including Apple and Google Podcasts and Spotify. Type Pen to Print into your browser and look for our logo, or find us on Podcasters.Spotify.com.
We want to help connect authors and readers, so our Saturday Spotlight page showcases some of the exciting new reads available each month.