Saturday Spotlight: New Book Releases June 2023
By Claire Buss, Deputy Editor, Write On! 
At Write On! and Pen to Print, we want to help connect authors and readers, playwrights and audiences, so we've created a Spotlight page on the last Saturday of the month, showcasing some of the exciting new reads and plays available. The curated list is based on books and plays that you send us, so if you're an author or a playwright and you'd like your book or play in the spotlight, reach out to us at pentoprint@lbbd.gov.uk. Whether you're an indie author, with a small press or mainstream publisher, established or brand new playwright, we'd love to hear from you and shine a light on your new work.
Write On! offers other opportunities for writers as well. If you'd like us to feature an extract from your book or a short story, please send the extract, book cover and blurb to pentoprint@lbbd.gov.uk with the subject: Write On! Showcase (ensuring you have your publisher's permission, of course).
Pen to Print are also looking for short videos from people reading a passage from their favourite book, or authors reading extracts from their own books. These videos will be featured on the Pen to Print YouTube channel and across our social media. Please send in your videos or links to pentoprint@lbbd.gov.uk with the subject: Video Stories.
*****
Squirrel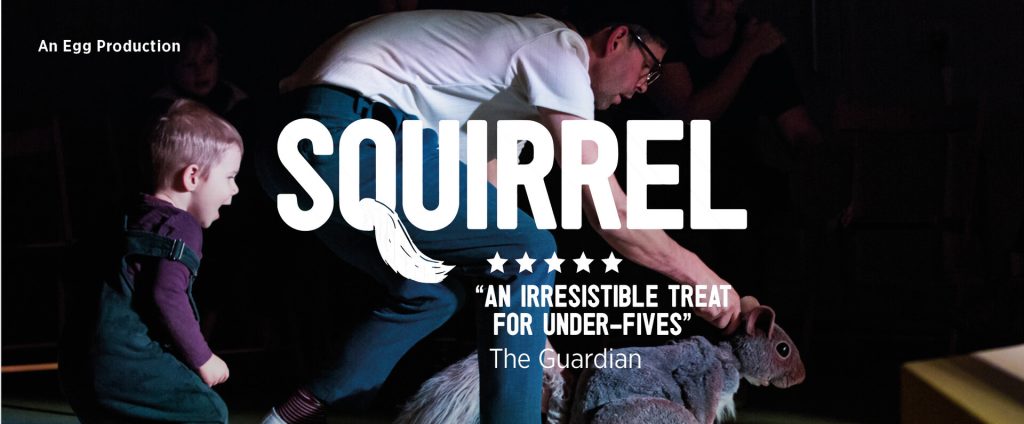 Squirrel Loves A Good Acorn
But not all acorns are good. Some are downright second rate.
And Squirrel is fussy like that.
Under the light of the sun, between the houses and the offices, and the rivers and the factories, Squirrel has buried their favourite acorn collection.
It's easy to remember where; it's under the third tree from the left.
Or was it the right? Oh hang on a minute…
This is a story of new growth and new beginnings with a sprinkling of magic and puppetry to charm audiences of every age! Recommended for children aged six months to four years who are actively encouraged to take part in the show.
An Egg Production
Ticket Information
Sat 27 May – Sun 2 Jul 2023
Under 18s £11 – £13 / Adults £16 – £18
*****

For Alice and her partner Joe, moving to the sleepy Cotswold village of Penton is a chance to embrace country life and prepare for the birth of their unexpected first child.
He can take up woodwork; maybe she'll learn to make jam. But the rural idyll they'd hoped for doesn't quite pan out when a dead body is discovered at their local antenatal class and they find themselves suspects in a murder investigation.
With a cloud of suspicion hanging over the heads of the whole group, Alice sets out to solve the mystery and clear her name, with the help of her troublesome dog, Helen. However, there are more secrets and tensions in the heart of Penton than first meets the eye. Between the discovery of a shady commune up in the woods, the unearthing of a mysterious death years earlier and the near-tragic poisoning of Helen, Alice is soon in way over her head.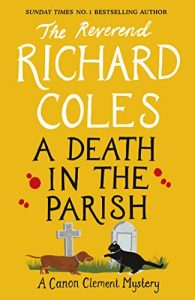 It's been a few months since murder tore the community of Champton apart.
As Canon Daniel Clement tries to steady his flock, the parish is joined with Upper and Lower Badsaddle, bringing a new tide of unwanted change. But church politics soon become the least of Daniel's problems. His mother – headstrong, fearless Audrey – is obviously up to something, something she is determined to keep from him. And she is not the only one.
And then all hell breaks loose when murder returns to Champton in the form of a shocking ritualistic killing…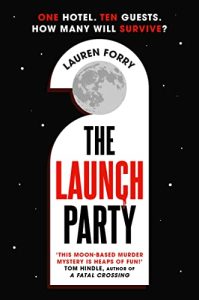 The trip of a lifetime. You'd die to be there. 
Ten lucky people have won a place at the most exclusive launch event of the century: the grand opening of the Hotel Artemis, the first hotel on the moon. It's an invitation to die for. As their transport departs for its return to Earth and the doors seal shut behind them, the guests take the next leap for mankind.
However, they soon discover that all is not as it seems. The champagne may be flowing, but there is no one to pour it. Room service is available, but there is no one to deliver it. Besides the ten of them, they are completely alone.
When one of the guests is found murdered, fear spreads through the group. But that death is only the beginning. Being three days' journey from home and with no way to contact the outside, can any of the guests survive their stay?
Available to buy here
Connect with Lauren Forry
Introvert Gina Mulley is determined to become a tattoo artist, and to find somewhere she belongs in her
conventional Long Island town. But this is 1985, when tattooing is still a gritty, male-dominated fringe culture, and Gina's funky flash is not exactly mainstream tattoo fare. The good news is that her older brother Dominic owns a tattoo shop, and he reluctantly agrees to train her.
Gina has a year to prove herself, but her world is turned upside down when a mysterious psychic and his striking assistant, Anna, arrive on the scene. With Anna's help, Gina recognises that the only way she has a shot at becoming a professional tattoo artist is to embrace her quirkiness; both in her art and her life.
The tattoo shop is rocked by a crisis just as Gina finds herself falling in love with Anna. Dominic gives Gina an ultimatum, and she's faced with an impossible choice: Is the romance and newfound independence she's found worth sacrificing her dreams? Or can she find a way to have it all?
Available to buy here
Connect with June Gervais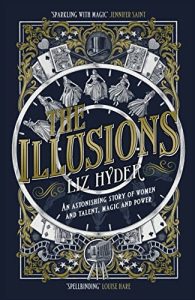 Bristol, 1896. At a time of extraordinary change, two women must harness their talents to take control of their own destiny. 
Used to scraping a living as the young assistant to an ageing con artist, Cecily Marsden's life is turned upside down when her master suddenly dies. Believing herself to blame, could young Cec somehow have powers she little understands?
Meanwhile, Eadie Carleton, a pioneering early film-maker, struggles for her talent to be taken seriously in a male-dominated world, and a brilliant young magician, George Perris, begins to see the potential in moving pictures. George believes that if he can harness this new technology, it will revolutionise the world of magic forever – but in order to achieve his dreams, he must first win over Miss Carleton.
As a group of illusionists prepare for a grand spectacle, Cec, Eadie and George's worlds collide. But Cec soon finds herself facing the fight of her life to save the performance from sabotage – and harness the element of real magic held deep within her.

Available to buy here
Connect with Liz Hyder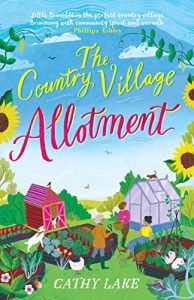 At eighty-two years old Zelda Grey is tired.
Tired of how much slower she is physically and mentally. Tired of technology. Tired of being alone since her beloved cat, Flint, died just before Christmas. And tired of life. The only thing that brings Zelda joy these days is her allotment in the gorgeous village of Little Bramble, where she has lived her whole life, and her three cranky goats.
Widow Mia Holmes always loved visiting Little Bramble Allotment with her husband, Gideon. But since his death she can't motivate herself. Despite putting on a brave face for her three sons and four grandchildren, she's reached breaking point, and isn't sure she can carry on.
And history teacher Liz Carter thought she had it all. The perfect job, perfect boyfriend in Rhodri and the perfect wedding to plan. Until she found Rhodri in bed with the neighbour. Holed up in her sister's box room she wonders how it all went so wrong. As she wallows in her misery, her sister takes her in hand and drags her to Little Bramble Allotment and suddenly she discovers the wonders of planting, growing and getting her hands dirty.
In an increasingly lonely world, these three women strike up an unlikely friendship and find that community, female friendship and the wonders of nature can truly be powerful healers.
Available to buy here
Connect with Cathy Lake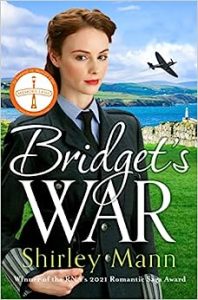 The Isle of Man, 1942
Manx born and bred, Bridget Harrison loves the island and knows every inch of it like the back of her hand. But that doesn't mean she wants to be there now, as World War II rages around the world.
A newly-trained police officer, living in the vibrant and bustling city of London, she thought she had it all. A budding career, celebrity status as one of only a few female officers, and a busy social life. Then World War II strengthened its grip and she found herself posted back to the island – a stark contrast to the exciting streets of the capital.
Tasked with managing Rushen Camp, a women's internment camp where Jews have to rub shoulders with Nazi Germans, she unearths a cauldron of resentment and fear that brings a dangerous war right to the shores of the Island. Bridget realises the barbed wire around the camp is keeping in secrets that will test her training to the limit and what seems like a simple arrest leads her down a path that puts her and the Island's security at risk. And then there are the two brothers: one she's adored since childhood who's become a war hero and the other a brave lifeboatman and farmer.
Bridget finds she is torn between being the adult she wants to be and the tomboy from her childhood, who roamed the cliffs without boundaries.
Available to buy here
Connect with Shirley Mann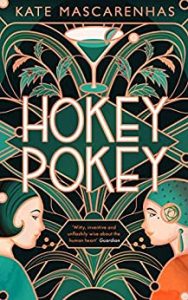 February, 1929. The Regent Hotel in Birmingham is a place of deception and glamour.
Behind its six-storey façade, guests sip absinthe cocktails on velvet banquettes, while the staff navigate the hotel's labyrinthine 'below stairs' to ensure the finest service is always at hand.
In the early evening, psychoanalyst Nora Dickinson checks in under a false name. It's unlike Nora to deceive – her aversion to lying borders on the pathological – but she's travelling with an agenda. Having shadowed the famous opera singer, Berenice Oxbow, from Zurich, she's determined not to lose sight of her now.
But when a terrible snow storm isolates the hotel – and its guests – from the outside world, reality appears to shift. Nora's grip loosens, and the nightmares she's worked hard to control begin to bare their teeth.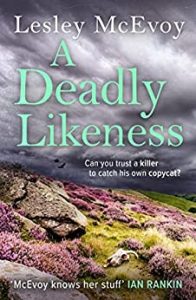 Jacob Malecki killed 15 people over a 13-year period.
At the height of the murders, Dr Jo McCready was at university and compiled a profile of Malecki, which broke open the case and helped send him down for life.
Twenty-five years later, a copycat killer is re-creating Malecki's murders. As the bodies pile up, Malecki makes the police an extraordinary offer: to help catch the killer from his own prison cell.
Malecki claims he's repenting for his crimes. Jo doubts it, but as the body count rises, she can't ignore the killer's offer. What does Malecki really want – and can Jo find out before anyone else dies?
Available to buy here
Connect with Lesley McEvoy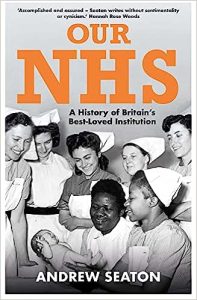 An engaging, inclusive history of the NHS, exploring its surprising survival, and the people who have kept it running.
In recent decades, a wave of appreciation for the NHS has swept across the UK. Britons have clapped for frontline workers and championed the service as a distinctive national achievement. All this has happened in the face of ideological opposition, marketization, and workforce crises. But how did the NHS become what it is today?
In this wide-ranging history, Andrew Seaton examines the full story of the NHS. He traces how the service has changed and adapted, bringing together the experiences of patients, staff from Britain and abroad, and the service's wider supporters and opponents. He explains not only why it survived the neoliberalism of the late 20th century, but also how it became a key marker of national identity. Seaton emphasises the resilience of the NHS ― perpetually 'in crisis' and yet perennially enduring ― as well as the political values it embodies and the work of those who have tirelessly kept it afloat.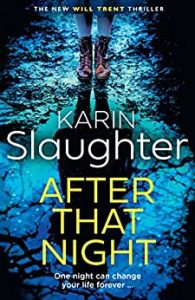 After that night, nothing was ever the same again…
Fifteen years ago, Sara Linton's life changed forever when a celebratory night out ended in a violent attack that tore her world apart. Since then, Sara has remade her life. A successful doctor, engaged to a man she loves, she has finally managed to leave the past behind her.
Until one evening, on call in the ER, everything changes. Sara battles to save a broken young woman who's been brutally attacked. But as the investigation progresses, led by GBI Special Agent Will Trent, it becomes clear that Dani Cooper's assault is uncannily linked to Sara's.
And it seems the past isn't going to stay buried forever…
Available to buy here
Connect with Karin Slaughter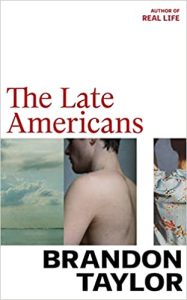 What was happiness if not this moment, if not then, right then, the group of them, together for maybe the last time, coming together for this moment, for this very instant, what were they if not happy?
In a university town in the American Midwest a circle of lovers and friends try to work out what they want, and who they are, in the inimitable new novel from the Booker Prize-shortlisted author of Real Life.
There are 1.3 million great whales left in the Earth's oceans today.
Climate activist Abi and her AI computer Moonlight are on a mission to protect the planet.
When they uncover whale song recordings made by Abi's great-grandfather, a whale hunter, Moonlight discovers a pattern…
…the songs are a map to a future that could rescue the whales and also rescue the world.
Available to buy here
Connect with Chris Vick
Remember, if you're an author and you'd like to see your book in our Saturday Spotlight, email: pentoprint@lbbd.gov.uk and send us the details of your new novel.

For details of Penguin RandomHouse new releases, visit their website here.
For details of Hachette new releases, visit their website here.
For details of HarperCollins new releases, visit their website here.
For details of PanMacmillan new releases, visit their website here.
For details of Simon & Schuster new releases, visit their website here.
Disclaimer: Amazon links are given for ease but please remember there are a number of other online retailers operating, including hive (which helps to support independent book shops), Kobo, Apple Books, Google Play and Nook as well as online stores for bookstores such as Waterstones, Barnes & Noble and WHSmiths. 
Issue 16 of Write On! is out now and you can read it online here. Find it in libraries and other outlets. Issue 17 will be out on 28 June. You can find previous editions of our magazines here.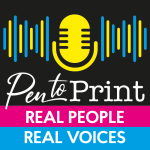 You can hear great new ideas, creative work and writing tips on Write On! Audio. Find us on all major podcast platforms, including Apple and Google Podcasts and Spotify. Type Pen to Print into your browser and look for our logo, or find us on Podcasters.Spotify.com.
We want to help connect authors and readers, so our Saturday Spotlight page showcases some of the exciting new reads available each month.