Write On! Features: Early Writing Days by Dee Gordon
By Dee Gordon
Dee has been writing full-length non-fiction books since selling her recruitment business in 2000. Hailing from the East End, she now lives in Southend. She has had 19 books published, as well as articles in Best Of British, Essex Life, Yours and Take-a-Break.
School as an infant in Bethnal Green was somewhere safe, with morning milk and afternoon naps, and Mums at the school gates, none of whom had cars, or, in most cases, jobs. They had their own uniform: all-encompassing pinnies or aprons, and scarves forming turbans over curlers. Once past the 11-plus, senior school became somewhere to meet boys, and I personally learned more at home thanks to Mum and the three (yes three) local libraries: one at Stepney, one at Bethnal Green and one at Whitechapel, all within walking distance. A trip to the library was a Saturday morning treat, and initiated a lifelong love of reading and of books. My mum, rest her soul, read a book every single day, mainly Mills and Boon, so thanks, Mum, for that inheritance.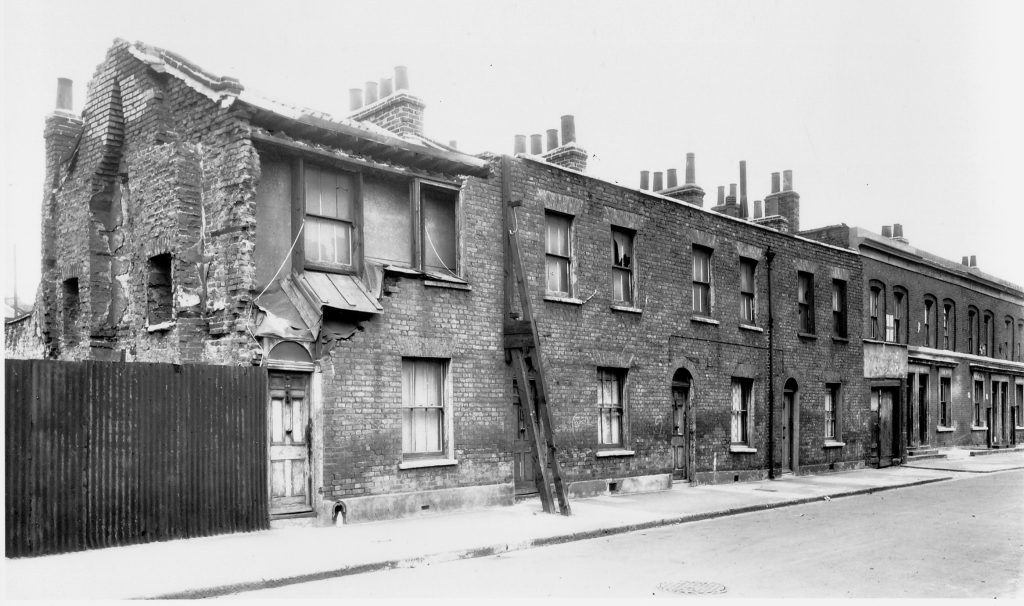 Growing up in Stepney in the 1950s where we shared a slum clearance house with two other families, one on each floor, with no indoor loo and no bathroom, evokes other non- literary memories: of huddling under outdoor coats and newspapers when in bed in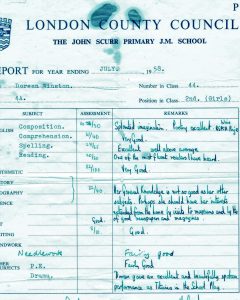 winter to try and keep out the cold; of Sunday 'tea' with bread and jam and, as a treat, winkles, where I'd be sure to purloin one of the brown winkle covers as a beauty spot. These Stepney slums were cleared before the end of the 1950s and we were moved into a council flat, where I had my own bedroom, heating and hot water at the touch of a switch and, some years later, a telephone which was a party line, i.e. shared with the next door neighbour!  At school, I always excelled at English Language and Literature, winning the national RSPCA prize for a poem when at John Scurr Primary School age 11, and another national prize for an essay, hosted by Ceylon Tea, two years later when at Morpeth Secondary, also in Bethnal Green.
As a bored secretary in the 1960s, I wrote regular short stories for Jackie in the huge swathes of spare time I had at the office, while other secretaries filed their nails and chatted to boyfriends (on the office phone – no mobiles!). These were typed on a manual typewriter with two carbon copies, before the days of the word processor or even Tippex! After some success, with each story taking me just a few hours and paying more than a week as a secretary (i.e. £12 per story), I was invited to lunch by one of the editors at D.C.Thomson's office in Fleet Street; something I naively thought was a matter of course! He asked me if I would be interested in trying some picture stories for Romeo – a very different format  – which he kindly explained to me. It meant the stories had to start with a description of the characters who would feature, and then the story itself needed to be broken down into some 30-32 frames, each of which needed a header or footer, a description of the action and the words for the speech bubbles. It looked like fun, and of course I said yes. The stories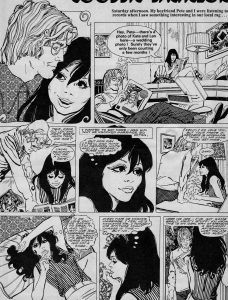 themselves were not difficult for me, as a mod out dancing every night in London's West End, because they were about my peers and our lifestyle, obsessed with music, dance, fashion and boys! I was never kept that busy as a secretary, and always found time to type up my stories. I was trying to get a job in publishing through my teenage years but the closest I got, at 17, was working on the London Weekly Advertiser in Fleet Street, sorting out all the personal ads that came in. It was in the days before Tinder, and a bit of an eye opener for a naïve teenager, I have to say!
Dozens of successful picture stories followed into the 1970s, when I also had stories published by Marilyn and Valentine (produced by Amalgamated Press, later Fleetway) and Mirabelle (published by Arthur Pearson), all with a similar format. They were produced on poor quality paper, dominated by romantic picture stories, alongside predictable interviews with contemporary pop stars, Tommy Steele and Cliff Richard being the front runners, plus Agony Aunt pieces, record reviews, quizzes and beauty and fashion tips from such as Alma Cogan (some readers may ask, "Who?"). Plus, of course, there were the free gifts: a rock 'n' roll ring, a poster for your bedroom wall, or transfers you could iron on to your clothes to show you were a fan of Adam Faith (my personal favourite), Marty Wilde and other teen idols.
Personally, I found the frame-by-frame style easier to write than the narrative style of Jackie's fiction, and often wonder why I didn't give up the day job to concentrate on the writing. Probably because, as an East End girl living in a council flat, a job with a regular, predictable income was a more attractive proposition; however boring it might have been in reality. I had been reading these stories since I became a teenager myself in 1960, and before that if pocket money allowed. They were all around 5d (about 2p) with Jackie a penny more, given its colourful layout compared to the more lowly black and white offerings of the other titles, although they did start using colourful covers and back pages in the early 1970s.
The one thing that always amused me during these prolific teen-story years was the way that Marilyn, Mirabelle, etc were actually produced. They were illustrated, in the main, by illustrators in Spain (this did not apply to Jackie, which had a very different look and format). I never asked why, but the illustrators were certainly talented and in great demand. However, it did mean that occasionally there would be a hilarious error in translation. I particularly remember writing in one story that my love-struck couple were standing …outside Charing Cross Station and back came an image of a rural platform with a picket fence, needing a dramatic alteration!
My output dwindled from 1971, partly because I got married, partly because I took on a more demanding job (in recruitment, suggested to me by an agency as I was changing jobs so often in my bid to find a job in publishing!) and partly because I wasn't as able to relate to the readers, as I no longer spent time in discos and at music festivals, or hankering after some member of the opposite sex. But I've kept some of my stories, and am just as proud of them as of the books I wrote after retiring in 2000. The only downside, with hindsight, is that they were printed without a credit; neither I nor the illustrator(s) ever got a mention. One of my published books even focuses on the decade: The Little Book Of The 1960s.
My focus on writing local history came about when I returned to writing after retirement, and realised how long it took to write a novel, how much competition was out there, and how hard it was to find a publisher, but there did seem, at the time, to be a gap in the market for local history. Having always been interested in my roots and in Essex (I've lived in Southend for many years), I liked the idea of combining my writing with this interest, and I particularly liked the way writing non-fiction books works, in that you pitch an idea, secure a contract and then write the book, rather than writing the book (i.e, a novel) and then trying to secure a publisher. I've just finished my 19th local history book and have plans for several more, so watch this space!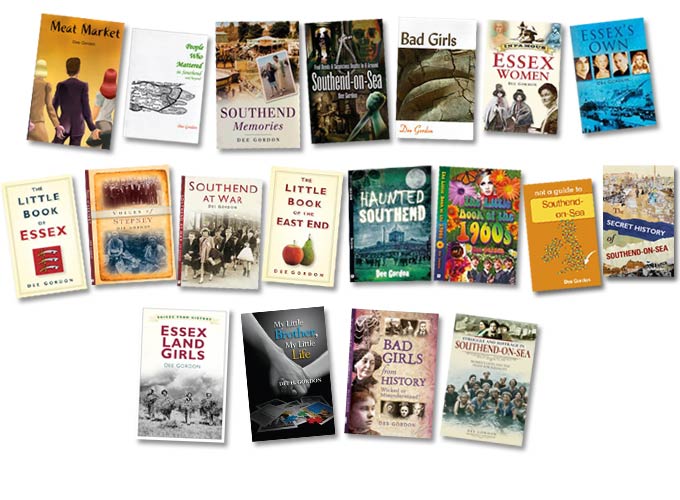 See Dee's Write On! interview here. You can connect with Dee at her website: deegordon-writer.com
*****
Issue 16 of Write On! is out now and you can read it online here. Find it in libraries and other outlets. Issue 17 will be out on 28 June. You can find previous editions of our magazines here.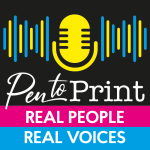 You can hear great new ideas, creative work and writing tips on Write On! Audio. Find us on all major podcast platforms, including Apple and Google Podcasts and Spotify. Type Pen to Print into your browser and look for our logo, or find us on Podcasters.Spotify.com.
*****
If you or someone you know has been affected by issues covered in our pages, please see the relevant link below for ​information, advice and support​: https://pentoprint.org/about/advice-support/
My focus on writing local history came about when I returned to writing after retirement, and realised how long it took to write a novel, how much competition was out there, and how hard it was to find a publisher.