Saturday Spotlight: New Book Releases November
By Claire Buss, Deputy Editor, Write On! 
At Write On! and Pen to Print we want to help connect authors and readers, so we've created a Spotlight page every Saturday, showcasing some of the exciting new reads available. The list has been curated by Lisa Roullier and myself, based on books that you send us, so if you're an author and you'd like your book in the spotlight, reach out to Lisa at pentoprint@lbbd.gov.uk. Whether you're an indie author, with a small press or mainstream publisher, we'd love to hear from you and shine a light on your new novel.
Write On! offers other opportunities for writers as well. If you'd like us to feature an extract from your book or a short story, please send the extract, book cover and blurb to pentoprint@lbbd.gov.uk with the subject Write On! Showcase (ensuring you have your publisher's permission, of course).
Pen to Print are also looking for short videos from people reading a passage from their favourite book, or authors reading extracts from their own books. These videos will be featured on the Pen to Print YouTube channel and across our social media. Please send in your videos or links to pentoprint@lbbd.gov.uk with the subject 'Video Stories'.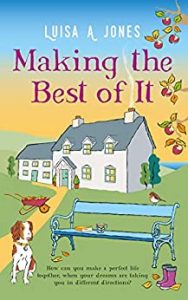 Tom Field is at breaking point.
He's been making the best of things, letting his responsibilities get in the way of his dreams. But now, grief-stricken after a tragedy, he knows he can't keep putting his life on hold. Escaping the city and his unfulfilling job to live near the sea could give him everything he longs for… or it could destroy his marriage and cost him his family.

Before disaster struck, Megan didn't think she needed her father in her life. Now she's desperate to find him before it's too late to get answers to the questions she's always longed to ask. But her quest re-opens old wounds and leaves her mother and sister feeling betrayed. What's more, Tom's pipe dream of abandoning the city she loves threatens to turn her world upside down.
How can Megan and Tom create the perfect life together, when their dreams risk tearing their family apart?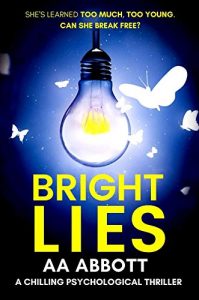 She's learned too much, too young. Can she ever break free?
Emily's dreams come true when her mother marries wealthy painter, David. Thanks to him, Emily's artistic talents shine. Then he starts teaching her things a 14-year-old shouldn't know. When Emily escapes from David's luxury mansion, she's penniless and forced to sleep in a rat-infested alley.
Bad boy Jack has turned his life around. Working as a DJ with ambitions to open a club, he rescues Emily from the streets when he sees a woman in trouble. He doesn't know she's still only 15 – and trapped in a dark web of secrets and lies.
David must find Emily and silence her. As he closes in, Jack faces the hardest choice of all. If he saves Emily, he'll kiss goodbye to his future…
Available to buy here
Connect with AA Abbott
It's the most magical time of year, and anything can happen…
Nia Maddison has always believed that wishes come true on Nutcracker Lane. So, when she gets the opportunity to run her own Christmas gift shop on the most magical street in town, it feels like her wishes have finally been granted.
Working late one night, Nia discovers yet another boyfriend has cheated on her. As she trudges home – alone, again – she passes the (supposedly) magical nutcracker and, half-jokingly, thinks a wish can't hurt. Cracking a nut in its mouth, she wishes to find Prince Charming.
The next day, Nia gets to work to find another decoration shop has opened directly across the lane from her own, and she can't resist having a nose around.
Whilst there, she accidentally backs into a human-sized Nutcracker, knocking it over and breaking it. Mortified, she flees from the store but when she gathers her resolve to go back and apologise, she stumbles across the gorgeous shop owner, James, who looks exactly like Prince Charming…
Could her Christmas wish from the night before really be coming true?
Available to buy here
Connect with Jaimie Admans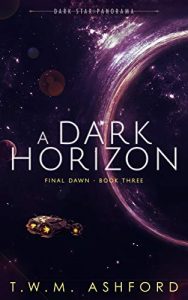 There's only one way for Jack to get back home… and now he has to destroy it.
The Earth is a husk, humanity is long extinct and Charon has used his stolen Solar Core to harvest Proxima Delta's star, dooming its populated system. The crew of the Adeona are divided – Jack thinks they should keep fighting, but Rogan and Brackitt just want to lay Tuner to rest in Detri.
By going their separate ways, Jack gets the chance to testify before the Ministry. But their bureaucracy is almost as exhausting as the hitman sent to kill him, and time is running out. Jack and Klik are left to unravel a new and even greater conspiracy alone.
Can Jack stop Charon from creating his singularity? Or will the temptation to see Amber again prove too great?
A Dark Horizon is the third book in the Final Dawn series. If you like page-turning space operas, then you'll love this exciting science fiction adventure.
Available to buy here
Connect with TWM Ashford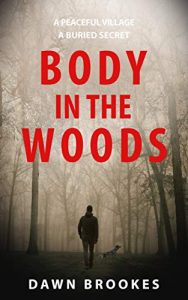 A peaceful village. A buried secret. A gripping new crime novel for 2020.
When private investigator Carlos Jacobi arrives in the Peak District to spend Christmas with his sister, he doesn't anticipate his ex-police dog unearthing a body in the local woods. Why would someone murder a seemingly harmless old man?
The dead man's wife hires Carlos to investigate the murder after the police had fobbed her off when she reported him missing. Carlos soon discovers fractured relationships, family secrets and villagers with something to hide.
To top it all, the man in charge of the investigation is someone Carlos had hoped never to meet again. Memories of their time in Afghanistan still haunt him. Bad blood between the two men threatens to cloud the investigation as neither can bury the past. DCI Terry Masters is livid when Carlos is hired, and takes it personally. He orders his sergeant to make sure the private investigator is kept out of the loop or face consequences, not knowing that Carlos and DS Fiona Cook are old friends.
Meanwhile, Carlos unravels lies and motives among the seemingly innocuous village population. When his dog, Lady, makes another grisly discovery, the suspense heightens and Carlos teams up with his old friend to get to the bottom of this frustrating case.
Available to buy here
Connect with Dawn Brookes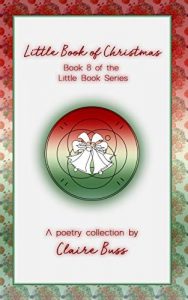 Deck the halls with poems about holly, fa la la la la la la la la! 'Tis the season to read things jolly, fa la la la la la la la la!
At this time of celebration, curl up by the fire and your twinkly tree to enjoy a sprinkling of Christmas magic. From stockings on the mantle to kissing under the mistletoe, unexpected presents and the joy of mince pies, Christmas truly is a special time of year. Have yourself a merry little book of festive poetry!
Little Book of Christmas is the eighth poetry collection in the Little Book Series.
Available to buy here
Connect with Claire Buss
Emma's life changes the day Ruben Templeton enters it and asks her out on a date.
Over dinner, Ruben's undivided attention flatters her and she's a little disappointed when his best friend, Jesse Kimball, joins them. Jesse is a senator's son who has just announced his candidacy for mayor.
Accustomed to a quiet life, insecure 27-year-old Emma is hesitant but excited when Jesse calls the next day, to invite her to his birthday party. It doesn't take long for Jesse to sweep her off her feet, and when Emma receives devastating news, he asks her to marry him. From the moment she agrees, their relationship starts to deteriorate. Hurt and confused, Emma turns to Ruben for advice.
Ruben suggests the young couple give each other space. Time Emma can use to help him locate his younger brother, Axel, who has gone missing. Emma agrees, and soon finds herself on a road trip across the country.
Will Emma and Jesse's temporary separation clear the distance between them, or will she find love in the arms of another man?

Available to buy here
Connect with Ramcy Diek
Our Academy Of Magic had been invited to a Christmas masquerade ball. I thought it would be fun, but now I wasn't sure if my three friends and I would make it there.
While the Academy was already on their way to Pittsburgh for the ball, someone had conjured mystical powers to prevent our arrival: an evil Santa to punish the naughty little witches.
Every step forward threw us two steps back until we ended up trapped in a secluded cabin in the snowy woods. We couldn't leave until each of us revealed her darkest secret: the worst thing we'd done with the help of magic.
Could I be honest with my friends about what I'd done? What if I left out the most horrible part?
But Santa's compelling voice kept whispering the warning into my ear. He knew the whole truth, and the liar would pay the price.
Available to buy here
Connect with Lana Melyan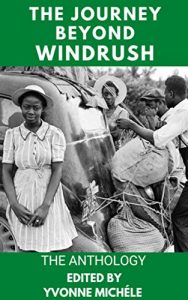 The Windrush generation refers to the immigrants who were invited to the UK between 1948 and 1971 from Caribbean countries such as Jamaica, Trinidad and Tobago and Barbados.
The name derives from the ship MV Empire Windrush, which on 22nd June 1948, docked in Tilbury, Essex, bringing nearly 500 Jamaicans to the UK.
This Anthology E-book of short stories written by 12 Windrush Generals who share their experiences, the highs & lows, the struggles and triumphs and the enormous sacrifices they made that paved the way for so many of the African Caribbean Community today.
Today we stand on their shoulders. Today we thank them for their willingness to work hard; for the many sacrifices they made, that has paved the way for generations to come.
Available to buy here
Connect with Yvonne Michele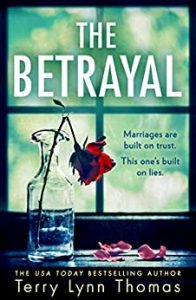 Attorney Olivia Sinclair is shocked when she receives an anonymous video showing her husband Richard sleeping with someone else.
After years of handling other people's divorces, she thought she could recognise a marriage in trouble.
She angrily throws Richard out of the home they share. But days later she's arrested—for the murder of his mistress.
Olivia knows she's innocent but, with all the evidence pointing at her and an obvious motive, she must find the real killer to clear her name.
She may be used to dealing with messy divorces, but this one will be her most difficult case yet.
Olivia's husband has already betrayed her—but would he set her up for murder?
Available to buy here
Connect with Terry Lynn Thomas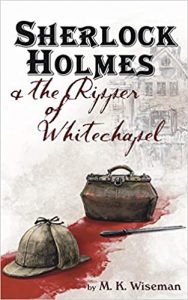 I am afraid that I, Sherlock Holmes, must act as my own chronicler in this singular case: that of the Whitechapel murders of 1888.
The way in which the affair was dropped upon my doorstep left me with little choice to the contrary. Not twelve months prior, the siren's call of quiet domesticity and married life had robbed me of Watson's assistance as both partner and recorder of my cases.
Thus, when detective inspector Lestrade of Scotland Yard required a lead-any lead-I found myself forced to pursue Jack the Ripper alone, without the aid of my faithful friend. And all for the most damnable of reasons: early on in my investigations, Dr. John H. Watson, formerly of 221b Baker Street, emerged as my prime suspect.
Available to buy here
Connect with M.K. Wiseman
Remember, if you're an author and you'd like to see your book in our Saturday Spotlight, email: pentoprint@lbbd.gov.uk and send us the details of your new novel. 

Further Links
For details of Penguin RandomHouse new releases, visit their website here.
For details of Hachette new releases, visit their website here.
For details of HarperCollins new releases, visit their website here.
For details of PanMacmillan new releases, visit their website here.
For details of Simon & Schuster new releases, visit their website here.
Disclaimer: Amazon links are given for ease but please remember there are a number of other online retailers operating, including hive (which helps to support independent book shops), Kobo, Apple Books, Google Play and Nook as well as online stores for bookstores like Waterstones, Barnes & Noble and WHSmiths. Given the current situation, though, please check first.
We want to help connect authors and readers, so we've decided to create a spotlight page every Saturday, showcasing some of the exciting new reads available.