Welcome to the second of my May Showcases. This month, to tie in with the theme of transformation, I've chosen to focus on journeys, whether short or long, physical or spiritual. Last month's editor, Palak, chose a story and piece of prose describing how walking can be transformative. Today, I've chosen to cast the spotlight on a historical figure whose influence cannot be underestimated.
The following article sparkles with wit and readability. Paul Tibbey gives us a glimpse of the life of Thomas Paine as well as the reasons he wants to move to the town where Paine lived.
So, read on and find out how Paine's decision to leave England led not only to a transformation in his life but also brought about a major change in America.
Citizen Paine
By Paul Tibbey
I've got to be honest; I'm getting a bit old for Brighton now. We've lived here for 20 years and, while at first, the freewheeling hedonism added a vicarious frisson to life, I now find the sight of middle-aged men on skateboards trailing clouds of herbal fumes a trifle depressing.
But Lewes has continued to grow on me. Lewes, the county town of East Sussex, is eight miles and a century or two down the road from its blowsy seaside cousin. You might have heard of the place. Famous for its Guy Fawkes Night celebrations (five-year-old kids holding flaming crosses while their parents, dressed as pirates, chuck lighted bangers into vast crowds of drunken onlookers packed into the quaint winding streets) and Harvey's brewery – absolutely one hundred per cent definitely the best beer in the World. Ever. Anywhere. Since 1790. (And I don't even get a free pint for that plug.)
And then there's Thomas Paine. He's from there. Or lived there. Or had something to do with the place. I mean, there's a statue.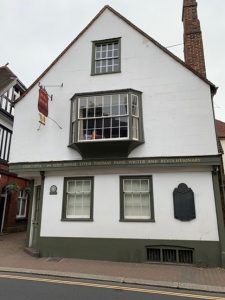 And a pub, for God's sake! A Harvey's pub! It's called the Rights of Man. So he had some connection with rights… and men. Didn't he?
When I mention to people that I've written a three-and-a-half-hour, seven-episode musical podcast about the life of Thomas Paine, they usually return a half-quizzical look of half-remembered recognition, "Thomas Paine… yes… was he… was he a writer, was it?" And then (depending on how many pints of Harveys I've had) I start giving them the full life story (including bibliography). But the pubs are shut and I haven't had a pint of the real stuff since March or something, so I'll spare you and be brief.
Thomas Paine was born in 1737 in Thetford in Norfolk. His dad made women's corsets for a living, so that's what Tom did as well, because this was the 18th century and social mobility was some way up the historical track. But Tom was restless. He ran away to sea and returned with a share of a privateer's treasure. Thence to London and encounters with Enlightenment thinkers. He ended up in Lewes (the place was a centre of political thinking and discussion – still is), earning his living as an exciseman. When he started agitating for fair wages for all excise employees, he lost his job and ended up a 37-year-old bankrupt. And that's where his story should have ended.
But that's where it really starts. He sailed to America (on the recommendation of none other than his old London acquaintance Benjamin Franklin), arriving months before the powder keg of revolution finally blew. Paine, who had secured employment editing a magazine in Philadelphia, penned a pamphlet called Common Sense. People agree that, before Common Sense came out, most ordinary Americans never thought that independence was, or should be, the aim of the War. Common Sense changed all that. After huge numbers of colonists paid their sixpence (Paine took no profits) and read its fiery, straight-talking prose, they rallied to Paine's cry: "The birthday of a New World is at hand!"
Paine marched with Washington's army, writing dispatches from the thick of battle. When they were beaten, bedraggled and at their last ebb, it was the words of Paine's American Crisis ("These are the times that try men's souls…") that Washington had read to his men before their final desperate gamble at Trenton.
After victory, Paine was impatient for the germ of liberty to spread around the world. Instead of resting on his laurels, he returned to England and was chased out under threat of capital charges for spreading sedition: "I have always considered monarchy to be a silly, contemptible thing…"
He fled to France and gloried in its revolution, until his humanity and sense of justice brought him under the evil gaze of the tyrannical Robespierre. The nerve-tingling precarity of his brush with the guillotine is worth a Hollywood movie on its own!
Paine ended his life back in America, widely reviled for having openly expressed the deist views, which many of the Founding Fathers privately held: "My own mind is my own church."
Paine is now studied and talked about by historians and political thinkers. However, most of us have quietly forgotten the East Anglian artisan who bestrode the world and inspired generations of ordinary people to stand up and claim their liberty.
I don't think Tom belongs exclusively to the scholars. He wrote for the ordinary men and women who were born to lives which, like his, threatened to stifle their natural talents and limit their choices. Both his writing and his life itself was an inspiration to them.
In the 1700s, it was the sixpenny pamphlet that enabled the scribbler with an axe to grind to get their voice heard. Today it's the podcast.
So here's my axe: let's reclaim Tom Paine for the masses! And you can hear it grinding away over seven half-hour episodes of the podcast Citizen Paine. I put no words in Tom's mouth, just his own earthy, hackle-raising prose, backed by an original score and a cast of thousands, to tell his sad, funny, spine-tingling, infuriating and spectacular life story.
And to those of you who say that all that old stuff about revolution is boring, as you climb on your skateboard, I say good luck, enjoy, it's not my problem any more. I'm moving to Lewes.
(c) Paul Tibbey, 2021
Now you've had the potted history, have a listen to the podcast. Here's a link to the first episode. Who knows, it could be snapping at the heels of Hamilton one day!
<iframe title="Citizen Paine Episode 1″ allowtransparency="true" height="150″ width="100%" style="border: none; min-width: min(100%, 430px);" scrolling="no" data-name="pb-iframe-player" src="https://www.podbean.com/player-v2/?i=gxgz2-eb77a4-pb&from=embed&share=1&download=1&skin=1&btn-skin=7&size=150″></iframe>
It's important to recognise, as we learn about the life of Thomas Paine, how powerful writing can be in its ability to transform lives. So, keep on writing and submitting. You never know what effect it might have!
*****
Don't forget issue 8 of Write On! magazine is out. Read it online here.
If you'd like to get in touch with me or see your writing appear in the Write On! 'Showcase', please send your short stories, poetry or novel extracts to: pentoprint@lbbd.gov.uk.