Showcase: Mia Celebrates Diwali + Bucket Lanterns + The Fading Lights
November's Showcases are introduced by Write On! regular, Diya Padiyar.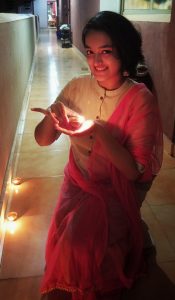 As a teenager, I find that youth creates curiosities and wonders to dive into, exploring what the world has to offer. There is a keenness and willingness to learn and produce, which fuels the light of perseverance and growth. In my case, aspirations of connecting stories from all over the world brought me to Pen to Print and so, to this Showcase. This month, I will be shedding light on celebrations and remembrance, power and wonder.
This week, I've brought the light of new hope along with me from my home land of India. November here, starts with the joy of Diwali, a festival very dear to me. Partly because my name has its meaning associated with it, but even more so, because on this day, we light the lamps of hope and keep them burning bright in our hearts throughout the year. This has made me wonder how other parts of the world celebrate with light. Exploring this, I've pulled together stories from diverse lands, which find a communality in their celebrations.
*****
The first piece I'd like to introduce is written by a person who inspired me to start writing. My High School teacher, Mrs Rati Bhatikar, connects with us from Goa, India. Earlier this year, she started a creative puppet channel, targeting children's imagination and, today, she's brought along her friend to share how Diwali is celebrated in Goa.
Mia Celebrates Diwali In Goa
A week prior to Diwali, Mia is  excited and happy, as this is her favourite festival. Preparations for Diwali start almost two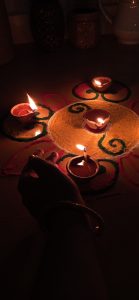 weeks in advance. Mia helps her grandma prepare tasty sweets and helps Mum to clean the house. Her favourite job is making the paper lantern with her father and her Didi (elder sister). She loves to choose papers from the array of vivid colours displayed in the shops.
The night before Diwali, Mia is eager and excited to watch the Narkasur procession with her friends and family. In Goa, Diwali is marked by 'Narakchaturdashi'. This legend fascinates Mia the most. Narkasur was a demon king who tortured the people of Goa and so, the people prayed to Lord Krishna for protection. Lord Krishna cut off Narkasur's head and saved the people from his terrorising reign.When Grandpa told Mia this story, he said Diwali marked the victory of good over evil.
Grandpa had also told Mia that in other parts of India, especially in the Northern states, the festival of Diwali is celebrated to commemorate the homecoming of Lord Rama after his 14-year exile. These two very different legends are associated with the same festival of joy and lights.
Waking up early in the morning is usually a huge task for Mia but, on the day of Diwali, she's up before the crack of dawn. She loves to watch the beautiful 'diyas' (oil lamps) and lanterns light up every household in her neighborhood. She enjoys lighting the diyas at her own doorstep and in every corner of her house. Her Didi decorates the entrance with an intricate rangoli design of colorful flower petals. Mia wants to learn how to do that, too.
After a bath with oil and sandalwood, Mia puts on a new dress and seeks blessings from all the elders in the family. She receives lovely gifts which she can't wait to open. After the morning puja, everyone has to bite on a bitter fruit, locally called 'karith' before they can devour the sweets. Mia hesitates but gives in on the advice of her grandma, who tells her that this action is the symbolism of victory over evil. Then, the family sits together to eat the delicious dishes prepared by Mom and Grandma, especially the variety of dishes made from poha (puffed rice, which was Lord Krishna's favourite). The sweet poha is prepared by Dad, as he cooks them the best. They are the highlight of the menu.
Mia and her Didi then share goodies with their neighbours and close friends. Mia's friends, uncles and aunts come over in the evening, which passes very quickly amidst laughter and joy. She loves this day and wishes it would never end, as it spreads a warm message of love, caring and sharing. Mia prays that there should be no evil on earth and so she wants everyone to light a lamp of love on this Diwali.
© Rati Bhatikar, 2021
You can chat with Mia on Rati Bhatikar's youtube channel: youtube.com/channel/UCRUgOEEGquH_ubVlvtvFSuA
Or connect with her on Instagram: @ratibhatikar
*****
In various other regions of the world, lights set a common theme of joy and hope for people coming from vivid cultures. Next, Anya shares the festive lights of Sri Lanka, from the celebrations of Vesak.
Bucket Lanterns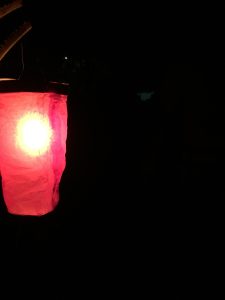 I never really got along with my grandmother. She loved celebrating Vesak and I didn't. Not that I had a choice; she wanted all of us to participate. I was scared of fire but no excuses made a difference.
We chose a bucket lantern: either red, green, yellow, purple or blue (I liked blue), folded the crumpled paper and melted candles to make them stand tall in our frail, old lanterns. Carefully unfolding it (hoping it wouldn't catch fire), off we went to hang them up.
We have a huge garden, but it was only that night I truly realised how big and intimidating it could be. The further I went into it (with only my little bucket lantern candle to guide my way), the louder the crickets sang, overpowering the silence. As opposed to my siblings, who hung their yellow and green lanterns on the very tall Araliya tree, I preferred little trees to hang them on. Everyone knew I was too scared to climb trees in the dark, so my blue buckets swung from the smaller trees.
The lights in our garden were nothing compared to what lit up the streets: lanterns of so many shapes and sizes hanging along the telephone lines, Christmas lights twisting around every tree and street lights and enormous pandols, with beautiful illustrations of the Buddha's journey.
My grandmother didn't seem to mind, though. She just wanted our lanterns to be hung up. I didn't see any point, as the candles would burn out in a while, the  bucket lanterns falling to the ground. I would have to clean it all up later, but had to admit, they looked beautiful.
There's something almost spiritual about these colourful flames against a black canvas of sky. But the most awe-inspiring light of all is the pure white sphere of the moon. After everyone returned home and the bucket lanterns had burnt out, I caught my grandmother staring up at it. Out of a thousand shades of grey, it was the one thing we had in common.
What other light can compete with a full moon, even in a sky full of stars?
© Anya Wikramanayake, 2021
You can connect with Anya on Instagram: @a.wiks
Just as Anya describes, celestial light has always fuelled my curiosities and sourced new hopes and connections.
*****
Continuing with the theme of celebrating with lights, Nabila from Indonesia shares the story of Takbiran, rejoicing in fond memories of her childhood.
The Fading Lights
That night, I could feel my smile from ear to ear, my eyes sparkling as they reflected my surroundings. When I looked up, I saw blazing lights resting on big wooden sticks carried by kids who were older and taller than me, showing their glorious, lively colour. The amber colour was blazing beautifully against the darkness of the night sky, as though it represented the combined joyous hearts of everyone that night. Here, I could feel both the warmth of the fire and the coldness of the night wind, mixing into some strange atmosphere, bringing its own enjoyment.
I walked side by side with my friends in the middle of a parade to celebrate the night before Eid. In harmony, we enthusiastically chanted praises to God, marching through our neighbourhood, on  big mission to tell everyone about what was coming the following day: the day of Eid.
Called Takbiran, this parade allows people to celebrate the night before Eid; a holiday to celebrate two special occasions in Islam. When I was a child, the teenagers in the neighbourhood organised it to keep the tradition alive for our generation.
On the day of Eid, we wake up early and gather in a mosque to pray together. Following that, we visit home after home asking for forgiveness from each other. When I was a kid, some people would give me pocket money since it's a tradition followed by the elders to give pocket money to the younger kids. We share food with our loved ones and the identical foods on that day are traditional cookies called nastar  (pineapple tart) and kastengel (stick-shaped cheese cookies, originally from the Netherlands). You can find them in almost every household you visit on the day of Eid.
Lights have been used in many celebrations throughout history, regardless of cultures and religions, bringing people memories of excitement, hopes, prayer, or paying tribute to those who have left this world. For me, it brings back the memories of my childhood. Later, I found out that people in different parts of Indonesia have various ways to celebrate Takbiran. However, all the regions have something in common; namely, they light a fire.
It's as though it becomes the symbol of people's excitement on that night. Looking back, I realise now, we started to pay less attention to this parade as we grew up. The fire that had once blazed so strongly and ignited excitement in our hearts, started to fade over time.
© Nabila Adawi, 2021
You can connect with Nabila on Instagram: @bookn.nana
*****
As much as light holds a symbolic meaning in festivals of the world, it also serves as a metaphor for keeping the flame of hope burning. Next, Juneha, a Pen to Print and Write On! regular, shares poetry on this theme.
Light
Some run towards the light.
Some shy away from it.
A symbol of truth, it delivers a message of hope.
A flicker of light helps us cope.
It lingers in the background waiting to show us the way.
Rewriting the struggles of yesterday.
Like coming through the darkness helps us grow,
it's light, that gives our life that glow.
© Juneha Chowdhury, 2021
You can connect with Juneha on Twitter: @junehachowdhury
 *****
Another poem I'd like to share is by my friend, Devonna Gomes, from Goa, who has based her poem on the light we create within ourselves.
Shine
I see you stuck in the darkest corners of your mind,
I know you can see the light.
But there's a force pulling you backwards,
You're trying to reach out but nothing's pushing you forward.
Do not hide, come out and let it shine.
The light that's hidden within you,
Desperately waiting to come alive.
Let it out, let it shine.
© Devonna Gomes, 2020
You can connect with Devonna on Instagram: @wordklutz._
Reflecting on this, I hope each one of us is able to find the light of wisdom and keep it shining bright throughout the year, irrespective of where or when in the world we are celebrating.
*****
Lastly, I'd like to share a painting by Abha from Goa, who illustrates the light of a girl child blooming out of an earthen lamp of Diwali. Let's keep oiling the flame of courage and wonders shining in young eyes as we reach the end of this page.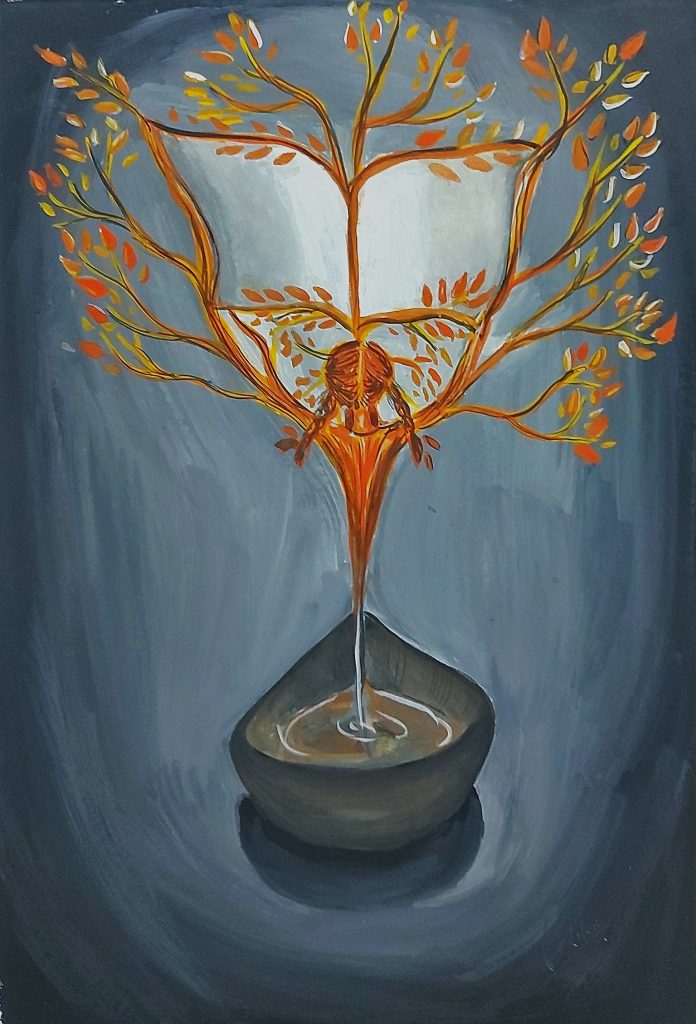 © Abha Phaldesai, 2021
You can connect with Abha on Instagram: @abhaphaldesai
*****
If you'd like to see your writing appear in the Write On! Showcase, please send your short stories, poetry or novel extracts, to: pentoprint@lbbd.gov.uk.
You can read more fiction, poetry, interviews and author advice in the latest issue of Write On!  Issue 10 of Write On! is available now. You can see it here.