Showcase: Sight and Sound + Retirement + Take Stock And Breathe + The Loves And Life Of Kitty Cook + Two Lonely People + Alligators In The Arctic
By Mirabel Lavelle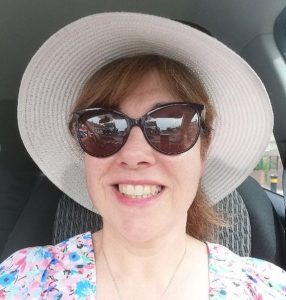 Hello, I'm Mirabel. Welcome to the first June Showcase.
The overall theme for this month is 'Voices'. I'd like to share with you a number of voices from the North of England, where I live, as well as a range of other voices from across the UK and beyond.
This month also welcomes the season of fiestas and festivals, the first day of summer, the longest night of the year, summer solstice, LGBTQ + week, Windrush Day, and is close to the start of the school holidays, a well-earned rest for teachers like myself. I hope that, whether you're a teacher or not, you will enjoy this month's e-showcases. If you write something you'd like to share, you're very welcome to go onto our website and submit.
The first voice I want to share with you is that of June Gowland, a retired teacher who worked in a boarding school for blind and deaf/blind children.  After contributing various beautiful poems to our showcases, June shares a short memoir with us.
This piece struck me on many levels. It shows humility, resilience and the beauty of student/teacher relationships, especially for small children who face harsh challenges in life.
Sight And Sound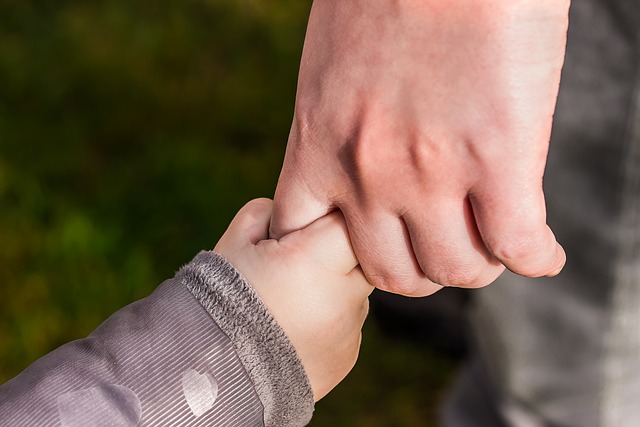 Jenny, aged five, arrived in my class with a wide grin which belied her lack of eyesight. In fact, owing to her suffering retinoblastoma, a cancer of the eyes, she had no eyeballs at all. To see the bare pink sockets was a shock at first, I must admit, but her lively personality endeared her to everyone.
She soon became the class leader, reminding me to put my coat on if we were going outside, or reaching out to another child she sensed was nearby. Finding their hand and grasping it confidently, she would squeeze it and squeak with delight at finding a friend.
Negotiating her way around the classroom, she settled in quickly and loved her lessons. She announced her arrival every morning with a cheery, "Hello," and an excited wriggle.
Jenny would recognise my voice with ease. Facial expressions and body language were meaningless, but a voice was a reliable guide in many situations.
Most of the children were boarders, including Jenny. Part of my job was to check the younger children were settled at bedtime. As I tiptoed through the dormitory, Jenny would call out in a stage whisper, "'Night, Miss." How did she recognise my footsteps?
Gym lessons could be stressful. The children had no fear of heights or sense of danger. The gym was across the hall and up two flights of stairs, with a landing in between. This didn't faze Jenny one bit. She led us across the hall, counting the steps till we arrived at the stairs, where she loudly counted the eight steps to the landing. There she paused, calling out, "Boys' toilet!" with a triumphant bang on the door. Counting the next eight steps, she announced our arrival at the gym door, with another hearty bang and, "Here we are!" I was glad she couldn't see me giggling.
Jenny was incredibly dexterous and could already tie her shoelaces unaided. When the Head Teacher realised this, he'd untie her laces and ask her to tie them again to show visitors. Jenny obliged, but after the third visit, she demanded loudly: "Why does that man keep making me tie my laces?" My answer wasn't particularly inventive. I explained it was because she was so clever. Luckily, the visitors had already left.
The day arrived when Jenny was to have her first prosthetic eye fitted. Finally, after a long morning's wait, the door opened and there she stood, grinning shyly. One bright blue eye gazed unseeing towards me. It was an emotional moment, although she had to wait a few more months to receive the other artificial eye when the socket had grown sufficiently.
On the day she returned from hospital wearing the second artificial eye, her grin was wider than ever when I told her how pretty she was.
"I know." She smiled. "I know!"
(c) June Gowland, 2023
*****
My next voice comes in the form of a poem composed by talented debut writer, Janet Graham-Russell. I met Janet on a creative writing course, where she was described as a 'true creative' by one of her tutors. As well as creative writing, Janet knits woolly socks and also designs and sews quilts. She sent in a photo of her latest sewing project, depicting life as a tapestry of shapes and colours. She has two cats who like to attend Zoom meetings and watch TV with her.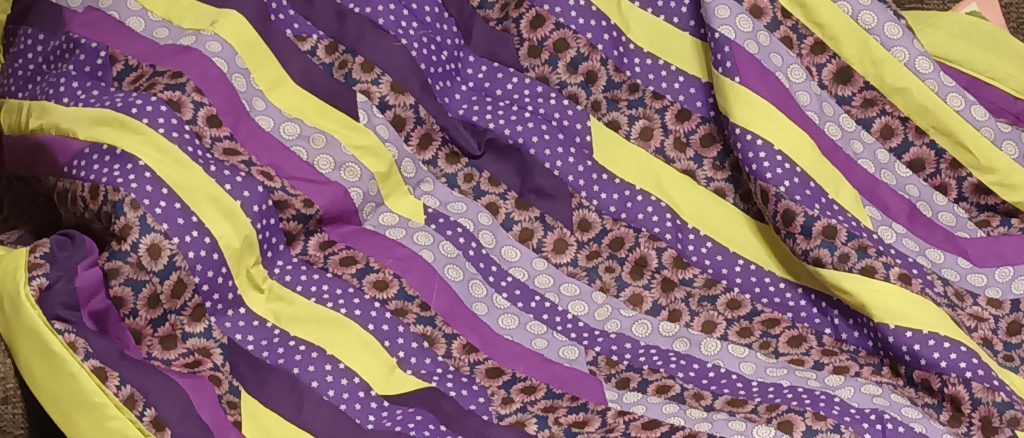 Retirement
He tells me I need to eat
He puts more food on my plant
But I don't want that
I've eaten what I want
Chocolate and liquorice.
He tells me I need to go outside
He's bought me a wheelchair
But I don't want that
My back, hips and knees hurt
And I'm scared.
He talks over my game shows
He does it because he wants to watch something else.
But I don't want that.
I want to sit in my dressing gown
Noon until 10pm.
I used to be the one who talked
Teenagers quaked as I closed the door.
Now I'm a little old lady
With a tv
With books.
And him.
(c) Janet Grahame-Russell, 2023
*****
Without a doubt, my next choice is the voice of reason. So many of us forget to listen to it, often when we most need to! Here, our Welsh poet, Tammy Griffiths Palmer, reminds us to take a moment and breathe.
Take Stock And Breathe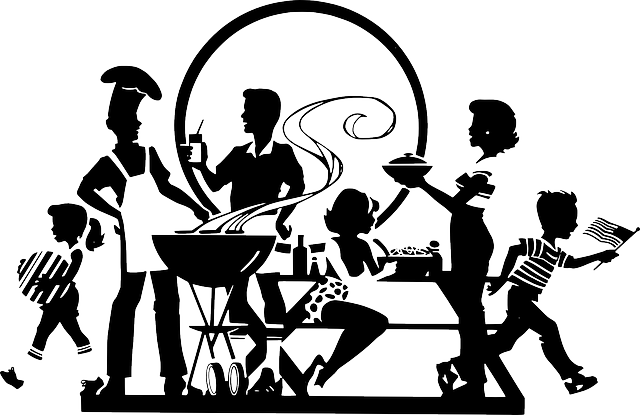 When life is a struggle and you feel real low,
Wishing for an escape but nowhere to go,
Just stop for a moment…  Take Stock… and breathe…
Allow your body time to relieve…
Take a step outside… Go, get some fresh air,
Feel the sun on your face and the wind in your hair
Absorb your surroundings, and breathe Real deep
If you feel it necessary, go ahead and weep!
Shout, scream do whatever you need,
But as soon as you're finished
Once again Breathe….
Reassess your situation, is it really that bad?
Life isn't meant to be easy,
but neither should it be all hard.
If something doesn't feel right,
And is causing you pain, then act on it, so it doesn't happen again
This is your life and your time is now
Regain your power, you can do it somehow!
Start each day with a big cheery Smile
A positive thought, and self-praise every while.
Change your thought process as what you think can transpire
Raise your vibrations higher and higher
Listen to music and feed your soul
Dance to its rhythm and NOW set your goal
Life's one big lesson and we learn day by day
There is no direction, so go your own way.
Live out your dreams, laugh and have fun
This isn't a race, there's no need to run.
So whatever you do and whatever you choose
Your choice is your own, there's nothing to lose
Just Know what you want and believe in yourself
Look after You, your mind, body and health.
(c) Tammy Griffiths Palmer, 2023
Tammy can be reached via her Facebook page, Beautiful Spirit: facebook.com/profile.php?id=100063849343720
*****
When it comes to searching for love, one may end up kissing many frogs and perhaps debating different views, listening to different voices inside one's head on what to look for and what to avoid.
When you go on a date, you always wonder: What is this person thinking about me?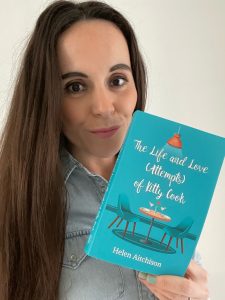 Helen's latest book, The Loves And Life Of Kitty Cook, explores this by journeying through any number of dates; with both disastrous and humorous endings.
The Loves And Life Of Kitty Cook (Extract, Chapter 20)
I get my notepad and think about what I want from a potential partner. So far, I'm not sure if anyone has been truly honest on their profile, so perhaps I need to start asking more questions in any communication and weed out the maniacs and game players. I can check against my initial message criteria this evening but will start to have more conversation with people before meeting them.
Non-negotiables
Must be over thirty years old and under forty-two years old. I don't want a man-baby, nor do I want to have a future with someone who's older than what feels a comfortable age gap for me personally.
Non-smoker. Tom has solidified this. It repels me, and there's enough illness and disease to worry about without the fear of lung cancer shadowing a relationship.
In Employment. I'm not prepared to financially support someone from the off.
Homeowner or renting alone. Someone living with friends in their thirties gives me party house or Peter Pan vibes; likewise, someone living with parent(s) feels a bit Mummy's boy.
I don't want to be a taxi, and I also want to be driven at times.
Intelligent, including emotional intelligence.
Personal qualities: must make me laugh. Must demonstrate empathy, kindness and compassion. Must talk about family and friends with positivity and love. No discriminatory views.
Sticking to what I like and not deviating unless the guy seems perfect in every other sense.
Must like animals.
Must not be afraid of planes/travel.
For the rest of the day, in between lessons, confiscating phones, breaking up a fight between two male students and marking a few assignments, I think of questions I will try and ask each potential man on Soul Mates. The site is entertaining and has done wonders to heal my broken heart, but four dates in, two of which were average and two disasters, I need a new game plan. A decade ago, I may have been happy sailing along for a few years, dating, not committing and flirting as a way to inflate my ego, but I'm a softie, even when I try to be emotionally strong and in control. I want to fall in love again, and I want someone to fall in love with me again. To sit on the sofa together in blissful comfort, holding hands and a cup of tea each. I want the first Christmas together, birthday and Valentine's Day. I want the exploration of personalities, bodies and mind. I want my soul mate, and I have to put the lessons I've learnt into practice; after all, I am a teacher.
© Helen Aitchison, 2023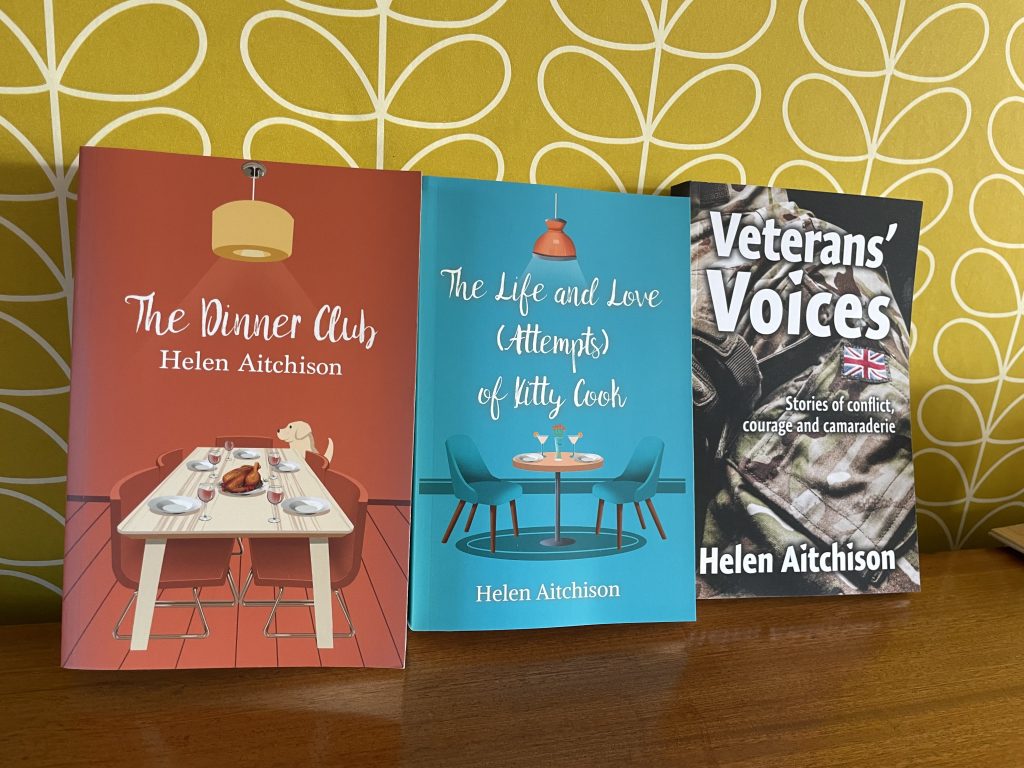 Helen can be reached at: helenaitchisonwrites.com, Facebook,  Twitter and Instagram
*****
We can never know what someone is thinking unless they decide to voice their inner truth. Thomas Nixon captures this sentiment perfectly.
Two Lonely People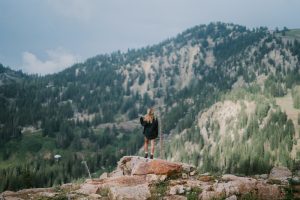 He'd been watching for a while, enough to become familiar with her goldilocks hair and runner's legs, nimble and tanned, with solid muscle she'd need when he was spotted. But it wouldn't help her much; he was already closing off her flanks with each step – enough so that the cliff would be her only escape.
He was considering this when she noticed him, her body freezing, her eyes widening. But like an animal, he was the startled one.
"Can you help me?" she whispered, her eyes glistening as they met his. "I really need someone to talk to."
(c) Thomas Nixon, 2023
*****
To end this Showcase, a reminder to continue caring for our environment. The sentiment is portrayed in this snappy cli-fi piece, again by Thomas Nixon.
Alligators In The Arctic
There are alligators in the Arctic now, tropical beasts roaming between the cracks in the ice sheets. They snap out skinny penguins who venture below, and snarl at the bears that guard the remaining land.
But these creatures are few now. Every day they travel further north, to the poles as the ice breaks apart behind them, leaving a lagoon of remains as they chase the last ounces of food.
And when the ice runs out, when the food is drowned and decomposed, then the alligators will die too. Because the water is too hot for even them to live in.
© Thomas Nixon, 2023
Connect with Thomas on Twitter: @Tnixon98
*****
If you'd like to see your writing appear in the Write On! Showcase, please submit your short stories, poetry or novel extracts to: pentoprint.org/get-involved/submit-to-write-on/
Get your digital copy of Write On! Issue 16 here, or pick up a copy in local libraries and other venues. You can also find previous editions on our magazines page here.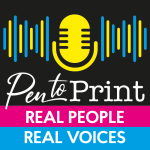 Hear extracts from Showcase in our podcast. Write On! Audio. Find us on all major podcast platforms, including Apple and Google Podcasts and Spotify. Type Pen to Print into your browser and look for our logo, or find us on Anchor FM.
*****
If you or someone you know has been affected by issues covered in our pages, please see the relevant link below for ​information, advice and support​: