Showcase: Voyage In The Dark + Half Term Reading + East End Women's Museum
We're almost two-thirds of the way through February and things are a little cold. But, with the recent snow and the days growing longer, there is more light, more birds chirping, more squirrels burying food for the next winter. Soon, we'll be moving into spring and (hopefully) getting a bit of warmth.
Speaking of warmth, our Showcase page this week is full to the brim with it. We have three varied features: a poem Voyage In The Dark by Maggie Harris, a short story Half Term Reading by Lynda Shepherd, and an article about the East End Women's Museum by Rachel Crossly. While different forms, lengths and tales, they're all expressing the creativity of women, by women. The deep emotions threaded throughout each feature invite us to feel their warmth, and perhaps just a little less cold. The human capacity for love, for strength, for protecting our rights and caring for our loved ones is boundless and demonstrated in each of these pieces.
As Maggie tells us: "Voyage In The Dark was written for a dear friend of mine, a fellow poet who was suffering from Alzheimer's and sadly has since died. We used to run a women's poetry group for many years. Jean Rhys, as I'm sure you know, wrote The Wide Sargasso Sea and she also wrote the short story Voyage In The Dark. Sugar And Slate is a novel written by Welsh/Guyanese author Charlotte Williams and won 'Welsh Book Of The Year'. Hilary and I, along with a few others, ran a festival in Thanet and we invited Charlotte to read at Broadstairs Library, as well as hosting her stay. I thought Voyage In The Dark was a suitable metaphor for the descent into Alzheimer's."
So, let us be the warmth while the months are still icy and we're still stuck in this predicament. Creativity, and love, can reach far beyond any physical distance between us.
And, as always, keep creative, keep growing!
Holly
Voyage In The Dark (for Hilary)
We swim towards each other in the dark.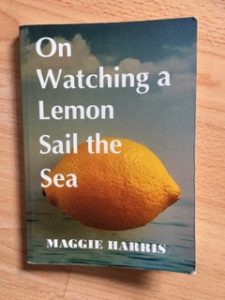 An oily dark, buoyed by tentacles of memory
that brush past our ears like feathers. Inconstant
syllables linger, phrases regroup and reform;
your turquoise earrings swing in their film
of silver.
Your eyes float towards me in the gloom.
Elizabeth Taylor eyes, they once danced with mirth
and innuendo, head tipped back for another glug
of wine, poetry tossed with pancakes,
metaphors mixed as salads.
You can no longer make tea. Your kitchen
is a place of unfamiliar things you wander
with lost hands. We are marooned here,
Seamus Heaney is still in the shed. Plath
and Hughes drop in, revitalise our meetings
as they always do, shine a light
on our constant tussle with ideas and form.
Sometimes Walcott returns, like The Wide Sargasso Sea,
Sugar and Slate, 'that lovely Charlotte', me,
those you welcomed with open palms.
I stroke the vein-blue thin of your hands.
From far away the clock booms another hour.
(C) Maggie Harris, 2020
Find Maggie's poem from her latest collection On Watching A Lemon Sail The Sea at: www.canearrowpress.com
***** 
Half Term Reading
"Are you all right, Hallie?"
"I'm OK, Gran."
"Come on, Hallie, I know that look."
"What look?"
"Like when your grandad tells me it wasn't him who ate the last chocolate biscuit."
Hallie giggles.
"So, what's up?"
"I haven't read the book I'm supposed to be writing an essay about," Hallie admits, chewing her lip.
"Have you got the book with you?"
"Yes. You're not upset with me, are you, Gran?"
"It's not great, but you can sort this out."
Hallie fidgets with the cuffs on her sweatshirt.
"Is there something else?" I ask.
"Erm, Ms Brown says we'll get an extra merit point if we include a fact about Dickens she hasn't heard before."
"You can do it."
"How?"
"Start with the reading. I'll put dinner on and call you and Jack when it's ready."
"Thanks, Gran."
***
An hour later, I'm sitting in front of my laptop, when I become aware of someone watching me.
"What are you up to, Gran?"
"Just catching up with some news. How's Oliver Twist?"
"Good. Did you know Oliver worked as child, like you did, Gran?"
"I did, but they worked much harder in Victorian times."
"It's brilliant; you can read it after me if you like. So, what's trending at the moment, Gran?"
"Trending?"
"Popular."
"Well, I thought I'd see what books other people are reading."
"Oh, did you find anything you like, Gran?"
"I have. You can do searches for all sorts of things."
I type Popular children's books into the search box. A second later, lots of headings appear on my screen: top ten lists, fifties, and even a top hundred for the year.
"Can I try something, Gran?"
I get up to let Hallie sit down. I watch the words in the search box change to facts about Charles Dickens. More headings appear and Hallie clicks on one beneath a picture I can't quite make out. I put my glasses on. A large version of the image now fills a third of the screen. An ink drawing of a bearded man wearing a long coat. I pull out another chair and read the text alongside my granddaughter. She's found something interesting, very interesting. The young Charles Dickens had been forced to work aged 12 in a factory, following his father's imprisonment for debt. Charles was mentored by a man called Bob Fagin. A fast learner, Hallie has found something she can use in her essay that would tie in with Oliver and perhaps, with a bit of luck, one which Ms Brown might award a merit point for.
***
Now all I need to ensure is that Hallie writes her essay and finishes reading the book. It's going to be tough. I also want Hallie and Jack to have fun. Both love sport and being outside. For once, I feel a gratitude for the leaflets that often tumble through the letterbox. Kye, a neighbour of my son, is running a football camp again over half term at the local park. Jack hadn't stopped talking about it for days after last year. A netball team are holding sample sessions on the hard courts down the road, which Jack had said Hallie might like. For a rainy day, there was crafting in the community centre. All this, as well as the lively market  Hallie loves accompanying me to. We could walk the dog down there, buy ingredients for dinner, which both Jack and Hallie could get involved in preparing. There would be time for Hallie to read and concentrate on the essay, too. Hopefully, it will all be worth it when I see the children again at their house for my son's birthday BBQ and Hallie will, by then, know what Ms Brown thinks of her essay.
***
I sit enjoying my favourite spot in my son's garden. The beautiful clematis-strewn arbour is providing a comfortable shady space beneath the cloudless blue sky, as I wait for my grandchildren to return with their mum and the dog. I hear them before I see them. A clatter of feet, varying in size, speed and rhythm, bursts in through the side gate.
"Gran, Gran!"
"Hallie, slow down, what's happening?"
Hallie stops in front of me, her face pink from running after the equally excitable little Sinatra, who is panting a little and settles by my feet.
"I got it, Gran.  I was the only one who got an extra one!"
"You've lost me."
"Gran, the extra merit point for my Dickens essay, and it's all down to you!"
Hallie plants a sticky kiss on my cheek.
"Can't stop, Gran. Dad's going to save me some food. I'm off to netball."
I shake my head. Down the other end of the garden, I can see Jack having a kickabout with his cousins. Where do they get their energy from?
(C) Lynda Shepherd, 2020
***** 
East End Women's Museum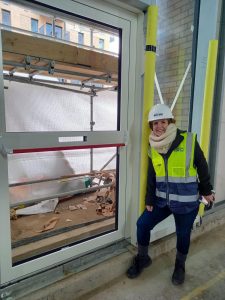 Working for the East End Women's Museum, I am lucky enough to tell stories for a living. Stories of women who might be brave, creative or resilient; stories that might never have been told before.
Some of my favourite stories are of women who went against the grain. Take Annie Newton, who took up boxing as a child in the 1890s to improve her ill health. She grew up to become a great boxer, and – though only five feet tall – could spar with several men in the ring at once. When her match with fellow female pugilist Madge Baker was banned in 1926, she contested: "All this talk about boxing being 'degrading' and 'risky' and 'too hard work' strikes me as very comic. Is it any more degrading, or half as hard work as scrubbing floors?"
Or Mary Frith, born in 1584, a pickpocket and performer, well-known in her day for dressing in male clothes, smoking a pipe, and drinking in taverns with men. They said of her: "She could not endure that sedentary life of sewing or stitching. She was a great libertine, she lived too much in common to be enclosed in the limits of a private domestic life."
Then there's Olive Christian Malvery, who came to London from Punjab in 1890. Horrified by conditions for working-class women, she became an undercover journalist, disguising herself as a factory-worker, grocery seller and coffee shop vendor to get a real picture of working conditions. Her articles were influential in exposing the inequalities of London life to a wider audience. "My desire to render service to the needy, to the working girls and women in this country, was not because of romance or sentiment, but because of the knowledge that unless those who are able will fight the battle for those who are disabled, there can be no hope of eventual reforms in the social system."
As for me, I'm really excited to be part of the East End Women's Museum at a time when we're setting up in a permanent home in Barking (off Abbey Road), hopefully opening later this year. It'll be a chance to share even more local women's stories, from the 'first feminist' Mary Wollstonecraft to the last-surviving suffragette Annie Clara Huggett, and from the early medieval writers of Barking Abbey to the Ford Dagenham strikers who campaigned for 'Equal Pay For Women'.
We hope you'll visit us when we open, and we'd love to hear the stories of women in your own family too!
(C) Rachel Crossley, 2020
***** 
Don't' forget issue 7 of Write On! magazine is out. Read it online here.
If you'd like to see your writing appear in the Write On! 'Showcase', please send your short stories, poetry or novel extracts to: pentoprint@lbbd.gov.uk.