Favourite Thoughtful Tuesdays: International Women's Day
By Eithne Cullen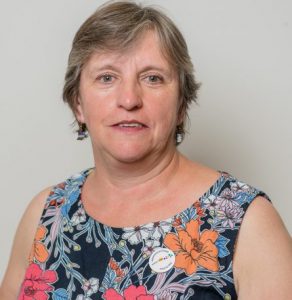 I'm delighted to re-share this page with you. It was initially run in March when we shared stories associated with women's empowerment and International Women's Day (IWD).
I have fond memories of International Women's Day from the time when I worked in a girls' school.  We always did a lot to remind the students of the changes women have made for us all and to celebrate their achievements. We even wore the ribbons of the suffragettes' colour scheme:  purple for loyalty and dignity, white for purity and green for hope.
I'm therefore delighted to share the writing of a couple of the Pen to Print team who have chosen to champion two important women.
*****
The first piece is from Claire Buckle, and she tells us how she came to write about a woman whose place in history needs to be made much more prominent.
As I was writing, it occurred to me how sad it is that there are still anti-vaxxers exactly three hundred years after the 1721 smallpox epidemic. 
 I brought Lady Mary to the attention of readers after I entered a competition with a fictionalised story about a confrontation between Mary and her husband over the inoculation of their son. The story came third. 
 I've done what I can to champion Lady Mary Montagu!
Had it not been for an episode of Four's Science Stories, I might never have heard about the pioneering role Lady Mary Montagu (1689 –1762) played in promoting inoculation against smallpox. But, you may well ask, wasn't Edward Jenner the scientist who created the smallpox vaccine?
He was, but it was Mary, a survivor of the 'speckled monster,' who advocated inoculation. She did so in the face of fierce opposition, even though the disease was the deadliest on earth, killing more people than the Black Plague.
In 1713, Mary's beloved brother died of smallpox and two years later, aged twenty-six, Mary contracted it. When she recovered, her previously flawless skin was badly scarred, her eyelashes were gone and the skin around her eyes would remain red and irritated for the rest of her life. But her spirit remained strong.
When her husband was appointed Ambassador to Constantinople (now known as Istanbul), she travelled with him to Turkey. She wrote letters home about her experiences, which would later be inspirational to women travellers and writers.
During her time in Turkey, she visited the Hammam and it was there she witnessed women performing 'engraftment.' She described the process as a wound being opened on a wrist or ankle and a small sample of pus (collected in a nutshell) from someone with smallpox, mixed into the bloodstream.
The practice was well established and had proved effective. The disease was far less prevalent in Turkey than in England. In 1717, when Mary wrote about what she had witnessed, she was among the first to suggest Muslim women had… values and customs that were worthy of respect, if not emulation.
It was when her husband was away on diplomatic business that Mary told the household surgeon, Dr Maitland, to inoculate her young son, Edward. The doctor was reluctant to do so but Mary insisted and wrote to her husband that the boy… was engrafted last Tuesday and is at this time singing and playing, and very impatient for his supper. She also wrote that she intended to bring… this useful invention into fashion in England; and I should not fail to write to some of the doctors very particularly about it.
Mary kept her promise and when the family returned to England in 1718, she had her daughter (also called Mary) publicly inoculated at the court of George I to try and popularise the procedure. Afterwards, young Mary ran a temperature and displayed a few harmless spots but made a full recovery.
Despite this, the medical profession mistrusted Lady Mary's discovery. The physicians made money from useless medical treatments and found it objectionable that a female should tell men what to do.  There was also resistance because the process originated in the Orient and was performed by Muslim women!
However, George I did agree that his daughters (but not his sons) should be inoculated and ordered the treatment to be tested on prisoners and orphans. Despite some progress, the medical profession still didn't embrace the procedure and when it was performed insisted on bleeding and purging before injecting, even though Mary warned it would weaken the patient.
There were, of course, times when inoculation wasn't safe, when people developed the disease and died, or contracted serious infections. Some articles even suggest Mary regretted putting the process into motion, as she was often greeted with scepticism and distrust.
As for Edward Jenner, he was ten years old when Mary died from cancer and he has rightly achieved worldwide fame for proving an inoculation of cowpox was much safer than injecting smallpox and provided immunity to the disease. But there is no doubt Lady Mary's efforts laid the groundwork all those years before.
Unfortunately, she has become better known for her travel writing rather than her role in promoting inoculations, and as such, has been consigned to history as a minor character.
Yet, without her determination, would Jenner have gone on to develop the vaccine?
The scientist, Francis Galton (1882-1911) wrote: In science the credit goes to the man who convinces the world, not to the man to whom the idea first occurs.
Nor, it would seem, to the woman.
© Claire Buckle, 2021
Claire is a widely-published short story writer. Connect with her on Twitter: @ClaireBuckle or Instagram: @cloubuckle
*****
The next piece, by Lucy Kaufman, tells us about Eleanor Marx: a woman who inspired her to write a piece of drama and whose life is one that can teach us a lot about how powerful women can be.
Artist Susannah Wallis has created a beautiful portrait of Eleanor for us. It's fitting that she chose to use textiles to make this fabulous picture. When we saw it we all had lots to say about the way the use of fabric tied in with Eleanor's friendship with William Morris and the arts and crafts movement. Having her portrait in fabric is a fitting way to celebrate her and her artistic friends.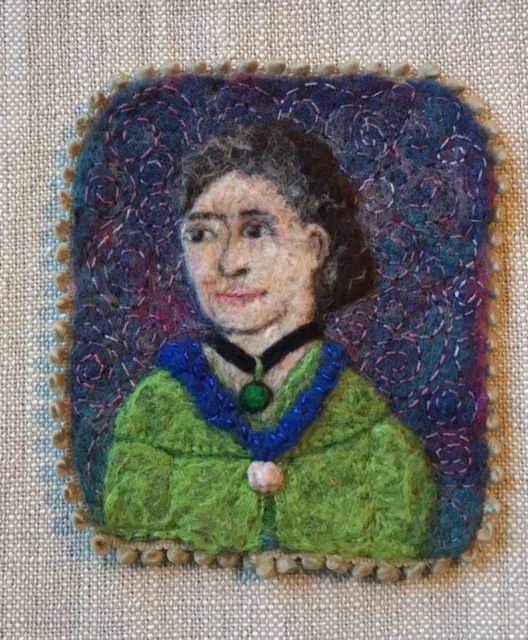 Eleanor Marx
On a bitter day in March 1898, a woman was found on her bed at 7 Jews Walk, Sydenham, dressed in a white summer dress and turned bright blue from Prussic acid poisoning. The woman was Eleanor Marx, Karl Marx's youngest daughter, and the verdict given at the inquest was 'Suicide by swallowing Prussic acid at the time labouring under mental derangement'. At 43, the foremother of socialist feminism was dead.
One hundred and twenty-three years on, Wikipedia states Eleanor Marx's death as a suicide. This, despite the discrepancies in the testimonies at the inquest and the fact that her friends were suspicious of her common-law husband, Edward Aveling, and planned to take a civil case out against him, for murder.
In 2014, I was in Sydenham, rehearsing my four-part WW1 musical, Till The Boys Come Home, which followed the lives and deaths of six gas workers, when a member of the choir thrust a pamphlet under my nose, saying, "You must write a play about this woman. She lived in the next road from here and founded the Gas Workers Union. Look. There's a book about her."
There I had my first encounter with Eleanor, via a thumbnail of a simple line drawing on the cover of Rachel Holmes's newly-published biography Eleanor Marx: A Life. A quick Google and I discovered Eleanor's famous family ties and the bare bones of her tragic story. I promptly dashed to Jews Walk to examine the house where she lived and died. Writers are much like journalists. We can't resist the whiff of a good story. I knew this particular story had more than the faint aroma of my next play, and I knew where I wanted it to be staged. I devoured Rachel Holmes's biography, a book as page-turning, rich in detail and darkly Gothic as the best Victorian novels; half-berating myself for not having heard of Eleanor sooner, half-sighing with relief I had chanced upon her at all.
In Eleanor Marx, I discovered the inimitable Tussy (as she was known to her friends and family); only it felt like a rediscovery of someone I had known all my life. As the youngest daughter of a penniless socialist with a bushy beard, huge ideas* and a German surname, the young Tussy and I had much in common. It was the older Tussy, though – the campaigner, writer, translator, political theorist and pioneer feminist – who had more to teach me and who inspired me most. And it was her horrific end I felt compelled to dramatise: how this powerful female voice – one that could have gone on to make further indelible marks on history, and I had grown to love – was silenced forever.
I no longer berate myself for coming late to Eleanor Marx. The name of her more famous father, rightly or wrongly, has eclipsed hers. Her gender, perhaps, has not helped her have a place in the taught history of our radical past. Thanks to Holmes's book, this giant of socialist feminism is now seeing a revival. A woman a hundred years ahead of her time. Perhaps it takes this long for a progressive such as Eleanor to get a firm footing in the public consciousness. For a modern audience, though, Tussy is a drug. Once encountered, one is hooked.
Eleanor Marx moved to 7 Jews Walk believing she would be happy there. Her fascination with her Jewish heritage meant the name of the road seemed a good omen. Less than three years later, Tussy was found bright blue and dying. Was her death caused by her own hand, as the jury at the inquest believed, or did her 'husband' Edward (a man described as physically repulsive, whom her friends called 'a reptile', 'a little lizard', 'a disreputable dog') have a hand in it?
Set entirely at 7 Jews Walk, the final seven months of Eleanor's life are dramatised in my play, Eleanor Marx: The Jewess Of Jews Walk. Produced by Spontaneous Productions, the play enjoyed a sell-out four-week run Upstairs at the Sydenham Centre in 2018, and starred Sarah Whitehouse as Tussy.
© Lucy Kaufman, 2021
Lucy Kaufman is an award-winning playwright and author. She teaches Playwriting and Screenwriting for Pen to Print. Connect on Twitter: @lucykaufman_ and on Facebook: https://www.facebook.com/LucyKaufmanAuthor
*****
I hope these pieces have inspired you to find out more about the women who have shaped and changed the world we live in. I hope you have the chance to write about them and share your work with us at pentoprint.org.
Eithne Cullen
*****
Read the latest issue of Write On! magazine online.
For 20% off Writers' & Artists' Yearbook 2022 and Children's Writers' & Artists' Yearbook 2022, use the discount code WAYB22 at www.bloomsbury.com.
Re-sharing this page with you from March when we shared stories associated with women's empowerment and International Women's Day.