Write On! Interviews Anna Robinson
Write On! interviews author, poet and Pen to Print regular, Anna Robinson.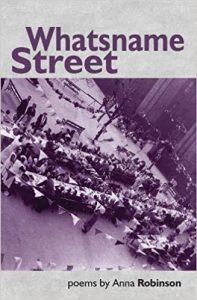 Anna is a poet from London. She has written three collections of poetry: Finders Of London (2010, Enitharmon Press), shortlisted for the 2011 Seamus Heaney Prize, Into The Woods (2014, Enitharmon Press) and Night Library (2015 Stone Wood Press). A new collection, Whatsname Street was published on 1 August by Smokestack Press. Anna has been the poet attached to Pen to Print from the beginning. She teaches the regular poetry workshops and is also part of the book mentoring project.
WO: How would you describe your writing to someone new to it?
AR: I'm a working-class woman who loves lyric poetry and a large part of my writing development has been to allow my own voice in: my speaking voice, rather than a more rarified 'writerly voice'. That said (I am quite naturally wordy), I was always being asked,  mostly by adults around me: "Did you swallow a dictionary?" Not by my parents, though, they were also a bit wordy!
WO: Can you tell us a bit about your latest book, Whatsname Street?
AR: I set myself the task to write a history about the housing estate I live on. It's an old estate, built-in 1903 and was the last project to be managed by the Victorian housing pioneer, Octavia Hill, before she died. So, it was managed in quite a paternalistic (or maybe maternalistic) way. The landlords were the Church Commissioners, who sold the estate to Grainger, the largest private landlords in Europe. History is nearly always written at a time of change and we collectively – as a community – became very conscious of our history. So, I set myself the challenge of writing this as a factual account: containing memories, commentary on objects, pictures, and voices, including those in archives, as well as us in person. It was hard, as I couldn't deviate from my rule: that everything must be citable and verifiable. I am proud of it, but don't know if I would work like that again.
WO: What inspired you to write in the first place, and what inspires you now?
AR: I wrote as a child. My first big project – never completed – was a book for my dad about Lancashire dialect poets. I never completed it, because a book was published on the subject and that was good enough. I am often writing to say something I feel I want to communicate: that I don't hear said – or said often enough. In my reading, I love best the books that do just that; the ones that surprise me. I recently read an essay by Rebecca Tamas, On Watermelon, where she talks about 'The Diggers' or 'True Levellers' and also about the climate emergency. I don't think there was a thing in there I didn't already know (I had a first edition copy of one of Gerrard Winstanley's pamphlets in my desk drawer for two years in a job I had in an archive),but the drawing together of those two sets of protests made it a piece of writing that made my heart sing.
WO: The current issue of Write On! explores the theme 'Keep Going!  – Creating With Perseverance And Courage.' With that in mind, what markers have defined your writing journey? Tell us about where you've had to dig deep to keep going… 
AR: Digging deep to keep going has largely involved coping with how all my time and energy is taken up by the business end of being a writer: teaching it, editing and other bits and pieces and being grateful for that, as it pays the bills better than the writing itself does. I know that, later this summer, there will be time to write, and some new directions as well. Essays will be the thing – I think!
WO: What one piece of advice would you give an aspiring writer?
AR: Read, walk and think.
WO: Can you tell us anything about future projects?
AR: Sadly, no. There's always a hiatus after a book is put to bed, and this one is lasting ages.
WO: Lastly, if you could choose one fictional animal/creature to be a pet or companion, who would it be and why?
AR: Two Eyes (a mammoth who featured in a children's book called Little Nose And Two Eyes). I also like Slinky Malinki but, already live with two contenders for that name!
You can find out more about Anna Robinson at her website: www.annarobinsonpoetry.co.uk. Whatsname Street is available to buy from Smokestack Books.
*****
For 20% off Writers' & Artists' Yearbook 2022 and Children's Writers' & Artists' Yearbook 2022, use the discount code WAYB22 at www.bloomsbury.com.
Issue 9 Write On! magazine is available now. You can find it here.  
I'm a working-class woman who loves lyric poetry and a large part of my writing development has been to allow my own voice in: my speaking voice, rather than a more rarified 'writerly voice'.