Thoughtful Tuesdays: Unplugged
by Eithne Cullen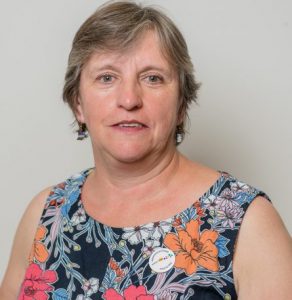 Our theme for this week's magazine is 'Unplugged'. We've been cut off and plugged in for a long time now. Everyone says: 'What would we have done without the technology we've got?'
For me, the theatres streaming performances has been a real lifesaver, a reminder of normal life. And I have been enjoying a sing-a-long in the great outdoors with my husband and his ukulele friends; now that really is an unplugged experience.
I've been plugged in myself: I was successful in a Poetry Society competition, the subject was cats. Although I am not a cat person, I had a cat in mind to write about. I was fortunate to have my reading of my poem featured on The Poetry Society website. You can see/hear it here: poetrysociety.org.uk/poems/boy-cat
Artists are finding other opportunities to share and display their arts. You can even go on a virtual gallery tour. On Monday 23, there was talk of opening galleries and museums, but I wonder if we'll all be rushing to take the tube to visit the big ones?
Two artists have carried on unplugged in lockdown and have shared some work with me. Coincidentally, they both live in Walthamstow.
David Cullen is an artist, cartoonist and printmaker. He's shared these two images for us. They are as far from technology as we can imagine; effectively capturing the people they portray.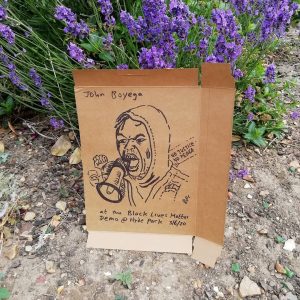 John Boyega At The Black Lives Matter Demo (2020)
By David Cullen
Felt pen on upcycled cardboard
31cm x 24cm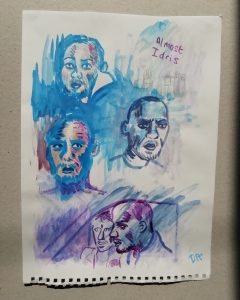 Almost Idris (2020)
By David Cullen
Ink & pencil on cartridge paper
29.5cm x 21.5 cm
You can find out more about his work here:  http://www.davidcullenart.co.uk/  and on Instagram: davidcullen_art
*****
Pauline Cushnie describes herself as a London-based artist who enjoys experimenting with colour and various media.  She graduated with a Fine Art degree from London Guildhall University.
Her work currently includes 'Paintings – Portraits & Life Drawing' with the Hesketh Hubbard society at Mall Galleries.
For last week's 'Standing Together' theme, Pauline allowed me to use her trio of portraits (called Sky Arts celebrity portraits). She has painted this portrait of her mum: Cherry With Pink Cup in lockdown, but she hasn't been able to deliver it yet.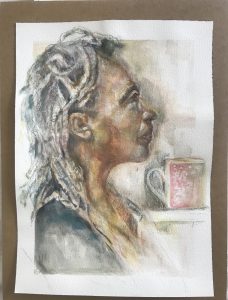 Connect with Pauline on Instagram: Pauline_Cushnie_art
*****
Nina Simon's poem Virtually Disconnected gives us a picture of the way technology is dominating her house at the moment. She needs to be dexterous to manage it, and also needs to keep a clear head at all times.
Virtually Disconnected
Days are different
cocooned inside home's protection
instead of the daily trudge to work.
My son-in-law works downstairs
on the dining room table,
talking to victims of domestic violence,
while my daughter taps metronomically
on her laptop in the lounge,
writing final chapters
of a four year PhD she can only submit online.
No finely bound tome in black leather
with name embossed in gold
that I can place proudly on my bookshelf.
I move between the lounge and garden,
juggling two laptops to access my work desktop
amid the constant ping of WhatsApp messages.
I've never spent as much time
writing content for social media,
hosting meetings on Zoom, Teams, Skype
quizzing with family and friends,
facetiming my older daughter and fiancé
till my Macbook's fan whirrs and overheats.
Lines between work and home blur to chaos
that fills my head with noise,
turns sleep to nightmares,
three strangers walk into my dreams,
stand on my doorstep,
not complying with social distancing,
laugh at my shouted warnings
as they push into my safe bubble..
A large pack of tiny black dogs
cling to my arms and legs,
biting, scratching, biting
and like my thoughts
I can't shake them off.
(C)  Nina Simon, 2020
*****
Oona Kelly has been keeping her COVID Diaries, in which she's been cataloguing the ups and downs of trying to get on with life as well as she can. She's shared these entries with us and, in this first one, she explains how the internet helped when looking for face coverings (Jim is her husband). The other big technological parts of her life appear as her overlocker and sewing machine.
Facing up to it – the gritty problem of face masks.
I searched everywhere for the face mask I use for soldering stained glass, but no luck. So I took the drastic step and fired up the internet and entered the vortex of despair, a.k.a. Pinterest, a.k.a. needle in a haystack. The random stuff that pops us is unbelievable. You look for garden design and it comes up with old geezers knitting!
Eventually, I came up with a pattern for my model, Jim (the one who does the shopping). I don't know how effective these masks are, so I go back to searching the internet engine. The conflicting advice is like listening to the government spokesperson during the evening Corona (or is it Coroner) Daily Briefings.
The sewing machine and overlocker came into great use when my knitting group approached me to make medical uniforms, known as 'scrubs'. I am now part of the 'Highams Park Scrubbers' (no jokes please). They are delivered to your door, already cut up, along with instructions as precise as a German train timetable. They also wanted bags made for the scrubs. So I raided my stash of 'to do' material and gave them to a couple of old dears up the road who had heard what I was doing and wanted to join in. Like smokers, sewers always have a supply of material in case they run out!
Friends who I haven't heard from for years have also been contacting me about making up face masks. I'd like to share with you the things we discussed:
Friend: "I wore mine today. Could smell smoke from a cigarette, but will make a couple more 'just to have in'. I'm using a bed sheet as the inner lining and T-shirt for the outer. Do you think that's OK, or should I use something thicker?"
Answer: "How on earth are you able to smoke with it on????? Material sounds OK but maybe you need fire-retardant materials because you could set fire to yourself."
Disclaimer: I know this is an invasion of privacy and GDPR (or whatever the initials are) but if the person 'outs' me I will be revealing who it is and telling her husband why there is a round hole in the middle of all the bedsheets!
In this next entry, the technology comes in the form of hair clippers and beauty treatments.
COVID Diaries – Bad Hair Days
Boris obviously expected his hairdo (or undo, in his case) to become the 'new look'. I haven't, yet, seen men locally with the 'hedge backwards' look, so it's obviously not caught on!
Have all the men bought those shavers  you see advertised on the back of the bus? For myself, having vast experience of shaving both Jim and the dog, these shavers are not that easy to use. Even though Jim wriggles less than the dog, he has ended up with a Mohican at the back, when he forgot which attachment to use. A word of warning to people who are now forced into styling their partners' hair: always start at the back and don't give them a mirror afterwards to view the finished article.
Hairdressers in Germany are booked up all summer, but why do people on TV have such neat haircuts? Round here, many of the women are sporting a new look, which I am calling 'the white line look'. Usually, my neighbours don't step outside the house without pristine hair. Now, they look as though they've been run over by the groundsman at the local cricket club. If you look closer (adhering to the 2m social distancing), you can see they are also sporting batwing eyebrows like Denis Healey.
Their skins have also taken a hammering. Because their alcohol consumption has increased, noses are taking on a purple hue with broken veins, not unlike  the London Tube map. A lot of them are driving with blue gloves on. Do not be deceived into thinking that they are worthy souls doing good deeds in their communities – it's because they can't get their nails done!
*****
Evangeline Vincent-Davis' poem has picked up on lots of the stresses and strains we've faced in lockdown and highlights the way communication has become remote, aided by the technology in our lives.
IT'S A PANDEMIC!!
No socializing! Wear your masks! Stand at the distance! Stay indoors!
Commands!!!
That could wreak of boredom, rebellion, mischief and horrors
But if you want to be alive and not be caught by the wind of Covid 19's ravaging
These warnings should be appreciated and encourage serious and immediate adjusting
It just happened like a thief in the night and no one saw it coming
With its deadly attack silently and quietly lurking for its next victim
All the objects, links, places and people we are attached to, suddenly gone remote
No time to complain but appreciate the technological inventions like Zoom that keep us afloat
Texting numbers, urgent messages and communication with essential services still exist
The temptation to be selfish, careless and take risks from these we should desist
Observe all the given warnings and appreciate the concern, support and love and care
Our competent leaders, caregivers and doctors are demonstrating without fear
Death numbers soar as ignorance prevails, and to curtail them, to numerous natural remedies we are directed
These are interesting times; our decisions should be for life or death and the consequences expected
Time for introspection, bask in the beauty of nature, smell the roses in your garden
Enjoy the view through your window, that therapeutic radiant sunset in the horizon
Of those we offended beg pardon, live in love, share with those who have nothing
The world has suddenly changed, let's discern and adjust to it quickly and stop fussing
Perhaps I am tired of the bad news but being alone has given me time to organize
Things I have left undone for years; occupying myself constructively, I must prioritise
Amidst the shopping anxiety, going to the pharmacy, I can rest, sleep and exercise
Let's look forward to the new world in which we are about to enter or be ostracized
The choice is yours!
Pray for the wisdom that your outcome will be happiness and joy
The reality is we are all going to die one day, do we desire to live eternally or remain soul-less like a toy?
(C) Evangeline Vincent-Davis, 2020
*****
Clare Cooper and her partner, Allan Lochhead, have invited their computer to have its say about coping in lockdown:
Hello, there!  My name is Apple Mac. Mac for short.  Apple is a piece of fruit, or a silly name celebrities give their offspring, surely? But I digress. Before this thing called 'lockdown' I was happy sitting here, on my desk in the office (front bedroom), minding my own business and spending many a pleasant hour gazing out of the window. For the past few months, though, I've been called into use every single day. No more daydreaming for me!
After setting me up with a natty little webcam, Himself is working from home and Herself is doing daily editing sessions on something called 'Zoom' as well as regularly blogging about this very strange time we're all experiencing. She doesn't do a lot else with me but, my goodness, Himself has kept me busy with all his online classes, work meetings on 'Teams' and catching up with his mates on 'Whereby'.
He does boxercise twice a week, guitar practice every two weeks and acting and speech lessons every week. Everything he's always done in 'normal' times, in fact, bar his regular acting improvisation class, which he misses, I know. I wish I could help him out with that one, as well, but it's not the sort of thing you can do online, apparently. My Central Processing Unit is boggling.
You'll have to excuse me now.  I'm exhausted just thinking about it all and I need to start charging myself up for the next onslaught. Ta-ta!
*****
And finally…'Unplugged' reminds us that we can find peace and serenity in this busy world. I'd like to finish with a little escape from the noise of the technological world to the quiet of Heather Goodman's garden poem.
In The Garden.
Silence.
Quiet. The hum: of insects nearby, of planes in the sky.
A child's voice, indistinct, gardens away.
A train sirens its cry, runs its track rhythms evenly,
At the edge of hearing.
Yellow pompom blossom twitches slightly,
The dangle of creamy lemon broom
Just nudge in the evening air.
And the birds are here: chirp cheerful,
Caw coarse, to reassure.
(C) Heather Goodman, 2020
Nina Simon, Evangeline Vincent-Davis and Heather Goodman are all members of 'Write Next Door' writing group.
We're celebrating 'Pride' month in next week's theme. If you've been inspired to write or create, do send us your pieces.
Everyone says: 'What would we have done without the technology we've got?'