Thoughtful Tuesdays: The Voice Of Empowerment
By Eithne Cullen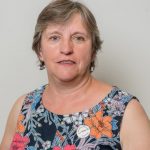 Welcome to March's Thoughtful Tuesday. We're still thinking about the world of contradictions and how they influence our thoughts, our writing and our reading. It's Women's Empowerment month, too, with International Women's Day on the eighth, a fixture in our March calendar, not just here but all over the world.
So when it came to choosing pieces for my page, I was thinking of these two themes.
Personally, I love reading books and poems with strong female characters and strong, empowered voices.  However, women's empowerment doesn't just come from women's voices; others have a role to play also in sharing and inspiring stories where women shine as mothers, daughters, partners, employees, members of society, role models and so on, and I've chosen a selection of pieces by men and women to touch on some of this.
First, here's a piece from our Editor, Madeleine White, which looks at maternal love and that horrible feeling we call 'empty nest syndrome.' It certainly touched me.
The Candle And The Phoenix
"I want to be a candle," she says.
"Nicely scented, fragrance drifting.
Shifting haze lightly warming.
A pleasant, unobtrusive me.
Shining peaceably."
"But you're not," I say.
"You blaze and amaze.
Darkness dispelling; adversaries quelling –
Your courage puts fire enough in my belly
To proudly display, these…
My own feet of clay."
"But I am a candle," she says.
"Wick embedded in a jelly self
That wobbles a bit in its jar on the shelf.
The quivering flame not quite bright enough
To show up my wax-etched lack.
But the room smells nice."
"You can think you're a candle," I say.
"But while you're busily filling the glass you sit in
In order to fit in
A phoenix arises.
Using the day's lassitude
It shapes fortitude.
Fanning the flame it calls your name.
Furious wings igniting the ashes from whence it came.
'Til you're the sum of all it's become."
"That's not true!" she cries.
"Stop veiling my eyes
With your dreams for me."
"Just be," I say.
"Let your tears fall, they heal the before.
You'll see beyond who you thought you were
Fragments shattered, they lie scattered.
And the scent burns as the world turns
Winged Glory unfurled
You rise anew."
© Madeleine F White, 2022
*****
The world of myths and legends gives us many powerful women to consider. This fabulous image of Hecate was created by Lauren Callis. It's an amazing picture of an amazing figure.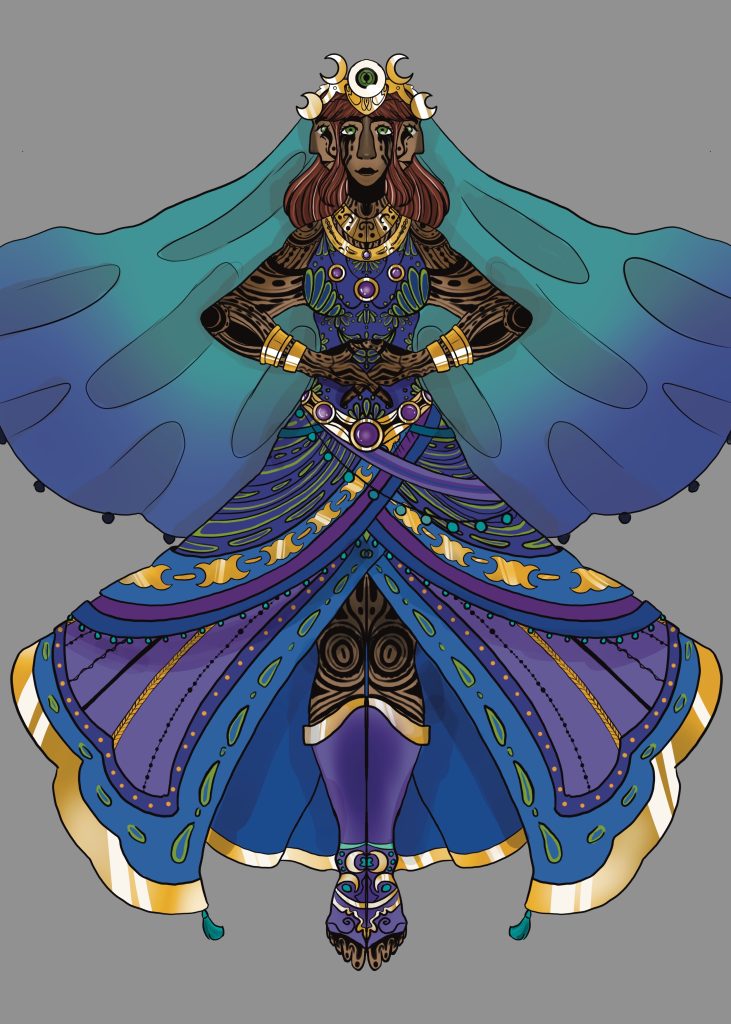 Hecate was a remarkable figure in mythology: a Greek goddess capable of both good and evil. She was associated with witchcraft, magic, the moon, doorways and creatures of the night like hell-hounds and ghosts. She's often depicted carrying a torch to remind us of her connection with the night. As the goddess of boundaries and the guardian of crossroads, she has three faces, enabling her to look in all directions at once. Clad in a long robe, she's often seen holding burning torches, a key, or snakes, sometimes accompanied by dogs.
I first came across her when she appears in Macbeth, ruling over the three witches and claiming she should be acknowledged in their dealings with Macbeth. Could she be seen as an assertive manager, claiming recognition for her work?
Thanks to Lauren for sharing this great image!
*****
Thomas Nixon submitted this piece, an intriguing look at a relationship. He captures the feeling of comings and goings, where we take one another for granted, or forget to pay attention to one another. I love the way 'she' is merely suggested in the final line.
Do I Miss You Too?
They worked opposite shifts and, though Andy always tried his best to get back early, all he came home to this morning were ruffled bed sheets and empty cereal bowls. He sighed and flicked on the tap, tossing the dishes inside the sink.
He was walking to the bedroom when he saw it, an imprint of his soul in the early morning condensation. Andy squatted down, read it and remained still a moment. Then, with his sleeve, he erased it entirely, leaving only a blurry imprint where early morning light shone through.
Even if she had time, would she ever make it for him?
© Thomas Nixon, 2023
Connect with Thomas on Twitter: @Tnixon98
*****
In this next poem, the poet shares the feelings associated with love and longing.
Eternal Love
It feels life so dry,
Longing you on my side,
To make love beyond everything,
To cherish it more than anything,
Let your lips be my bed,
And, there my smile ever sheds,
The earth into a paradise,
When you and I close aside!
© Akshitha Ramalingam, 2023
Connect with Akshitha on Instagram: @akshitharamalingam on LinkedIn: @akshitharamalingam and via their website: akshitharamalingam.com
*****
Here's a story from Pen to Print regular, Lynda Shepherd. It sits really well in this selection as a story with a female character who is hesitant and confident at the same time. She certainly becomes empowered by the end of the story!
Common Ground
I can't believe it. Here I am, Sally Watkins, at the Hay Festival. Not writing about a church fete or a prize-giving for the best marrow!
It had been quite a coup to be the first to know he'd be here, an opportunity too good to miss. I have an appointment, so there's no standing around getting wet in the vague hope of an exclusive. So, why do I feel that something's not quite right? When I arrived, I thought I spotted one of the magazine's other reporters disappearing from the central festival tent. Has Sadie Donohoe come, confident that any famous face will want her to interview them? I have to stop overthinking…but there had been that incident with the missing train tickets. Did Sadie pinch them? I need a cuppa.
While I wait my turn in the refreshments tent, I wonder how to greet the veteran broadcaster turned novelist. The likes of Sadie Donohoe will strut in as if it were an everyday experience. Fake it till I make it? Others may suggest a gift, but that's ridiculous. I'm not here to visit a relative. So, what is the magic approach?
At the front of the queue, I see a man in a leather jacket leaning in to ask for something. I can't hear all of what he's saying: "Are you sure there's no..?"
I look away, hoping I'm not about to find out they've run out of tea bags. I look back again, just in time to see the man disappear through a tent flap further down.
Clutching my travel mug with a tea bag string hanging from the lip like fallen bunting, I stroll through the central tent towards the interview space for headliners such as my interviewee, Tom Thompson. It's easy to spot. A table with two chairs and two floor-to-ceiling height screens behind. The larger central one has the cover image of a cobbled street scene and the title of Tom's hotly anticipated debut novel Hometown. The other, Tom's wistful-looking author picture.  I sit down and fish out the Tupperware box, some pens and my notebook from my rucksack. Opening the notebook, I rehearse the questions again in my head.  Then I open the box and feel instant comfort at the sight of chocolate brownies. Two oversized squares; one for now, one for later.
"At least someone's got some cake." An instantaneously recognisable voice startles me just as I take my first delicious bite.
"I made it," I say, as a piece of brownie falls onto the table. I slide the Tupperware across.
"Tom William Thompson." He introduces himself with mock seriousness. Studying my face, his eyes twinkle with their trademark mischief.
"Sally Watkins, Our Time magazine."
"My 11.30. I'll be talking to your Editor."
A tremble of fear shoots through me at the thought. What do I do? I glance at my watch: 11.20. Despite the twinkle still in evidence, I feel uncomfortable meeting Tom's gaze.
He unzips his leather jacket and settles, as though we're in some comfy hotel rather than a festival tent in the middle of muddy farmland.
"Some drama school oddball came to interview me, saying they were from your magazine. Sadie something. When she casually mentioned she also does interviews for Stage And Screen, I think she assumed I'd forget all about my scheduled appointment."
"She's interviewed lots of big names."
"Well, today she's not," Tom chortles.
"No," I say, wondering why he's laughing and if he's about to tell me to leave.
"Don't look so worried. You're prepared. Which is more than your friend Sadie was, for my security guard, when Mark showed her out."
"Oh."
"He brought these back; I don't know what he thinks I'm going do with them. Perhaps you could return them."
Tom takes out a carrier bag from beneath the chair next to him.  Curious, I peer inside and glimpse a pair of Sadie's trademark heels covered in mud. I clear my throat, composing myself at the thought of Sadie's heels getting stuck and her squelching across the field barefoot.
"Is this your first time at a book festival?" I ask.
"Yes. I love it; feels more real than the fancy pants hotels my agent books me into." Tom picks up the other brownie and takes a bite. "Mmm, this reminds me of visiting my nephews. My sister always bakes brownies. We sit on the back step. Like we did when we were teenagers. A great big chunk with a mug of tea. One of the first things she ever learned to make."
"Your main character's mother makes him a bacon sandwich every time he visits her. Is she modelled on your sister?"
"She is; you're smart, aren't you?"
I smile and feel my shoulders relax.
"How would you describe your writing?"
"I'll tell if you lose that," Tom dares me, pointing at my notepad. He leans over and slides it over to his side of the table.
I watch him read, then close it and turn it over.
"I hope it comes across as natural. I don't want to write about some suave bloke who drinks trendy cocktails. I write about people, real people like me and you."
"Characters we can find common ground with. Like we have?"
"Exactly. You're very easy to talk to."
"Thanks."
"Really. I can see this interview being just the start for you."
I smile; perhaps I can give Sadie a run for her money. Just without the high heels.
© Lynda Shepherd, 2023
*****
Finally, here's a little something from me; a fanciful piece about a beauty queen who rises up.
Carnival Queen Of Whalebone Lane
Carnival Queen of Whalebone Lane,
Mary, sits snugly in the steely adventure
of weather where daylight turns
and the fair freckling of rain arrives.
She feels light, free from restraint:
a new woman,
uplifted by the love of her community.
Without rousing the sleeping dragon,
(dragons sleep a fair bit)
she seizes her freedom, starts to fly,
knowing the feeling of an opportunity
to let her hair down.
© Eithne Cullen, 2020
*****
Let's hope all women we know and meet feel that freedom to rise up and fly – or at least go on fighting for the right to that freedom! And if they are doing it in their writing, they should send it in to pentoprint.org to see it on the page or on the screen.
*****
Read Issue 15 of Write On! Magazine here.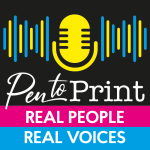 You can hear great new ideas, creative work and writing tips on Write On! Audio. Find us on all major podcast platforms, including Apple and Google Podcasts and Spotify. Type Pen to Print into your browser and look for our logo or find us on Anchor FM.

*****
If you or someone you know has been affected by issues covered in our pages, please see the relevant link below for ​information, advice and support​:
However, women's empowerment doesn't just come from women's voices; others have a role to play also in sharing and inspiring stories where women shine as mothers, daughters, partners, employees, members of society, role models and so on.