Thursday Connectors: Hear My Voice
By Farzana Hakim

From Women's Creative Writing Workshops To Stories From The South Asian Diaspora
Hi, all!  Welcome to an exciting Thursday Connectors, with me, your host, Farzana Hakim. In my previous edition, I promised you a different format from the usual for my June  Connectors, and being one who honours her vows wholeheartedly, I bring to you my 'Hear My Voice' special, with a focus on everything I've been doing during Newham Heritage Month 2023 as a storyteller and researcher of my own festival project: 'Stories From The South Asian Diaspora.'
This is why today's Connectors are different; i.e. I'm not showcasing creative works this month. Instead, I'm sharing highlights and snippets from the stories I collected while working on my project.
'Hear My Voice' first started with a series of creative writing workshops for women facilitated by Pen To Print at Barking and Dagenham Libraries. I wanted to give women a voice and use the art of writing as a tool of empowerment. 'Hear My Voice' appealed to women as far away as Nigeria and Sudan in Africa, Karachi and Gujar Khan in Pakistan, Kerala and Goa in India and South Carolina and Virginia in the USA, as well as to women from Europe. This made me realise the importance of platforms such as my workshops.
By sharing my stories, I empowered women participants  to tell theirs. That personal honesty made all the difference. As a bonus, I began offering publication opportunities here on my Thursday Connectors page for some of the pieces written during my workshops. This was a step towards empowerment; bearing in mind some of these women had no experience of any written work or creativity.
'Hear My Voice' has now become my motto. It's also a goal  I'm aiming to build upon. So, when I heard Newham Heritage Month was interested in projects researching Newham's Arts and Cultural Heritage, I knew I had to be a part of it all!
In Newham, I know many fantastic people from the South Asian Diaspora: women who have been housewives since they arrived here, as early as the 60s or 70s, who have colourful and diverse stories hidden inside them. I wanted to make these women heard. The same for the men I interviewed. I set out to engage the hidden residents, who are heroes within their own families and have raised children and made a good life for themselves while overcoming racism and prejudice struggles along the way.
These residents needed a celebration and my project gave them that sense of being appreciated outside the four walls of their own homes.
This nostalgic journey was sentimental, full of emotions and the stories I collected have been a delight to record. As an oral historian and researcher, I found out so many things about the past and about how life was so much different from what I, as a third-generation daughter of a British Pakistani family, has seen or experienced in my life. Three of the residents I interviewed wanted to conduct their interviews in Urdu and Punjabi, and being bilingual, I happily agreed; meaning I was able to collect authentic stories without any filters. This was important.
The women's stories gave the most insight. Being an advocate of women's voices and a firm believer that women are the mothers of all storytelling, I was truly taken aback by how hard life was for these young brides when they left all behind in India and Pakistan to be with their already emigrated grooms over here. This transition was hard, and the more I learned about it, the sadder I felt.
To celebrate the project with my participants and the wider community, Newham Heritage Month were kind to let me host an event to showcase my findings. At this event, I had a great time showing a film I'd produced myself, even though mynerves were all over the place! But it all came good on the night and the evening was a lot of fun.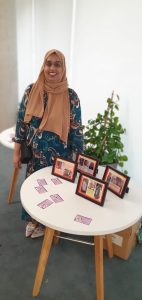 This month's page comes from the team at Newham Heritage Month, which they prepared especially for you. I love connecting cultures and communities, so thank you, James, Anna, Jan and Faizan, for sharing the great work being done for, and by, the people of Newham.
Hi, Newham Heritage Month. Let's connect:
Newham Heritage Month 2023 is brimming with activities and events shining a light on Newham's richly diverse heritage. Farzana Hakim's opening event 'Hear My Voice' has been hailed as one of the highlights of this year's festival and its success underscores why projects like this are so important. These are fascinating, valuable and inspiring insights into our community's heritage, many of which have not been widely heard before.
Sreejith Sreedharan, Director of M.A.U.K, who led the sell-out 'Cultural Newham' event showcasing Bharathanatyam and traditional dance forms, says: "It was a really successful event, selling more than 350 tickets. The most important aspect was that we had trained 25 children and adults and introduced them to the dance form. Their performance was brilliant.
The other positive, really beautiful thing was the diverse range of people taking part. It's rare to see such a diverse range of artists and dance forms coming together from the different communities – and it was free!
The audience was diverse as well, and we were able to achieve this thanks to Newham Heritage Month. It was all about giving people from different communities an understanding of what Newham's about, and it was really good to be able to showcase that."
Some of the many projects reflecting Newham's diverse voices are still to come, including 'Reclaiming Our History' celebrating African and African Caribbean creatives in the borough, 'Exploring The Heritage Of World Textile Techniques' which will demonstrate embroidery styles from around the globe, 'Art And Islam' creative workshops, and 'Pearly Queens To Grime MCs' showcasing Newham's diverse musical and linguistic heritage.
All of these phenomenal records will then be kept in Newham's archives, to be preserved for generations to come. The projects allow us to celebrate those who came before us, and to inspire the community in the decades after us.
Newham Heritage Month aims to be a platform for sharing many more amazing stories of the diaspora, and to inspire further research into these important records. We're grateful to Newham Council for organising the festival, and to The National Lottery Heritage Fund and the Royal Docks Team for making it all possible.
You can connect with the team on Twitter: @NewhamHeritage and via their website: newhamheritagemonth.org
*****
Finally, here's some snippets from the stories I collected during the oral history interviews. For the full stories, visit: newhamheritagemonth.org/contributors/farzana-hakim/
Partap Singh, like many young men from the South Asian diaspora of his time, had high ambitions as he arrived in the UK. The thought of moving abroad was exciting and full of adventure. However, once he arrived at his first address in Sibley Grove, East Ham, the cold winters and the language barriers were hard to adjust to. Being a child of eleven at the time, he was enrolled at Cromwell Primary School and found schooling particularly hard in the early years. Learning English was difficult, he said, but he was quick to make friends with other emigrated children and with their help, managed to navigate through the school years. He told me how Newham's Schools provided bilingual teachers who could speak South Asian languages such as Urdu, Punjabi and Hindi to help them learn English:
 "I faced problems because I couldn't speak English at school but the school had a facility to help us. A Punjabi teacher used to come to teach us. Mr Iyer was Pakistani. He was really good and helped us learn English…"
Abdul Hakim also spoke of his first day of school in Newham and he particularly remembered the culture shock:
"On my first day at school, I found out I was the only Asian boy there at the time. This was the early 60s. I got to my classroom and didn't know what to do. I was shaking and very frightened. The English teacher gave me a desk and a chair to sit next to a girl who was the only person who could speak my language. The teacher told her to help me and try not to speak my language, only English. I was scared, sitting on my first day of school in England with a girl. In Pakistan, girls had separate schools, so I was very shy and couldn't talk. But life went on and I started to learn English, little by little."
Born in 1948 in a small town of Punjab in India, Sokha Devi had never imagined life's circumstances would bring her to the UK. When in 1977 her mum received news from relatives in Southall in the UK of a prospective groom's interest in marriage for her only daughter, her instant delight was evident for days and, upon Sokha's approval, arrangements began to prepare for her to travel to England and marry Partap Singh.
Sokha stayed with her maternal aunt in Southall for a year before she married to Partap Singh in 1978. Her initial days, as of the many women who emigrated as brides to South Asian men who'd already settled in Newham, were hard at first:
"It wasn't easy, leaving my mum and siblings behind. I came to Southall first. My maternal aunt called me here for marriage and I stayed at her house for a year. My aunt worked at the airport and I used to wake up at four in the morning to make the tea and chapattis for her. I saw such a hard time, you know. Then, I used to drop the kids off to school in the morning, as both parents worked. I would pick them up too and cook for everyone. You see a hard time when you first come from India. I used to cry so much, saying, 'What have I come to?' In those days, we couldn't even phone; we had to wait days for letters to arrive. My mum used to cry, too, saying, 'Why did I send my daughter to England?'"  
Naseem Begum married Abdul Hakim in the summer of 1975. The groom had travelled all the way from East Ham in London for the wedding. Naseem was excited yet nervous about the prospect of moving to the UK; a country she knew nothing about. As a young woman of 18 years, she had never travelled outside her home city of Gujar Khan.
Within a year of her marriage, her visa came through and she said goodbye to her family and set off for a new life in Newham.
For her, with no skills in English and no friends here, settling in Newham was hard:
"I was really nervous when I came. I didn't like London. It was like a jail, a prison here. I cried the whole time. I was cold and lonely. I missed my mum and I missed my brothers and their children very much. There was nothing to do here for me. I cried all day, urging my mother-in-law and father-in-law and husband to send me back. I didn't like London at all."
*****
Stirring stuff! Please do read the entire stories to see how things evolved for these wonderful people as the diaspora grew and lives and circumstances changed as the decades passed.
It's true to say, I've kept connected to my cultural heritage through the arts throughout all the milestones of my life. I'm glad I had this deep connection to my heritage, because it's through this I've been able to use my voice and write the authentic stories that I do. Stories with diverse characters and stories of different cultures are some of the best stories to have ever been told!
*****
Issue 16 of Write On! is out now and you can read it online here. Find it in libraries and other outlets. Issue 17 will be out on 28 June. You can find previous editions of our magazines here.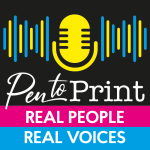 You can hear great new ideas, creative work and writing tips on Write On! Audio. Find us on all major podcast platforms, including Apple and Google Podcasts and Spotify. Type Pen to Print into your browser and look for our logo, or find us on Podcasters.Spotify.com.
*****
If you or someone you know has been affected by issues covered in our pages, please see the relevant link below for ​information, advice and support​: pentoprint.org/about/advice-support
To celebrate the project with my participants and the wider community, Newham Heritage Month were kind enough to let me host an event to showcase my findings.