Thursday Connectors: The Story Of Me
By Farzana Hakim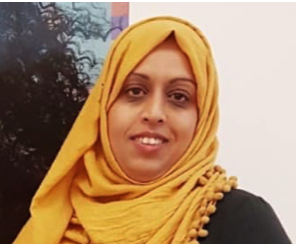 Nature Through The Eyes Of  Year Three Children: The Story Of Me Project
Hi, all. Welcome to another special edition of Thursday Connectors. I'm extra-excited today, because I've got such a treat lined up!
If you've been following my page, you should know by now that I'm an avid advocate of diversity in storytelling and anything creative writing! Aside from my usual novel-writing ventures, my editor antics at Write On! and hosting my 'Hear My Voice' creative writing workshops for women, I'm now also working on a project as an artist, helping to diversify and de-colonise the literacy curriculum taught at primary schools here in the Borough of Barking and Dagenham.
I'm so proud to be part of a really important and thought-provoking collaboration between the Education Department at Barking and Dagenham, The Ministry Of Stories, which is a wonderful organisation based in Hoxton in London, and the fantastic Mercury Theatre, which is in Colchester. (I'm definitely going to be introducing and connecting with them here soon.) But 'Inspiring Futures, The Story Of Me Project' will run for two school years and I'm on a mission during this time to bring about some much-needed change to the way the ever-changing demographic of pupils and teachers explore themes of culture and identity within language, literature, story-making, storytelling and creative writing, to promote diversity.
Since September 2021, I've been working with two Year Three classes and their teachers at Eastbury Community School in Barking and I'm glad to be able to share this platform here at Write On! on Thursday Connectors, to showcase some of the creative pieces the children have written during our sessions together.
Having opened up my page for Youth Connectors in the past, you already know I'm all for encouraging young adults and children to really enjoy their writing. In this new role, I take the children I work with away from the usual rules and techniques of their literacy and English lessons every week and into a more informal and open space. I believe all good writing comes from the heart. And spending a few minutes doing freewriting exercises, without the grammar police hanging around, I've been delighted with what the children have been producing (with only a few prompts), around some really impactful themes and subjects.
Today, in keeping with the theme of nature, I'm really chuffed to be sharing some creative work from my super-talented students, who are writing about their relationship with nature. The children in the Year Three classes Belfast and Glasgow, have created these pieces in my school sessions with them.
So, hello classes Glasgow and Belfast and, let's connect:
Nature And I: A Collection Of Thoughts
The Snow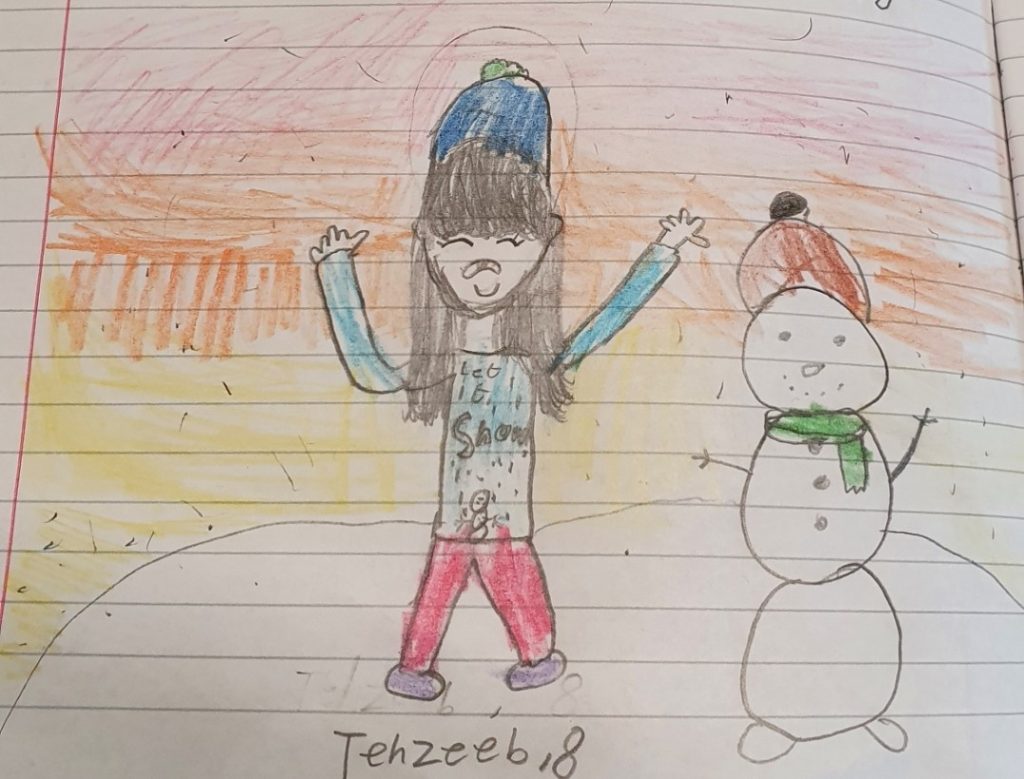 My relationship with the snow is all about my feelings. When I'm in the snow, I feel so peaceful. When I lay down in the snow, I feel like I'm in the clouds, just sleeping. I like the snow because when I'm out in the snow, I make lots of snowmen and I play with my friends. Snow is the best. Snow makes everyone happy. It makes me happy.
Tehzeeb, age 8.
The Jungle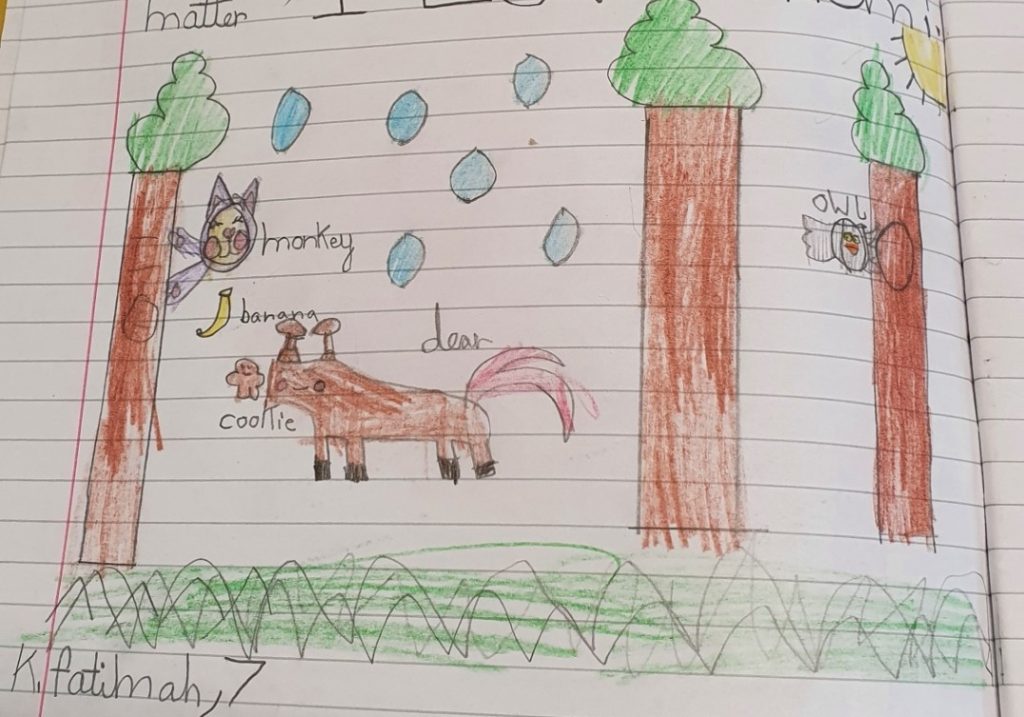 The animals in the jungle are friends with me. I really like the jungle because there are animals living in it and I love animals. Whether they are cute, adorable, sweet, little or big, it doesn't matter I love them all.
Fatima, age 7.
The Cloud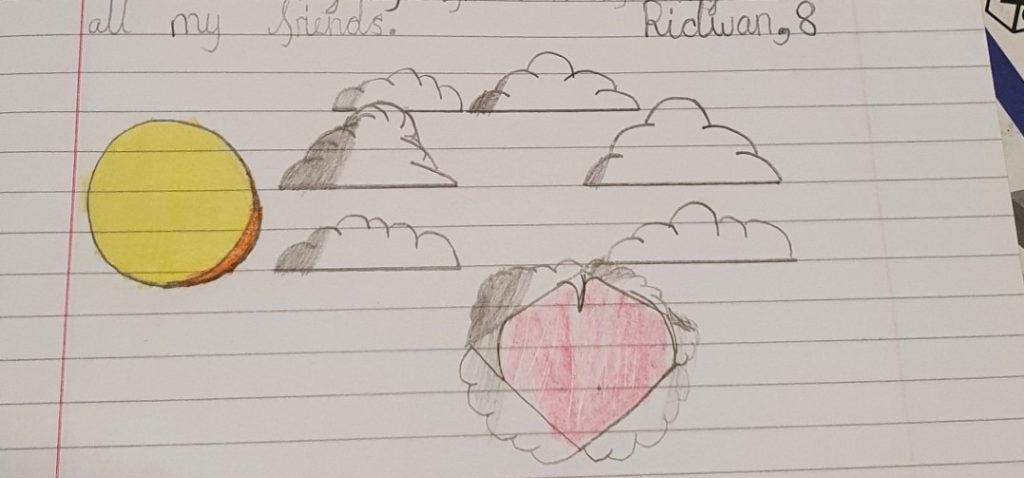 The clouds and I like playing with each other. The clouds and I have been friends for seven years. I like how they look and how they feel. I like to touch the clouds. I like the clouds because they make me relax, calm and make me happy. My friend, the cloud, is as soft as cotton candy. My friend is as friendly as all my friends.
Ridwan, age 8.
Sunflowers
Sunflowers are bright and yellow. They are bright as the sun. A sunflower is my friend because they are bright and you grow them in the summer. Sunflowers are tall. They can grow as tall as a person.
Summayyah, age 8.
Summer And Spring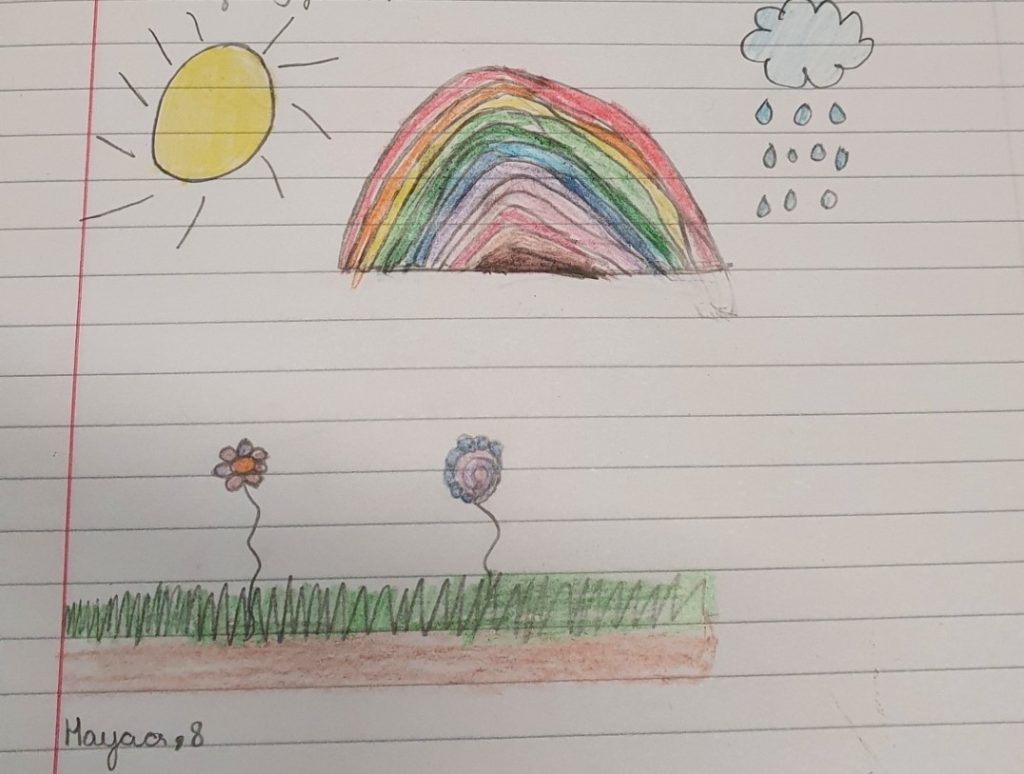 Summer, Spring and I have a lot in common. For example, we all  like beautiful scented roses, the bright summer sun and lush, green grass. We have been friends since I was little! I love the colour yellow and the sun is yellow. I like the colour blue and the sky is a shade of blue. So, it is clear me and Summer and Spring are sure to be just as close as family friends.
Haaya, age 8.
Flowers And Trees
I love flowers because they shine when I look at them. My favourite flowers are roses, tulips and daffodils. My favourite trees are lime trees because they fall down. I like roses because they bloom in the bright sun. They are dark red, the colour of blood and life.
Annayah, age 8.
The Jungle
All those fluffy animals in the jungle, oh how sweetly they play. How sweet they smell when the sunshine is shining on all the plants of the jungle. How tall the trees are and how cute all the animals are as a team. How beautiful is the jungle?
Khadhijah, age 8.
The Sun

The sun reminds me of my yellow dress and whenever I wear a yellow shirt. Every sunny day I go to the park and me and the sun play together. We have ice cream together but when it is winter the sun goes and I feel so sad because I had so much fun with the sun. But thank goodness the sun gave me a picture of him, which makes me happy.
Isra, age 7.
The Ocean
The ocean is part of nature. Nature reminds me of the ocean, trees, its branches, leaves and me. But the ocean also reminds me of fishes, sharks and the colour blue. It makes me think of different colours.
Rohan, age 7.
Trees, Flowers And Bees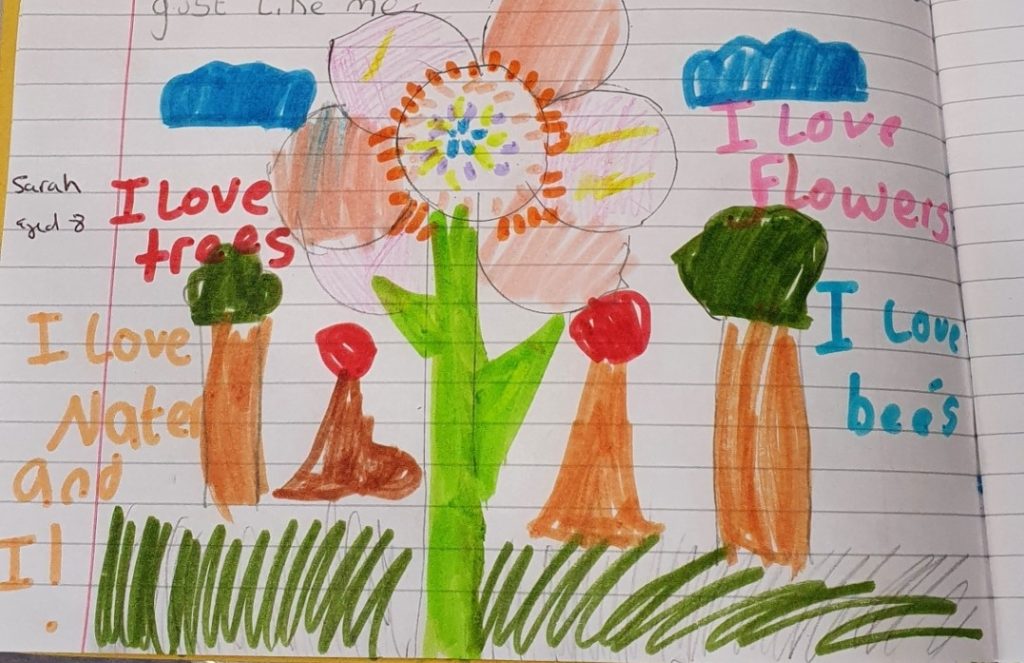 Beautiful flowers are like sugar, yummy and extraordinary. Trees are like pieces of crisp, lovely. Bees are like pets. I really love them. Like me, bees love honey. Flowers; pink, red, yellow, and many different colours, attract bees. This is amazing. Bees are lovely and they are a bit silly at home, just like me.
Sarah, age 8.
The Sun
The Sun is so bright, big and hot. It is bright yellow and very, very, wide! It is so big and I love the Sun. It is even bigger than a meteor, the clouds, moon and the stars, and maybe even the Galaxy and the whole universe. It is also higher than the sky. The sky is so cool and fun too. You get to look at it forever if you want. The stars are sparkling and stunning. The moon is so, so big, you can't even imagine it. The Galaxy is so, so, so, big, that you don't even know how big!
Rayyan, aged 8.
The Forest

My favourite animal in the forest is the squirrel. The noises it makes calm me down. The fur makes me warm, like my blanket. The squirrel and I are together because it makes me feel calm and joyful. The squirrels play with me too. The colours grey and brown, make me remember about squirrels. I follow the squirrel, as it shows me the other animals too.
Aftab, age 8.
Sunflowers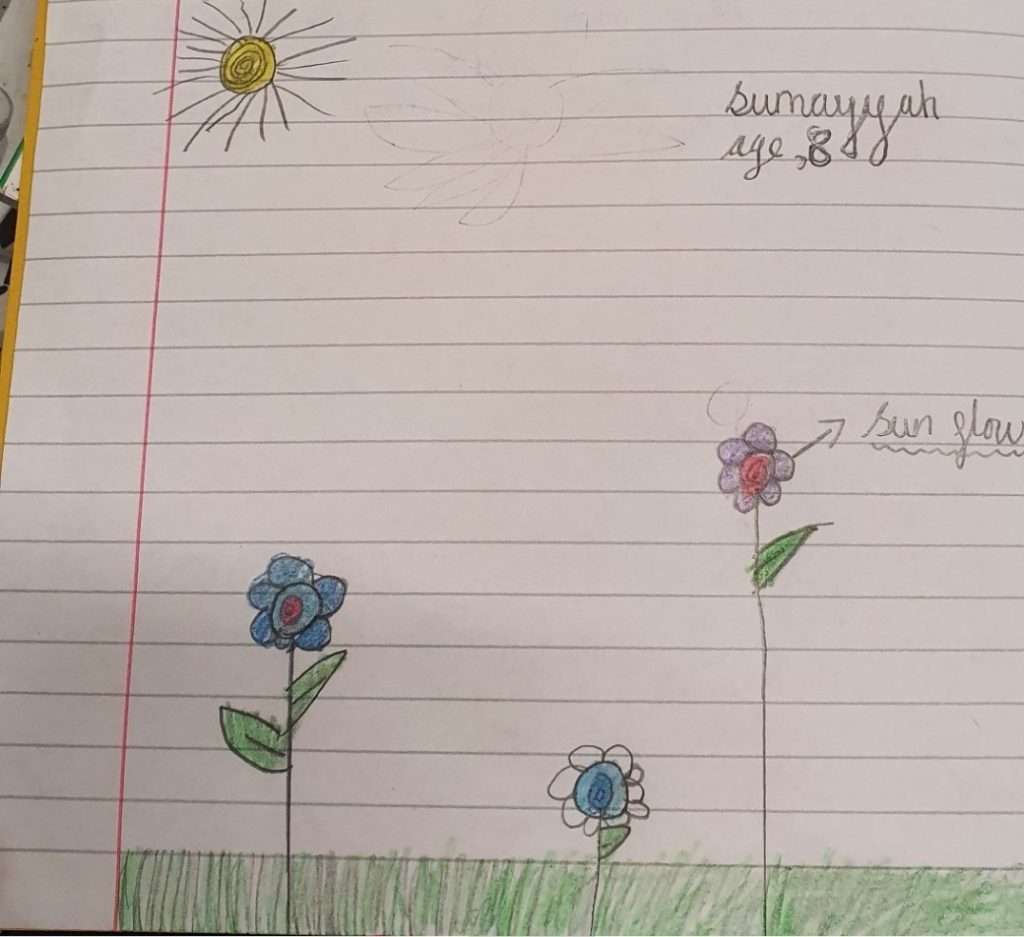 The sunflowers are bright and yellow. They are as bright as the sun. They smell like lemons. They are shiny. The sunflower is my friend because you can grow them in the summer. Sunflowers are tall. They can grow as tall as a person.
Sumayyah, age 8.
Clouds
Forever together like a tree blossom. Clouds and my friendship never ends. Clouds are all around me. One stays on top of my beautiful house like a fluffy pillow waiting to play with me. So, that's why you're my forever friend. You're like some yummy, cotton candy. It is as if you can hear me. I wish I was on you all the time. You are my forever friend, all the time.
Manha, age 7.
Seas And Oceans

Oceans and seas house sea life and animals. Rivers, oceans and seas shine like light together. But stop killing sea creatures in the oceans! We have to live together. In life, we can live together to make the world better for us all. We can stop killing and hunting. We will be friendly for this world. We can be happy for the world and we can make life fascinating by being friendly. Together, we are love and peace. And again, we can be beautiful for us.
Rumaysa, age 8.
The Sun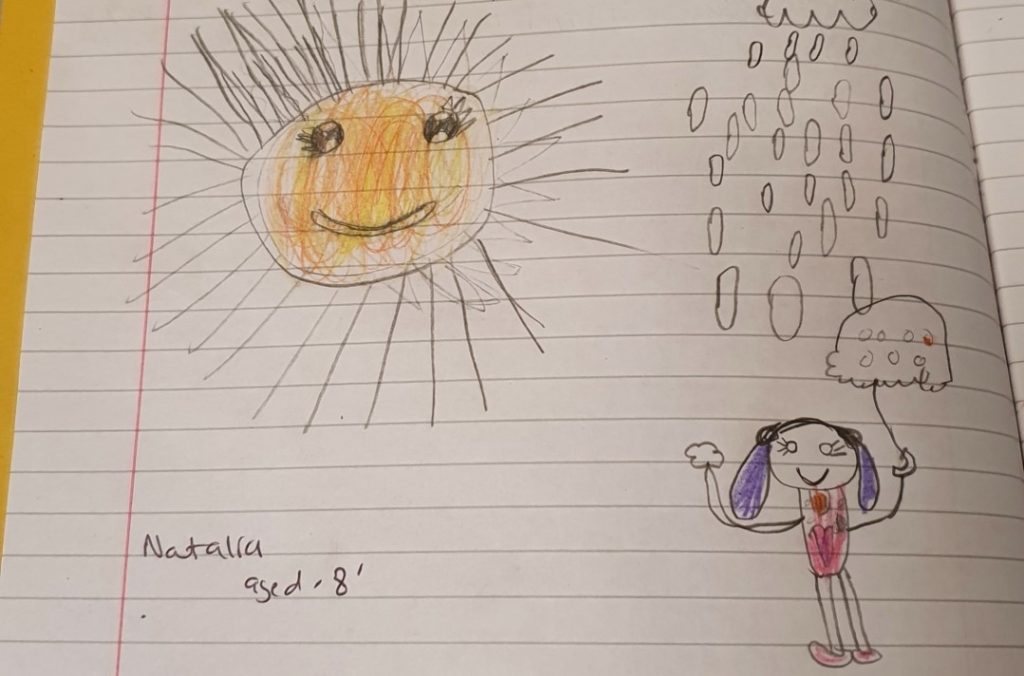 The Sun is bright like I. The rain is wet like I. The wet drops are rain. The Sun is bright like you and I. The rain is wet like the water and I.
Natalia, age 8.
The Sky
The sky is light blue. The sun is red and it comes in the day. The moon comes in the night. When it's night you can't see the clouds but when it's day you can see them. Sometimes you can see birds in the sky. The star's colour is white and it is so beautiful. In space there is no gravity, so you will float. The sun makes light. When the sky is down, it looks like a painting and when it's day we can go anywhere.
Ayaan, age 8.
The Sun And The Moon
The sun is beautiful and just wow. It's a beautiful weather I guess, but sometimes I wish that it would rain when it is too sunny, even though I don't really like the rain. The sun in the sky is yellow and it's so high and it's so huge. When the moon is out, it is black and dark. I really love it when it is time for the sunset. It's pink, orange, purple and looks really cool. It's my favourite part of the day as the sunset has a lot of purple and that's my favourite colour.
Rumaisa, age 8.
Flowers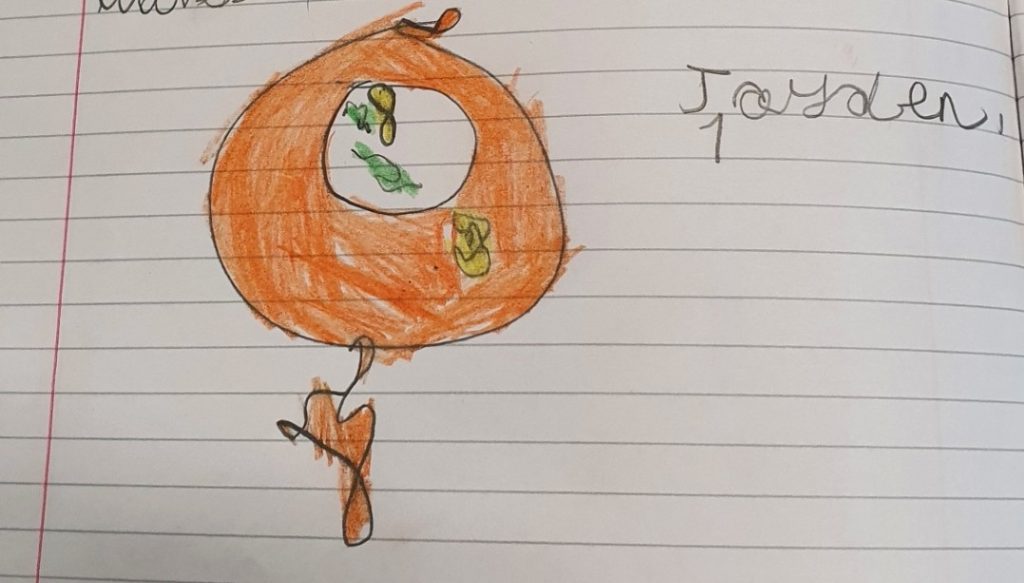 The pollen flower is my friend and it dances with me. Because it is beautiful and yellow. It is dark and bright and it has legs and because of this I like it more.
Jayden, age 7.
Trees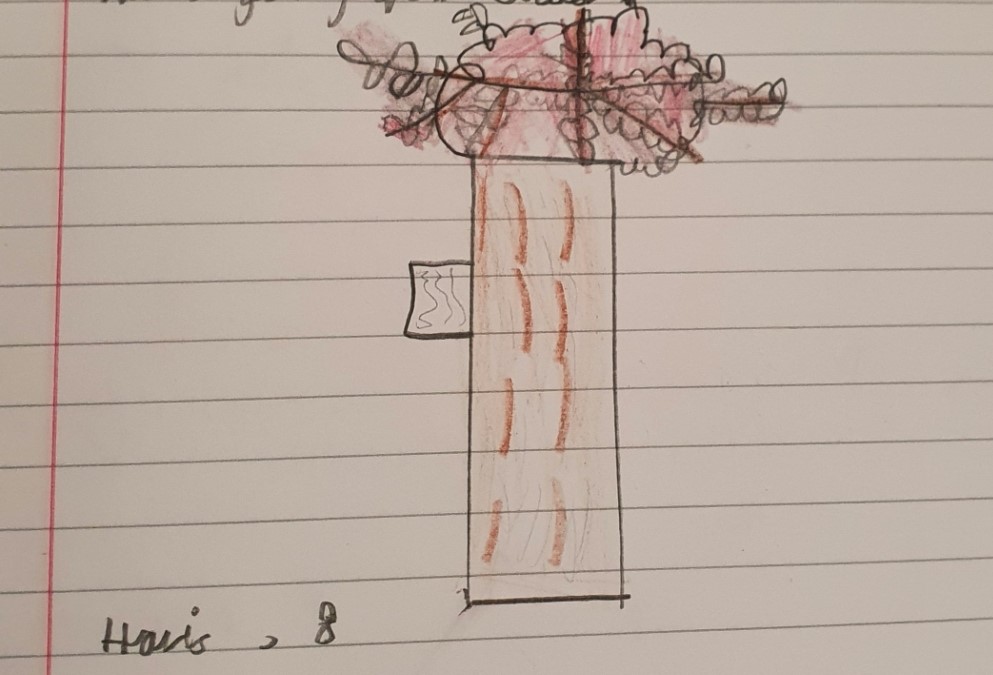 I like blossom trees because these are bright pink and big. They are really scary as well. These are from China. They might have scary pictures on them, meaning you might have nightmares. If there's a picture on a tree, at night something bad might happen. It depends on how it is, or what time! I like this tree because it has a glossy pink colour.
Haris, age 8.
*****
Didn't I say you were in for a treat!
What a wonderful and diverse collection of creative writing pieces. I enjoyed the session with the children very much that day and I was surprised at some of the thoughtfulness which clearly shines in these examples.
Well done, Belfast and Glasgow class pupils. It's been such a pleasure showcasing your writing on my page this month. I'll definitely be doing this again in the future, so keep up the good work!
That's it for today's Connectors, but before I go, let me remind you of my upcoming 'Hear My Voice' creative writing workshops for women, which are back for a new season, starting in March. This year, they're going to be even more empowering and special. So, please do register by clicking on this link:
https://pentoprint.org/eventbrite-event/pen-to-print-hear-my-voice-creative-writing-workshop-with-farzana-hakim/
See you again real soon!
*****
Read the latest issue of Write On! magazine (11) online.
Write On! Audio Podcast Contributor Giveaway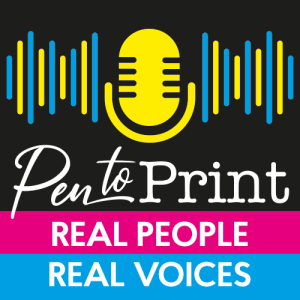 Get involved with Write On! Audio. As a contributor, you could win A Writer's Journal Workbook by Lucy van Smit. All Write On! Audio submissions submitted before 20 February will be considered eligible. The first two pieces chosen for broadcast will receive a book. Submit on: pentoprint.org/get-involved/submit-to-write-on/.
Visit anchor.fm/pentoprint to listen to the Write On! Audio Podcast and get inspired.
Launched by Bloomsbury, A Writer's Journal Workbook is packed with creative tasks,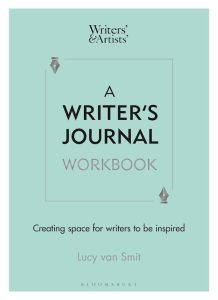 goals and advice. As an added bonus, you can also purchase it directly with this special discount code: AWJW25.