Write On! Features: Inspiration, Nature, Writing, And Residences by Mab Jones
By Mab Jones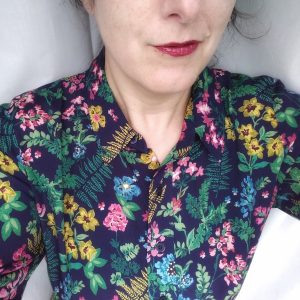 'Inspiration' is probably the most tricky thing to tap into as a writer. We know what research is; we understand the need to practice, to read, to experiment with new techniques. But inspiration seems like a random, arbitrary happening; something that isn't directed by us but comes to us from outside, from elsewhere. We ascribe it to the muses because it seems miraculous and, if we're short on it, we wonder what we did to be so very unlucky.
To receive inspiration constantly is, I think, impossible. However, we can learn what inspires us, and choose to dwell in there / upon that as and when required. I don't believe it's entirely down to luck. Nature has long been known as an inspiring influence for poets, artists, and the human spirit in general. Maybe it isn't surprising to know that Wordsworth recommended it: Come forth into the light of things, let nature be your teacher but, then again, writers as notably downbeat as Sylvia Plath have said the same: I felt my lungs inflate with the onrush of scenery – air, mountains, trees, people. I thought this is what it is to be happy.
Most human beings feel their spirits lift when they are in nature. It's an easy way to get some inspirational energy into your writing, therefore. Whether you contemplate a flower in a vase in your kitchen, sit on a bench in your local park, or take a trip to a wilder space – forest, mountain, coast – nature acts to calm, refresh, and elate us. Partly, this is the power of nature in and of itself. It's been scientifically proven that being in nature can reduce blood pressure and relieve mild depression, lessen stress and anxiety, anger and fear, and help us do away with repetitive or ruminating thoughts. It's been found to reduce loneliness, even if you are 'wandering, lonely as a cloud' in nature all on your own, too.
Beauty also possesses an uplifting effect. What's more, it can increase creativity. So, never mind waiting for the muses; you can, it seems, seek them out, and nearly always find them lounging about on a strip of green (or brown, or blue, or yellow, depending on whether you visit a wetland, the seaside, or a desert) nearby. You needn't leave the kitchen, as mentioned, either. A simple flower can help us tap into this inspirational effect, and by using mindful attention, or even meditating upon the flower, we can increase its innate enervating power. Try this simple flower meditation and see how this enlivens your pen afterwards.
I was the first resident writer in the National Botanic Garden Of Wales, so had lots of lovely flowers to inspire me. My primary impetus in taking on this role was so I could immerse regularly into the inspiration of nature. There's another misconception, however, that residencies are something 'bestowed' but, as with inspiration, writing opportunities of this sort are also something that you need to go in search of. There are some residencies that are regular, and offer paid placements, sometimes with accommodation. These are rare, golden flowers, and one which I've personally yet to pick, though I have applied for some. Competition is fierce, and there might be hundreds of applications each time. So, do apply, but do also make sure that your application is the best it can possibly be, and offers something compelling which stands out from the other hopefuls. Unfortunately, a more famous writer might well win out, or there might be preferences held by those assigning the residency, in terms of the writer's locale, thematic focus, or even educational experience, as offering workshops could be an integral part, too, of the role.
My garden residency wasn't advertised. I asked them if I could come and write there, and if I might give myself the title Poet In Residence. I put in a case for it, and they said yes. My intention was to then find some funding to help with costs, particularly transport, because the garden is a two-hour train journey and then an additional bus from my house. However, I was unable to find any suitable funding at the time, so my trips to the gorgeous garden were not as numerous as I would have liked.
Still, there's a lot to be said for such a residency, even if it's conducted via long distance. In this time of Covid, long-distance might need to be embraced a little more in any case. Certainly, the fact that the National Botanic Garden Of Wales is a prestigious place, and that fact that I was the 'first' resident writer, was great for my CV. I think an initial, unpaid residency can be a really useful thing for the new or emerging writer. It's nice to get some money for one's time – usually, I agree, it's either imperative or just morally right that you be recompensed – but I think in the early days of a writing career, and when competition for paid residencies are so competitive, then a residency like this can be really useful, and give your CV a boost which, later on, gives you the edge when competing for paid residencies. I would just advise looking for a location that you can visit with little or no travel cost, that you would like to spend time in any way and where the addition to your CV will reap dividends and serve you well later on.
Following this residency, I did acquire a couple of paid ones, at the Dylan Thomas Boathouse in Laugharne. Accommodation was not included, but I was paid enough that I could afford to travel there, stay locally, and even pay myself for my time. Lunch was included at the Boathouse, and the staff there were so lovely that I responded with a poem in their honour. You can read The Ladies Of  The Boathouse on my blog, but a special shout out to the staff who are not ladies and who don't run the kitchen, either. They were equally as kind and amiable.
Engagement with visitors was required during both of these residencies, with an end result of one of them being a House Full Of Words installation; the other culminating in a collective poem. It's worth bearing in mind that all residencies make different requests of authors – if there is payment, then there will be some sort of work – and facilitating writing workshops or drop-ins for visitors to the venue is a common ask. It isn't just about responding to the location, although one 'pay off' will be that you will be able to do this, too, and even if there isn't enough time to really settle down to some solid writing, you should be able to collate notes or conduct research. It all depends upon the agreement, and if you are 'resident writer' – rather than on a writing residency – then there will usually be more asked of you than simply honing your craft.
The Dylan Thomas Boathouse is set next to a beautiful estuary that it looks out upon and which is wonderfully inspiring. Dylan's writing naturally contains various estuary imagery, such as boats and herons, and being in the Boathouse definitely showed me how 'writing with wonder' is possible in such locales. A few years later, I was introduced to a much closer yet no less enchanting location, Cardiff Wetlands. Immediately, I was struck by its gorgeous, golden feather grass, fulsome reeds and rushes, and the number of lovely birds taking sanctuary on its shining waters. I knew I'd like to be resident writer there, but was living in West Wales at the time. I therefore purposefully moved back to Cardiff, actually to a street within stepping distance of the wetlands themselves, and asked Cardiff Harbour Authority if I might be 'writer in residence' in this location. They agreed. No official contract was drawn up, as there was no money in the agreement, and so no strictures placed by the Authority, either, on what I could do, or when. However, my CV by this time was, of course, even fuller than it had been, and so I successfully applied for the Literature Matters Award from the Royal Society of Literature, and with this was able to spend some dedicated time in the wetlands, begin producing a podcast, and have just now signed a contract with Moon Books for a short book of prose stemming from my time in the wetlands.
So, don't be disheartened if you don't 'win' a residency – you can go and create one for yourself. Many residences are set in locations that make them perfect places for nature writing, although some are in houses, museums, art galleries, or sites that offer up other subjects for your pen. Think about what inspires you, and if you're not sure, then I would say, look to nature. If Sylvia Plath can find inspiration in it, so can you! Look, then, for ways you can make the residency work, and how you might fund yourself to go there. Weigh up what the residency can give you, and what it might cost; sometimes what such an endeavour offers isn't financial, but can be transmuted into such later on. Consider carefully, therefore. It's also worth enquiring after funds from the location in any case, and certainly, if there's any request to run a workshop or provide some other service then that should be paid. But, don't assume that just writing poems about a place should necessarily equal payment. It might be 'good publicity' for them in your eyes, but they'll probably have a marketing officer in place already and may not have a budget beyond that, or even see the value of verse at all (depending on how famous you are and how many people might read or hear your words, of course).
The real value of a residency is what it can do for your work. Inspiration is all, with this one. Find what sort of setting / set-up works for you, and go for it!
Selected UK Writing Residencies
Cove Park Literature Residencies
Gladstone Library Writers In Residence
National Centre For Writing Residencies
Robert Louis Stevenson Fellowship
Further Reading
On Writing Residencies by Katherine Stansfield
Working As A Writer In Residence by Julia Copus
Writers In Residence: A Practical Guide For Writers And Organisations In London by Arts Council England
Mab Jones is a unique talent (The Times) who has read her work all across the UK, in the US, France, Ireland, and Japan. She is the author of three poetry collections and three pamphlets, and the winner of various accolades, including the John Tripp Spoken Poetry Audience Award, the Word Factory Neil Gaiman Short Story Competition, a Royal Society Of Literature 'Literature Matters' Award, the Aurora Poetry Prize, the Rabbit Heart Poetry Film Festival Grand Jury Prize, and the Geoff Stevens Memorial Poetry Prize, amongst others.  She has presented several programmes on BBC Radio 4, written for The New York Times, teaches at Cardiff University, and is resident writer in Cardiff Wetlands. She also runs Infinity Books UK and Black Rabbit Press and supports other writers through mentoring and feedback. You can connect with her at: www.mabjones.com
*****
Read the latest issue of Write On! magazine (11) online.
*****
Write On! Audio Podcast Contributor Giveaway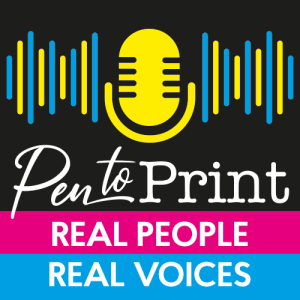 Get involved with Write On! Audio. As a contributor, you could win A Writer's Journal Workbook by Lucy van Smit. All Write On! Audio submissions (creative or opinion pieces up to six minutes, inspirational moments one to two mins – a short poem, for example and why it inspires you – submitted before 20th February) will be considered eligible. The first two pieces chosen for broadcast will receive a book. Submit on: pentoprint.org/get-involved/submit-to-write-on/.
Visit anchor.fm/pentoprint to listen to the Write On! Podcast and get inspired.
Launched by Bloomsbury, A Writer's Journal Workbook is packed with creative tasks,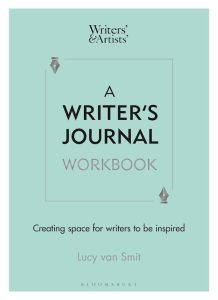 goals and advice. As an added bonus, you can also purchase it directly with this special discount code: AWJW25.
Never mind waiting for the muses; you can, it seems, seek them out, and nearly always find them lounging about on a strip of green (or brown, or blue, or yellow, depending on whether you visit a wetland, the seaside, or a desert) nearby.