Thursday Connectors: Writing From Behind The Lines
by Farzana Hakim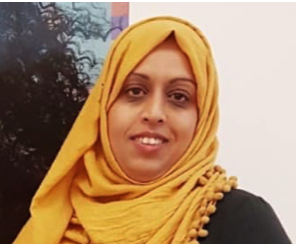 Hi, all. It's Farzana here. Your host for another exciting edition of Thursday Connectors. It's been two weeks since we last met and nothing has changed for the better, has it? How could it, when we're being attacked from all directions by the disaster that is COVID-19?
The majority of us have spent almost the whole year now living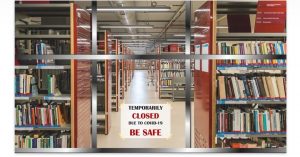 with discontent and disruption. Yet, stubborn as ever, this coronavirus won't leave us alone to get on with the lives we led in pre-COVID times. To add insult to injury, it's us – the general public, the common people, dare I say– who've had to make the most sacrifices for the good of the nation.
Looking back on the connections I've made since these Thursdays pages came into effect in March, I can see how we've gone around in circles. We started Write On! Extra to help us artists and writers get together in a time of uncertainty. The daily digests were a way for us editors to record how we were feeling and share these ideas and thoughts with others, who were also invited to contribute. It was initially intended to be an escape, a collaboration; one writer may be sharing a poem and another an opinion. We've even had diary entries!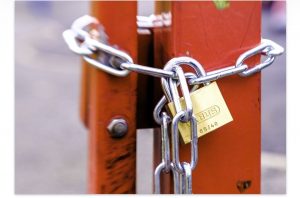 I believe these submissions and connectors have developed into something bigger and much-needed. Now, more than ever it seems; for, after months of sharing the peaks, troughs and coping mechanisms from our homes and communities in the UK and across the world, we're at the point where our journey began again. The UK is once again in (partial) lockdown and the second wave of the virus is on its way, if not already here.
So, it seems, continuing to write our lockdown stories and the effects the virus is having on us, physically and mentally, may yet again feature in our overall theme as we go into the new year.
*****
Back to other more positive thoughts for now, though, and this week's theme on 'Reading Between The Lines'.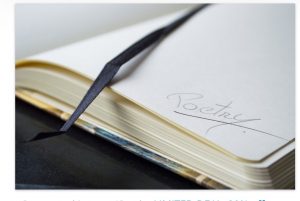 October is, of course, Black History Month and Pen to Print and Write On! have been celebrating. It's been such a pleasure to connect with writers who have vocalised the importance of remembering those who've made a difference to the lives of Black people. Before I make my 'Connectors' to a more local level, therefore, I'd like to introduce writer Evangeline Vincent-Davis with her piece commemorating Black people who've made a difference in British society.
Hi, Evangeline. Let's connect:
Committed Contributors to Black History Month 
A short overview by Evangeline Vincent-Davis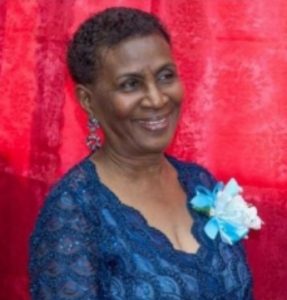 Black History Month has been a very important time in the cultural calendar of many museums and Art galleries. But with COVID-19, most of the associated activities are termed impractical by Government and local authorities. Its expanded coverage now includes the history of African, Asian and Caribbean people's contributions. Many beneficial, historical treasures have been unearthed as a result of 'Black Britain's' education of shared knowledge encounters, of people who paved the way and helped to build this country's core. It's an integral part of British culture in the field of art, music, science, sports, literature and more.
Steve Stephenson MBE, BA, COSW, DM, a legendary batsman and author of the book Cold Arrival Life In A Second Homeland, says the UK's ethnic, cultural and racial diversity has brought many benefits to Great Britain. Coincidentally, born in Jamaica on 'Human Rights Day', Steve earned fame as a Human Rights Community Activist; with more than 40 years of service as former director of the Race, Equality and Human Rights Service (REHRS) in Bristol. He uses his leadership skills and social work experience, sports being one, to help youth who face multiple discrimination and also encourages civil participation to strive for a better integrated Britain for all people from all backgrounds.
Stuart Hall signifies multi-culturalism and has brought together different peoples, ideas, improvements and traditions. He came from Jamaica in the 50s and introduced the first cultural studies course in Britain at the University of Birmingham.
Another activist for equal rights, Paul Stephenson, said: "Every generation has a right to fight against racism if we wish to seek a happy and prosperous existence." The statement has attracted constructive criticism over the years. Born in Barbados, Paul was Bristol's first black social worker and brought the black and white communities together. His work was influential in getting Britain's first Relations Act passed in 1965, giving equal rights to black brothers and sisters.
The first black female recipient of an MBA and Director of Social Services is Guyanese Dame Sybil Phoenix in 1956. She was the Honorary Mayor of the Borough of Lewisham, and believes that all races can harmoniously mix. Dame Sybil suggests we: "Observe forgiveness to work for our own freedom and only give what we want to receive."
Bishop Rose Hudson-Wilkin, MBE, QHC, Britain's first black female Bishop exudes an admirable confidence and believes all people must be treated as human beings regardless of title. They must love what they do, and joy should be experienced by all. The Bishop of Dover hails from Jamaica and looks forward to the day when all these 'firsts' stop and they become normal!
In 2009, Winston Albert whose sobriquet is 'Alberto' on invitation from the Hackney Education Directorate, was the first Calypsonian to perform at the House of Lords. Trinidadian by birth, he sang on that significant date, three Calypsos: Black Is Beautiful, Portrait Of Trinidad, London Is The Place For Me, and his own composition, A Tribute To Bernie Grant, who, as a Labour Member of Parliament for Tottenham, made his sterling contribution.
Another Calypsonian is Othneil Bacchus, son of Tobago soil also known as Crusoe Kid, who sang in the British Parliament on invitation from the Notting Hill Carnival Organisation. One of his most popular hits is Get Out, in response to the issue of the Windrush Generation.
Have you heard of Sir Learie Constantine? Trinidadian by birth and England's first Black peer in politics, he lobbies for racial equality in Lancashire. He is well known as one of the greatest and most popular West Indian cricketeers.
His fellow-Trinidadian Trevor McDonald is one of the most successful journalists and TV presenters. The list of his attributes is endless. Lack of both space and time restricts me from doing justice to these!
*****
Thank you, Evangeline, for contributing this piece as part of our celebrations of Black History Month.
Staying with the same train of thought: I recently came across a video on YouTube about the Windrush generation. It was made by members of my council and I knew right away that I had to share it here. Voices like these are important community 'Connectors' and should be heard more often.
Please do spare a few moments and click here to see how Windrush Day was celebrated in Barking and Dagenham:
*****
From one video to another. Regular contributor and poet Ann Dineen shared a project she was featured in recently with us. The brilliant collective poem Distance has been created by local poets in conjunction with Studio 3 Arts in Barking and Dagenham. The film's overarching message is that creativity doesn't stop in lockdown. We get to hear and connect with some of our locals, so it fits wonderfully with today's theme. Often the people who make all the difference are the most invisible.
Hi, everyone featured in the video! Let's connect. Distance is presented by Studio 3 Arts.
Connect with Studio 3 Arts on Twitter: @studio3arts   Connect with Ann Dineen on Twitter: @anndineenann
*****
I really enjoyed that. Luckily, I also had the pleasure to connect with one of the stars featured, Danny Baxter. Danny, artist and regular contributor to Write On! shares what poetry means to him, and why lockdown has rekindled his love for it.
Hi, Danny. Let's connect:
Reconnecting With Poetry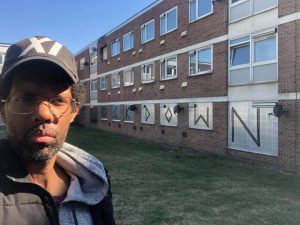 Poetry as a medium enables me to engage with my community, along with music and art. Of the three activities, poetry was generally the one I did the least. Recently, though, I have found myself writing. The year of lockdown has therefore included my first experience of performing poetry for a video and also my first experience of reading a poem in a live stream.
Poetry is versatile and combines well with other media. Also, you don't need big tech to create it, or even a studio, just a paper and pen (or a recording device) and time. Poems can be short or long, audio or visual – or even audiovisual! They can tackle any topic, using a variety of different angles and tones. Spoken Word and poetry are essentially ways of mastering the art of communication, using words to convey powerful messages to their optimal level. By writing and then performing poetry, I have been developing these skills; especially public speaking and also writing lyrics for songs.
I like using poetry to write pieces that are philosophical or religious in nature, or a commentary on society, or just to amuse myself. It's also important to me to keep my poems accessible to everyone. Recently, I've even written the odd topical piece.
Speaking of topical pieces, being asked to write a piece for 'Spoken Not Stirred', as part of the collective Distance poem, was cool. I wanted to write it from an angle that was unique and personal, so I wrote it from the point of view as one who has seen the emergence of lockdown as a providential lifeline rather than a catastrophic disturbance. Putting a spin on things, seeing things from a different side, is something I like doing in my poetry. Getting people to think along unfamiliar trains of thought is fun and rewarding at times.
In a time where people are representing themselves and their cultures using art and performance, poetry and Spoken Word are becoming more popular, including in the media and with the youth.
There have been many opportunities offered in my area, allowing ways for me to get involved in my community with my poetry and I have met people who I probably wouldn't have come into contact with otherwise. This inclusion is something I've very much enjoyed.
A shout-out to 'Spoken Not Stirred' and Studio 3 Arts, who have inspired me back into poetry. Also, to Creative Barking and Dagenham, Boathouse Creative Studios, Boathouse Cafe and Bar, Greenshoe Arts, Summer of Festivals, Every One Every Day, and, of course, Pen to Print and all the people I've met through this programme.
Times are tough right now but stay strong and keep writing!
Connect with Danny on Instagram: @baxx_xf
*****
Excellent stuff, Danny. I'm so glad you're finding ways to stay connected with groups and people in your community who have been able to motivate and inspire you with your art and poetry. It's good knowing our community comes together as a real source of strength and hope. This support is what we all need at the moment.
Before I forget, here's another link to a poetry performance video, made by local groups and people, in which Danny also features, presenting one of his poems. This was taken from the 'Summer Of Love' festivals, held in Barking and Dagenham earlier this year. Please do take a look, some great poetry is being performed. I'm proud to be part of a community where there is such love for writing!
*****
That's it for today. I must admit, I enjoyed making all the above 'Connectors'. Looking around our small communities, it's amazing how much hidden talent there is. It's thanks to programmes such as Pen to Print and Write On! Magazine, that we get to come out from behind the lines and shine for a bit!
Take care and stay safe.
The skies have turned greyer since the last time we met and heavy drops of rain are falling on us more regularly.