Write On! Audio January: Out Now!
Write On! Audio: Storytelling From East London To The World – Episode Five
Write On! Audio is a new podcast from Pen to Print. Taking the best bits from Write On! Magazine and Write On! Extra, we'll bring you writing tips, features, interviews and excerpts from the work of our contributors and guests. Most importantly, though, if you're a writer, poet or dramatist, published or not, we want to hear from you so we can share your words and your unique voice on our podcast. Search for Pen to Print in your favourite podcast app to listen and subscribe.
January's  episode includes:
An inspirational moment by writer and entrepreneur Dr Arinola Araba
Writing tips – ' Find our Word' by Lucy Kaufmann
An interview with Sunday Times bestselling children's author Frances Hardinge
Our December showcase from Mirabel Lavelle includes:

Tram Shelter by John Holmes
Deceiving Appearances by Ray Miles

This month's Listener Contribution is Carrion, a short story by Bob Thompson
February's episode, out on 23 February, includes a conversation with 2021 Pen-to-Print audio play competition winner Cailean Steed and their journey into production. We also connect with bestselling author Jane Corry and bring you writing tips from Asboville and Fan author Danny Rhodes. February's Listener Contribution comes  from film-maker Jonathan Hirons and of course you'll be able to enjoy our usual range of features.
If you've been inspired by Arinola Araba's or Bob Thompson's pieces, why not challenge yourself to create something for us? We're actively looking for new contributors to our podcast and the Listener's Contributor Slot is open for submissions.
Please follow our submission guidelines, ensuring that any recorded material is submitted via our Submissions Page or sent to pentoprint@lbbd.gov.uk by 10th of each month. (For more information on our themes etc see the Editor's Introduction, and you can find the T&Cs here.)  If a larger slot seems too daunting, we'd love to hear from you with some 'Inspirational Moments.' Do let us know with a short recording, prose or poetry what you are looking forward to. Thanks to Bloomsbury, we can even reward the first two pieces picked –  more details on our Write On! Contributor Giveaway (open till 20 February) below.
Each new podcast will be aired towards the end of the calendar month, allowing us to share material that has been featured in Write On! Extra, while also looking forward to showcasing up-and-coming ideas and events that might interest you. We hope you enjoy this episode of Write On! Audio and do continue to listen, engage and make sure you get in touch with your opinions and ideas. Of course, if you subscribe, you'll be the first to be notified when a new episode is released.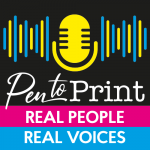 You can find us on all major podcast platforms including Apple Podcasts, Google Podcasts, Spotify, Stitcher, Podchaser and many more. Just type pen to print into your browser and look for our logo. Alternatively, find us via our Anchor FM hosting site, which links you to our content on a variety of podcast platforms.
Write On! Audio Podcast Contributor Giveaway
Get involved with Write On! Audio. As a contributor, you could win A Writer's Journal Workbook by Lucy van Smit. All Write On! Audio submissions (creative or opinion pieces up to six minutes, inspirational moments one to two mins – a short poem for example and why it inspires you – submitted before 20 February) will be considered eligible. The first two pieces chosen for broadcast will receive a book. Submit on: pentoprint.org/get-involved/submit-to-write-on/.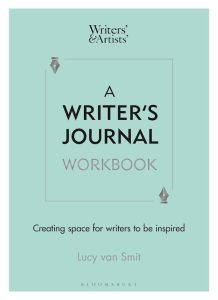 Launched by Bloomsbury, A Writer's Journal Workbook is packed with creative tasks, goals and advice. As an added bonus, you can also purchase it directly with this special discount code: AWJW25