Write On! Features: A Brief Introduction To Haiku by Jilly Henderson-Long
By Jilly Henderson-Long
There's something timeless and precious about Haiku. It isn't just its brevity and simplicity; it's its sensuousness, its profundity, and – most of all – its relevance to now, even in those written hundreds of years ago.
Its origins lie in 17th-century Japan and it's closely linked to Zen, which has its roots in oneness, well-being and meditation. A number of the Haiku Masters were Japanese monks, Basho, Issa, for example, and their work continues to inspire poets today. I first came across it as a poetry form when I was 18 and attending a Creative Writing course at a local Further Education college. I still don't know what it was about the short, snappy verses that so captured my imagination, I only know I was completely won over and I've loved and respected Haiku ever since.
As I delved into its origins, I found it interesting to note that, even before Haiku, there were other forms of short poetry, including a similar form from China known as Shi, which also often featured a similar syllable pattern. The early Japanese poets wrote Renga, where a small group of people would gather and create a series of short verses, each verse linked to the previous one, and these verses were known as Hokku. As the form progressed and evolved, it transpired that many such poets found they preferred to write independently and the Haiku, as it is now, was born.
By the 20th century, Haiku had become accessible to everyone, not just learned scholars, and the Western world embraced it. The Haiku is translated as being a poem written in 17 syllables, usually in three lines, the first and last line containing five syllables and the second line containing seven, as in:
listen to the wind (5)
howling across the car park (7)
nature's mournful wail (5)
While its subject matter is largely based on nature and the seasons, these days it can successfully carry any theme. I have a number of Haiku books on my shelf that have everyday themes, including one about cats and another about mums. I've even seen an entire memoir written in a series of Haiku, so as well as being one of the simplest ways to express yourself, it's also one of the most versatile forms of poetry in existence and well worth a try. It is therefore wise to get into the habit of keeping a notebook and pen to hand, or your mobile phone, so that you can jot down any ideas. You may see a lone flower at the kerbside, a family of ducks waddling along the road, or a rainbow. You may hear part of a conversation, or find yourself in an unexpected situation. Being stuck on a train may result in something like:
Sitting on a train
and waiting for a signal –
when will I get home?
Your first efforts may not rock the world of poetry; some of my earliest attempts were appalling! But it's a skill like many others; the more you practice, the better you become, and the better you become, the more your comfort and confidence grow. Take out your pen and notebook and have fun with it. Don't overcomplicate. Just write what you see. Here's one that's come to mind as I sit here compiling this article.
January day
feather clouds in a blue sky
fingers numb from cold
Once you've grasped the basics of Haiku, it's exciting to find other ways to employ your 17 syllables.
The perfect
summer's day –
sunshine,
flowers,
a walk
along the seafront.
Or perhaps try using fewer syllables.
The grass
– she sings.
There are many publications giving guidance on writing Haiku but my advice to the novice would be to just do it rather than read about it. Read plenty of Haiku, but don't forget that those original Japanese masters did not learn from books, they learned from trial and error. So, here are a few more I hope will inspire you.
Where are the cuckoos?
Listen to their welcome call
heralding the spring
Rising as a cloud
in startling cacophony
starlings at twilight
Cat purring, sleepy
curling up on the sofa
in a shaft of sun
Autumn's sunshine smile,
a treasure chest of leaves glow
golden, russet, brown
Thinking of Haiku
so few words, so much pleasure
– I reach for my pen
(c) Jilly Henderson-Long, 2022
Jilly wrote her first book at age seven. Her first published piece came when she was 12. As well as running Creative Writing groups, her work has appeared across a wide range of media. She's published three children's books and several poetry collections. Her hobbies include photography and reading. She lives in Westcliff-on-Sea with her husband Steve. They have eight grandchildren. You can connect with Jilly on Twitter: @Jilly52144833
*****
Read the latest issue of Write On! (15) magazine online here.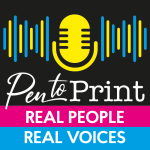 You can hear great new ideas, creative work and writing tips on Write On! Audio. Find us on all major podcast platforms, including Apple and Google Podcasts and Spotify. Type Pen to Print into your browser and look for our logo, or find us on Anchor FM.
*****
If you or someone you know has been affected by issues covered in our pages, please see the relevant link below for ​information, advice and support​: https://pentoprint.org/about/advice-support/
Your first Haiku efforts may not rock the world of poetry. But it's a skill like many others; the more you practice, the better you become.