Write On! Features: Conflict by Sean Webster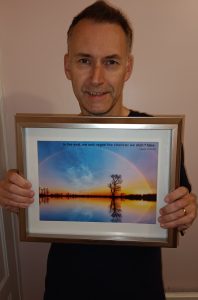 Conflict thrives. If I could buy shares in conflict, I would. Like charity shops and bookies in a ghost town, conflict is everywhere: in the public world of vaccination, restriction, uncertainty and political agenda, and in our private world of light and shade. I'll be 50 next year. I have conflict; of course I do.
Life's inner voice speaks. But, like so many, I'm guilty of muffling it. I can't possibly leave a 35K-a-year job in software development, supporting my family, mortgage, bills, two cats, etc, to follow my true passion for writing fiction. Can I? Wave off a career I studied at university and spent the last 30 years in? A compendium of implications is drawn up. Life's voice gets laryngitis and loses the war of words. Status quo prevails.
I've worked on short stories for over ten years, on and off, between work and life. And attended some brilliant paid and free courses, trying to hone the craft as a newbie. Five years ago, I started entering competitions and requesting feedback. Note to self: thinking I could win the Bridport was perhaps a tad too ambitious. Pass it on.
I continued in my comfortably paid job, where I struggled to keep my head above water, due to its technical nature and my apathy. Leaving me feeling hollow and undernourished. But there was a ray of light – positive feedback from smaller, local competitions. Note to self: this is much more achievable. Pass it on.
Covid-19 came and stayed. Nothing seemed as important. Fear, trepidation and a magical new word: Furlough. Let me get this right. So, I do whatever I want at home and still earn an 80 per cent salary? Can I get that in writing, please? Alas, being a software developer meant I was thrown into the lion's cage: working from home full-time. Novel for six months, then the lions sharpened their claws. It was harder to get explanations and answers on technical aspects. Now my head began to slip underwater. Coming up threes.
The Covid vaccination wasn't my only shot in the arm. My writing received one too.  Myriad free online writing workshops appeared on a website called Eventbrite: Roll up. Roll up. Published writers offer excellent free advice on all aspects of writing. This led me to a London-based arts council funded organisation, Pen to Print. Not only were they offering free workshops and competitions, but also full ten-week courses. I enrolled in Lucy Kaufman's Screenwriting and Ian Ayris's Advanced Creative Writing. Both brilliant. The courses previously ran in person at Dagenham Library; now suddenly they were attracting a worldwide audience.
I was building a raft of knowledge to one day set sail to a faraway, sun-kissed land of publishing. I continued with short stories and attempted a novel. Hungry to make writing a daily habit, I struggled with balancing work and the frustrations it evoked. Cue life's inner voice. But there's a difference: Hey, Conflict. Whatever, hope you're happy existing rather than living. 
In the end, we only regret the chances we didn't take: a quote by Lewis Carroll. I had it framed on my sill. Haunting me. Taunting me. Conflict raged.
My local university, in Sheffield, offers an MA in Creative Writing. Candidates are selected on relevant experience, not just qualifications – which is good – armed as I am with only a C in GCSE English and a 25-metre swimming badge. I could submit either three thousand words of prose, ten poems, or a 20-minute script of a one-act play. I submitted my prose. It felt good to take a positive step forward. Conflict appeased.
The days passed. My angst grew. What if I wasn't offered a place? Maybe switch jobs, try four days a week, continue writing in my spare time. It would be a kidney punch.
After 13 long days, I received an email offering me a place on the MA. I burst with excitement. Like receiving positive writing feedback, I felt vindicated. Then conflict tipped its hat: How serious are you about this? Willing to forsake a 30-year career in IT and financial stability? My wife gave me her full support. She'd seen my unhappiness grow over months, like wild ivy strangling a withered fence, let alone my tragic attempts at lion taming. I knew I didn't want three years at university. Did I mention I'm 50 next year? It would be hard enough, going back at my age. I could study one year full-time, equivalent to a full-time job, or two years part-time. There were positives for both. I bagged the full-time place.
Ever get the feeling the universe is messing with you? It was exactly 30 years since I was last at Sheffield University (known as polytechnic then). But worse. Way worse. My 19-year-old son was about to start the same week as me, at the same university, on the same course. Kidding! About the course bit. He's doing law. He told me his nightmare: seeing me turn up at his accommodation block: "Hey, we're roomies. Ready for freshers?" After 19 years in my shadow, he certainly didn't want me anywhere nearby. Thankfully, we're on different campuses and I was pretty damn sure I didn't want halls of residence again.
I handed my notice in at work. A conflict casserole bubbled. How do I tell friends and family I've discarded financial security to follow my dream? Would we face exile from our social circle? My wife and kids were incredibly supportive. How would others react? Should I care? We are constantly told as writers to be thick-skinned, shrug off rejection. Is it different from our nearest and dearest? "You want to be a writer and pack your job in? What kind of a wishy-washy, airy-fairy, pie-in-the-sky notion is that?" I was arguably building it up into a bigger thing. My wife's family were all supportive: "Go for it. You're so brave. Life's too short." All true, but bravery doesn't pay the bills.
Then came friends. There was the odd raised eyebrow on student loan funding, as if expecting some golden ticket for mature students. But the hardest was yet to come. Telling my parents. Don't laugh! At nearly 50, struggling to tell them may sound sad – and it is. Flashback occurred with baggage I'd struggled to tell donkey's years ago. Like, breaking Mum's 60's style green glass decanter, while chasing my sister. And joining a spiteful torching of Lee Bamford's bonfire two days early, so more people would come to ours. Sorry, Mum. Sorry, Lee. My parents had read all my short stories over the years and knew what I was about. I knew they'd be 100% supportive and just concerned about finance. I bumbled through my reasoning with them. Mum was positive, quoting another old phrase, "Too busy earning a living to make a living". I calmed their worry, explaining it was only a year and I'd get a part-time job in the new year if need be.
I hope this article helps anyone with a similar conflict. My three-tier, triple-baked conflict was: justifying the loss of financial security, leaving a career I'd had for 30 years, and explaining the decision to my nearest and dearest. The MA in creative writing started last September, and time will tell if I made the right decision. It wouldn't be appropriate for others to take a similar risk; all circumstances are different. However, I do believe in listening to life's inner voice, especially if it's given a consistent message for many years. And moving towards that message in whatever step size is comfortable. Conflict appeased… for now. Wish me luck.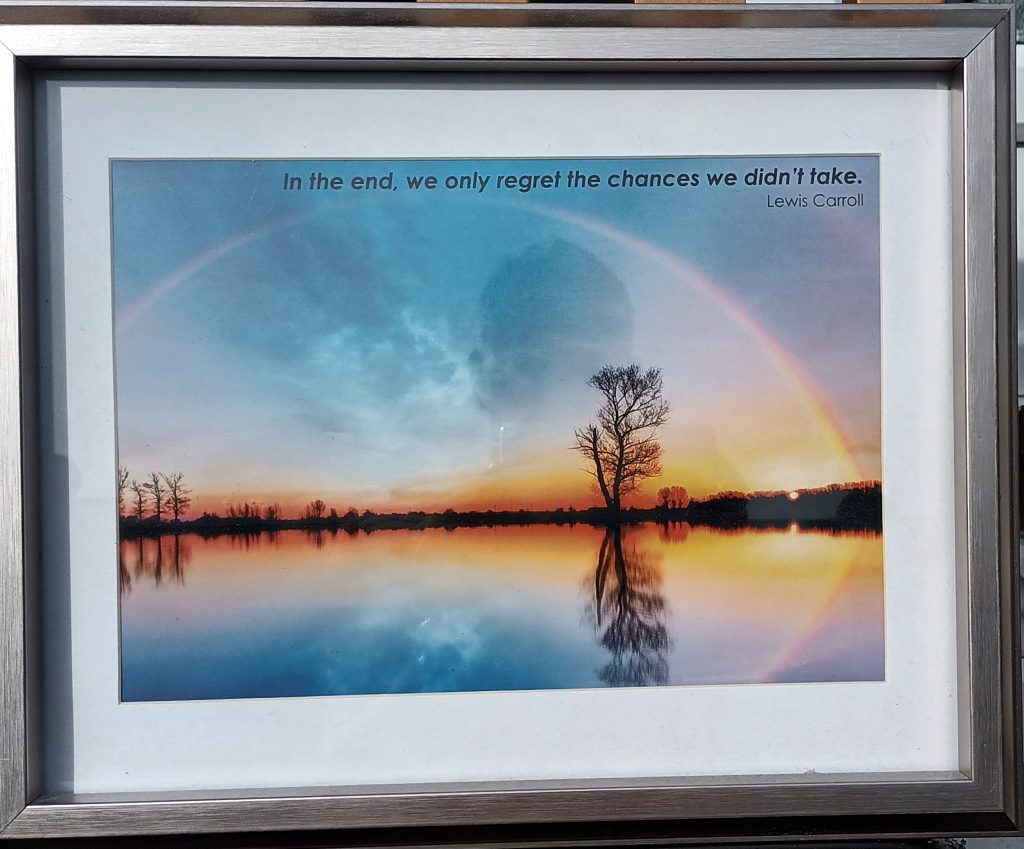 *****
Read the latest issue of Write On! magazine (11) online.
*****
Write On! Audio Podcast Contributor Giveaway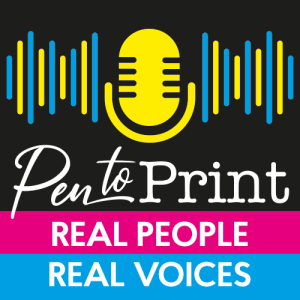 Get involved with Write On! Audio. As a contributor, you could win A Writer's Journal Workbook by Lucy van Smit. All Write On! Audio submissions (creative or opinion pieces up to six minutes, inspirational moments one to two mins – a short poem, for example and why it inspires you – submitted before 20th February) will be considered eligible. The first two pieces chosen for broadcast will receive a book. Submit on: pentoprint.org/get-involved/submit-to-write-on/.
Visit anchor.fm/pentoprint to listen to the Write On! Podcast and get inspired.
Launched by Bloomsbury, A Writer's Journal Workbook is packed with creative tasks,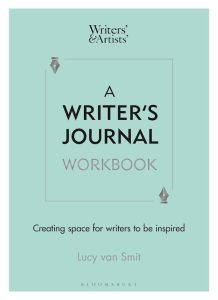 goals and advice. As an added bonus, you can also purchase it directly with this special discount code: AWJW25.
Conflict thrives. In the public world of vaccination, restriction, uncertainty and political agenda. And in our private world of light and shade.