Write On! Features: Crossing Poetic Lines by Abíọ́dún 'Abbéy' Abdul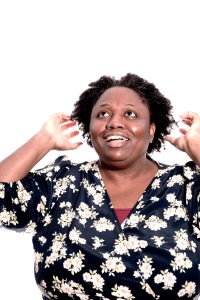 By Abíọ́dún 'Abbéy' Abdul
Hey Abíọ́dún, would like to go to the SlamoVision heats tonight?
That text from my friend Deborah in Nottingham brought my attention back to the poetry event advertised over the last few weeks on various websites and webchats. Wanting to catch up with Debs, I finally decided to squeeze the open mic night into my schedule last autumn.
Reaching the venue, I saw my girl had brought her sister and 92-year-old godmother to the party. "Hi, Abs, you do poetry, don't you? Are you going to do one tonight?" With such a sweet grey-haired lady staring at me expectantly, I didn't want to disappoint my micro audience. So I spent the next 40 minutes in the corner scrolling through my inbox looking for an 'appropriate' poem and finally found Strong Tea. 'This will be nice to share with the local creative community before catching up with my girl afterwards for a brew,' I thought.
A hop, skip and a drink to crossing poetic lines
They called my name, I delivered the poem, and polite applause accompanied me leaving the stage. After the last poet was called, I started gathering my coat and was just about to ask Debs which watering hole we should visit when the event host proclaimed: "…and the winner is A…umm…Abíọ́dún!!"
HUH??? What just happened???
You know, I'd totally forgotten it was a contest to select a local representative to compete with other UNESCO Cities of Literature up until then… so, by definition, there was nothing to be called the 'winner' for. But it turns out Strong Tea had the right blend of flavour to rouse me from my poetic stupor and waft Nottingham to worldly heights.
After that, the competition dynamic became very palpable on a global scale! From preparing to record the performance video for the judges across the world, to practising for the live grand finale with international crowds tuning in (see 'Poetic Artistry' podcast), there was so much involved leading up to the event, including a smattering of art magazine photoshoots and BBC Radio interviews (no pressure).
Come the big night, my hyper-rehearsed delivery was almost on autopilot. There was the odd wayward word or gesture, but I powered through the performance to rapturous applause (gotta love the home crowd advantage!). Then, just like the Eurovision format, the SlamoVision judges started sending their scores in, with more and more mind-boggling full points for yours truly! Final tally: 8 (Iowa, USA), 5 (Tartu, Estonia), 6 (Vilnius, Lithuania), 5 (Manchester, UK),  4 (Kuhmo, Finland), 7 (Ljubljana, Slovenia), 8 (Exeter, UK), 8 (Québec, Canada).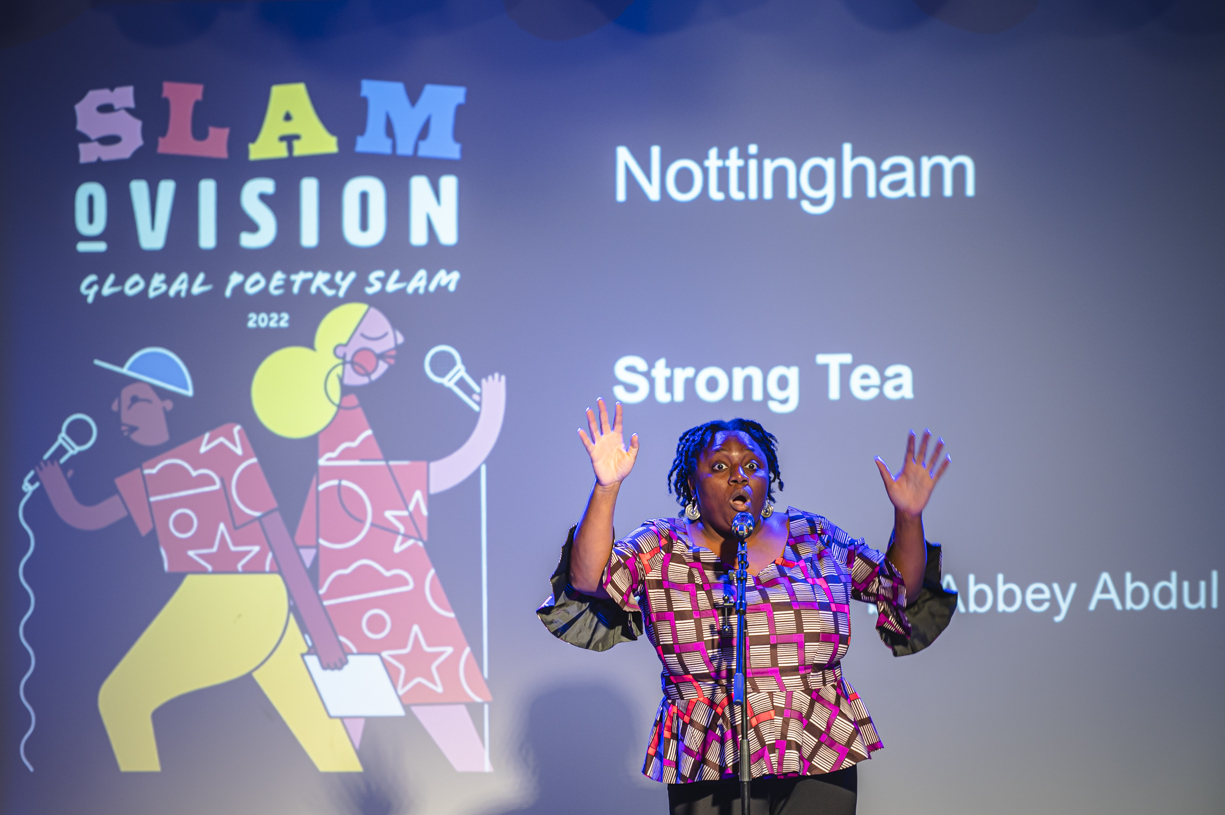 Aa-aa, did someone say global champion, kẹ̀? They did, ooo!
And with that, I was glad to make my proxy godmother happy once more (thanks for bringing the crew to support again, Debs!). Totally caught off guard, I managed to scramble together a winning speech before the vivacious hosts declared: "We hope our champ will have something stronger than tea to celebrate!" The masses obliged and the gin and tonics flowed.
Was onside with the home side crossing poetic lines
In my jubilant G&T haze, the dream of my eight-year-old self to become a poet somehow felt more realised with this worldwide recognition. However, I couldn't help but notice that, when the points came rolling in, the cities giving me the higher scores were mostly in anglophone countries, spurring the idea of my fellow poets' non-anglophone creative talents possibly being lost in translation. Had my win therefore been tainted by English language imperialism as rapping poet cum academic Akala once put into Shakespearean context? Entrenched in the flurry of hearty hugs, I wondered if a lack of cultural and indeed lingual context had perhaps swayed the outcome of this 'War Of Words'. After all, if a poem rhymes in one language, it would then lose its intended rhyme structure when translated into another, as well as the original rhythmic beat of the verses. Similarly, alliteration, homophones and other wordplay would disappear into the stanza stand-off ether. Was there really still enough poetic style choices for the judges to fairly adjudicate, eg. descriptive imagery, metaphor and simile use, extreme juxtapositions like within my lines: "To know your future, first know your past" and: "associate eastern herbs with West Yorkshire"?
Beyond these style choices, though, there was also a question of content itself and the overall topics of each poem. Engulfed in the tsunami of congratulatory handshakes, my brain's critical reflection chip still pondered the Iowa poet's line of being "childish like Gambino". How many people outside the world of anglophone popular culture know that American actor and writer Donald Glover's singing alter-ego is 'Childish Gambino' to then get that reference? Without proper context, readers/listeners would surely lose the rich reasoning of that particular vocabulary selection, perhaps seeming almost like a frivolous throwaway expression.
In other words, how does local popular or traditional culture translate across poetic lines? So yet again, was my topic choice with the embedded notion of reading tea leaves incidentally common enough to carry across many cultures and thus not be tainted by ambiguity? Also, was my central exploration of the UK's colonial legacy through the culture appropriation of tea conceptually, or indeed imperialistically, universal enough for all to understand?
Miscarriage of poetic justice in crossing poetic lines?
Yes, despite the many… hic!… colourful and flavourful… double hic!!… gin and tonics bestowed upon me, there was no tonic for the line of thought ginned up in those winning moments. Among the waves of interview requests, festival and conference invites, anthology commissions and event offers flowing my way in the post-finale jubilation, my critical reflection chip unwaveringly queried to what extent a multilingual, multicultural slam of word-weaving and concept-bending poems could be fairly appraised to then heap praise on one particular wordsmith? Still, to what extend could I fully ruminate on it all in such a merry-go-tipsy 'UNESCO Cities of Literature Global Poetry Champion' state? It's a discussion I decided to further ponder way after the following day's hangover, considering its overlapping themes with my upcoming memoir-polemic series Stained Glass Eyes: A Memoir On Race, Family & Multiculturalism. These autoethnographical books contain even more poetic life strands entwined with the winding prose intent on crossing genre lines too. Hey, Debs (and proxy godmother), that's how we roll!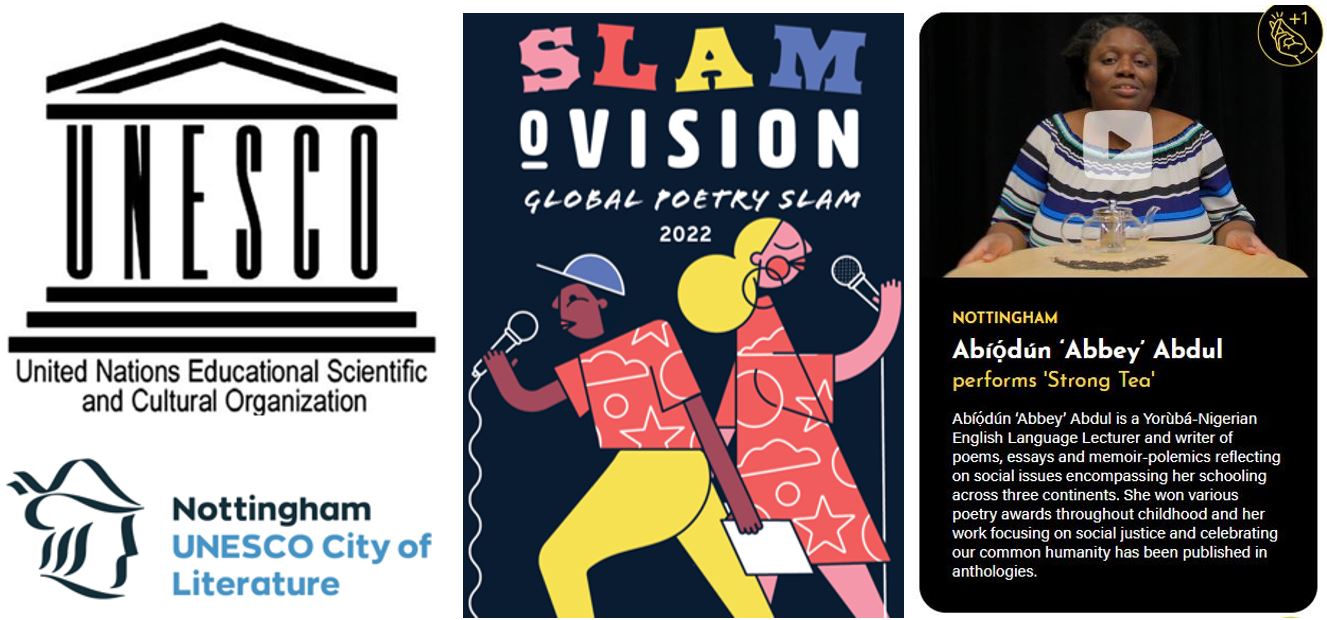 *****
Social media links:
Facebook: abiodun.a.o.abdul | Twitter: @Abiodun_Abdul01 | Instagram: @abiodunoa | Website: www.yorubayonder.com
*****
Read the latest issue of Write On! (15) magazine online here.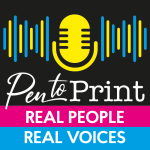 You can hear great new ideas, creative work and writing tips on Write On! Audio. Find us on all major podcast platforms, including Apple and Google Podcasts and Spotify. Type Pen to Print into your browser and look for our logo, or find us on Anchor FM.
*****
If you or someone you know has been affected by issues covered in our pages, please see the relevant link below for ​information, advice and support​: https://pentoprint.org/about/advice-support/
It turns out 'Strong Tea' had the right blend of flavour to rouse me from my poetic stupor and waft Nottingham to worldly heights.