Write On! Features: The Evolution Of Wildlife Art – From Cave Paintings To Artivism by Michelle Sutton
By Michelle Sutton 
Years ago, when I was an A-Level art student, while everyone else was choosing Pop Art, Surrealism, or Van Gogh for their coursework project, I chose to do Wildlife Art. My teachers tried everything to dissuade me. This was my first experience of art snobbery.
When I introduce myself as an artist, people ask me what type of art I do. When I introduce myself as a wildlife artist, people ask me what else I do.
It's always baffled me that wildlife art appears to be thought of, by some within the art world, as lesser, and wildlife artists as 'hobbyists'. It's even more baffling when you take into account that wildlife is depicted in the earliest form of art: cave paintings.
One of the oldest cave paintings featuring an animal is more than 40,000 years old. There are numerous examples of cave art and the vast majority feature at least one species of animal. And, not all were considered prey – for example, there are no reindeer images in the Lascaux caves, despite the fact they were the artists' main source of food.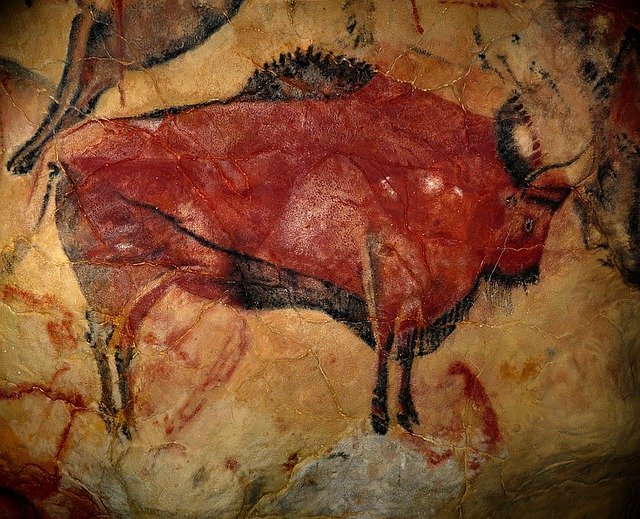 Animals also feature heavily in mythological depictions and as symbolism for early human societies. Ming dynasty Chinese art featured wildlife that was realistic and detailed. Many Egyptian deities are depicted with the heads of different animals, birds, and insects. Animals were even used in hieroglyphics. Greek and Roman art, in particular ceramics, would often feature birds as symbolism in reference to ornithomancy or augury (the practice of interpreting omens from bird behaviour).
The use of animals as symbolism in art is widespread and varies by culture. In Europe, for example, owls were included in many paintings of witches, as they were believed to be either messengers for witches or the witch herself in owl-form. Whereas cranes in Japanese art symbolise longevity and good luck.
Even some of the most famous artists used wildlife and other animals in their art. Leonardo da Vinci and other Renaissance artists formulated their own versions of the Bestiary, and if you were to look at artworks of this period, you would find many portraits with an animal or bird included for symbolism. Often they were not accurate, especially in relation to the animal's size – e.g. Da Vinci's Lady With An Ermine, where the animal is larger than reality – as the meaning behind their usage was most important.
Personally, when I was visiting galleries and perusing books to look for 'classic' wildlife art and artists to include in my coursework, three particular artists caught my eye: George Stubbs, John James Audubon, and Charles Tunnicliffe.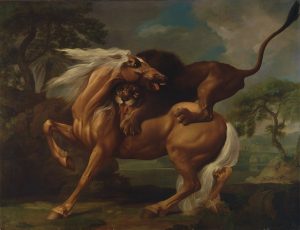 George Stubbs (1724 – 1806) was an eighteenth-century British painter who was most famous for his animal paintings, particularly of horses, and his book The Anatomy Of The Horse. One of his well-known works is Whistlejacket, a life-size portrait of the racehorse, which can be seen in the National Gallery, and is always my first stop when I visit. Stubbs also produced the first painting of an Australian animal (The Kongouro From New Holland) in Western art, and one of only two pieces he didn't draw from a live subject.
John James Audubon (1785 – 1851) was an American artist, naturalist, and ornithologist, who at the age of 35 declared his intention to paint every bird in North America. His illustrations were compiled and printed as the book Birds Of America. Despite various controversies and inaccuracies, the book is still considered important scientifically and one of the greatest examples of book art.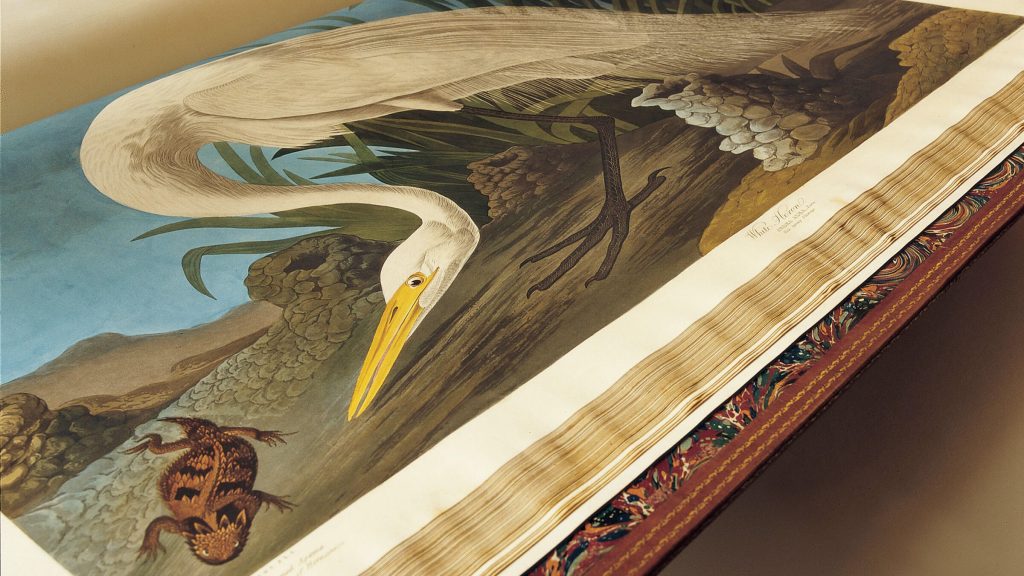 Finally, Charles Tunnicliffe (1901 – 1979) was an internationally renowned twentieth-century artist of British birds and wildlife. He is also well known in the literary world as an illustrator, especially for Henry Williamson's Tarka The Otter, among many other books – which was how I first became introduced to his work and is probably responsible for me wanting to illustrate books one day.
The reason these artists impressed me was because they produced a lot of work that was just animals, rather than inserting the odd one or two into a scene with people. The animal itself was the subject, instead of being used merely as symbolism or background.
When looking at past artists, it's clear that wildlife artists increasingly became used to depicting scientific specimens; the vast majority working from either a dead creature or a scientist's description alone. This often meant, although accurate and precise, the art was lifeless and lacked the character of the animal, at least when working from specimens, as sometimes, working from just a description created interesting results. Which was why artists like Tunnicliffe, who worked from field sketches and their own observations, produced work showing wildlife in its natural environment, displaying typical behaviours as well as featuring movement.
This brings me to an artist, and man, I have admired for many years: David Shepherd CBE. I first became aware of Shepherd's work simply because my parents have had a print of his painting, The Ivory Is Theirs, since I can remember. A beautiful elephant piece with a poignant title, and one of the reasons I became interested in conservation.
Rejected by the Slade School Of Fine Art as having 'no talent whatsoever', he then met professional artist, Robin Goodwin, who taught him for three years. Shepherd started his career as an aviation artist and the Armed Forces commissioned paintings that took him all over the world. In 1960, the RAF flew him to Kenya and commissioned his first wildlife painting – a rhino on a runway – and this was a turning point for his career.
In 1984, having already been involved in conservation and wildlife art fund-raisers, Shepherd established the David Shepherd Wildlife Foundation (DSWF).
I met David during my A-Levels and he was kind enough to answer my questions and provide me with samples of his work that I could use in my project. Years later, I would become a member of the DSWF and begin entering their annual competition, Wildlife Artist Of The Year. As I write this, I am currently working on my entries for this year.
Nowadays, conservation and wildlife art go hand-in-hand. There are many charities and art competitions or exhibitions that are devoted to raising funds for endangered species through the sale of art. DSWF, Explorers Against Extinction, Artists For Painted Dogs, and The Society Of Wildlife Artists are just a few that spring to mind – each having open call art competitions throughout the year.
But is depicting wildlife in its environment enough to evoke the true depth of how desperate the plight of our natural world is any more? We all know conservation is important and habitat loss or climate change is impacting wildlife on a global scale every day, but could, and should, artists be doing more?
Many believe so. Recently, a new form of art, known as 'Wildlife Artivism', has begun to rise. The phrase was coined by artist Martin Aveling after questioning the narrative of most wildlife art:
"If we only ever portray animals in a good light, how can we present an honest narrative?"
Martin describes Wildlife Artivism as elements of fantasy being combined with reality to unearth hidden truths.
If you see a drawing of a group of elephants walking across an African landscape, what does that tell you of how many of these magnificent creatures die each day for their tusks? If you see a drawing of a lone elephant holding a bundle of tusks, does this evoke strong emotions? This latter image exists as a drawing by artist Hana Fitzsimmons: Ivory Kills Family Bond (pictured).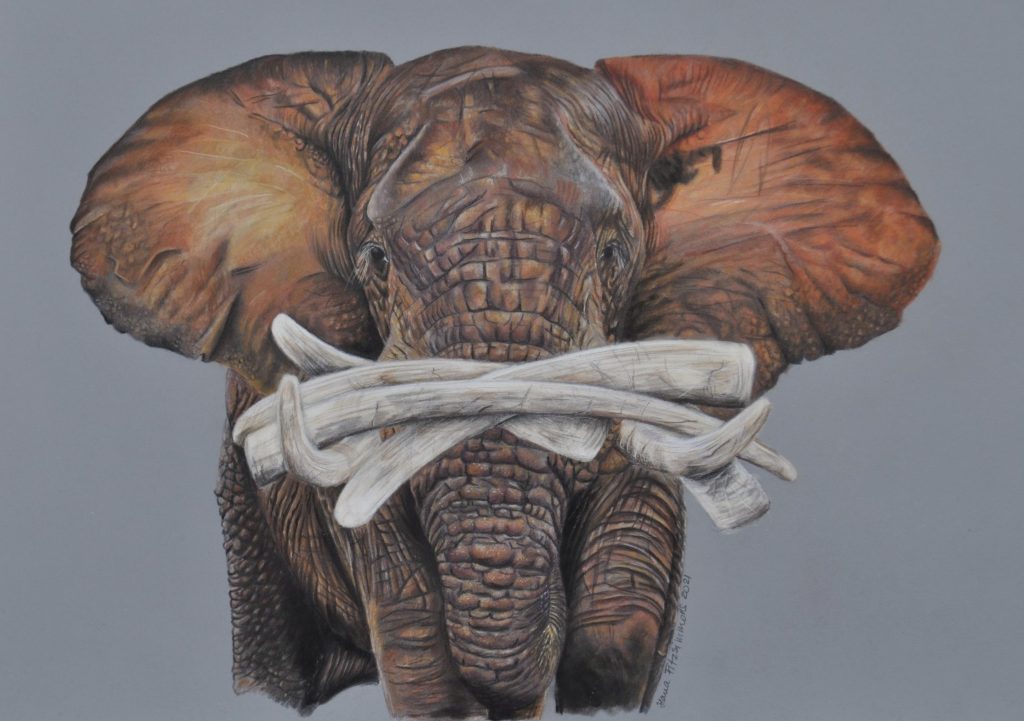 Many artists, including myself, are frequently producing Wildlife Artivism pieces alongside our other work and I do believe, like others, that it's our responsibility to highlight important issues like climate change, habitat loss, and poaching in this way. It's also interesting to note that many artists are starting to look at their materials and how we can make and produce art in a more environmentally friendly way. For example: researching what paintbrushes are made from, how to reduce plastic waste when using acrylic paint, or using compostable packaging.
Artists are also using plastic waste, recycled and reclaimed or found objects in their artwork. There are some amazing sculptures being produced by using rubbish collected from beaches!
Art is always evolving and I think wildlife art will continue to be influenced by conservation, whether it be in the way our art is produced, or to reflect and highlight important issues. Wildlife art has also allowed us to know what now extinct species looked like – especially useful pre-camera era – and many artists work from skeletons and fossils to create visual interpretations, becoming increasingly accurate the more we learn: think feathered dinosaurs and less fat dodos.
From cave paintings and symbolism to scientific illustrations and artivism, it's clear that wildlife is a popular theme in art – to create and purchase. So, maybe one day, the snobbery that exists towards it in a section of the art world will evolve as well. But you can be sure of one thing: there will be something new around the corner with wildlife art and I look forward to seeing what's next.
*****
Michelle is a wildlife and rock artist from Barking. Largely self-taught, she works in a variety of mediums and surfaces, liking to experiment with mixing mediums. She was a finalist in Explorers Against Extinction's 'Sketch For Survival' competition in 2021, where her piece, Asian Small Clawed Otters, was sold at auction to raise money for conservation.
You can connect with Michelle on Instagram: @msuttonartwork, Twitter: @MSuttonArt and Facebook: MichelleSuttonArtwork
*****
From cave paintings and symbolism to scientific illustrations and artivism, it's clear that wildlife is a popular theme in art.