Write On! Features: A Guide To Hay Festival 2023 For Budding Writers by Julie Finch, Hay Festival CEO
By Julie Finch, Hay Festival CEO

It's that time of year! Books are arriving by the crate load in Hay-on-Wye and our Hay Festival 2023 programme is hot off the presses. As festival goers everywhere are making their selections of what to see and do at the world's best-loved book event, 25 May – 4 June, here are our ten top picks for all you budding writers out there:
Alexander McCall Smith on 25 years on The No.1 Ladies' Detective Agency, Friday 26 May
Join us as we celebrate this global success. The author gives us insights into his writing career and a glimpse of the many series that have been published in the intervening years, including 44 Scotland Street series and a new novel in the Detective Varg series, The Discreet Charm Of The Big Bad Wolf.
Publishing In Wales Question Time, Saturday 27 May
Put your questions about all things writing and publishing to an expert panel of publishers, authors and journalists, introduced by Cyhoeddi Cymru Publishing Wales and chaired by a media personality to be announced. The panel explores the challenges and opportunities facing Wales' publishing sector, discusses Welsh identity and the growth of the Welsh language, multiculturism and diversity, and looks at how we can put Welsh publishing on the global map.
Rebecca F Kuang talks Yellowface, Sunday 28 May
Get an insight into the world of publishing with Rebecca F Kuang's highly anticipated satirical thriller Yellowface, in which a woman watches her frenemy – and super-successful author – Athena Liu die…and then steals her manuscript and publishes it under her own name. Kuang discusses skewering the publishing industry, trial by social media, toxic friendships and the co-option of identity politics, and whether any of her characters are taken from real life. Yellowface is Kuang's first adult contemporary novel; her fantasy epic Babel, which drew on her experiences as a translator and an Oxford graduate, was a New York Times bestseller.
John Banville and Richard Ford talk to Chris Power, Monday 29 May
Two of our greatest living novelists speak to literary critic Chris Power about their new books. Booker Prize-winner John Banville's The Lock-Up is the latest novel in his Stafford and Quirke historical crime series, and sees the pair investigate their most puzzling case yet, that of a woman discovered dead in an apparent suicide in a lock-up garage in Dublin. Pulitzer Prize-winner Richard Ford's Be Mine sees him return to the character of Frank Bascombe, now in the twilight of life and finding himself a carer to his son Paul, who has ALS. In Bascombe's story is a profound, funny, poignant love letter to our beleaguered world.
Fflur Dafydd talks The Library Suicides, Tuesday 30 May
The novelist, musician and screenwriter, who writes in Welsh and English, presents the story of twins Ana and Nan, lost after the death of their mother, a renowned author who seemingly killed herself by jumping out of a window, naming her biographer and critic Eben as being responsible for her death. During a night shift in their job at the labyrinthine National Library Of Wales, the twins plan to enact their revenge on Eben by locking down the building. But when one rogue security guard starts upsetting the plan and freeing captives, Ana, Nan and Eben find themselves pushed to the limit and what began as a single-minded act of revenge blooms into a complex unravelling of loyalties and motives.
Write On! Podcast LIVE, Wednesday 31 May
In this live recording of the Write On! podcast, editor and author Madeleine F White leads a discussion on how co-creation bridges the needs of diverse writers and traditional publishing communities, focusing on challenges of culture, class and gender and drawing from a range of writing experiences. Not to be missed.
Margaret Atwood, Elif Shafak and Douglas Stuart launch Salman Rushdie's Victory Road, Thursday 1 June
One of Britain's greatest living storytellers, Salman Rushdie is back with a magical realist feminist tale in Victory City, a novel presented as an abridged translation of a fictitious and previously lost Sanskrit verse saga. The novel's final line, words are the only victors, seems more relevant than ever following a brutal attack on Rushdie in 2022, which left him injured. Three of his friends and admirers – novelists Margaret Atwood, Elif Shafak and Douglas Stuart – speak to journalist and editor Alex Clark about the power of Rushdie's storytelling and celebrate the wonder of Victory City.
Cressida Cowell, Connor Allen and Tom Percival look at the life-changing power of literature, Friday 2 June
Open the covers on the life-changing power of books and join the discussion of how literacy and a love of reading can improve a child's life chances. An inspirational talk from Cressida Cowell, former Waterstones Children's Laureate and author of the How To Train Your Dragon series, Children's Laureate Wales Connor Allen, and bestselling author-illustrator Tom Percival. Chaired by Jonathan Douglas, CEO of the National Literacy Trust.
William Sieghart with Denise Gough, Natascha McElhone, Dominic West and more with their Poetry Pharmacy Gala, Saturday 3 June
The Poetry Pharmacy has a prescription whatever your poetic need or desire, from verses to soothe your soul and brighten your day to poems that offer comfort in times of trouble. William Sieghart, creator and editor of The Poetry Pharmacy, is joined by Denise Gough (Colette, Andor), Natascha McElhone (The Truman Show, Solaris) and Dominic West (The Crown, Tomb Raider) for an evening of connection and inspiration.
Irene Vallejo on Papyrus, Sunday 4 June
Irene Vallejo presents an immersive journey through the history of books and libraries in the ancient world which has captivated millions of readers around the world. From the banks of the Nile and the battlefields of Alexander The Great, to the censorship of the humorists and the empowerment of women writers like Sappho, Vallejo enlivens the origins of the book. Its invention was as disruptive as the internet, and through these journeys into the past, Vallejo reflects on the dilemmas of our modern world and the challenges of the future.
Hay Festival 2023 runs Thursday 25 May to Sunday 4 June. Book tickets now at https://www.hayfestival.com/wales/home. 
*****
Issue 16 of Write On! is out now and you can read it online here. Find it in libraries and other outlets. You can find previous editions of our magazines here.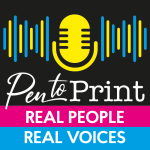 You can hear great new ideas, creative work and writing tips on Write On! Audio. Find us on all major podcast platforms, including Apple and Google Podcasts and Spotify. Type Pen to Print into your browser and look for our logo, or find us on Anchor FM.
*****
If you or someone you know has been affected by issues covered in our pages, please see the relevant link below for ​information, advice and support​: https://pentoprint.org/about/advice-support/
Open the covers on the life-changing power of books and join the discussion of how literacy and a love of reading can improve a child's life chances.