Write On! Features: Legacy Journaling By Merle R. Saferstein
By Merle R. Saferstein
Shortly after reading The Diary Of A Young Girl by Anne Frank, I bought my first diary with a pink faux leather cover and a lock to keep my thoughts safe. I wrote in it periodically throughout my junior high school years and filled a few diaries. They were somehow lost when my family moved. I rarely thought about them after that.
I didn't pick up a pen to journal again until I turned 30 in 1974. At that time, my husband and I had two small children, and my world was filled with diapers, cribs and baby toys. One day, I felt the urge to record what I was thinking and experiencing as a stay-at-home mom and wife. That's when I first learned the benefits of journaling — particularly having a place to express my frustrations and joys. I recorded what was happening around me. Sometimes I would capture what my children were doing or saying in words on the page. Journaling quickly became a vehicle and a safe place to say everything, with no one judging what I wrote or thought.
By 1982, I was writing daily. My journals became my companion, confessor, therapist and more. Journaling helped me to stay present and gave structure to my life. I wrote whenever I could — between carpools, work, childrearing and chores. Sometimes, when I was stopped at a bridge opening, I would write a few lines in my journal. Journaling became the place I could say whatever was on my mind. It was essential to my existence. Like cleaning a messy house, I felt lighter and freer once I released my thoughts onto the page.
I never truly understood what drew me to write. All I knew was that I was filling journals at a rapid pace. Periodically, I wondered whether there was anything within the pages worth sharing. As an educator, I hoped I'd written something meaningful, but had yet to learn if that was true.
Fast forward to the year 2000. I began to think about what I would do with the 240 journals I'd filled. For years, I thought I'd eventually leave them to my children. However, at some point, I realised I couldn't. I'd written these journals for myself and what I committed to paper was for my eyes only. Plus, many of my friends shared their secrets with me and I'd written in my journal to process some of what they'd told me. Yet another reason why my journals had to remain completely private.
I decided to explore whether there was anything in my journals worth sharing with my children. I came up with the idea of taking excerpts based on various subjects. In 2002, I began what I called my legacy journal project. It took me 14 years to read through my then 359 journals, looking for life lessons, values and beliefs, stories of interest and more. Ultimately, I had 70 different topics. Each had 75-450 pages I had to cull through for the jewels.
By then, I realised I had something worth sharing and decided to broaden my audience to more than just my children. I'd become a legacy educator and understood the value of passing along what we've learned to this and future generations.
While I was knee-deep in working on this legacy journal project, I also taught classes I'd developed: Living And Leaving Your Legacy®. In one of those classes, I met Sara, a 40-year-old woman with metastatic breast cancer. She was the mother of a three-year-old little girl. I encouraged her to begin journaling as an outlet during treatment and a way to express her thoughts and feelings. I knew it might be a cathartic tool for her, and it was.
I stayed in touch with Sara after the class ended. We spoke often, and as her prognosis became less hopeful, I encouraged her to write an ethical will — a spiritual document containing one's life lessons, values, beliefs, hopes and dreams. I knew it would be an excellent way for her to pass along to her daughter those messages, ideas and stories that mattered most to her.
Eventually, Sara entered a hospice. Three weeks before she died, her brother called me on her behalf. She was too weak to speak and asked him to talk to me. She requested I read her journals to choose excerpts for her daughter, which her brother would give her when she turned 18. As he explained, Sara knew it was a big ask. Honoring her request was the most sacred act I could perform for Sara, so I immediately said yes.
Two weeks after Sara died, the box of her journals arrived. It took me several days to muster up the courage to open it. Once I did, I found ten journals in different sizes and shapes, all handwritten in different coloured ink.
It quickly became apparent that Sara had written these journals solely for herself. By reading her thoughts, prayers, fears and hopes, I saw she wanted nothing more than to live longer and raise her daughter. As a religious woman, she often wrote letters to God in her journals. She kept a record of her doctor's visits. In one calendar journal, she recorded some of the playful moments she and her daughter had spent together. Mostly, Sara wrote to process what was happening to her body and what she was feeling daily.
I spent almost three weeks in isolation, absorbing what I was reading and deciding what felt appropriate for her daughter to someday have and cherish. There were some passages I knew were not for anyone to see. Those stayed within the pages of her journals; much as I was doing with my legacy journal project.
I compiled Sara's journal excerpts and had them bound into a book. I replicated one of her journal's covers, chose that as the cover, and then sent it to her brother for safekeeping.
When I completed Sara's project, I immediately returned to my own. Altogether, it took me another five years to sort through the 70 topics of excerpts and determine which ones I wanted to share. By the time I whittled down the list, I chose a total of 22 subjects, including themes like parenting, marriage, on being a woman, spirituality, headline news events through the years, relationships, my experiences as a Holocaust educator, Holocaust survivors, death and dying, and legacy.
I then created two books, Living And Leaving My Legacy, Vols. 1 And 2. As a result of having worked with Sara's journals, I understood that, while she wrote them for herself, they morphed into a cherished legacy journal for someone else. I've done the same thing with my journals. Turning them into legacy journaling provides those who read the books with an insight into my deepest thoughts and feelings. These legacy journals describe my journey and contain a peek into my soul and life.
My purpose in publishing these books has been two-fold. One was to help people understand the benefits of journaling. For this reason, I've included journal prompts after each chapter to encourage readers to reflect on the content. Secondly, I hoped the excerpts will lead readers to contemplate their own lives while reading about mine. My ultimate wish is that they will be inspired to think about their life lessons and understand that how they live their life becomes their legacy.
*****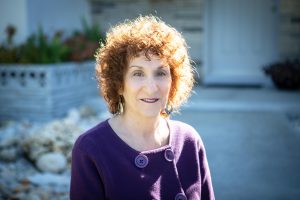 Merle R. Saferstein is an educator, speaker, author and a pioneer in the field of legacy journaling. She's been journaling for 48 years and has amassed a collection of 380 journals, the majority of which are the basis for her legacy journal

Living And Leaving My Legacy Vols. 1 And 2

. After 26  years as a Holocaust educator, where she worked with hundreds of Holocaust survivors helping them to leave their legacy, she retired and created Living And Leaving Your Legacy®. Through classes, workshops and lectures, she's guided thousands of people in sacred legacy work, writing for wellness, and journaling. Her short story collection,

Room 732

, pays homage to the historic Hollywood Beach Hotel. 

Merle

lives in Miami, Florida with her husband of 56  years and has two children and two grandchildren.
Connect with Merle here:
Issue 17 of Write On! is out now and you can read it online here. Find it in libraries and other outlets. You can find previous editions of our magazines here.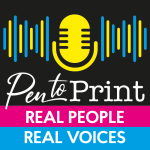 You can hear great new ideas, creative work and writing tips on Write On! Audio. Find us on all major podcast platforms, including Apple and Google Podcasts and Spotify. Type Pen to Print into your browser and look for our logo, or find us on Podcasters.Spotify.com.
*****
If you or someone you know has been affected by issues covered in our pages, please see the relevant link below for ​information, advice and support​: https://pentoprint.org/about/advice-support/
My ultimate wish is that readers will be inspired to think about their life lessons and understand that how they live their life becomes their legacy.