Write On! Features: My Mentorship Experience by Filippo Rossi
By Filippo Rossi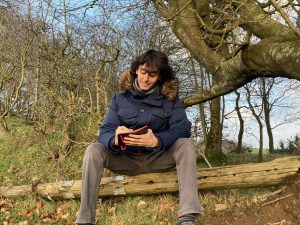 Notepad at the ready, Zoom launches on the screen and cows graze peacefully outside my window. As I wait for the first digital meeting of my mentorship to begin, I find myself thinking about my journey so far. Only one year before, almost to the day, I had discovered the Libraries Unlimited 'What If You Spoke?' masterclasses and was enthusiastically experimenting with fiddly palindrome poetry and review writing. Little did I know that, a few months later, I'd see my work printed in Write On! magazine as one of the winners of the competition!
Winning has definitely helped me ground my understanding that writing is undoubtedly very important for me. It has strengthened my resolve to pursue and develop this passion further.
Everything I'm interested in, sooner or later and in one form or another, finds its way onto my page. The worlds of philosophy, my fascination for physics, and the richness of nature are all areas I love exploring. But so is the observation of people, our habits, ways of being, our little worlds and behaviours. I can often be found walking in the woodlands with my notebook, inspired by the simplest of things. It's here a lot of what I write takes shape. And then there are books, of course. My lifelong love of reading is always a rich source of ideas and a way to learn. In other words, the local library is a place I can never get out of easily!
Storytelling has been a passion of mine for as long as I can remember. The freedom it offers has always appealed to me. Be it through poetry, fiction or short plays, for me it's a way of experimenting with new perspectives and exploring meaning, both within myself and my surroundings.
As a small child, still unable to read or write, I would exhaust my parents with never-ending tales, often woven on the spot and for the most part, grains of truth swelled with rampant imagination. As I learned to write, I slowly began, with some relief from my 'audience,' to get the quite alien notion that less is more.
At that time I was still living in Italy, the place where I was born and lived up to the age of 11 when, with my family, we decided to move from our big industrial city to rural Devon. It was an exciting and radical change in life. It was at this point I began learning English. Year 7 turned out to be a memorable year of many hand gestures, blank smiles and dictionaries! As I started to get along with the language, I could relax a bit more and so began to enjoy the process of being immersed in a different reality.
Coming from another language and culture has cemented my love for words and enriched my understanding of their importance. It was in the UK that I discovered how creative writing is a world in itself, reaching far beyond the margins of my scraps of paper. With poetry, I've realised there's so much more to it than the stale and dusty poems read in school. Thanks to the many competitions, workshops and projects I've taken part in, I have slowly come to see that writers don't exist in some mysterious universe behind the page, but are real everyday people. More importantly, I can also be one.
As often happens, one thing leads to another. It was while reading the very issue of Write On! with my 'What If You Spoke?' work printed in, that I found out about the Pen to Print Book Challenge. It sounded like a fantastic opportunity. Why not give it a go? There, I read they were especially looking for books aimed at children and young adults. That made me think of a children's story of mine gathering digital dust in my computer files. I'd written the bulk of it when I was still a child myself. I was 12, English still fresh on my pen when The Lost Cabbage was born. A magical tale narrated by a worn-out library book centering around a unique house in which every object is alive. In it lives Jenny, an old, addled lady, who the house takes care of in various ways. Everything from the armchair to the door, from the umbrella to the kitchen knife, not only springs to life when Jenny leaves the house but has very distinctive personalities. The house is thus a lively community of things. But the mysterious disappearance of the Cabbage brings chaos to the house and eventually leads to an unprecedented expedition to the 'outside world.'
Seven years later, expectations were pretty low when I sent it off for the Book Challenge, but thought there was no harm in trying.
It was a great surprise when I received an email telling me The Lost Cabbage had been shortlisted. This meant a year-long, one-to-one mentorship with author Preetha Leela Chockalingam and a publishing opportunity.
Thanks to Preetha's careful observations and suggestions, the mentorship is shaping up beautifully. Although still relatively at the beginning, I've already learned a lot, not just about the craft of writing but also about myself as a writer. Having expert feedback on my work is a first for me, and so is the ongoing process of discovery that comes with it; something about which I'm growing increasingly curious. Early on, we agreed to expand the story of The Lost Cabbage to make full use of its potential and aim it at an audience of 8-11. Step by step, meeting after meeting, the book is growing and evolving. Had it not been for this opportunity, it would still be yet another file on my computer. I'm very grateful to have been offered this support so early on in my life. This is a time in which I'm trying to understand what form my writing journey will take; something as daunting as it is exciting, and so being accompanied for a while along the way is undoubtedly fantastic. I look forward to continuing this process and can't wait to hold the book in my hands. Let's see what the future will bring!
*****
Read the latest issue of Write On! (15) magazine online here.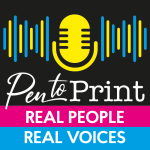 You can hear great new ideas, creative work and writing tips on Write On! Audio. Find us on all major podcast platforms, including Apple and Google Podcasts and Spotify. Type Pen to Print into your browser and look for our logo, or find us on Anchor FM.
*****
If you or someone you know has been affected by issues covered in our pages, please see the relevant link below for ​information, advice and support​: https://pentoprint.org/about/advice-support/
My lifelong love of reading is always a rich source of ideas and a way to learn. In other words, the local library is a place I can never get out of easily!