Write On! Features: The Power Of A Muse by Meliha Avdic
By Meliha Avdic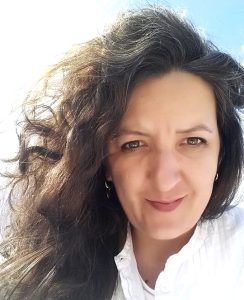 Muses are real! Hear me, hear me; they are real! If that makes me sound insane, I completely understand. After all, I (like many writers) spent years planning, plotting, writing out character bibles, timelines, chapter breakdowns, for everything I ever wrote, whether it's a novel, novella, short story, article or essay. And then, one day, during  lockdown, while I was working on the sequel to Torment And Ointment (or at least trying to), having sent out Beliefs Of The Faithless to a whole bunch of agents and publishers (trying not to check my inbox every 30 seconds), a muse came to visit. I didn't see her, at the time, I didn't even know it was her, or him – my muse might be male, or gender-neutral, I don't care. The point is, I wrote a book, rewrote it, edited it, and published it through a publisher (OK, a small publisher) in about 15 months. I'm still trying to work out how this happened.
We were a few months into lockdown. The sun had finally come out. It was looking hopeful, yet the local government sent more messages to 'please stay indoors unless we have to go out'. My neighbours didn't need anything. I didn't need anything. The house was spotless. I'd made all the food I could eat. So I flopped on the sofa, feeling sorry for myself. I was trying to accept that the problems were bigger than me, that I'd done all I could, and that I must find inner peace, so I could get on with my work.
This was not going well, I thought, as I lazily flicked channels. How could I accept that something invisible to the naked eye was bigger than me? I was hoping for some miraculous solution of spraying something that wouldn't harm humans, yet it would kill this 'invisible' devil, and our world would be free again. Just as I was about to fall into a fantasy where some hero came up with the magical spray, an episode of Hawaii 5-0 came on. I dropped the remote and, as I watched the episode, I pointed at the screen, at Steve McGarrett, and said, "That guy needs a woman!" And a woman just appeared. She looked a lot like Julia Ormond in Legends Of The Fall, except that she was a victim of war, fighting for justice. This was not surprising, considering my head was in the Torment And Ointment story. I took my notebook and a pen and wrote about Steve and Julia, how they met during the war in Bosnia when they were only teenagers; he a UN soldier and she a local. Their little fling ended when he had to leave and she had to stay. Then a massacre happened. He thought she was killed. He blamed himself. It changed him forever. Except that she survived, had his daughter and, 19 years later, takes a trip to Hawaii, to come back from the dead and introduce him to his 18-year-old daughter, Sofia. That's all I was going to write. It was meant to be a fanfiction story of about four to five thousand words. But then it went on. The notebook was full in no time. I had to type up the story.
Julia is not a common name in Bosnia, so I had to give my protagonist a new name. I had some raspberries on the table. The word for raspberries in Bosnian is malina. Malina sounded like a good name for this character. After all, this story was not going to go anywhere. This was just a little writing exercise. I had other projects I needed to get on with, but couldn't. I hoped this exercise would help unblock my mind.
As I typed the story, for about one to two hours a day, it changed considerably. I didn't care. I just went with whatever felt best. For the first time in my life, I was not questioning my writing; second-guessing every decision I made. I just wrote in the 'whatever' style. A month later, I could not believe I had 80,000 words. And the story was nowhere near finished. But I knew the first version of part one was done. So I left it.
I kept making notes for part two, even part three. My characters came to life and I could almost hear them. I could definitely feel them. But I still couldn't see this story going anywhere, and I had to work on something that 'had a future'. My other work wasn't going well, so a few months later, I reread the first part. I couldn't believe I'd written it. I loved it! By then, the days were getting shorter and I began to wonder 'What if this is not just a writing exercise; what if this is my book?' But then, how could that be my book, when it had happened so easily? I didn't slave over it at all. Plus, it couldn't be 'my' book, since most of the characters were not mine. I wrote to various people about this issue – can I use characters that are not mine – even though I knew the answer. I didn't get any replies, but I did find a number of writing communities.
I joined Hawaii Writers Guild, Sundance Writer's Café, and London Writers Salon Café. Suddenly, I was too busy to go out. I had a whole community of people writing with me. I sat down, changed all the characters and rewrote the whole story with the help of writers from all over the world. They made it so easy. Between them and my muse, the whole process felt like a breeze. I ended up with over 97,000 words. In fact, I even started a screenplay based on the story.
Steve McGarrett became Skyler O'Sullivan. It took a long time, perhaps about six months, for this change to sink in. I kept hearing their voices and Malina was the loudest. Steve, or Skyler, or even Alex at times, didn't disrupt me so much. I found this odd, since Steve's 'need' for a woman had inspired the whole thing. The title of the book also changed from Windows And Mirrors to Immortality Of Fireflies. Hawaii 5-0 became SHARC (Safe Hawaii: Agents And Reservist Cabinet), and it gained a whole new dimension after I researched Hawaii and learned a lot more about the place through talking to the writers at HWG. It was only then the book felt as though it was mine. It was at this point I realised I have a muse. It was all so magical, so easy, one synchronicity after another!
I expected positive responses to the story, but that was not meant to be. All the places I submitted to rejected it. This was a downer. I had so much faith, rejections felt even worse than before. However, I attended The London Book Fair online event, which was where I met my publisher. My editor wrote to me, saying, I wish I had read this book as a reader, not as an editor.  My faith was restored. I don't expect everyone to like it. I don't believe there's ever been a book that everyone enjoyed, so I don't expect I'll be the first person in the history of humankind to write such a book. But I do hope there'll be some readers who'll enjoy it and find it empowering, the way it empowered me when I wrote it.
I'm still trying to figure out if there's a way to summon the muse, so that we can cure writer's block once and for all. But I don't think (s)he needs to be summoned. I think (s)he is present all the time: we just need to let her/him in. It seems that letting go is the key. As strange and odd as it might sound, once we know what we love, what we're passionate about, and we surrender to our passion, we need to let some wonderful, mythical creature guide us. We need to be open, grounded, aware of ourselves and our surroundings, and we need to stop forcing ideas and rules. We need to exercise our 'art' muscles every day. This is about more than being creative; it's about letting creativity in, even if that means sitting still. Creativity is a calling, not a chore. Our inner voice is urging us to do something. That inner voice is our muse calling. So our muse is already present the moment we feel we must create. I know that now. (S)he was here all along, for every piece I ever wrote, but I couldn't hear him/her until I learned to let go, until I learned to tell myself, 'Don't rush.'
As it turns out, my urge to get it done was blocking me. Things happened much faster and better when I didn't urge myself. That urge felt a lot like anxiety, and, even though I had ideas and I knew what I wanted to write, I couldn't write with ease and confidence. Plus, I've learned to see the good as well as the bad when I judge my work. This is vital. I don't know about others, but I've had to apply effort to see the good, whereas I could see the bad effortlessly. My mind was working against me and I had to fix that by leaving myself notes about the good things in my work.
Now that I know what it feels like to hear the muse, to know that (s)he is here, really here, I wish every writer and every artist could experience the same. I also wish I could stay in that frame of mind myself, but life keeps getting in the way. Yet, what would I write about if it were not for life? Irony. Perhaps just knowing that muses are real, that we can get ourselves to feel them as if they were truly present, is enough. And I know, for a fact, that if it can happen to me, it can happen to any artist. So good luck!
*****
You can connect with Meliha at her website www.meliha.webador.co.uk, follow her on Twitter: @MelihaAB and Facebook: facebook.com/MelihaAvdic4
Read the latest issue of Write On! magazine (11) online.
*****
Write On! Audio Podcast Contributor Giveaway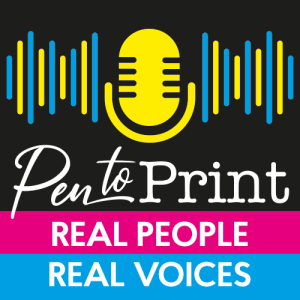 Get involved with Write On! Audio. As a contributor, you could win A Writer's Journal Workbook by Lucy van Smit. All Write On! Audio submissions (creative or opinion pieces up to six minutes, inspirational moments one to two mins – a short poem for example and why it inspires you- submitted before 20th February will be considered eligible). The first two pieces chosen for broadcast will receive a book. Submit on: pentoprint.org/get-involved/submit-to-write-on/.
Visit anchor.fm/pentoprint to listen to the Write On! Podcast and get inspired.
Launched by Bloomsbury, A Writer's Journal Workbook is packed with creative tasks,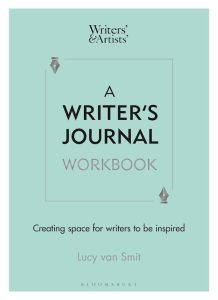 goals and advice! As an added bonus, you can also purchase it directly with this special discount code: AWJW25.
Perhaps just knowing that muses are real, that we can get ourselves to feel them as if they were truly present, is enough. And I know, for a fact, that if it can happen to me, it can happen to any artist. So good luck!