Write On! Features: Write On! goes to Hay-on-Wye by Holly King
By Holly King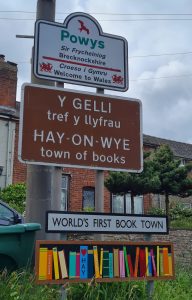 As you enter the border of Hay-on-Wye, a colourful sign lets you know that this is Britain's first book town. Boasting over 20 bookshops, it makes sense that a book festival would be hosted here. It also makes sense that Write On! team members jumped at the opportunity to head over and spend a few days indulging in one of our favourite pastimes.
From the quaint, quintessentially British town (with cobblestone streets, blue plaques marking multiple historic sights, a castle in the centre and a traditional fudge shop), to the beautiful green pastures, grazing sheep and trickling streams – this place has oodles of inspiration for any writer.
Trewern Outdoor Education Centre was our home in Hay (trewern.org), and we were greeted by horses, birds and a distinct lack of noise pollution. Outside our bedroom windows were green fields expanding to the horizon and a sun that stayed with us throughout our stay.
Hay-on-Wye and Trewen are magical places that have you, as an avid reader and/or writer, crossing the boundary of what is possible to say, read and write. From the moment we arrived, there was a synchronicity between the natural landscape, the town and the festival, weaving together aspects of a language we'd not been able to hear during the busy 'everyday' of our lives.
We heard this language on our first evening, when Young Adult author Jenny Valentine hosted a writing workshop. Gathered around the table, Pen to Print notebooks in hand, we were ready to start laying down words. Jenny gave us some free writing exercises, with our first prompt being language. We each wrote for five minutes, sharing pieces of what we'd written. Strong voices stood out from the extracts, each of us communicating a deep inner language exposed merely by the act of putting words onto the page.
Creativity, vulnerability and the beginnings of stories not quite clear, unfolded as we wrote. In between these exercises, we spoke about our fears, passions, achievements and goals as writers, uniting us across the table. Funnily enough, as well as being in line with our current magazine theme, 'language'  filtered through our experience of Hay as a mainstay of our time there. Book lovers have their own language, a way of communicating with each other, even while our nose is in a book. Though reading and writing are generally solitary acts, coming together to share stories and persuading each other to buy books (by Hay's speakers), made them communal ones.
The next day, our journey continued with an auspicious walk across the English-Welsh border into Hay-on-Wye and into the festival; the wooden lion and dragon guarding either side of the border reminding me of the magical atmosphere of some of my childhood books.
Our festival experience started with an event that wove music and words together;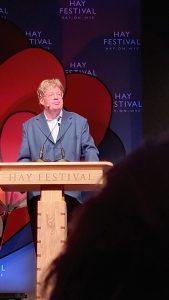 the author finding a way to write about JS Bach, one of the greatest musicians by transcribing music into the written word with the help of a fabulous violinist.
Claire Buss: "Readers and writers are consumed with a passion for words, so the perfect opener for our first Hay Festival experience was listening to James Runcie talk with verve and vigour about The Great Passion, his story about the composition, rehearsal and first performance of Bach's The St Matthew's Passion, beautifully accompanied by violinist Irène Duval." 
After spending some time reading the festival's programme together, we found more and more events we wanted to see. His Dark Materials–Live showed us how we can evolve the language from the original books to the television, interpreted by actors and directors to convey the same message written on the page.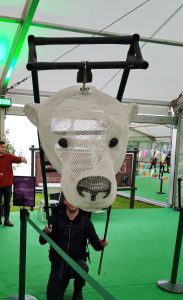 Michelle Sutton: "A polar bear, snow leopard and golden monkey walk into a tent… No, not a joke, just the His Dark Materials event. Producer Jane Trantor and cast members Amir Wilson (Will Parry) and Simone Kirby (Mary Malone) discussed favourite scenes, antics on set and teasers for Series Three, all interspersed with readings and video clips. It was fascinating to learn that daemon puppets were used during filming. The cast discussed how science and religion can co-exist and some of the ways characters from the different worlds of the series interacted. How the angels speak to Mary through her dark matter research machine, for example. If only we didn't have to wait until autumn for the final series!"
Having split off into small groups, some of us hurried to the official Festival bookstore, some poked about in the many stalls, while others lined up for more fascinating talks. Our Editor had hurried off to Ben Okri's event, where the Booker Prize winner was introducing his first children's book, the environmental fairy tale, Every Leaf A Hallelujah.
Madeleine White: "This book is a realistic fable about what's happening to all of us, in a timeless language understood by children and adults alike. At its heart, Every Leaf A Hallelujah is about the courage to act when you see something is wrong. Ben said that adults read but don't pay much attention, which is why he decided to write for children as well as the child in all of us." 
Tutankhamun's Trumpet was another event, aiming to expand our viewpoint on what a book could be, by translating the symbolism of items found in the famous tomb into words. This book described the experience of both ancient Egyptians and the modern-day archaeologists who excavated the tomb.
Lisa Roullier: "A fascinating and eye-opening talk. Toby Wilkinson's expertise and knowledge on The Treasures Of Tutankhamun was an invaluable experience. I'm looking forward to reading the book and discovering more facts and finds."
Lena Smith, our fearless leader, attended Elizabeth Of York, The Last White Rose, a historical fiction talk given by author Alison Weir,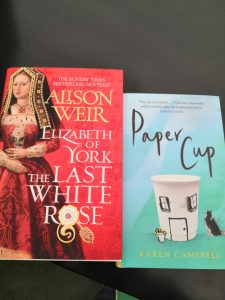 looking at history from a different point of view, using alternative characters and their words to change the meaning of events.
Lena Smith: "Alison Weir expertly led us on a whistle-stop tour of the War of the Roses, as seen from the perspective of the royal women. She explained the complexities of the various claims on the throne and how Elizabeth of York was the key to legitimising the claim through her marriage to Henry VII."
Next, on to another event: Karen Campbell talking to Stephanie Merritt about their novels, how easy it can be to fall through the cracks and what it takes to turn around a life that has run off-course.
Eithne Cullen: "Listening to Karen Campbell speaking about Paper Cup, I learned a lot about this Scottish writer: her Scottishness, her attitude to language and the experiences which led her into her writing career. This new book is about a 'broken' woman's journey back to her hometown – a contemporary Odyssey of sorts.
One of the great aspects of the Hay Festival is that it offers events for all types of books, including non-fiction such as The Secret Body. Daniel M Davis found a way to turn dry, difficult scientific language into something accessible for the common audience, enabling us to understand the wonders of our own bodies, which we would have not been able to centuries ago.
Hugh Prior: "I was happy to be sent to the Daniel M Davis event about The Secret Body: How The New Science Of The Human Body Is Changing The Way We Live. I was intrigued by the blurb – Recent and dramatic breakthroughs in our understanding of the body will profoundly change the experience of being human – and I left the Wales Stage much the wiser.
Bill Bryson had whet my appetite for the show after I read his review of The Secret Body. He described it as: 'A perfect blend of cutting-edge science and compelling storytelling.' I left the event agreeing with Bill.  I won't try and detail the science (leave the expertise to the experts), but I will reveal that it captured my imagination, inspired hope, stimulated thought and left me pondering future philosophical debate. An hour well spent!"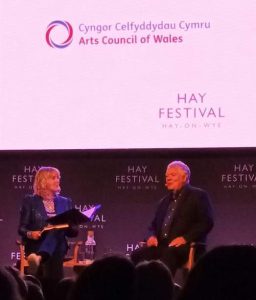 Max Boyce In Conversation With Carolyn Hitt on the main Baillie Gifford Stage was such a hit with the Hay audience, some of us heard the shouts and applause from outside the festival! Eithne was there, soaking it all in.
Eithne Cullen: "Max Boyce chatted with Carolyn Hitt about his new collection of stories, poems and songs with all the warmth and humour his audience expected. It was a pleasure listening to him speak on all kinds of topics: from closed pit-head baths to climbing the Sydney Harbour Bridge. As I left, I asked a woman whether she was laughing or crying and she said, 'Both!'"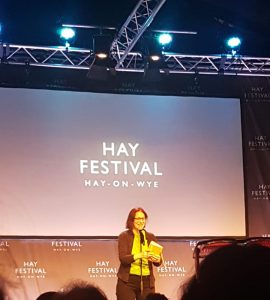 We congregated again to delve into our final event for the night,  Natalie Haynes summarising Homer's The Odyssey in under 30 minutes. Natalie said The Odyssey was about homecoming, and I felt that sentiment reverberate across the audience. This festival was a homecoming of sorts for book lovers and writers, congregating inside tents and bookshops and harmonising together in our appreciation for stories.
Esther Ogunbajo: "Natalie Haynes' Stand Up: Work In Progress took us on a Greek journey. Along the way, we learned, laughed and were guinea pigs for an episode of her BBC Radio 4 series. After warming us up with a little background, she took a sip of her coke and set a timer. We all pulled to the edge of our seats and braced ourselves as she ripped through Homer's 24-book-long Odyssey in a record 28 minutes. Haynes' remixed recital of The Odyssey was refreshing, honest and cheekily humorous. This event was a Hay Festival highlight for me."
Somewhat begrudgingly, we made our way back to Trewern. The next morning, we were given the chance to go beyond the town and test our climbing skills with a walk up to the top of Pen y Fan, some 886 metres high. We all made it and filled up our creative well from sights only Wales could offer.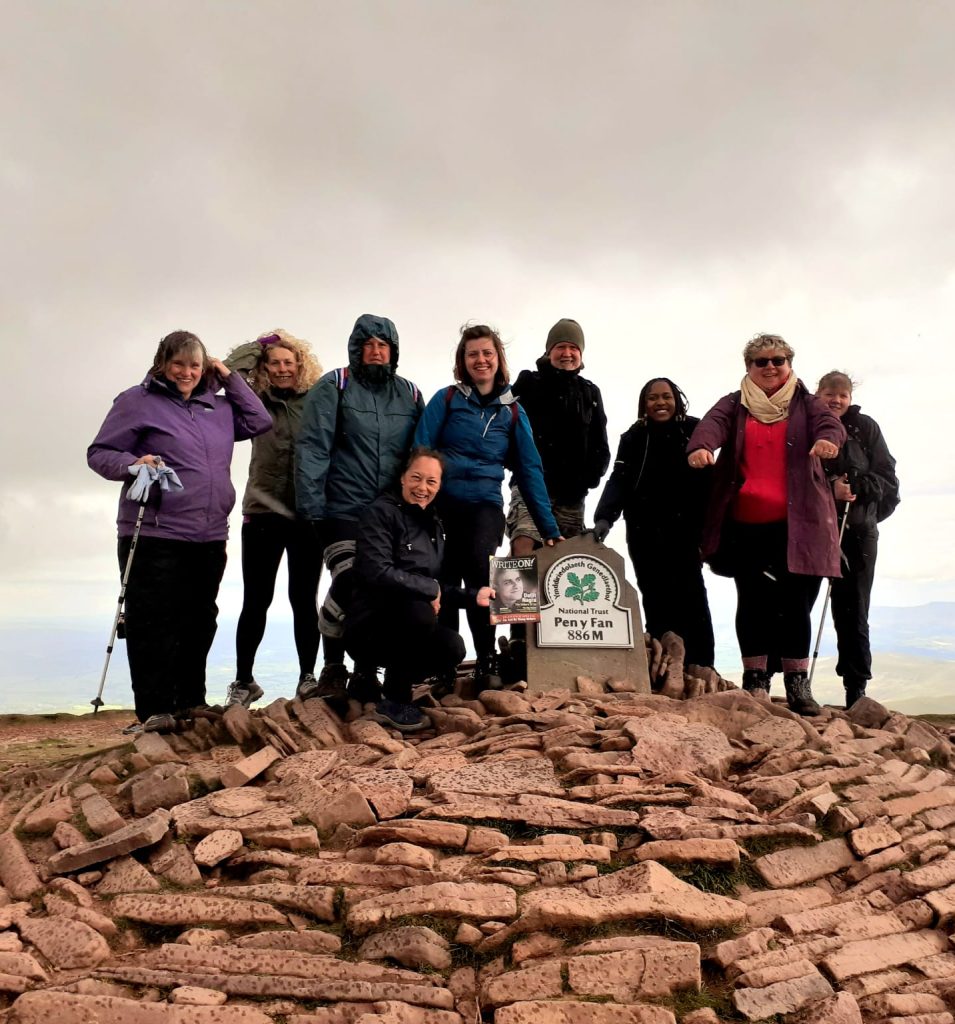 The walk took us out of our heads and into the realm of the physical, giving us time to soak up the expanse of the natural world. This type of landscape is rife in traditional British literature, fantasy novels and poetry and we each felt a library of the past writing rise up in our minds to convey the experience we had while climbing Pen y Fan.
Then we raced back to the festival, ready for a slew of new events.
Acclaimed physicist Jim Al-Khalili was next, inviting us to engage with the world, as scientists have been trained to do. Core principles underpin the scientific method, helping us all to navigate modern life with more confidence. Al-Khalili discussed the nature of truth and uncertainty, the role of doubt, the pros and cons of simplification, the value of guarding against bias, the importance of evidence-based thinking, and more, showing how powerful ideas at the heart of the scientific method are deeply relevant to the complicated times we're living in.
Eithne Cullen: "If you've ever listened to Jim Al-Khalili on the radio, it will be no surprise to learn he's written a book, The Joy Of Science. He proves it's possible to be successful as an academic, researcher and media communicator at the same time. Speaking about his book, he shared some very clear, interesting ideas, reminding us that exploring science never ends. For example, when two people look at a rainbow, they don't see the same thing. The audience were keen to engage with him, asking questions about science in schools and universities."
Meanwhile, Madeleine was immersing herself in another Odyssey-inspired event, as Sinéad Gleeson (writer, editor, broadcaster, and journalist) was hosting a distinguished panel to celebrate the hundredth universe of James Joyce's Ulysses.
Madeleine White: "Democratic language, radical feminist voices and a way to see past words into another form of homecoming linked it perfectly into my own Hay literary odyssey. However, a few of quotes really struck me. One, by Chinese author Xiaolu Guowho, who shared the profound impact reading this epic in Chinese had on her when she first read it in her twenties, referencing the beauty of the language which is almost pictorial in nature and so lent itself beautifully to being translated into Chinese; despite the fact it took 75 years for this to happen.
Joyce's seminal work is also often seen as intimidating, and I found Adam Biles' (Shakespeare And Company) comments that Ulysses was written as a book for the working man fascinating: "It may be hard, but it's for everyone." With Unbound's founder John Mitchinson echoing this: "Ulysses is one of the great democratic texts, written in a particular time and place, but reaching beyond it."
The penultimate event for the evening came through the force of nature that was Professor M Wynn Thomas. As editor of The History Of Wales In Twelve Poems, he conveyed his passion for the language and story of his nation, in what we all felt was an essential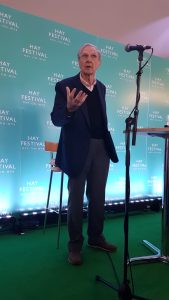 event (and book) for the festival. We were enamoured with the professor's energy and, even after a long day, were inspired by his passion.
Claire Buss: "'Poetry is the antennae of the nation'. One of many wonderful quotes from M Wynn Thomas's session on his book The History Of Wales In Twelve Poems, where Wynn shared a wealth of knowledge and his deep-rooted love for Welsh poetry and its importance on the world stage."
The last event we squeezed in, stand-up comedy from Marcus Brigstocke, provided a new type of language in the form of humour, while uniting us book lovers with anecdotes we could all relate to.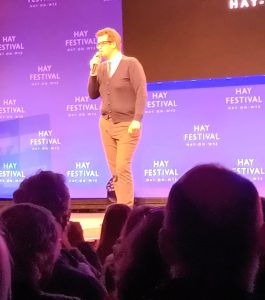 Michelle Sutton: "'At other festivals, it's how much drink have you had? At Hay, it's how many books have you read?' was how Marcus Brigstocke began his set, after asking who'd bought more books than they'd intended. Satirical humour starting with a home-schooling wine list (history, dry and very white), to the news being better when 'we were young' because it actually stopped and the TV turned itself off, all accompanied by some great impressions. Although, I don't think I'll ever look at pitta bread in the same way again!"
All of us at Write On! gained something unique from the Hay experience. It wasn't just the Festival; the beautiful setting of the Trewern Centre in rolling green hills also had an important part to play. Individually, we expanded our understanding of what stories can be told, how to express ourselves on the page, and how we connect with other writers. However, our experience of collectively sharing anecdotes, regaling each other with stories on our walks (while stopping to admire the view), joined us together more firmly. Sitting together at the various events, taking our own interpretations from the language being shared by the speakers and participants in Hay – a love of writing, books and discovery – we revelled in being there as part of Write On!: an embodiment of the values Hay was founded on.
As we move forward, I know we'll carry on writing with our own individual voices, but understanding each other's writing more fully; just as individual readers have their own take on a page of the same book hundreds are reading at the same time, in any corner of the world – or even just in the same tent, as in Hay.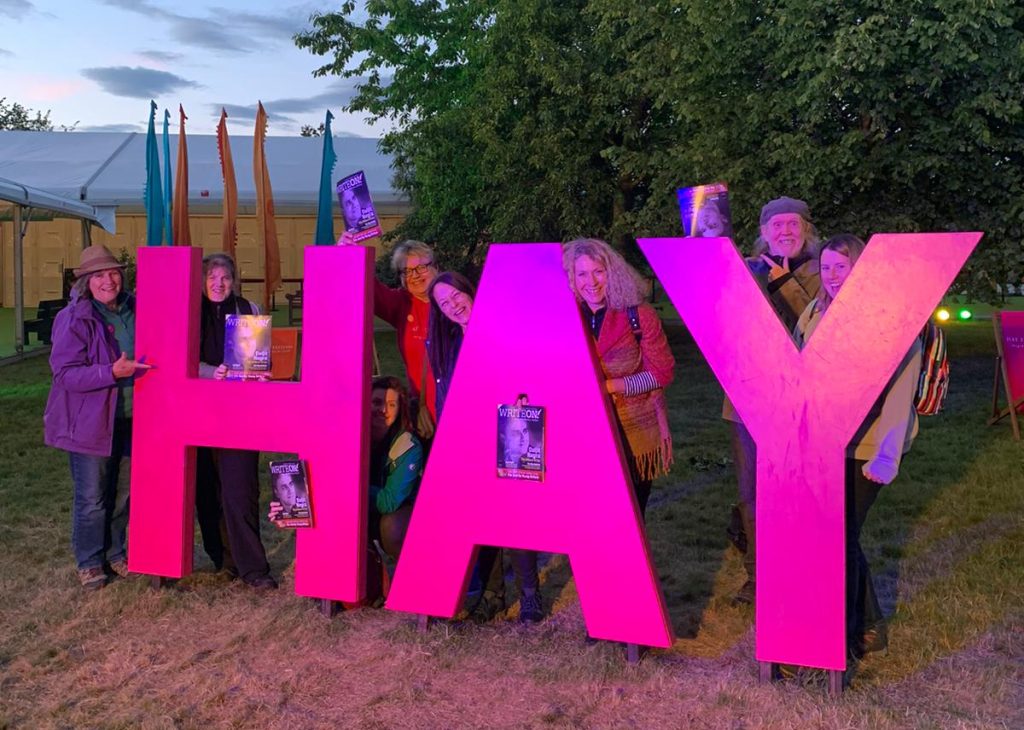 *****
Read the latest issue of Write On! (12) magazine online here.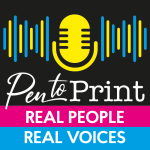 You can hear great new ideas, creative work and writing tips on Write On! Audio. Find us on all major podcast platforms, including Apple and Google Podcasts and Spotify. Type Pen to Print into your browser and look for our logo or find us on Anchor FM.
*****
If you or someone you know has been affected by issues covered in our pages, please see the relevant link below for ​information, advice and support​: https://pentoprint.org/about/advice-support/
As we move forward, I know we'll carry on writing with our own individual voices, but understanding each other's writing more fully; just as individual readers have their own take on a page of the same book hundreds are reading at the same time, in any corner of the world – or even just in the same tent, as in Hay.