Write On! Features: I Started Writing By Accident by Lulu Allison
By Lulu Allison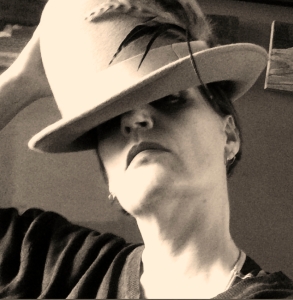 We often make assumptions about what we should do with our lives based on what we've already done. For me, that was drawing. I spent so much time drawing and painting as a child that it seemed obvious I would make art my subject, and indeed that is what I did. The particular type of artist I was to be flipped over the years, never quite settling into a form that felt like I had truly found a calling. Though I still draw, I still paint, I still love looking at the world, my interest over the years drifted from childhood's non-specific artist to fashion designer (my friend Fay was going to be a model, I was going to be a designer and we would drive around London in a Limousine) to illustrator for book covers, to stage designer, to medical illustrator, to sculptor, to installation and digital fine artist, to community artist, to art teacher. All of these iterations mattered to me, still do, but none, except for my ongoing role as a teacher, ever stuck. I've become used to thinking of myself as an across-the-board commitment-phobe; every thrilling new start had a little whiff of future boredom and the anticipation of a desire for change lacing the excitement of the new.
But every fresh start also kicked off a genuine desire for discovery, commitment and curiosity. For a while, at least; much of it did lead eventually to boredom and the dawning of a desire for change!
I completed a fine art MA while my children were young and also worked as an artist-educator in schools and galleries. My own practice evolved, a light skim of ideas over implied depths that frustratingly often seemed to pass unnoticed by others. I asked myself, tetchily, do I have to shout this a bit louder, make the art a bit more obvious? Is that really what we want? But some people must've noticed, as I was lucky enough to secure exhibitions and participation; enough to feel that further progress, should I invest the required levels of commitment, might not be impossible.
And I loved working in schools and other organisations. I still love teaching my online art classes and helping others discover the art maker that is within us all. That is a real joy. It was such a joy, too, to be a primary school incomer who was sometimes able to give the naughty kids, the underachievers, the children sometimes managed rather than taught, the wings that a linear learning process in school could not attach to their ravelling and unravelling thought patterns. But here comes the artist, with their 'ravelly-unravelly' and suddenly this or that child gets it and becomes the best one in the class for a change.
Curiously, and somehow quite delightfully, the ones used to prospering, the diligent, hard-working high achievers, often hated me and my projects, disliked my messing with their system. I can still feel the burning glower from one top-of-the-class little girls in a Sussex primary school, furious because she didn't get what I had asked them to do, with its vague and unmeasurable creative outcomes. She felt herself to have slipped in the natural order. Those children probably lost nothing, but I like to think that, for the ones who suddenly spoke up, had ideas, wanted to help with cleaning paint brushes, startling their often overburdened full-time teachers with their new alacrity, it was worth the price.
Most of my own art practice was ephemeral or site-specific. But it jumped around, as boredom slid in to define an enquiry that was no longer new. This is a problem for an artist. If you don't have a recognisable practice or area of research, no one knows what to expect, or what you're about. I found this the biggest frustration, or perhaps just the most recent reason why I couldn't settle into working as a fine artist. Though I could see it, those outside couldn't read the coherence and connections between the different threads that fanned out from my studio: digital works exploring the guileful seduction of symmetry, rough paintings on wood of the same invented village, paper and string shelters, tent triumphal arches, pop-up Tatlin's towers. I could've made a case for coherence in my practice but, with hindsight, I have to suppose I didn't care enough to push it through.
In 2016, I jumped from making paper and bamboo installations into a text-based project. It was during the occupations and wars in Iraq and Afghanistan. The horror of the Boston Marathon bombing had shown us how the press could become exercised about the tragedy of the civilian loss of life. But their invitation to care about the dead was absent from the almost daily reports of terror attacks and civilian deaths that occurred in those two distant, war-torn countries. The victims were merely a tally. We didn't even learn their names. It was terribly sad.
I decided, as an art project, that I would write a more or less real-time blog. I would take a news report of a roadside bombing, a suicide bombing, a drone strike where three, seven or 23 people were killed and, as a way to discover how to mourn for complete strangers, I would, that same day, write a short description for each of the victims. I wanted to propose a process of caring for the unknown dead by inventing them.
It was a sad and rather gruelling project. I knew I wasn't describing real people, but it made me clearly and painfully aware of how real, in whatever way, those people were. I scanned the news with something like dread, hoping there had not been an atrocity, a hideously common-or-garden multiple murder outside this school or in that marketplace, or destroying a bus or compound where ordinary people lived. The project was called Shades and I kept it up for a few months.
Because I did art in an "I do art, it's what I do" kind of way, I had never thought about writing. It just didn't occur to me to even try. I really love books and have always been a very passionate reader. But I was a light-touch, commitment-phobic artist who made transitional, temporary art over short periods of time. My spelling is appalling, my grammar and punctuation helluva sketchy (boy do I love my editors)!
Despite all that, I was absolutely hooked by this writing. I didn't want to keep making myself sad by imagining ordinary people killed by terrorist bombs on the streets of Kabul or Baghdad. But I didn't want to stop writing. It felt as though I had discovered what I should have been doing all along. That project morphed, in a series of swerves and sways where I somehow taught myself how to write a novel, into Twice The Speed Of Dark, published by Unbound in 2017.
Now I can temper that feeling of having found my place, and I see it as a place I have grown into. When I was younger, I probably was too impatient, too scatter-brained, too disorganised to commit to the arduous job of writing a novel. But, starting late in life as I did, it feels I discovered my world at the right time. I never get bored of the work, even though I have discovered just how blinking arduous and difficult and mind-boggling it sometimes is! I can't imagine ever getting bored. And, though I found it by accident, I'm truly grateful that I did. I want to always be here, with the same work, the same work, the same work. Writing is daunting, but I'm completely unafraid of that, because I have found my home.
I teach art and still love that, and my own art-making is not gone from my life. And, indeed, I'm often grateful, because it's prepared me so well for the work of writing. Most artists have learned to be unafraid of uncertainty. They have learned that not everything they do is good, but it may well still be valuable to have done it. They learn that time can be wasted and still be preciously used. They learn that ideas change and evolve and must be ready to pounce on the good ones. They learn to keep going when they don't have a clue, quite, what they are doing – and yet, at the same time, knowing full well what they are doing must be done. And that often seems to me to be the best preparation for the peculiar, testing, marvellous and nerve-shredding task of writing a novel. Luckily for me, I started writing by accident!
*****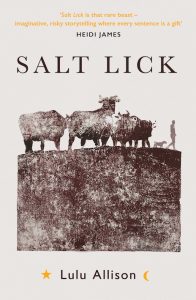 Lulu's second novel Salt Lick was published by Unbound in September and is available from all good booksellers.
You can connect with Lulu at her website: LuluAllison.net
Read the latest issue of Write On! magazine (10) online.
*****
Write On! Audio Podcast Contributor Giveaway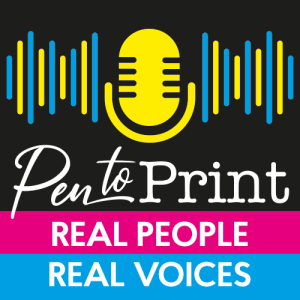 Get involved with Write On! audio as a contributor you could win A Writer's Journal Workbook by Lucy van Smit. All Write On! Audio submissions submitted before 20th February will be considered eligible. The first two pieces chosen for broadcast will receive a book. Submit on https://pentoprint.org/get-involved/submit-to-write-on/.
Visit https://anchor.fm/pentoprint to listen to the Write On! Podcast and get inspired.
Launched by Bloomsbury, A Writer's Journal Workbook is packed with creative tasks,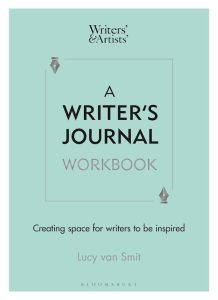 goals and advice! As an added bonus, you can also purchase it directly with this special discount code: AWJW25
We often make assumptions about what we should do with our lives based on what we've already done.